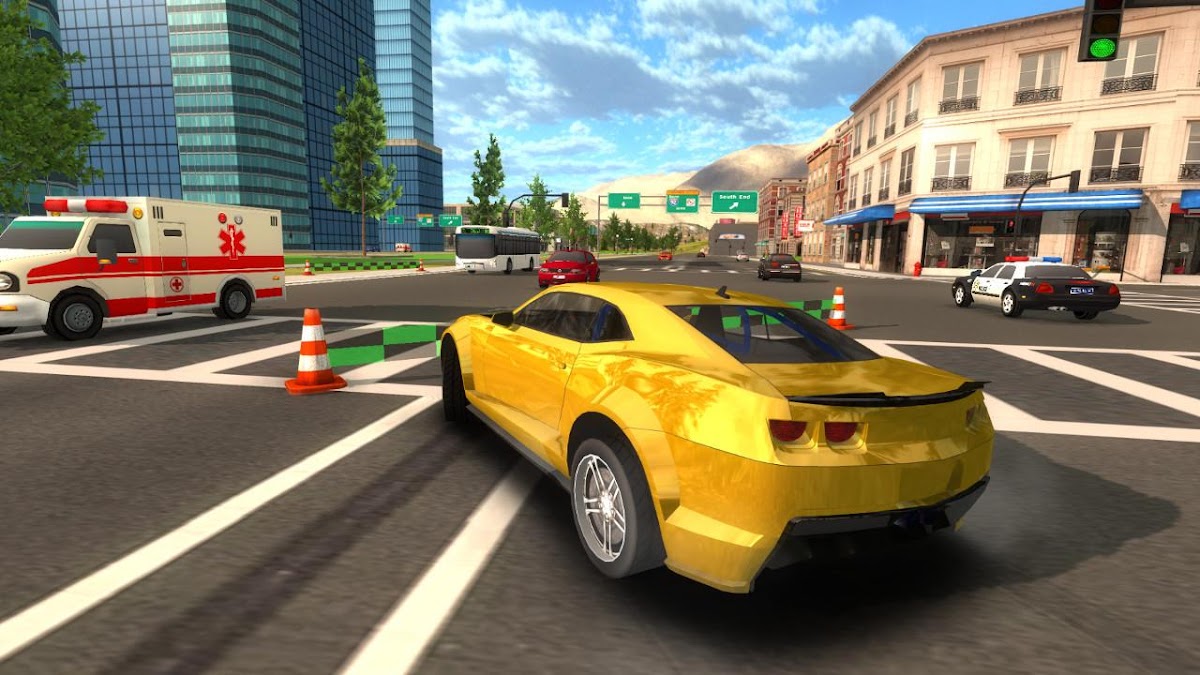 Crime Car Driving Simulator
Game Pickle
Son Güncelleme 3 Ekim 2017
400M + oyuncunun güvendiği Android Oyun Platformu, BlueStacks ile PC'de oynayın.
Zaten bir BlueStacks kullanıcısı mısın?
Şimdi Aç
Galeri

Oyun Özellikleri

Nasıl Oynanır ?

BENZER OYUNLAR
Oyun Özellikleri
Take control of amazing cars (speed car, SUV and 4x4) in a huge environment ready to explore, with a big city, forests, canyons, hills and mountains : more than 16 km² of area and 30 km of roads !
Join a gang and help them to rob banks and to shake off the police.
Drive in a whole city with realistic and intense traffic.
Complete tons of unique missions to become a professional driver and to become rich !

!! Crime Car Driving Simulator contains 20 free levels !!

Make your choice between city cars, offroad cars, and speed cars.
Come and explore this huge island environment filled with lots of points of interest to discover.

The city is very big with real traffic cars, buildings, houses, bridges and traffic lights.
Drive around and see the sights like rivers and lakes, an ancient Japanese temple, airport with other aircrafts and planes, secluded houses and farms, ruins, a camping place, and more...
The road system are also very dense, from highways and 2x2 lanes, to very small road of montains, with hill climb.

Explore the map to find one of 20 spots to launch a mission, or you can drive and do whatever you want freely.
The minimap help you to know where are the missions spots.

Example of missions :
- Help the gang to rob banks
- Shake off the cops in the city
- Theft auto from other gangsters
- Do some clandestine race to earn money
- Test fast car with no limit speed
- Follow and train to keep up with helicopter
- Destroy traffic cars to distract the police
- Protect and escort the mafia boss
- Go to the airplane accident to get back the money bag
- Chase and arrest other gangsters


Features :
- Huge open world, with a whole town, filled with wide open roads, mountains, hills and forests
- Dynamic traffic with real and intense traffic AI
- Steal money, car chase and auto theft
- Realistic driving simulator, ultimate driving experience
- Realistic physics
- High quality vehicles
- Dynamic camera angles
- Easy to play driving controls, use touch, wheel and tilt controls!

You can adjust the quality button to play without lag.
Daha az gör Daha fazla gör
Crime Car Driving Simulator oyununu PC'de oyna. Başlamak çok kolay.
BlueStacks'i PC'nize İndirin ve Yükleyin

Play Store'a erişmek için Google girişi yapın ya da daha sonraya bırakın.

Sağ üst köşeye Crime Car Driving Simulator yazarak arayın.

Crime Car Driving Simulator uygulamasını arama sonuçlarından indirmek için tıklayın.

(iEğer Adım 2'yi atladıysanız) Crime Car Driving Simulator uygulamasını yüklemek için Google'a giriş yapın.

Oynatmaya başlatmak için ekrandaki Crime Car Driving Simulator ikonuna tıklayın.