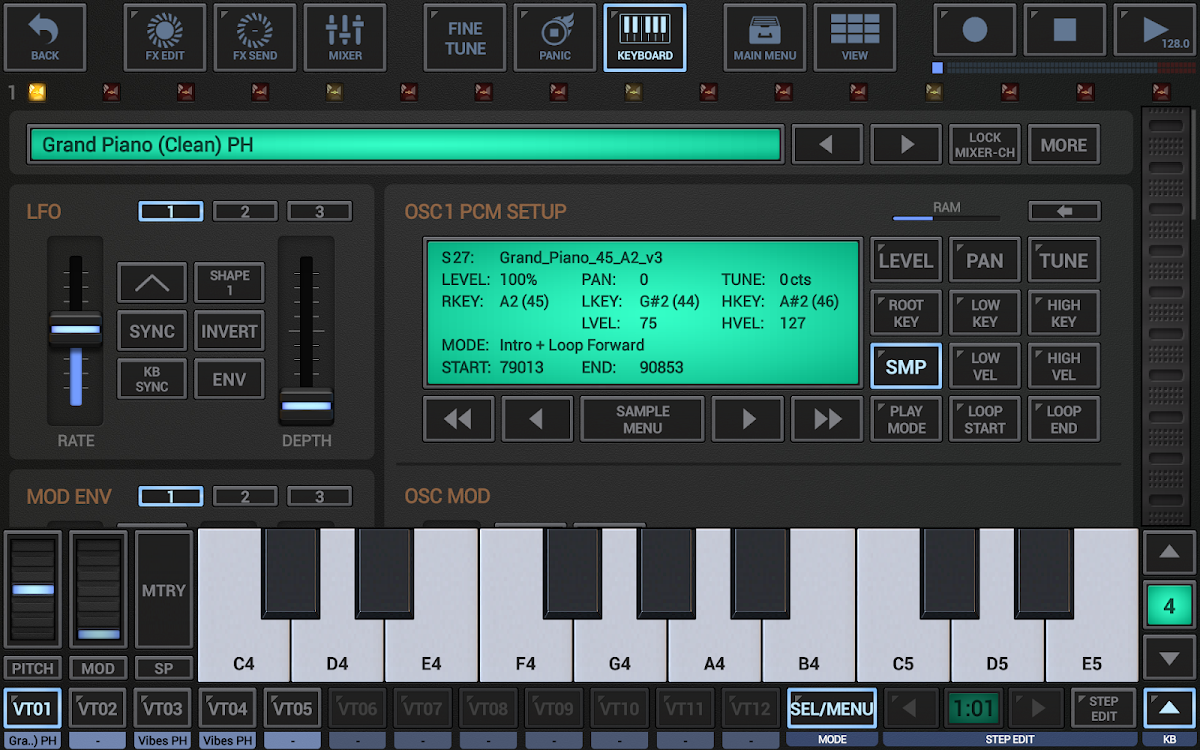 G-Stomper VA-Beast Synthesizer
Musik & Audio | planet-h.com
Spiele auf dem PC mit BlueStacks - der Android-Gaming-Plattform, der über 500 Millionen Spieler vertrauen.
Seite geändert am: 7. Januar 2020
Game Features
G-Stomper VA-Beast is a polyphonic virtual analog Synthesizer to produce complex synthetic sounds of any variety, designed for experienced sound designers as well as for beginners. So it's up to you if you just explore the Factory sounds or if you start right away with designing your own sounds in impressive studio quality. Its sound capabilities paired with the intuitive and clearly laid out interface simply makes G-Stomper VA-Beast to the ultimate Mobile Synthesizer. You will be able to create the sounds you want, and you'll do it faster than on any other mobile synthesizer.

Instruments and Pattern Sequencer

• VA-Beast Synthesizer : Polyphonic Virtual Analog Performance Synthesizer (Advanced FM support, Waveform and Multi-Sample based Synthesis)
• VA-Beast Poly Grid : Polyphonic Step Sequencer, max 12 Tracks
• Piano Keyboard : On various Screens (8 Octaves switchable)
• Timing & Measure : Tempo, Swing Quantization, Time Signature, Measure

Mixer

• Line Mixer : Mixer with up to 12 Channels (Parametric 3-band Equalizer + Insert Effects per Channel)
• Effect Rack : 3 chainable Effect Units
• Master Section : 2 Sum Effect Units

Audio Editor

• Audio Editor : Graphical Sample Editor/Recorder

Synthesizer

• 2 oscillator assemblies, each with 6 regular waveforms: saw, pulse, triangle, sine, noise, dual sine (allows up to 4-Operator FM)
• Full Multi-Sample support per oscillator (7th Waveform: PCM)
• Oscillator Sync
• Powerful Modulation Framework: FM, Differential FM, Filter Frequency/Resonance Modulation, Distortion, Distortion Ring Modulation (extra oscillator aboard), Ring Modulation
• 5 FM algorithms: PhaseFM (like in DX7), Log+, Log+/-, Lin+, Lin+/-
• 3 Modulation LFOs / per voice (usable in cycling or envelope mode)
• 3 Modulation Envelopes / per voice (usable in Attack Decay, Attack Hold Release or repeating AD mode)
• 1 free assignable Morph Group (Modulation Wheel)
• 2 Filter Sections, each with 8 filter types
• 3 Dedicated ADSR Envelopes for filter frequency and Amplification
• Vibrato
• Stereo Unison (up to 5 layers)
• Arpeggiator
• Polyphonic Glide: Morph between complete chords
• Polyphonic Legato: Morph between complete chords without re-triggering the envelopes
• Chord Memory: Map complete chords to a single key

Feature Highlights

• Ableton Link: Play in sync with any Link-enabled app and/or Ableton Live
• Full round-trip MIDI integration (IN/OUT), Android 5+: USB (host), Android 6+: USB (host+peripheral) + Bluetooth (host)
• High Quality Audio Engine (32bit float DSP algorithms)
• 47 Effect Types including Dynamic Processors, Resonant Filters, Distortions, Delays, Reverbs, Vocoders, and more
+ Side Chain Support, Tempo sync, LFOs, Envelope Followers
• Tablet optimized, Portrait Mode for 5 inch and bigger screens
• Full Motion Sequencing/Automation Support
• Import MIDI files as Patterns

Full Version only

• Support for additional Content-Packs
• WAV File Export, 8..32bit up to 96kHz: Sum or Track by Track Export for later use in the Digital Audio Workstation of your choice
• Real-Time Audio Recording of your Live Sessions, 8..32bit up to 96kHz
• Export Patterns as MIDI for later use in your favorite DAW or MIDI Sequencer
• Share your exported Music

Support

FAQ: https://www.planet-h.com/faq
Support Forum: https://www.planet-h.com/gstomperbb/
User Manual: https://www.planet-h.com/documentation/

Minimum recommended device specs

1000 MHz dual-core cpu
800 * 480 screen resolution
Headphones or speakers

Check out the free demo before buying the full version

Permissions

Storage read/write: load/save
Bluetooth+Location: MIDI over BLE
Record Audio: Sample Recorder
Weniger lesen Weiterlesen
Spiele G-Stomper VA-Beast Synthesizer auf dem PC. Der Einstieg ist einfach.
Lade BlueStacks herunter und installiere es auf deinem PC

Schließe die Google-Anmeldung ab, um auf den Play Store zuzugreifen, oder mache es später

Suche in der Suchleiste oben rechts nach G-Stomper VA-Beast Synthesizer

Klicke hier, um G-Stomper VA-Beast Synthesizer aus den Suchergebnissen zu installieren

Schließe die Google-Anmeldung ab (wenn du Schritt 2 übersprungen hast), um G-Stomper VA-Beast Synthesizer zu installieren.

Klicke auf dem Startbildschirm auf das G-Stomper VA-Beast Synthesizer Symbol, um mit dem Spielen zu beginnen