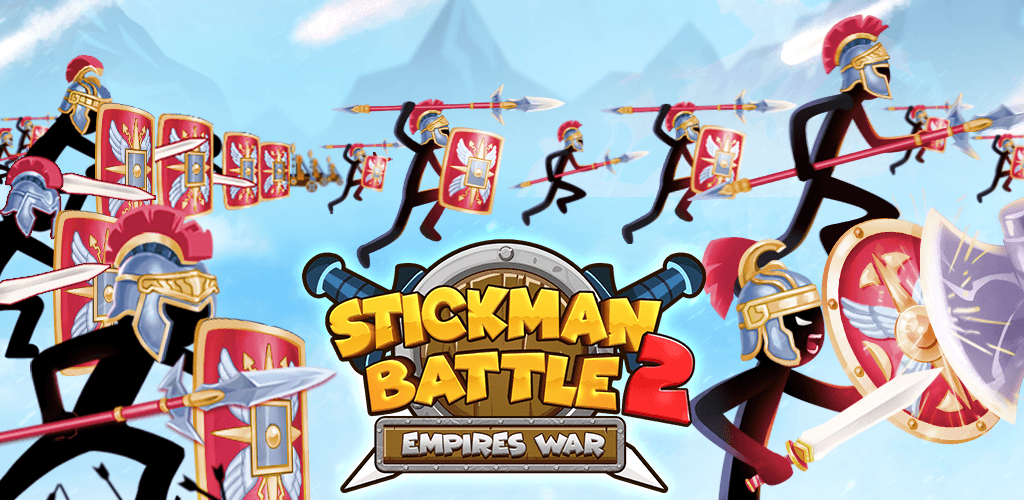 Stickman Battle 2: Empires War
500M + oyuncunun güvendiği Android Oyun Platformu, BlueStacks ile PC'de oynayın.
Sayfa Değiştirilme tarihi: 9 Aralık 2021
Oyun Özellikleri
Stickman battle 2: Empires War is a new version of strategy stickman games, developed from Stickman battle 2021:Stick Fight. One of the specialties of this stickman 2 is Roman Empire army & PvP online mode with more deeper functions.

The Difference between the Original Empire & Roman Empire in this is stick warriors' army. There is a new soldier stik in the unit called Catapult - stone shooting machine. Catapult is capable of dealing damage from a distance away & keeping the enemy must take the initiative to attack in stick fight games.

More upgrades of Skills, various Weapons, Skins of Miner, Sword Men, Archer, Wizard, Minions, Tower than original empire. You will enjoy the abundant stik upgrades for and all your stick heroes in the best RPG fighting game.
⭐⭐ FEATURES:

⚔️ Climb top of the world in PvP Mode to get super rewards for the strongest stickmen.
⚔️ Different upgrade ways & 200+ items with an amazing upgrade system and more booster are added different than supreme duelist stickman.
⚔️ Over 100 warriors with cool design styles and powerful strengths to unlock.
⚔️ Amazing supreme stickman warriors fight battle in two player games - anger of stick.
⚔️ Stik man warriors fight battle is totally FREE.
⚔️ Excellent 3D graphics, realistic physics and amazing sound effects.
⚔️ Over 1000+ challenges in game mode with the ultimate skills of stik man.
⚔️ Replay feature in a game can definitely enhance the player experience.
⚔️ Gifts of skins, avatars or gems every three hours, daily and weekly.
⚔️ Amazing gameplay with a combination of strategy game, action game and casual game supreme duelist stickman.

Build your Roman Empire, use your talent to conquer all countries. Become the last surviving stickman party army in the best action and fighting arcade game on Google Play. Lead Your Army to Victory!

⭐⭐ GAME PLAY:

Combination of new features and graphics that add to the core gameplay of the original Stick Fight - anger of stick 5.
- Build miners to gather precious gold and gems which you can use to purchase stickman party wariors : Miner, Sword Men, Archer, Hoplite, Wizard, Minions, Catapult,Tower
- Increase the fighting capabilities of the armed forces and then defeat enemy stickmans in the war by using your strategy.
- Destroy their stronghold to pass the level.
- Each level that the player completes will get the amount of coins to upgrade their stickman army.
- Capturing more territories and unlocking more units supreme duelist stickman.
- Strategy game, Action game, Casual game and fun stickfight
This game challenges yourself to win by making a strategy to build up your Empire and conquering all Enemies.
Can you conquer the stick world and be a King in the war of Stickman battle 2: Empires War?
Contact:
- Visit our official site at http://www.senspark.com
- Send your feedback via feedback@senspark.com
- Like & follow on https://www.facebook.com/TeamSenspark
Daha az gör Daha fazla gör
Stickman Battle 2: Empires War oyununu PC'de oyna. Başlamak çok kolay.
BlueStacks'i PC'nize İndirin ve Yükleyin

Play Store'a erişmek için Google girişi yapın ya da daha sonraya bırakın.

Sağ üst köşeye Stickman Battle 2: Empires War yazarak arayın.

Stickman Battle 2: Empires War uygulamasını arama sonuçlarından indirmek için tıklayın.

(iEğer Adım 2'yi atladıysanız) Stickman Battle 2: Empires War uygulamasını yüklemek için Google'a giriş yapın.

Oynatmaya başlatmak için ekrandaki Stickman Battle 2: Empires War ikonuna tıklayın.