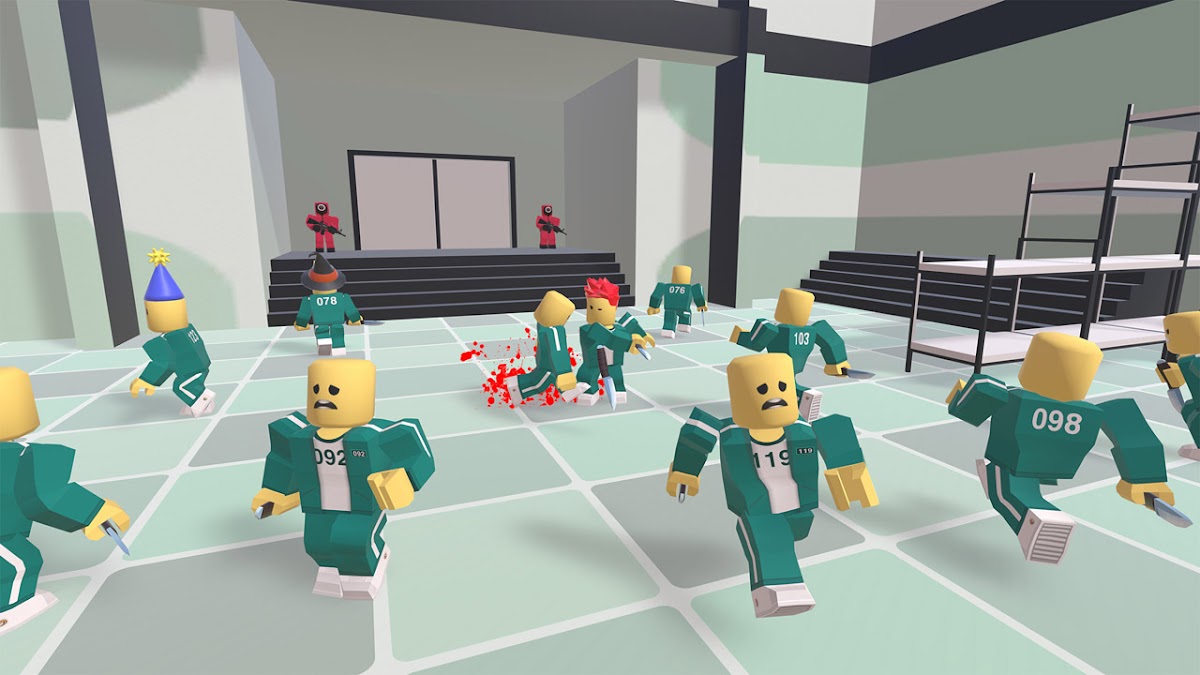 Roblock Squid: Survival Game
Action | Rocket Game Studio
Spiele auf dem PC mit BlueStacks - der Android-Gaming-Plattform, der über 500 Millionen Spieler vertrauen.
Seite geändert am: 31. Dezember 2021
Game Features
All players, pay attention: the game is about to begin!!!

Do you want to be participant number 456? Be the only one to win the 45.6$ billion Golden Piggy Bank by eliminating all other competitors. Pass all of the levels to become the champion and receive your well-deserved award

One and only rule is DON'T DIE

Green light red light, Dalgona challenge, Tug of war, The midnight fight, Glass bridge, and Marble rolling are all part of the Roblock Squid: Survival Game series of K-Games. Your aim is to survive, win all of these Korean games, and beat everyone else to get your hands on the golden piggy bank

🚨 SQUID CHALLENGE 🚨
- Green Light, Red Light: The two rules you must follow are "Stop when red and Run when green."
- Dalgona Challenge: Break the candy into various shapes such as a star, umbrella, circle, and so on
- Tug of War: Use your strength to defeat the opposing squad. Remember that just half of you will survive this game
- Marble Rolling: Play marbles into the correct hole in one shot; don't allow your opponent win this game
- Glass Stepping Stone: Choose the proper glass stone so that your fate does not end in regret
- More and More

🦑 GAME FEATURES 🦑
- Many levels with different difficulty
- Levels are constantly being updated
- Simple design, easy to control
- Beautiful and vivid Roblock graphics with realistic sounds

Welcome to Roblock World, where you will be winner and take piggy prize in Roblock Squid: Survival Game

DOWNLOAD NOW and try your luck
Weniger lesen Weiterlesen
Spiele Roblock Squid: Survival Game auf dem PC. Der Einstieg ist einfach.
Lade BlueStacks herunter und installiere es auf deinem PC

Schließe die Google-Anmeldung ab, um auf den Play Store zuzugreifen, oder mache es später

Suche in der Suchleiste oben rechts nach Roblock Squid: Survival Game

Klicke hier, um Roblock Squid: Survival Game aus den Suchergebnissen zu installieren

Schließe die Google-Anmeldung ab (wenn du Schritt 2 übersprungen hast), um Roblock Squid: Survival Game zu installieren.

Klicke auf dem Startbildschirm auf das Roblock Squid: Survival Game Symbol, um mit dem Spielen zu beginnen