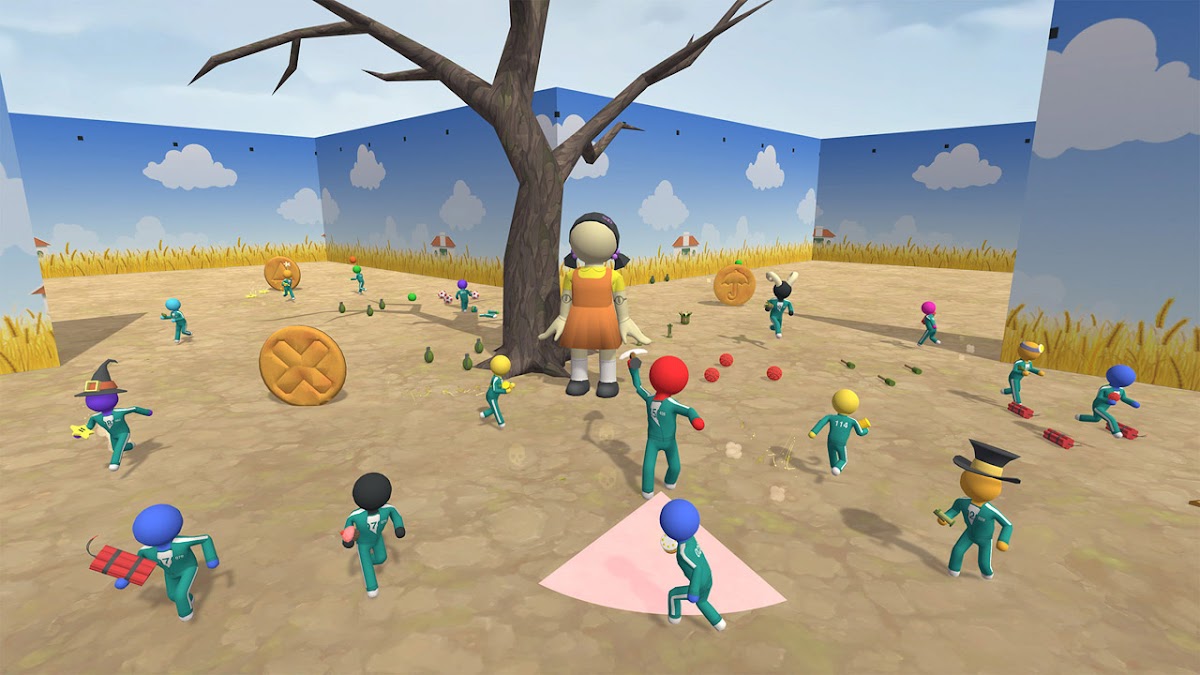 456 Smashers io: Squid Game
Action | Unicorn Game Studio
Spiele auf dem PC mit BlueStacks - der Android-Gaming-Plattform, der über 500 Millionen Spieler vertrauen.
Seite geändert am: 5. Dezember 2021
Game Features
Get ready for the masterpiece 456 war 💸 Prepare for a massive shoot - out and let's hit the squid's summit! 🔥

Joining this smash battle, you will experience both fun and thrilling adventure at the same time. Let's become the strongest smasher by using hammer, blade, sword, gun,... and many other weapons to defeat all on the battle arena. However, be careful because your enemy will attack and defeat you whenever they can. 456 Smashers io: Squid Game also includes Green light red light, Dalgona challenge, Tug of war, The mid night fight, Glass bridge, Marble rolling. Be alert and fight for your survive! 🚨

🚨 HOW TO PLAY 🚨
⚔ Smashers game:
- Smash as many as possible
- Lookout for all 456 guys nearby
- Move quick and become the biggest 456
⚔ Green Light, Red Light: The two rule that you have to keep in mind is "Stop when red and Run when green"
⚔ Dalgona Challenge: Break the candy with to come out with different shape like: star, umbrella, circle,...
⚔ Tug of War: Use your strength to win against the other group. Remember only 50% of you will survive in this game
⚔ Marble Rolling: Play marbles in the right hole in one shot, don't let rival win this game
⚔ Glass Stepping Stone: Choose the right glass stone so that your fate wont end regretfully

🦑 GAME FEATURES 🦑
- Great music and fantastic theme
- Various skin with a lot of reward waiting ahead
- Also game easy to control
- Funny posture

Chance to become Billionaire is on your hand now. So get ready and survive in 456 Smashers io: Squid Game

But remember watch out the time or you will DIE! 💀

DOWNLOAD FOR FREE & WIN THE GAME FOR REAL!
Weniger lesen Weiterlesen
Spiele 456 Smashers io: Squid Game auf dem PC. Der Einstieg ist einfach.
Lade BlueStacks herunter und installiere es auf deinem PC

Schließe die Google-Anmeldung ab, um auf den Play Store zuzugreifen, oder mache es später

Suche in der Suchleiste oben rechts nach 456 Smashers io: Squid Game

Klicke hier, um 456 Smashers io: Squid Game aus den Suchergebnissen zu installieren

Schließe die Google-Anmeldung ab (wenn du Schritt 2 übersprungen hast), um 456 Smashers io: Squid Game zu installieren.

Klicke auf dem Startbildschirm auf das 456 Smashers io: Squid Game Symbol, um mit dem Spielen zu beginnen