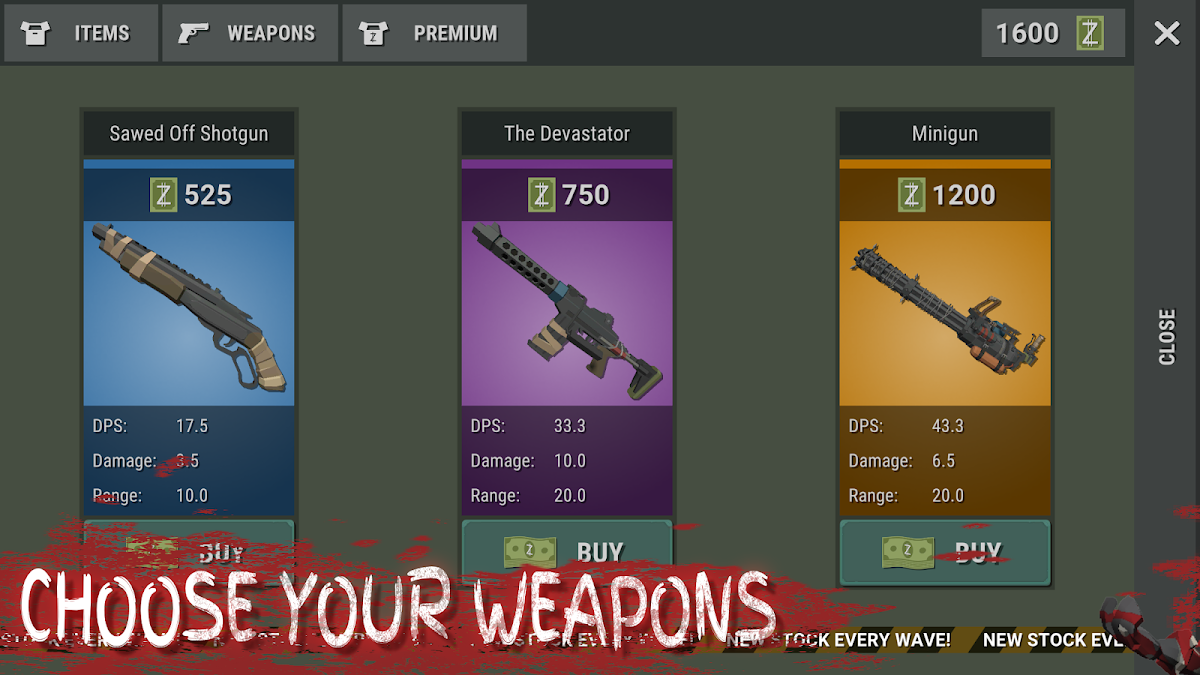 Overrun: Zombie Horde Survival
Action | Wildfire Games Ltd.
Spiele auf dem PC mit BlueStacks - der Android-Gaming-Plattform, der über 500 Millionen Spieler vertrauen.
Seite geändert am: 29. November 2020
Game Features
Overrun throws you into a post apocalyptic world to manage a group of survivors while they are bombarded by attacking zombies in waves. Build the ultimate defense to hold them back. Use grenades, first aid kits, and other useful items to help your survivors while they fight for their lives.

PREPARE FOR BATTLE

A highly contagious virus has infected 99% of the population of the planet. Those that are infected become crazed, bloodthirsty monsters. As the leader of a brave group of survivors, it's down to you to prepare them to fight the hordes of zombies.

Each time you successfully complete a wave, your survivors will scavenge some loot from the battlefield. Often minor items like first aid kits and grenades but sometimes you find a real treasure like a cluster strike or napalm strike. As the waves go by you'll eventually unlock these items to buy in the shop but it's still a great bonus.

BUILD THE ULTIMATE BASE

Unlock new structures as you progress through the waves and use them to improve your defenses. The undead approach from every direction so you'll have to make sure you're prepared for anything.

Each wave you complete rewards you with new structures and items to defend against the horde.

COLLECT USEFUL ITEMS & WEAPONS

Collect Z Bucks from every zombie you kill and use them to better prepare for the next wave. You can buy new items to use mid-wave such as explosives, distractions, power ups and much more. Alternatively you can use your Z Bucks to buy more defensive structures to protect your survivors from the hordes of zombies.

The weapon shop will restock its inventory every single wave, giving you the option of trading Z Bucks for a new weapon or two. Make sure you keep enough money saved up for that rocket launcher or 50.cal rifle you've always wanted.

MANAGE YOUR TEAM

New survivors will hear of your accomplishments with the zeds and may want to join your group. They will bring a weapon with them and will often have improved stats when compared to the survivors in your group. Careful though because you can only support a limited number of survivors so you may have to make a difficult choice.

You can also manage your group of misfits by levelling them up to improve their health and stats, giving them body armor, and healing them if they were damaged in the previous round. Doing so before starting a wave will give you a huge advantage as the zombies get harder and harder to kill.

FIGHT THE HORDE

Control where your survivors focus their firepower and move them out of tricky spots while they hold back the oncoming waves of the dead. Use grenades, molotovs and other useful items you have collected to help them fight off the hordes of undead.

Have what it takes to survive? Download Overrun NOW!

___________________________________________________________________________

Note: We welcome any and all feedback during your experience to improve the game. To submit feedback please complete the form at feedback.wildfire-games.com
Weniger lesen Weiterlesen
Spiele Overrun: Zombie Horde Survival auf dem PC. Der Einstieg ist einfach.
Lade BlueStacks herunter und installiere es auf deinem PC

Schließe die Google-Anmeldung ab, um auf den Play Store zuzugreifen, oder mache es später

Suche in der Suchleiste oben rechts nach Overrun: Zombie Horde Survival

Klicke hier, um Overrun: Zombie Horde Survival aus den Suchergebnissen zu installieren

Schließe die Google-Anmeldung ab (wenn du Schritt 2 übersprungen hast), um Overrun: Zombie Horde Survival zu installieren.

Klicke auf dem Startbildschirm auf das Overrun: Zombie Horde Survival Symbol, um mit dem Spielen zu beginnen