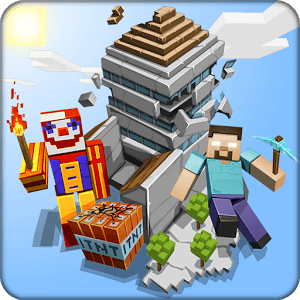 City Craft 3 TNT Edition
For 30 years a cubic world lies in ruins. A terrible global catastrophe has destroyed almost everything alive, no more small towns and large cities.

Try to survive in the difficult time of the Apocalypse, when the world is mired in chaos, there was one untouched town, who captured the ruthless clowns.

You will visit 3 different alternative worlds using portals to change the world:
* World of monsters - red sky overhead and the rain of ashes, dangerous world that destroyed completely different and dangerous mutants.
* Cold world - pervasive everywhere radiation completely changed the climate and now the world is experiencing a nuclear winter.
* World of sand - there remained no plants, no animals, no birds, only endless desert, with very hot sand.

Fight with Robo Herobrine in one of the worlds and other beings. Prevent the catastrophe! Build your house, using a new system of crafting and bonuses!
Developer
SandStorm Earl
Category
Arcade
Last Update
September 5, 2016
Update notes
- Bugs fixed

Play One of the Most Anticipated Mobile Sequels
More than three decades has passed. The cubic world millions have come to know and love has been lying in apocalyptic ruin due to a global catastrophic event. The landscape of Earth as we know it has changed into a barren landscape of waste and despair. The large and small cities that littered the planet have been mostly demolished as looting and rioting took over. Unfortunately, this is the world you call home. Play City Craft 3: TNT Edition on Mac and PC to experience life in a cubic apocalypse. Explore multiple worlds that range from a beautiful winter scene to complete chaos and destruction. Find resources and build the right equipment, buildings, and weapons to ensure your survival. Earn special bonuses and defeat killer clowns that have taken to ravaging the outlands of Earth. Fight for your survival when you play City Craft 3: TNT Edition using the new and improved BlueStacks 2 Android emulator.