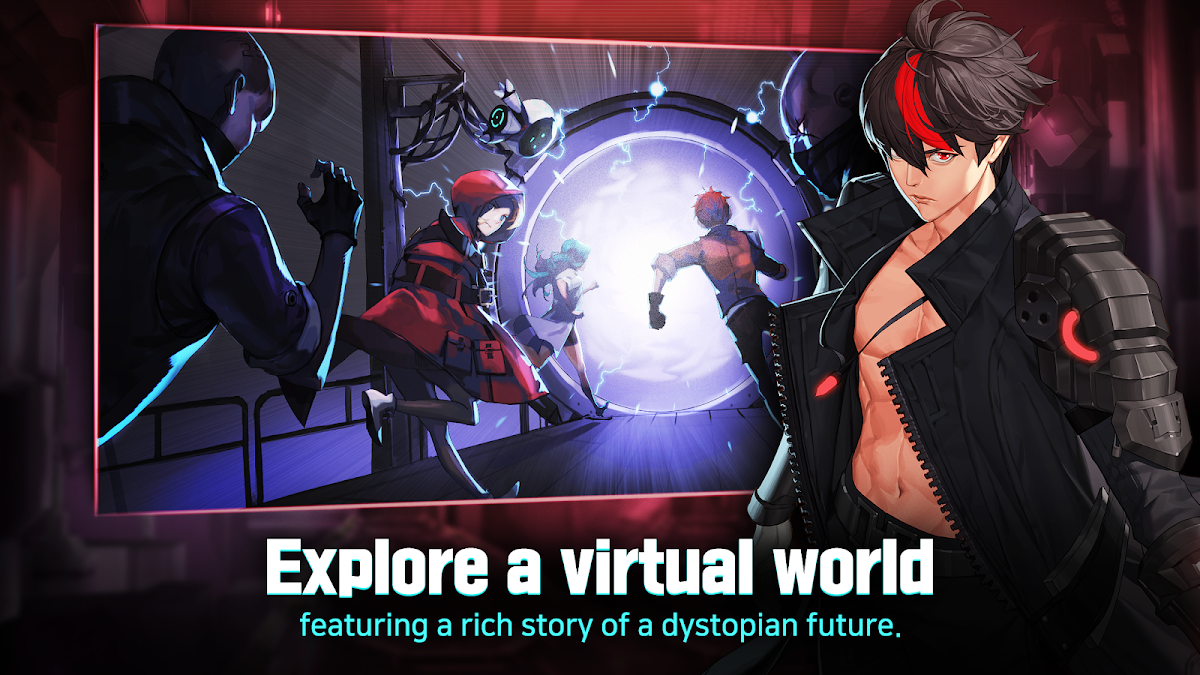 GATE SIX
Role Playing | FLERO Games
Graj na PC z BlueStacks – Platforma gamingowa Android, która uzyskała zaufanie ponad 500 milionów graczy!
Strona zmodyfikowana w dniu: 10 października 2019
Funkcje Gry
In the not so distant future, [virtual reality] is the new reality. The Corporation has people connect to Gate Six via cyber persona and live in docile bliss.... unaware of the cost to their soul.

You are Rex, the first Cyber Persona Gate Six to exist un-tethered to a host. An anomaly in the system, the Virus Detection Force seeks to eliminate you at once. But you are rescued by the researcher Hela, who quickly discovers you've not only lost all memory, but your host had not survived the Transition.

How did this all happen? And what does it mean for the future of Gate Six?

---

◈ Features ◈

1. A rich story with branching stories, based off your decisions!
- A true RPG experience with a thrilling, immersive story.
- Choose your own adventure style decision making and story branches.
- A unique, futuristic world with cyberpunk themes.

2. Co-op mode, real time PVP and a host of awesome game mdoes.
- Team up to hunt the Data Predators in real-time co-op mode.
- Compete in real time against opponents from all over the world!

3. Classic turn-based RPG battles + positioning-based combos!
- Position your Cyber Personas to create the ultimate combo synergy.
- Use action points strategically to unleash the most powerful damage effect.

4. Dazzling graphics and over 60 characters to choose from. And much more!

[COMMUNITY] https://www.facebook.com/Gatesix.EN/
[SUPPORT] gatesix_EN@flerogames.com
[PRIVACY] flero_privacy@flerogames.com

IN-APP PAYMENTS: GATE SIX is free to play but you can buy virtual goods to use in the game.
Having problems? Got a question? We'd love to hear from you!
Please contact us at: gatesix_EN@flerogames.com

GATE SIX Supports English, 한국어, 中文简体, 中文繁體

* Customer Service is supported in English, Simplified Chinese, Traditional Chinese and Korean.

※ Authority Notice
Use the authority for better gameplay

▶ Required Authority
1. Authority Used for Storage Access: for download additional resources
2. Allow contacts to access photos media and files on your device (including external storage) : required for uploading screenshots and so on in game community

* If you're Android OS version is below 6.0, The following permission is required to play the game

- The permission is used to change in-game profile modification

* We recommend you to reinstall the app after a complete deletion including cache & data in case of a forced shutdown after updating GATE SIX
Czytaj mniej Dowiedz się więcej
Zagraj w GATE SIX na PC. To takie proste.
Pobierz i zainstaluj BlueStacks na PC

Zakończ pomyślnie ustawienie Google, aby otrzymać dostęp do sklepu Play, albo zrób to później.

Wyszukaj GATE SIX w pasku wyszukiwania w prawym górnym rogu.

Kliknij, aby zainstalować GATE SIX z wyników wyszukiwania

Ukończ pomyślnie rejestrację Google (jeśli krok 2 został pominięty) aby zainstalować GATE SIX

Klinij w ikonę GATE SIX na ekranie startowym, aby zacząć grę