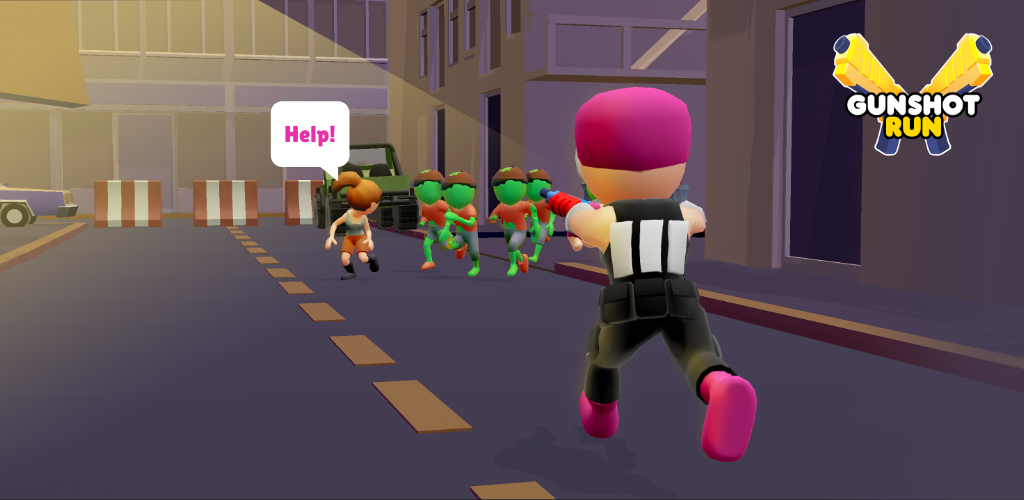 Gunshot Run - Action Shooter
Chơi trên PC với BlueStacks - Nền tảng chơi game Android, được hơn 500 triệu game thủ tin tưởng.
Trang đã được sửa đổi vào: 27 tháng 11, 2021
Tính năng trò chơi
🔥 Have you ever wanted to become the hero of your own action movie in which the bullets never stop flying and the enemies never stop coming? 🏃
Do you think you can handle the firepower of shooting two powerful guns at the same time? 😎
Gunshot Run is an exciting and action-packed shooting game with a pumping rock soundtrack, where you perform incredible acrobatic feats as you run and gun down hordes of enemies 👊 and rescue civilians in beautifully designed and varied levels.
Choose one of 12 cool and unique characters that you can customize by combining three sets of stylish outfits as you prepare them for action and then pick a pair of deadly weapons to mow down the enemy out of more than 30 different guns, including pistols, submachine guns and serrated disk throwers!
Use your reflexes to make every trick shot in the book to take down criminals, zombies and other foes to protect and rescue the civilians that you meet along the way as you run through the levels in a hail of bullets.
Watch the action unfold in slow motion as you perform nearly impossible feats of gunplay to take down groups of enemies that lurk behind every corner and burst out of every doorway. Roll, dive, run and take cover as you fight your way through.
🎖️ A GREAT LINEUP OF FEATURES 🎖️
★ More than a dozen different locations will transport you to another world of exciting shooting action
★ 12 cool and colorful customizable player characters to choose from
★ Exciting non-stop run and gun shooter action to get the adrenaline pumping
★ Enjoy a great heavy rock soundtrack made especially for the game
★ Slow motion that allows you to pick your shots and provide a truly cinematic experience
★ 3 cool and detailed outfits 👔 to combine for each character and make them your own
★ Gorgeous, slick and stylish graphics 3D and smooth character animations
★ Over 30 detailed guns, pistols and other shooting weapons to complete your arsenal
★ Enjoy the action from a first or third-person view
★ Challenging Zombie Boss levels where only the best survive and win
DIVE INTO A GAME WORLD FULL OF ACTION 💣
The action takes place over more than 10 exciting game locations with many levels that are filled with terrain, obstacles and cover, with a huge range of different enemies out to get you and the civilians that need your help.
Defeat hordes of 🧟 zombies with your expert shooting skills on the zombie levels, where the green and rotten tide never stops coming. Dozens of terrifying and different zombie bosses await you at the end of the levels and you will need all of your coordination and tactical skills to beat these powerful monsters.
You can also try your luck by completing challenging bonus levels with a roulette that gives out great and valuable prizes to the best players with every spin of the wheel.
Gunshot run is a truly unique cinematic experience that cannot be missed, and you will keep coming back for more every day to beat more levels and take down more bosses!
Download this exciting shooting game right now, re-load your pistols and give them hell!
Chơi Gunshot Run - Action Shooter trên PC. Rất dễ để bắt đầu
Tải và cài đặt BlueStacks trên máy của bạn

Hoàn tất đăng nhập vào Google để đến PlayStore, hoặc thực hiện sau

Tìm Gunshot Run - Action Shooter trên thanh tìm kiếm ở góc phải màn hình

Nhấn vào để cài đặt Gunshot Run - Action Shooter trong danh sách kết quả tìm kiếm

Hoàn tất đăng nhập Google (nếu bạn chưa làm bước 2) để cài đặt Gunshot Run - Action Shooter

Nhấn vào icon Gunshot Run - Action Shooter tại màn hình chính để bắt đầu chơi