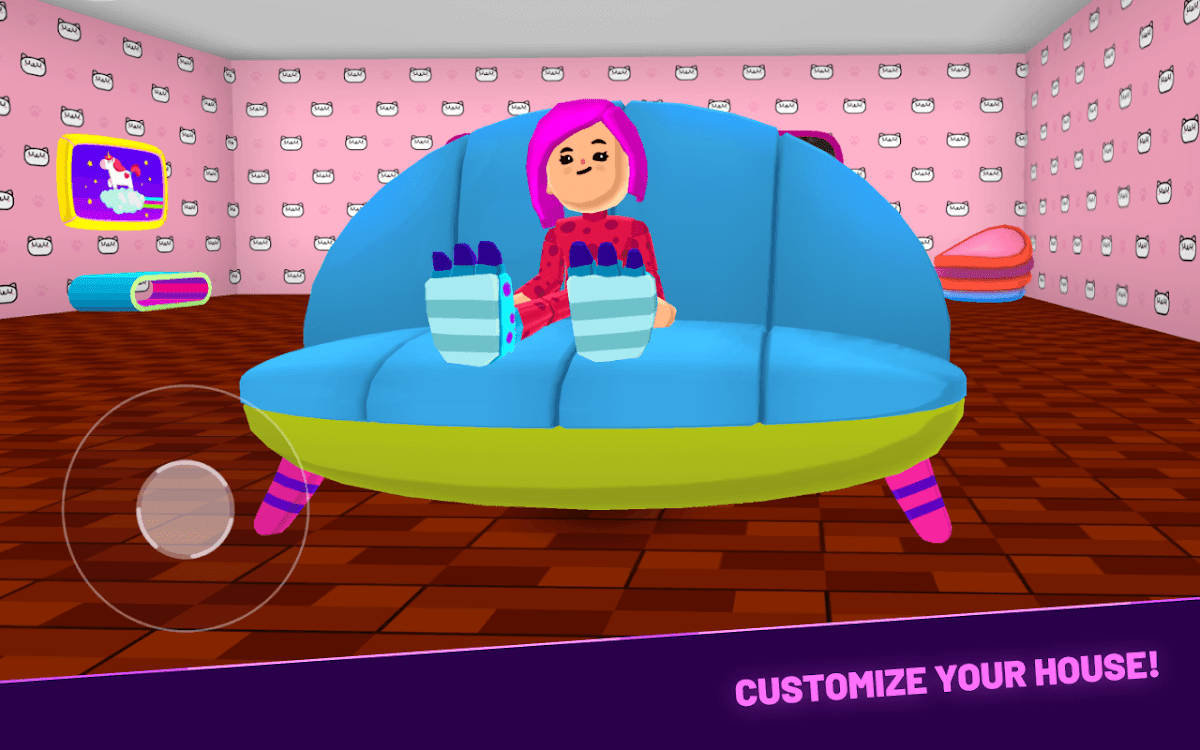 PK XD - Explore and Play with your Friends!
PlayKids Inc
Son Güncelleme 19 Kasım 2020
400M + oyuncunun güvendiği Android Oyun Platformu, BlueStacks ile PC'de oynayın.
Zaten bir BlueStacks kullanıcısı mısın?
Şimdi Aç
Galeri

Oyun Özellikleri

Nasıl Oynanır ?

BENZER OYUNLAR
Oyun Özellikleri
Welcome to your own virtual world!
PK XD is all about fun: a game in which you can create your avatar, build your own house, meet, talk and have fun with your friends, have a virtual pet, play minigames, and much more!

Go on new adventures in this open-world game, where you'll challenge yourself with minigames to get exclusive items and take your house, your looks, your pets, and all the fun to the next level.
Ready to explore this universe and join millions of players from all over the world?!

Here's a list of all the fun you can have:

CREATE YOUR AVATAR
Your character, your rules! You can be a zombie, a unicorn, a witch, or even a dragon if you wish. Just use your imagination to combine all items available: monster slippers, futuristic boots, incredible wings, ninja swords, a cat mask, shark gloves, lobster gloves, golden hair, fun backpacks, incredible sunglasses, cool clothes, and much more.

EVOLVE YOUR VIRTUAL PET
You already have a house, friends, work… the fun will be complete with your own virtual pet! From common to rare animals, you can find cats, dogs, pigs, cows, buffalos, hedgehogs, raccoons, alligators, hippopotamus… phew! There are many cute creatures to be your partner in the game! Take care of them and let them grow by your side.

CHAT WITH FRIENDS AND RELAX
This is your virtual world! You can do whatever you want. So, in addition to exploring the world and taking up challenges, you can try different activities such as relaxing in the floats, having ice cream, jumping with the "power-up", dancing different moves and styles, and having lots of fun with your friends and neighbors!

CREATE YOUR DREAM HOUSE
Build your house, get new items, and decorate your home however you want. The only limit is your imagination! Here's a sneak peek of what you'll find: Puff cloud, dance mat, lava lamp, wallpapers, fluffy rug, gamer chair, pictures, fantastic fireplace, heart-shaped balloons, kitchen items, bathroom items, and so much more!

CHALLENGE YOUR FRIENDS WITH SUPER FUN MINIGAMES
There's always something new on PK XD! Play minigames and complete quests in each season. What about some crazy run or delivering pizzas to earn coins?

BE PART OF OUR COMMUNITY
Build the game with us! We listen closely to your suggestions so that we can offer the best experience ever.

Follow us to stay on top of the news: @pkxd.universe
Daha az gör Daha fazla gör
PK XD - Explore and Play with your Friends! oyununu PC'de oyna. Başlamak çok kolay.
BlueStacks'i PC'nize İndirin ve Yükleyin

Play Store'a erişmek için Google girişi yapın ya da daha sonraya bırakın.

Sağ üst köşeye PK XD - Explore and Play with your Friends! yazarak arayın.

PK XD - Explore and Play with your Friends! uygulamasını arama sonuçlarından indirmek için tıklayın.

(iEğer Adım 2'yi atladıysanız) PK XD - Explore and Play with your Friends! uygulamasını yüklemek için Google'a giriş yapın.

Oynatmaya başlatmak için ekrandaki PK XD - Explore and Play with your Friends! ikonuna tıklayın.