BlueStacks Exclusives
How to Install APK Games on PC with BlueStacks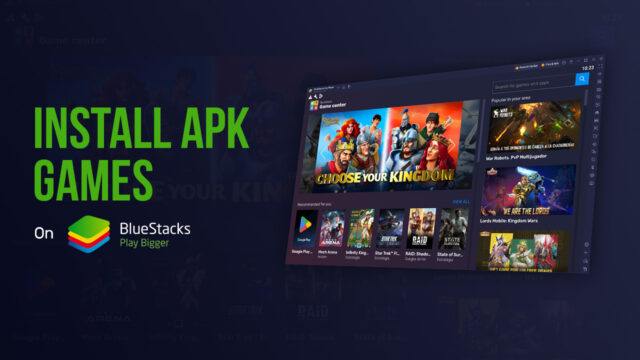 For some reason or another, there might come a time when your favorite app marketplace fails you. Whether because you're in a specific region where a game isn't available, or your device doesn't meet some obscure standard that the marketplace requires, there are games that will appear as unavailable for downloading from the Play Store, leaving you basically unable to enjoy them. This applies even to "global" releases of games that should be available across the world, but for some reason aren't!
Luckily, in cases like this, one of the most common solutions is simply to find an APK file, which is basically the entire game packaged into a format that phone operating systems can easily unpack and install, and install it manually instead of having the marketplace do it for you. This solution is very simple and fast, with the hardest part being finding the actual APK, though there are quite a few reputable APK websites out there that are only a quick Google search away.
Downloading and Installing APKs on BlueStacks
This restriction can happen even if you're playing mobile games on PC with BlueStacks, which is a bummer considering that our Android app player is meant to facilitate games to a much larger audience. Luckily, installing APKs on BlueStacks is very easy, and we've broken down the process into a few steps for your convenience:
Find and download the APK file for the game you want to install.

On BlueStacks, click on the "Install APK" button on the side panel, or press Ctrl + Shift + B.

Browse to where your APK file is downloaded and double click on it to begin the installation.

After a few seconds, your installed game should appear on the BlueStacks home screen, after which you can click on its icon to start playing.
On rare occasions, there might be some cases when the install fails due to incompatibility. The fix here is usually to try and install the game on a 64-bit instance, which you can create via the Instance Manager by pressing Ctrl + Shift + 8 to bring it up, or by clicking on its icon on the side panel. Once you've created a 64-bit instance using Android 11, Pie, or Nougat-64, try performing the above steps again and your game should install successfully.
Installing and playing your favorite mobile games on PC with BlueStacks is very easy and fast. And by being able to install them via APK, you can even enjoy the best experience with games that, in other circumstances, wouldn't be available in your region or device.
Feel free to leave us any questions or thoughts in the comments below!