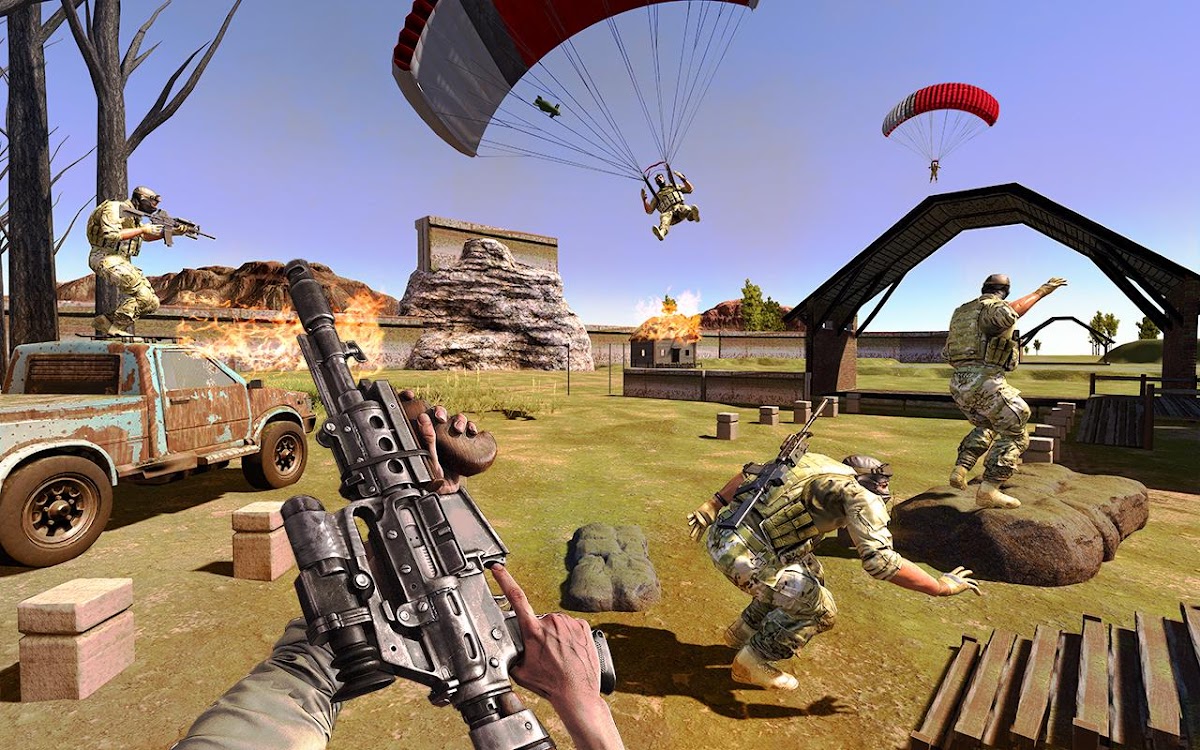 War Sniper Shooting Game Strike
Akcja | MiniTech Studio By Digitron Systems
Graj na PC z BlueStacks – Platforma gamingowa Android, która uzyskała zaufanie ponad 500 milionów graczy!
Ostatnia aktualizacja 19 listopada 2020
Funkcje Gry
War Sniper Shooting Game Strike is about military wars in battle environments.
Welcome to all lovers of free shooting games in army top action games in which they can perform terrorist shooting tasks to upgrade their shooting aptitudes. These days, counter attackers have advanced and futuristic ammunition for combat operations and has turned into severe counter battle where player has to perform counter fire activities of counter games. If you are also the admirer of free fps games , join us in this counter critical mission games to fill all gaps of modern commando shooting games in effective manner. Avail this chance to become counter hero and prove your sniper shooting skills as counter king. Try to become counter Killer and carry out counter shooting in best possible manner and facilitate counter terrorist force in this newly developed counter terror war of sniper games. For the purpose of this sniper shooting, you have all kinds of backup of sniper assassins under your belt to execute sniper battle in practical and effective way. If you are also the admirer of free fps games , join us in this counter critical mission games to fill all gaps of modern commando shooting games in effective manner.
This new form of free action games is highly recommended for you as it empowers you with latest shooting guns. Unknown US military shooting and us military attack games as well as us army sniper shooting against counter terrorism shooter with skills of critical commando ops are in army Critical Strike. Connect yourself with this top adventure games to come in live contact with army top lifestyle apps to remove all terrorists from the face of your country. The US Army Counter terrorist force and critical force are busy in us military strike and counter terrorist Attack. Start new free shooting career in shooting attack games by going through current shooting combat as top commando games.
Show your real concern in counter critical games as terrorists are busy in killing the innocent civilians through modern warfare gun strike. The new phase of us military sniper games is with the real call of cry which has turned into war of cry and is present before the eyes of the player as military base game. Offer your valuable shooting services in this army commando counter assault games by making the military survival very sure by acting as counter shooter games. Join this far off cry and be live in gunfights to be the live partner of army counter terrorism department of battleground mobile games. The gun fights of military war games are now in counter terrorism game where you have an open opportunity to be the part of us army counter terrorist with walkthrough from critical strike of fps shooting games. Don't bother about ammunition in ongoing army shooter strike of best shooting games because you have endless treasures of bullets under your belt. This is a critical attack in which huge and heavy machinery is taking part like us military truck of us army shooting games with the totaling of the counter ops of terrorist attack games and sniper shooting games.
Czytaj mniej Dowiedz się więcej
Zagraj w War Sniper Shooting Game Strike na PC. To takie proste.
Pobierz i zainstaluj BlueStacks na PC

Zakończ pomyślnie ustawienie Google, aby otrzymać dostęp do sklepu Play, albo zrób to później.

Wyszukaj War Sniper Shooting Game Strike w pasku wyszukiwania w prawym górnym rogu.

Kliknij, aby zainstalować War Sniper Shooting Game Strike z wyników wyszukiwania

Ukończ pomyślnie rejestrację Google (jeśli krok 2 został pominięty) aby zainstalować War Sniper Shooting Game Strike

Klinij w ikonę War Sniper Shooting Game Strike na ekranie startowym, aby zacząć grę