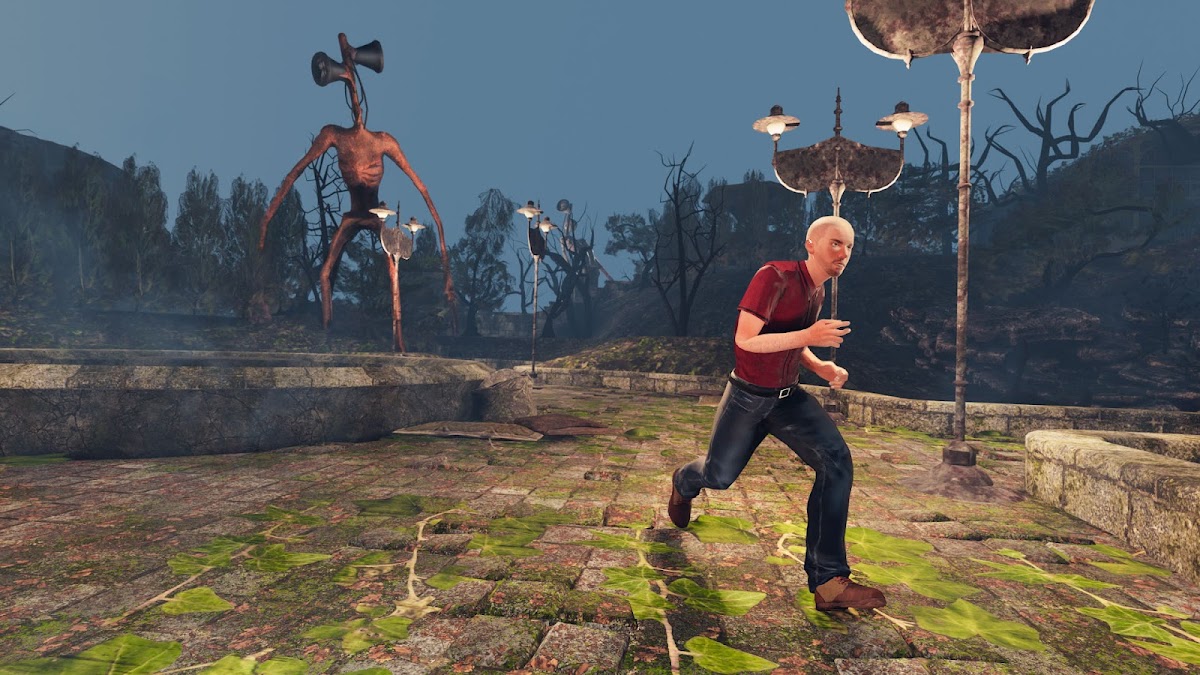 Siren Head Haunted House : Siren Head Horror Game
Role Playing | One More Cup of Coffee (OMC2)
Играйте на ПК с BlueStacks – игровой платформе для приложений на Android. Нас выбирают более 500 млн. игроков.
Страница изменена: 26 марта 2021 г.
Особенности игры
Siren Head Horror haunted house game having fun in scary Simulator is FPS horror survival scary house. Siren sniper hunter have full of fun for a mysterious monster with scary siren head monster in dark forest! your friend has coming to you but suddendly he is not reached your home. Many people on finding they catch from SirenHead disappeared. Your mission is to find your friend but keep in mind that this horror adventure will be very dangerous you have to prepared for it. in this new siren head horror haunted house you have spy cameras bear traps hunting rifle flashlight and all the stuff that will help you to find your friend.

People get lost in wild animal forest when they are go for hunting. But its not easy to find where they lost. People find some hints and clues the mysterious creatures here in dark side of the jungle. Like real Siren HEAD monster intelligence creature who take just a second to kill the last survival man. Now! Your mission is to find out with using some tricks and kill them all the siren head inside the scary house. now ready to start the mission to find clan and hunt them in 3d monster hunt free offline games. Set up a trap and wait for to come out to get and caught in traps the scary siren head. Use meat and net to catch them in the cage. And also use the weapons to protect your body because they have intelligence mind to shot the human beings and block your attack. Remember! In Siren head Finding Monster Hunting, Survival Games and mission games you have to consume short time for killing the scary Siren head. Because for next mission you have to save the time. Destroy all the things which is in your way, hunt down wild animals and hunt or hide from horror monsters. In 3d monster huntz offline Shoot all forest animals like lion, gorilla and others horrified animals. Show your shooting skills and show that you are the expert monster hunter man. Consider that this is the only chance for your survival so you need to start the predator off road jungle hunting simulator in this Siren head Finding & Yeti Hunting Survival Game.
Indulge in our wild hunting Siren head monster hunter games with Huge open world full 3D environment in northern forests of new medieval town when you play our Siren Head Monster games to get a pure taste of destruction games and destroying games where u also have to help the escape that has been missing in other giant monster games along with city destruction games also included with giant rampage games. In this monster hunting for real Big siren head foot you have to act really smart while tracking the Sasquatch because this monster have already killed a lot of people and it knows what to do and he always ready to destroy the people. Always remember in every moment a hunter may become a prey. Set up cameras to look around and always be ready for an attack from behind. This thing is clever and already know your weak sides an become the monster hunter of this siren head chapter two monster survival island. you played many of other scary granny teacher games, horror games and siren head game but this best new scary siren head games is the best 3d horror free offline games.


Find Siren head Creature:-Hunting & Survival Game Features:

-Weapons box to select your favorite weapon for survival.
-Be careful though, Siren head monster is wild!
-Huge open world environment in northern forests of medieval town
- included with giant rampage with monster sounds and 3D environment
-Unlock an arsenal of powerful weapons to help you stay alive
Играйте в игру Siren Head Haunted House : Siren Head Horror Game на ПК. Это легко и просто.
Скачайте и установите BlueStacks на ПК.

Войдите в аккаунт Google, чтобы получить доступ к Google Play, или сделайте это позже.

В поле поиска, которое находится в правой части экрана, введите название игры – Siren Head Haunted House : Siren Head Horror Game.

Среди результатов поиска найдите игру Siren Head Haunted House : Siren Head Horror Game и нажмите на кнопку "Установить".

Завершите авторизацию в Google (если вы пропустили этот шаг в начале) и установите игру Siren Head Haunted House : Siren Head Horror Game.

Нажмите на ярлык игры Siren Head Haunted House : Siren Head Horror Game на главном экране, чтобы начать играть.