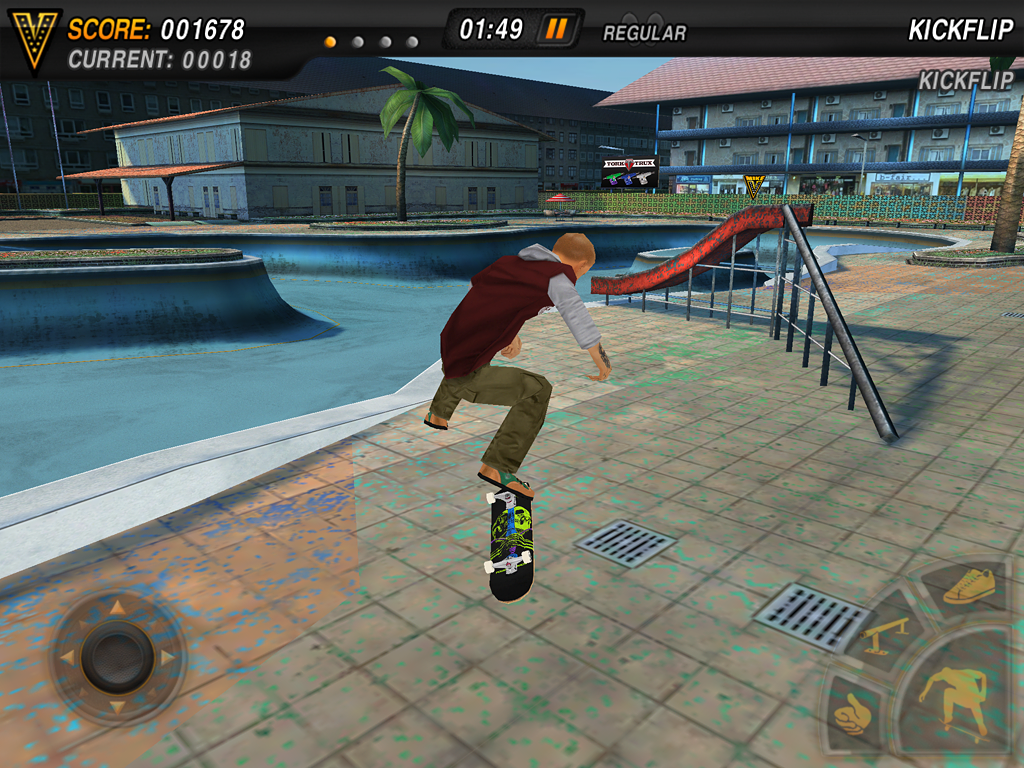 Mike V: Skateboard Party PRO
Graj na PC z BlueStacks – Platforma gamingowa Android, która uzyskała zaufanie ponad 500 milionów graczy!
Ostatnia aktualizacja 23 stycznia 2017
Funkcje Gry
Loaded with features, Mike V: Skateboard Party is the best skateboarding game to hit the mobile market!

CAREER MODE
☆Complete over 30 achievements to unlock new items and locations. Gain experience to upgrade your favorite skater's attributes to perform better and achieve higher scores.

FREE SKATE
☆Practice and improve your skateboarding skills without any constraints.

MASSIVE SELECTION
☆Select between 8 characters and customize each of them to your preference. From outfits to shoes, choose your favorite gear. A massive collection of boards, trucks, wheels and bearings are available including items from Airwalk, Powell & Peralta, Bones, Tork Trux and Iron Fist Clothing.

LEARN TO SKATE
☆Over 40 unique tricks to master and hundreds of combinations. Follow the tutorial to get started and progress as you go. Execute the craziest combos and trick sequences to rack up some impressive high scores, gain experience and make a name for yourself.

HIGH DEFINITION
☆No other skateboarding game is available in HD. Mike V: Skateboard Party includes next generation graphics specially optimized for your mobile hardware to provide you with the best skateboarding experience.

NEW CONTROLS
☆New fully customizable control system; configure your own buttons layout and adjust the opacity. Use the right or left handed control mode, select a control preset or create your own. Use the analog stick or accelerometer option as you wish. Adjust your truck tightness to change your steering sensitivity.

LOADED WITH FEATURES
•HD effect for your gaming pleasure.
•Be in control - customize the way you play, dress, and purchase from our licensed brands!
•Learn all the unique trick combinations, and create your own.
•Check out all of the locations to skate at.
•The more you play, the more you win.
•Integration with Twitter - share with your friends.
•Awesome background music (Soundtrack by Conditions & Revolution Mother).
•Use in-app purchases to buy your experience & unlock more features.
•Optimized for Intel x86 mobile devices.

ABOUT MIKE VALLELY
From skateboard legend to rock star and movie actor, Mike Vallely is known as a pioneer and innovator in the skateboarding world. Discovered by Stacy Peralta (Z-Boys) and Lance Mountain in the 80s, Mike became the first East Coast street skater to emerge on the scene and became an overnight sensation.

SUPPORT: http://www.maplemedia.io
Czytaj mniej Dowiedz się więcej
Zagraj w Mike V: Skateboard Party PRO na PC. To takie proste.
Pobierz i zainstaluj BlueStacks na PC

Zakończ pomyślnie ustawienie Google, aby otrzymać dostęp do sklepu Play, albo zrób to później.

Wyszukaj Mike V: Skateboard Party PRO w pasku wyszukiwania w prawym górnym rogu.

Kliknij, aby zainstalować Mike V: Skateboard Party PRO z wyników wyszukiwania

Ukończ pomyślnie rejestrację Google (jeśli krok 2 został pominięty) aby zainstalować Mike V: Skateboard Party PRO

Klinij w ikonę Mike V: Skateboard Party PRO na ekranie startowym, aby zacząć grę