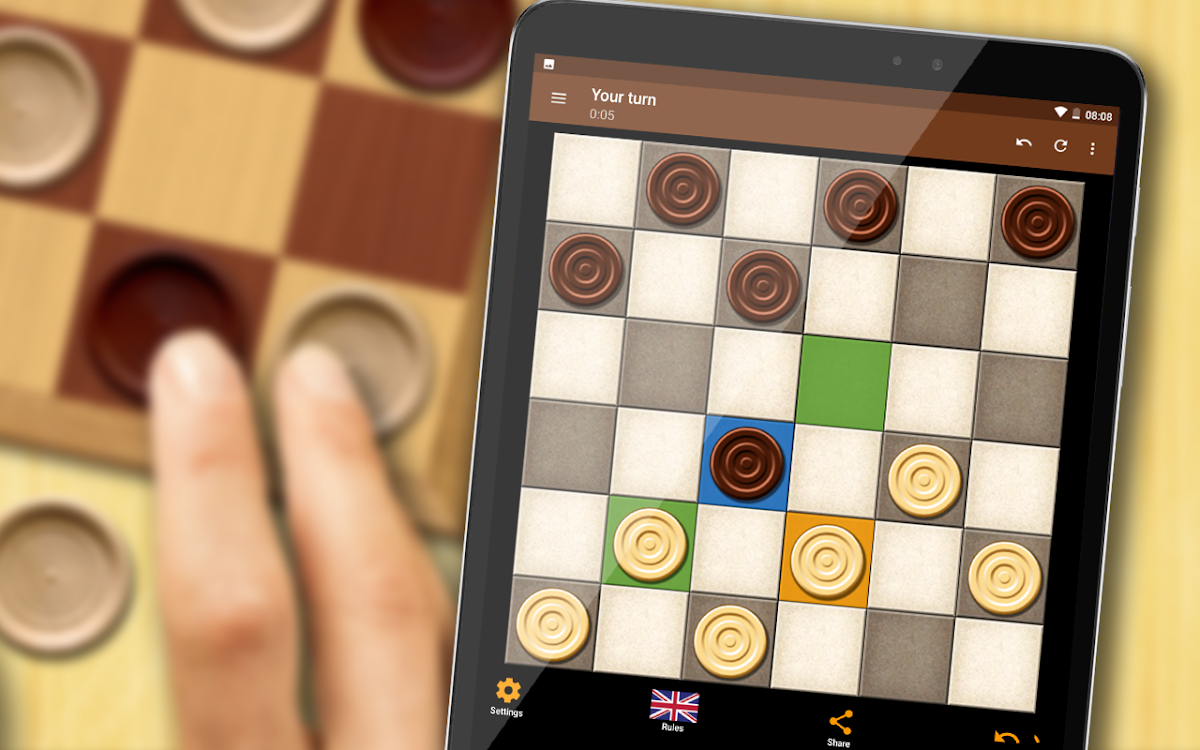 Draughts
Chess & Checkers Games
Lần Cập nhật mới nhất 17 tháng 1, 2020
Chơi trên PC với BlueStacks - Nền tảng chơi game Android, được hơn 500 triệu game thủ tin tưởng.
Bộ sưu tập

Tính năng trò chơi

Cách chơi

TRÒ CHƠI TƯƠNG TỰ
Tính năng trò chơi
Do you remember this board game from your childhood?

Checkers – a traditional and inspiring game which gives you a lot of fun challenging the computer or playing with another person on a two player offline mode. Relax with your family or friends and play Checkers. Share the game with children and show them the best entertainment from your school years.

Are you a board-game-enthusiast? Would you like to create or think of a strategy to win? Checkers will help you learn and practice logical thinking. You can change settings and choose your own rules e.g. to capture backwards or to choose mandatory capture.

And what's more, you can get this app and play for free.

Checkers is a classic board game, but in this app you can find features which make the game even more exciting.


Different levels of difficulty

Let's start from the easiest level and check if you can defeat the computer. The more experienced you are, the more likely you are to win with an expert. Take up the challenge and go through all 4 levels!


Different Draughts varians and rules

There is not one and only way to play Checkers. Everyone has various habits and usually prefers to play exactly the same way as in the past, that is why decide on your favourite rules:

🌍 International Draughts Capturing is mandatory and all the pieces can capture backwards. Also, the queen moves differently. It has long moves which means that, if the square is not blocked, the queen can move any distance diagonally.

🇪🇸 Spanish Draughts It is based on the international rules, but the pieces cannot capture backwards.;

🇬🇧 English Draughts (Checkers) Capturing is mandatory, but the pieces cannot capture backwards. The Queen doesn't have long moves, and it only has one step. The queen has the ability to move and capture backwards.

or 🇹🇷 Turkish Draughts Dark as well as light squares of the checker board are used. Pieces start on the second and third rows, they do not move diagonally but forward and sideways. The way that the queens move are similar to the chess queens.

Play as you like

You can choose from 4 levels and play with a computer, or select two players mode and play Checkers with friends or family.


Play Checkers for free

Our Draughts are completely FREE of charge! There is also no need to be On-line to use our app.

Have you found the best rules for yourself? If not, choose your own rules. It's really easy, just enter Settings (in the upper right corner) and choose the options that you prefer.

Do you want to help us improve Checkers?
We would be grateful if you fill out a short questionnaire (3 questions). This will let us know what new features do you need.
https://forms.gle/nsP6LMeGDJxJZuhd9

Have a good game!

Best regards,
Chess & Checkers Team


Facebook: https://www.facebook.com/DraughtsForAndroid/
Chơi Draughts trên PC. Rất dễ để bắt đầu
Tải và cài đặt BlueStacks trên máy của bạn

Hoàn tất đăng nhập vào Google để đến PlayStore, hoặc thực hiện sau

Tìm Draughts trên thanh tìm kiếm ở góc phải màn hình

Nhấn vào để cài đặt Draughts trong danh sách kết quả tìm kiếm

Hoàn tất đăng nhập Google (nếu bạn chưa làm bước 2) để cài đặt Draughts

Nhấn vào icon Draughts tại màn hình chính để bắt đầu chơi