App Reviews
Guardian Tales Global Launch Brings Action Adventure RPG Awesomeness to Android and iOS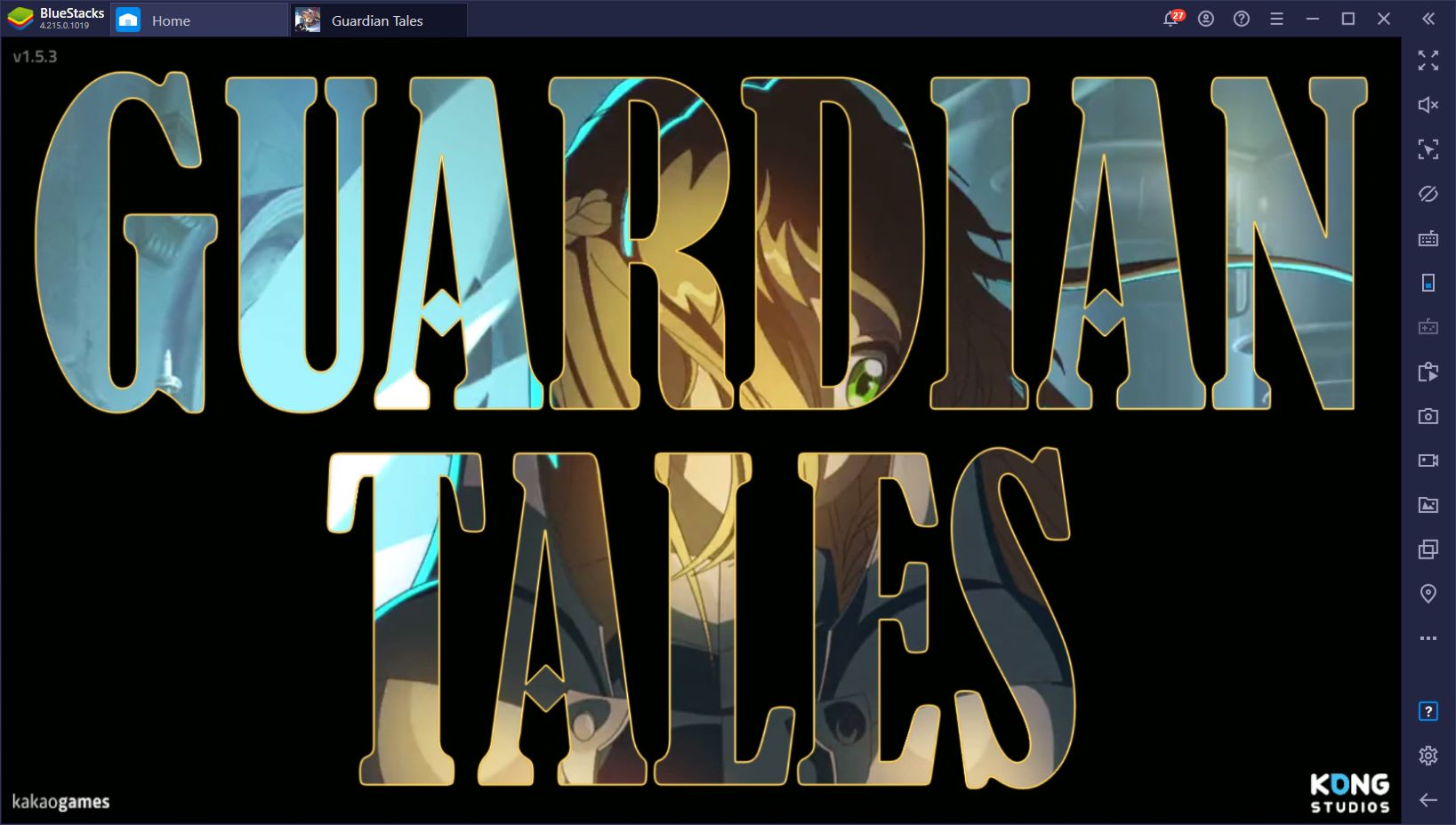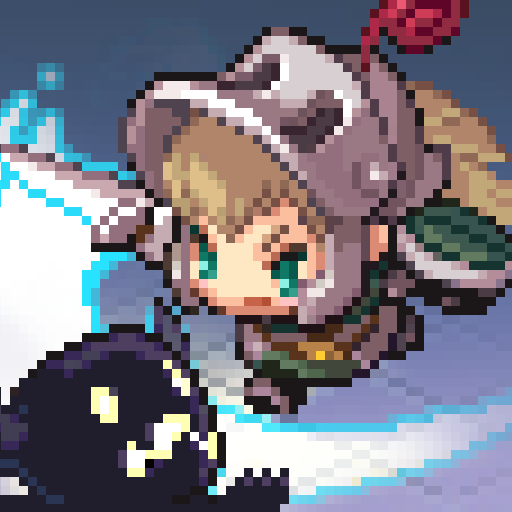 When we think about "mobile games", our minds immediately wander off to things like gachas, card games, casual match-3 games, and more recently, battle royales and shooter games. However, a genre that is criminally underrepresented in this industry is, without a doubt, the action-adventure category. Some of the most popular games are action adventure titles. Consider The Legend of Zelda, for example—it's one of the most popular action adventure franchises in the world. You'd think that, with such a faithful following, this genre would surely become widespread in the mobile market. Alas, this isn't really the case.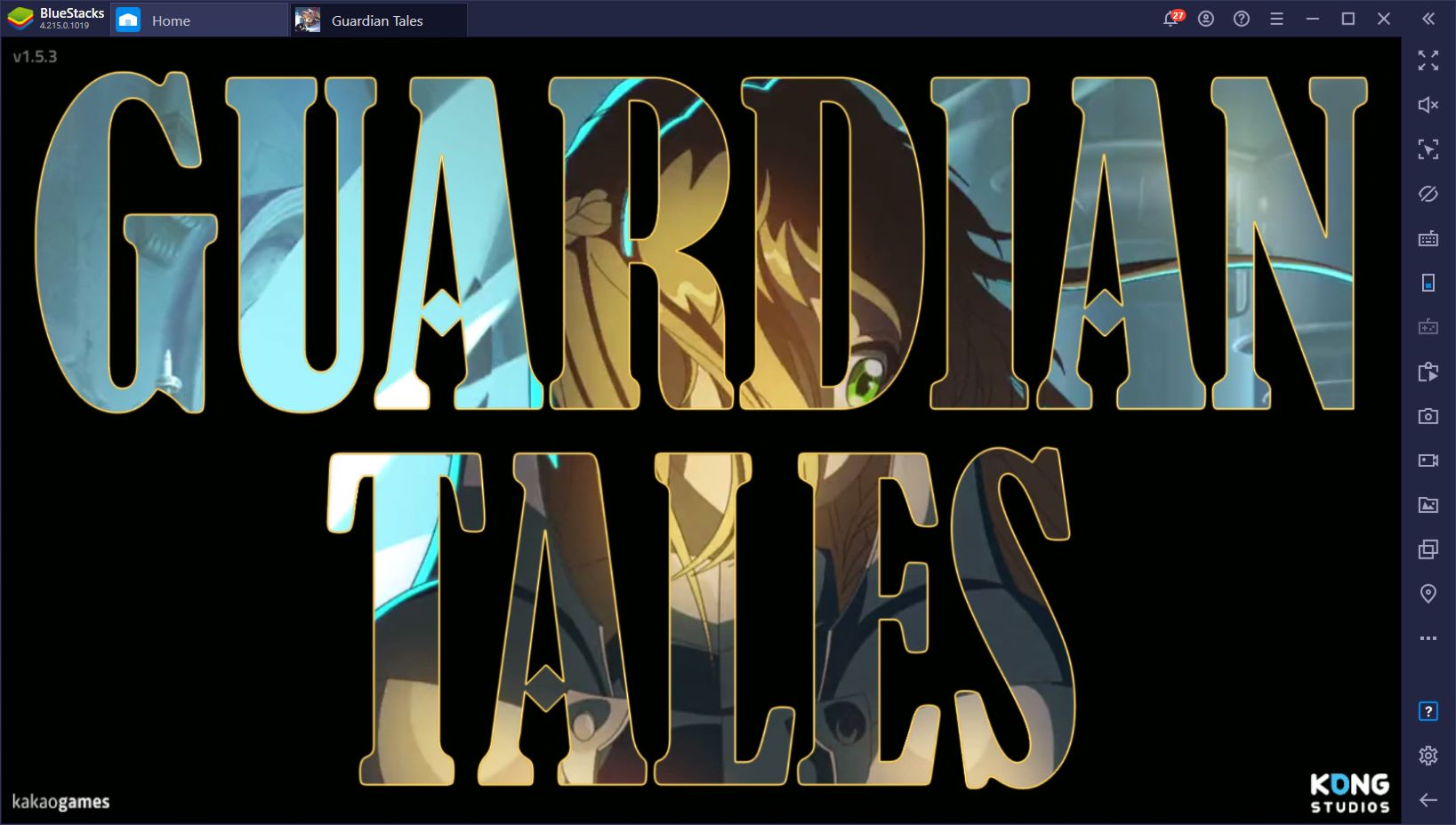 Sure, while there are a few mobile titles that try to cater to this audience, they're not nearly as popular as the ones in other genres. However, this may be all about to change with the launch of Guardian Tales, the most recent title by Kakao Games, and which features some of the best and most polished action adventure gameplay we've seen in this platform. Its combination of retro pixelated graphics and near flawless performance with hectic real-time combat against multiple enemies at the same time makes this game a delight to play. Suffice to say, it's one of the best games we've played in recent times.
And the best part is that Guardian Tales just launched a few days ago, which means that everyone's just starting out and discovering all the wonders and adventures that this game has in store for us. Alternatively, if you're not convinced already, you could also read this gameplay review that we've prepared just for you.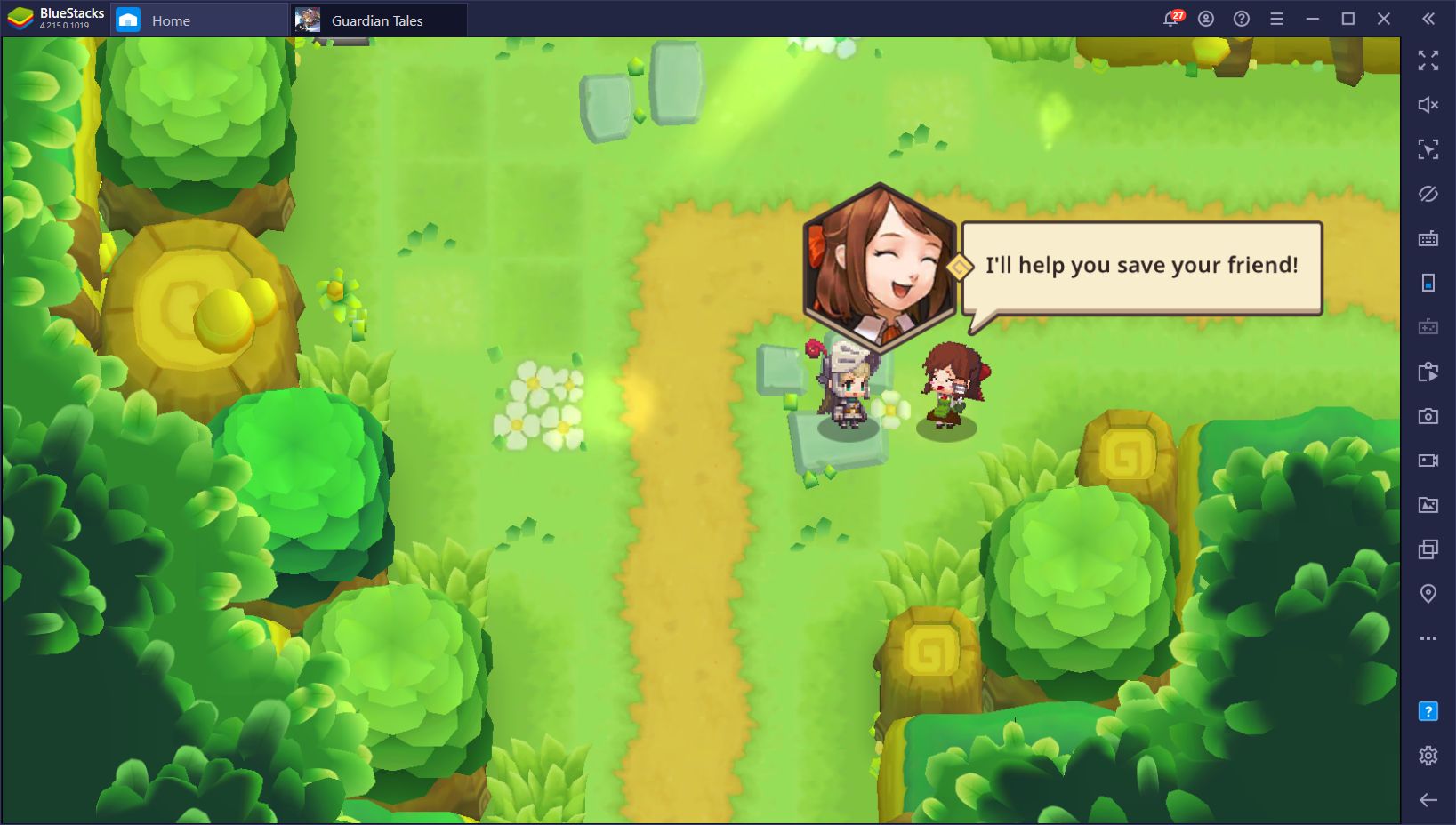 Retro 16-bit Art Style and the Best Performance on BlueStacks
First off, we need to start by addressing one of the most attractive features of the game, hands down: The graphics. Now, we're no graphics elitists ourselves; we actually put more value on an attractive art style than in hyperrealism in our games, and this is something that this game definitely excels at.
Guardian Tales adopts a retro art style to create a 16-bit experience not unlike the games in the early '90s. This is by no means something original nor exclusive to this game, but it's something that, as of late has fallen a bit out of fashion and is limited mostly to indie game developers. In addition, this game also features awesome hand-drawn art for the character portraits, which definitely adds to the quality and appeal as your heroes are not only pixelated versions of themselves, but you can actually see what they look like up close. Regardless, even the character sprites are expressive and full of life during cutscenes—there's really nothing bad we can say about the graphics in this game.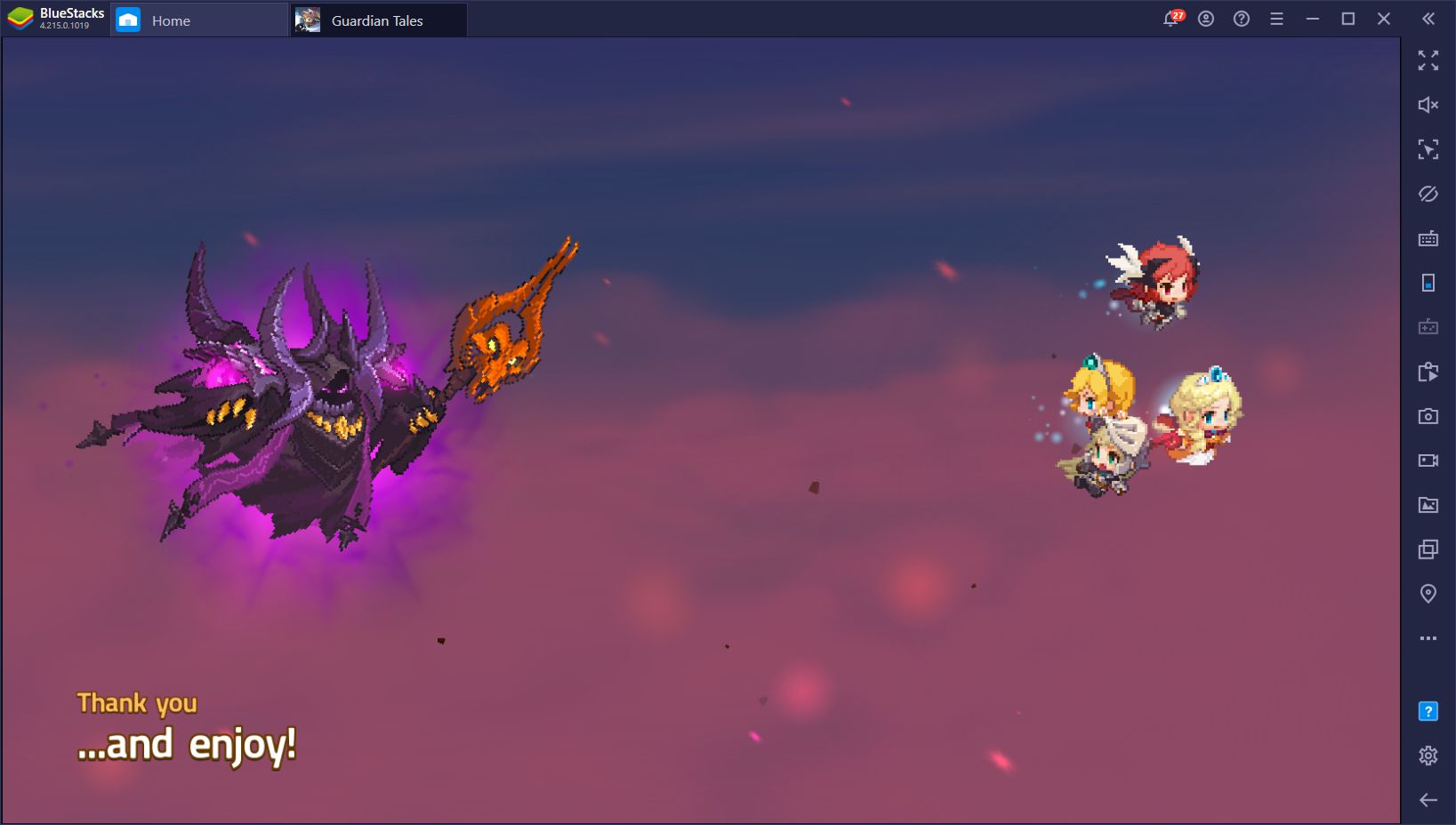 In our case, however, the awesome art style looks even better since the game runs impeccably at 60 FPS. Especially if you play Guardian Tales on PC with BlueStacks, we're enjoying it with silky smooth performance and no slowdowns at all. The controls themselves are also quite responsive, which only adds to the game's smoothness as well as to our enjoyment. And when it comes to superior controls, BlueStacks also has some tools and features that allows you to enjoy this game using your mouse and keyboard. The mix of awesome graphics, performance, and superior controls through our app player makes Guardian Tales feel like a PC game in terms of quality.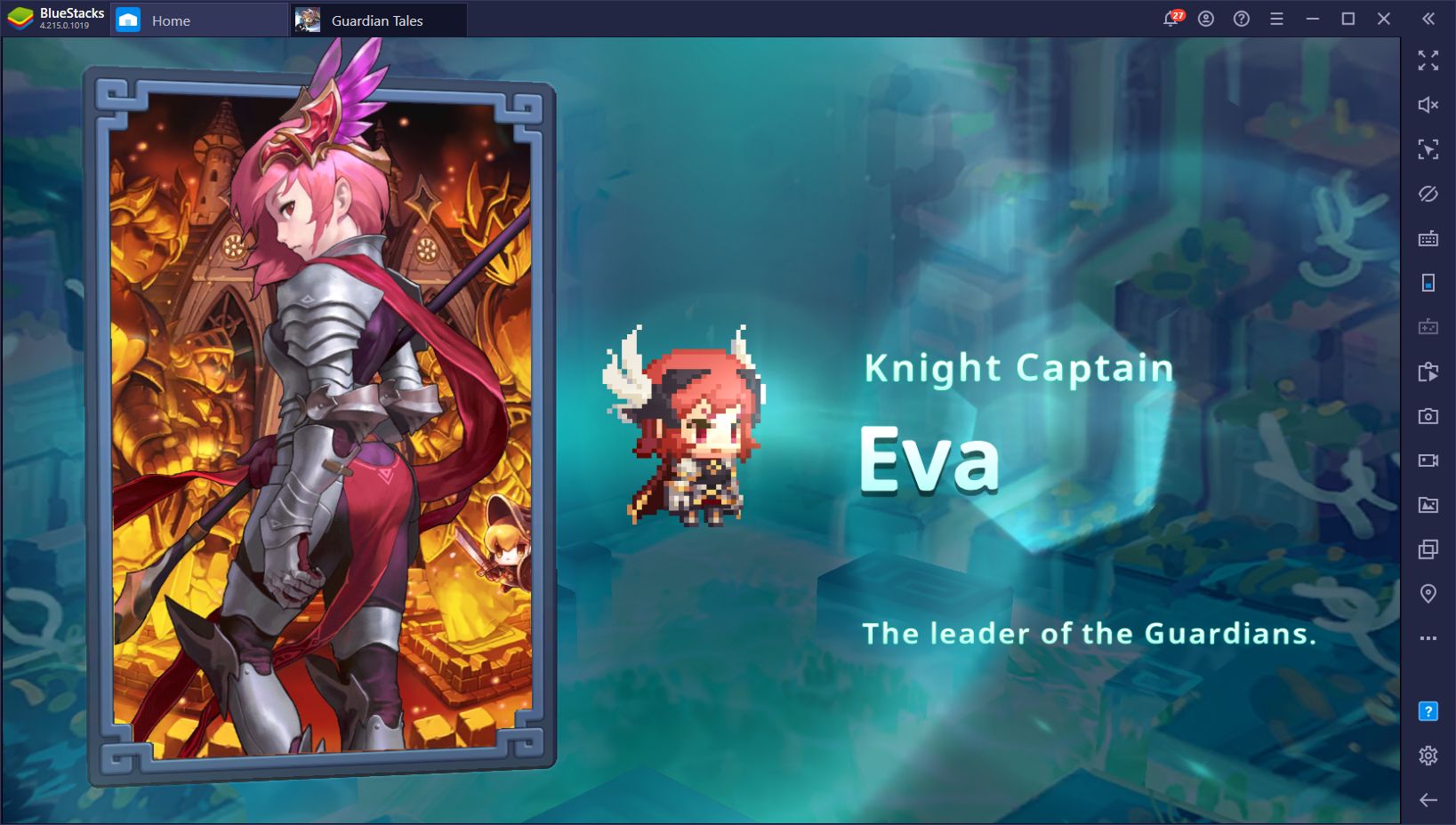 Awesome Real-Time Battles and Puzzles
Guardian Tales is not your typical mobile game. Unlike other titles where there's a notable focus on auto-navigation, auto-questing, auto-battling, and all sorts of automation features, Guardian Tale actually feels like a proper game that you have to sit down and play.
The game is divided into levels that you have to explore. Each stage has many battles against various enemies, puzzles, treasures, and sometimes even boss encounters. The objective is to explore each level and reach the end, after which you can proceed to the next stage. However, this isn't always completely straightforward as the path is almost always blocked by enemies or obstacles that you'll need to clear through several means. This usually means defeating all the enemies in a room, pressing a switch, clearing a physical obstacle by burning it or hitting it, or something else.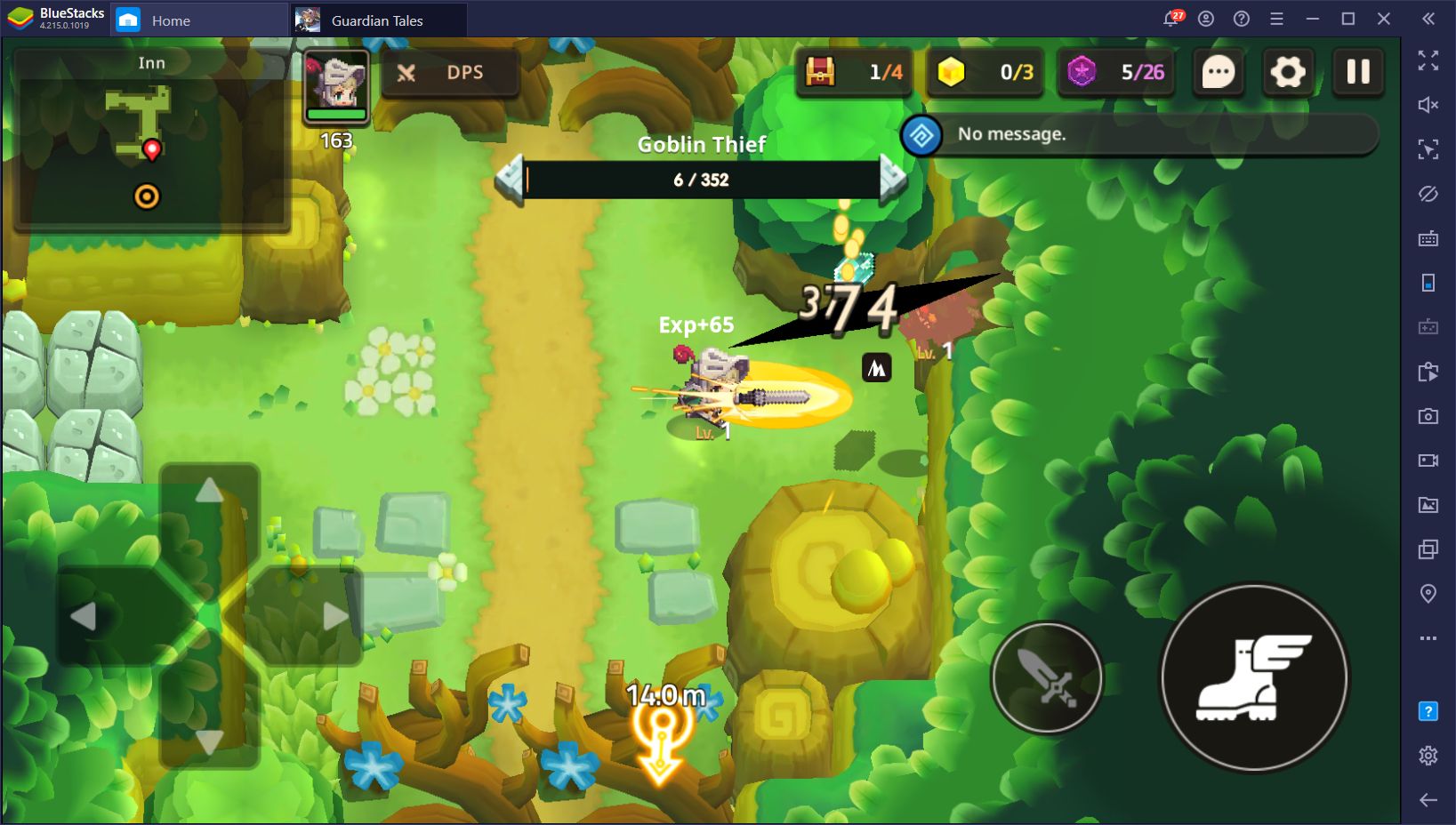 In true Zelda-like fashion, the solutions in Guardian Tales sometimes come in the form of new items and objects that you receive from big chests, which function as tools to help you clear certain paths. For instance, one of the first tools you receive is a drill that lets you break through smaller blocks that are blocking the way, which also gives you access to hidden areas and other goodies.
As you progress through the game, you'll unlock more tools that will allow you to gain access to other zones that were previously inaccessible. In some cases, you might find yourself backtracking to earlier stages after receiving a new tool just to pick up treasures you left behind. This type of game design is very reminiscent of modern Metroidvania games, in which you explore large, sprawling worlds that are mostly inaccessible to you in the beginning, and that begin to open up as you gain access to new tools and movement abilities.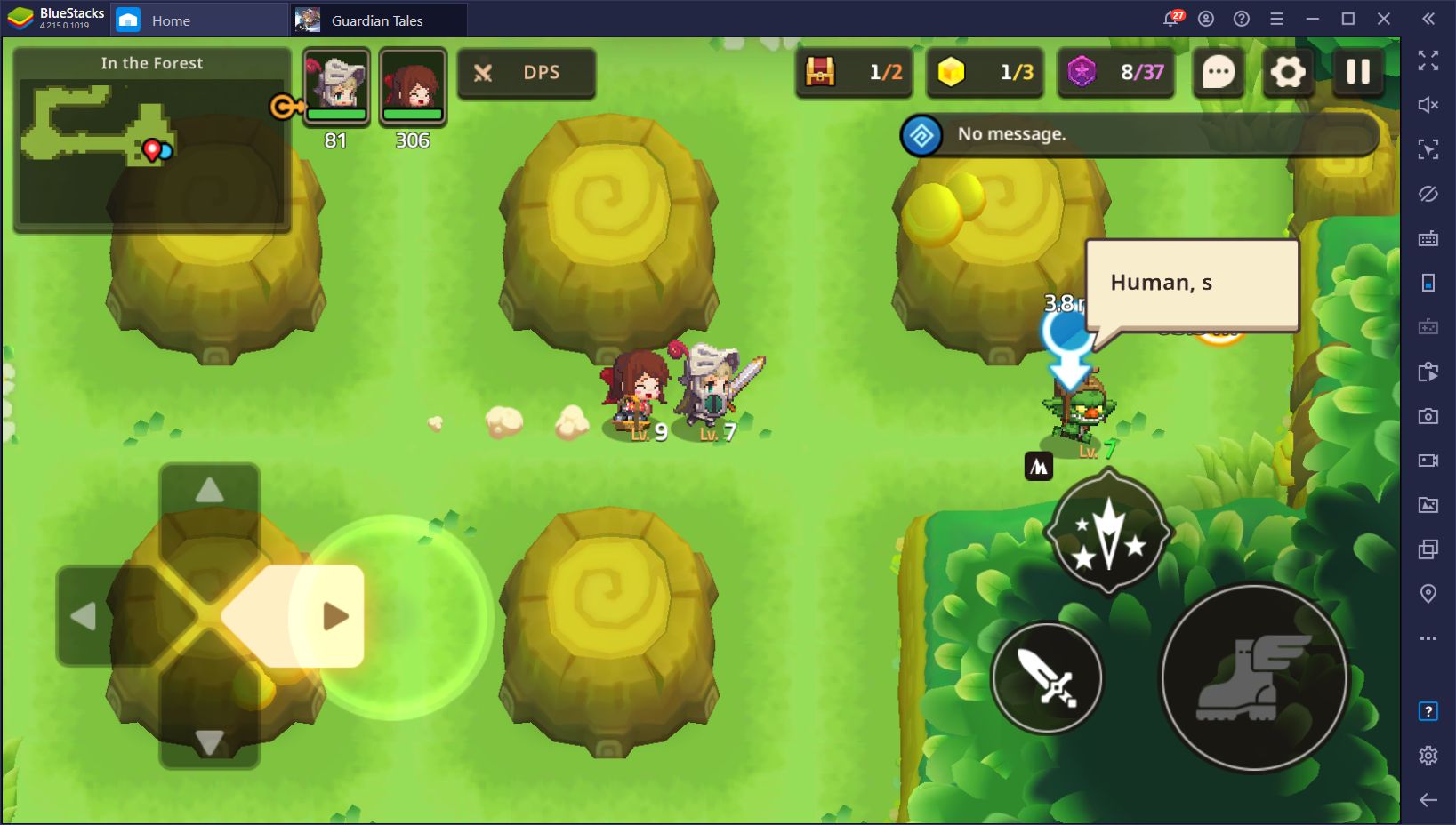 Pesky Goblin running away from us. Get back here!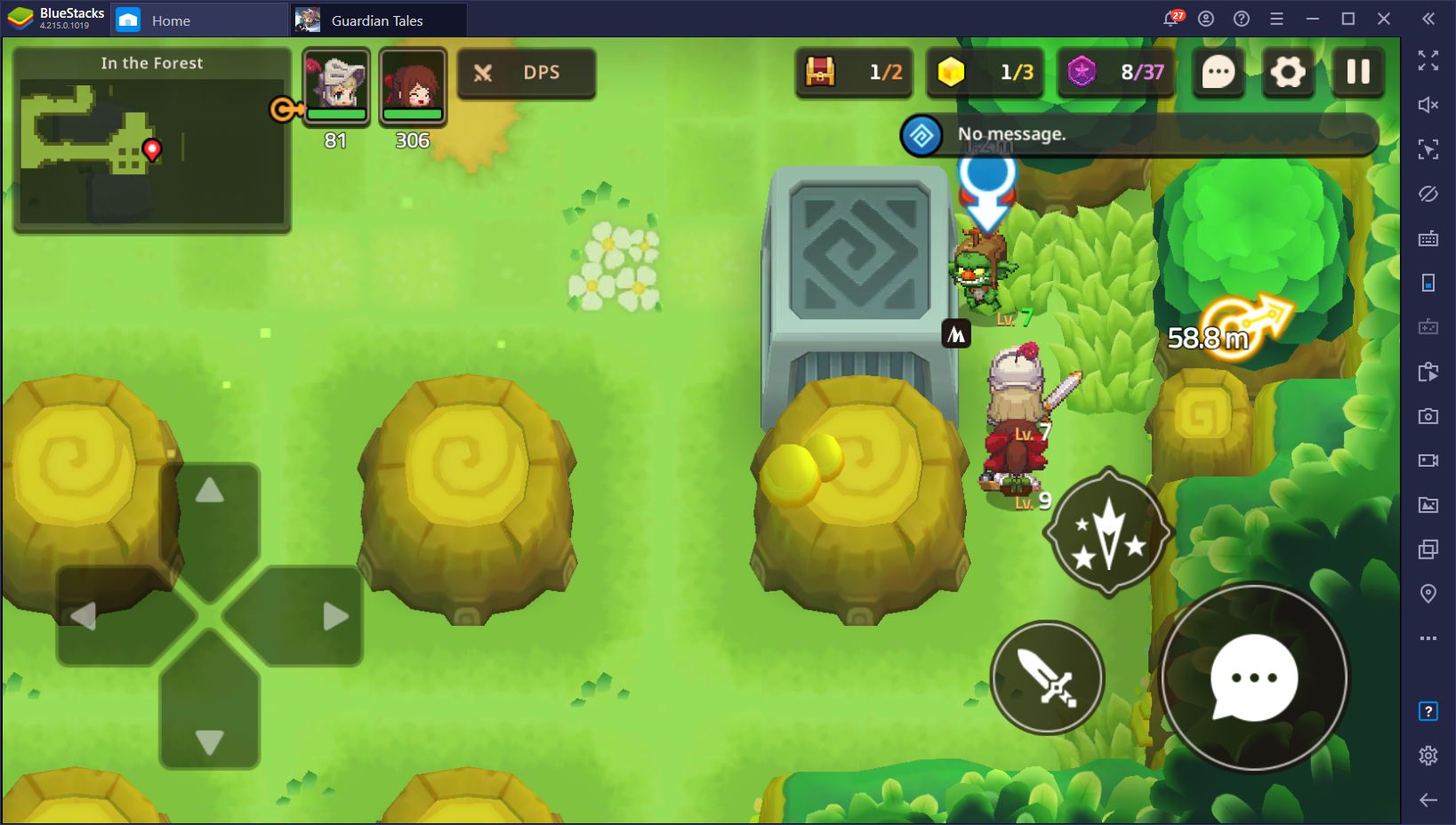 Using a large cube to block its path, we finally caught him and retrieved the goods he had stolen. Take that!
Some of the solutions and hidden content in Guardian Tales are not so apparent, however. Even after you unlock a new tool, you'll need to think about how to use it in specific cases in order to progress, or to access a hidden area with awesome items and weapons. Some of this hidden content can even lead to secret levels that you can complete to score extra rewards. This is great since it encourages players to actually sit down and explore instead of just mindlessly using auto-battle to proceed.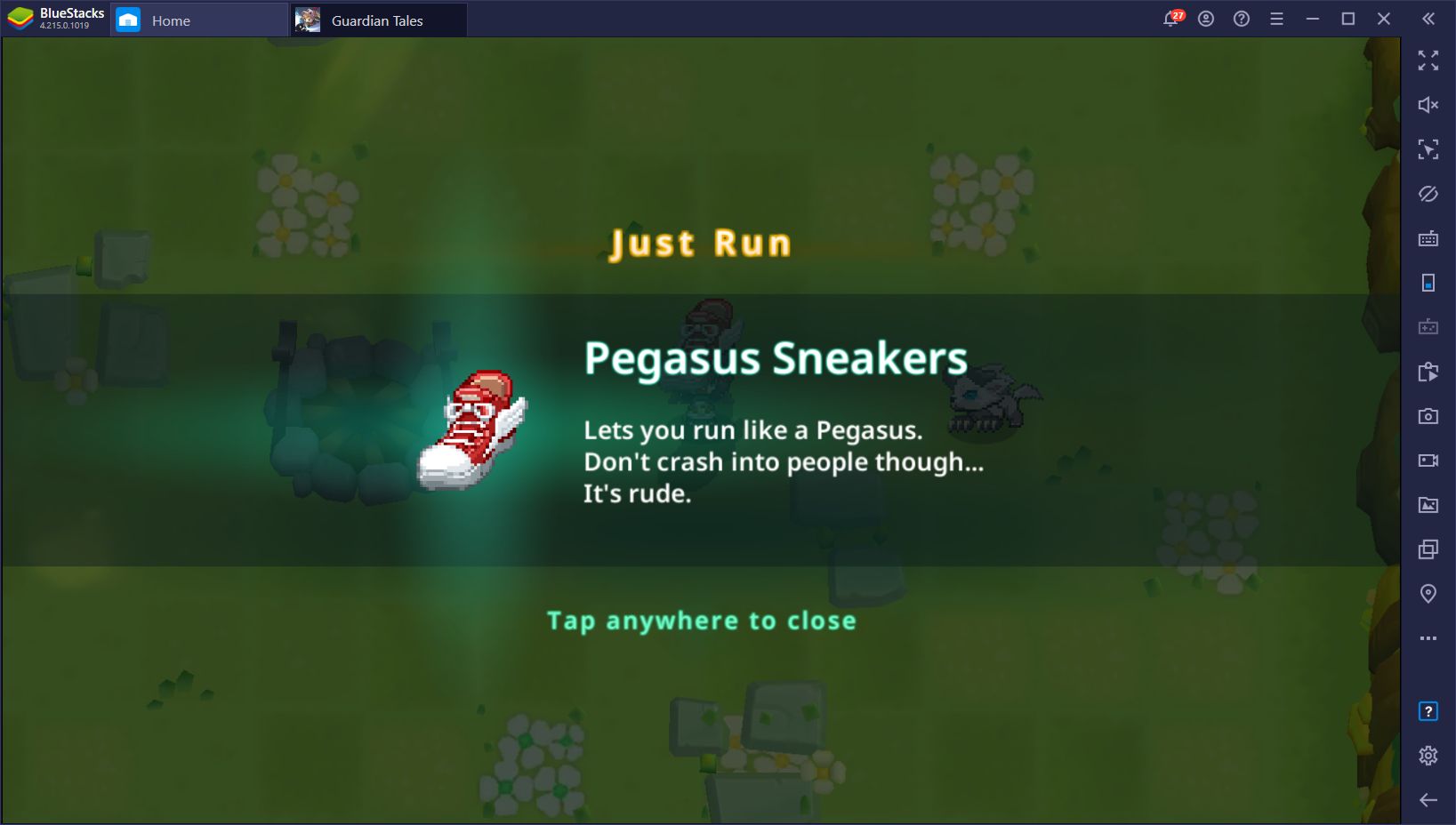 A Diverse Crew of Unlockable Characters and Weapons
As you travel through the world, you will come across different weapon types that can change the way you play the game. While you begin with a standard sword and shield, you will come across a bow shortly after starting, which allows you to pelt your foes with arrows from a safe distance. The bow also allows you to charge up powerful shots that can deal tons of damage to all enemies in a straight line with deadly precision.
However, aside from different weapons, you can also unlock various characters through the game's gacha system. Each character has different unique skills that they can use in combat, which makes them suited for different play styles.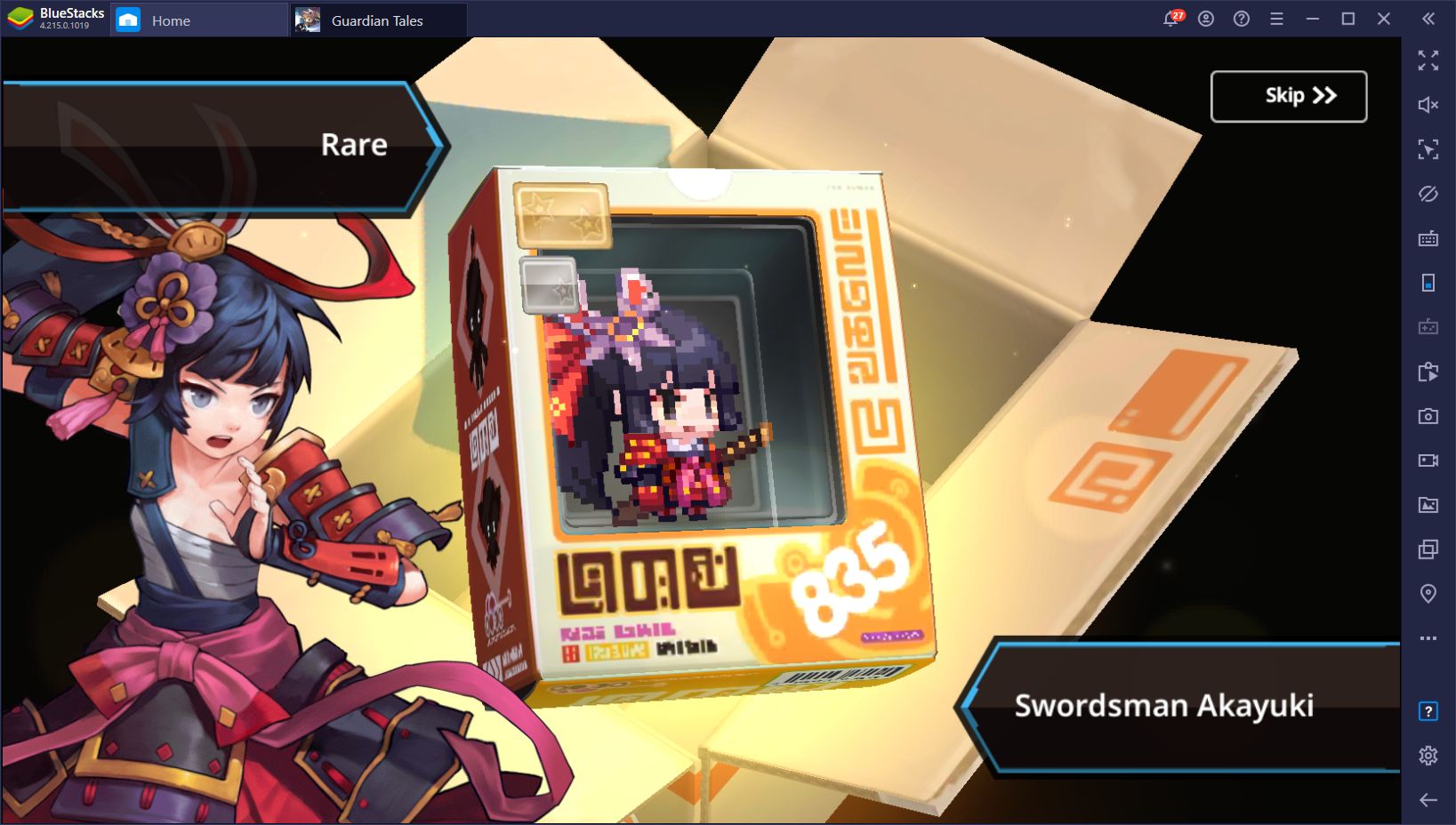 While we still haven't gotten too far into the game yet, Guardian Tales is, by far, one of the best games we've played in 2020, so far. If you're a fan of action adventure games—no, if you're a fan of gaming, in general, you're definitely going to enjoy this awesome title. Check it out in our App Center and get started in Guardian Tales on PC with BlueStacks today!