App Reviews
Let's Play The Tiniest ARPG Of All, Raider Origin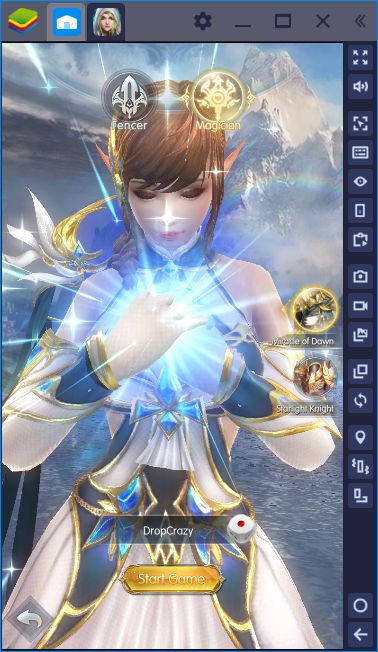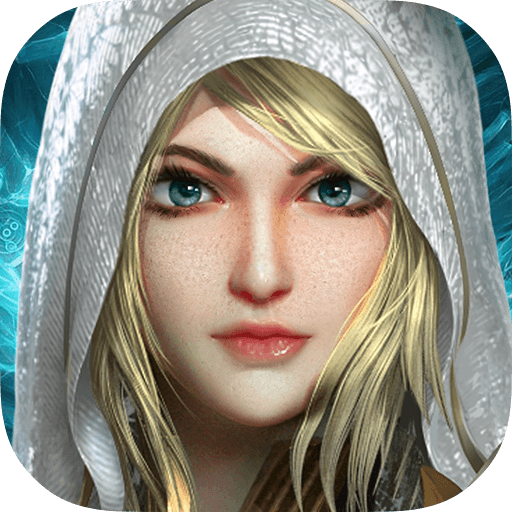 When we say the "tiniest", we are not kidding Raider: Origin MMORPG is less than 100 MB, uses a vertical interface, and still offers all the common features of action role-playing games. Classes? Check. Months of grinding? Oh yes, check. Enhancing equipment, farming for items, using pets, and saving the world once again? Check, check, and check. Raider: Origin may be tiny, but it is still an ARPG and offers a big enough world to explore, especially if you are a casual player. Let's start playing this humble game on BlueStacks and find out what it truly offers.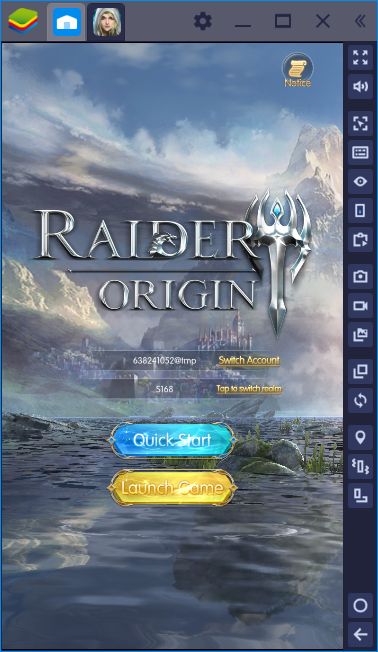 Classes of Raider Origin
In order to become the tiniest ARPG around, you must make some sacrifices. Raider: Origin did the same and cut out some character classes. At the time of this review, there were only two class options available: Fencer (warrior) and Magician (mage). Both are damage dealers (DD) and basically, you need to decide whether to become a melee or ranged DD. We recommend starting with the Fencer, as it has higher health and defense points, but you can level both of them at the same time as our Multi-Instance feature.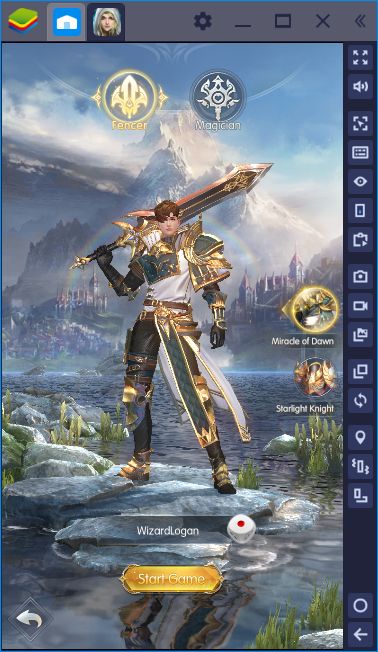 The mighty warrior.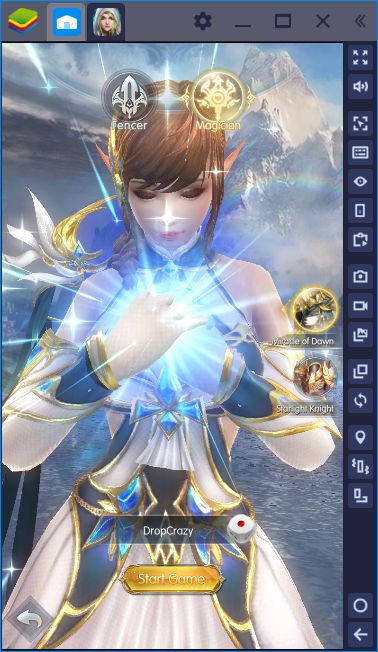 And the mighty mage – yeah, she looks much cooler than the warrior.
The Game That Plays Itself
While it is equal to other ARPG's in terms of features, Raider: Origin really has a "small" interface. All the buttons we are used to seeing are there, but they are very hard to use – even on the widescreen of your PCs. For this reason, the majority of the features in the game are truly automatic. Right from the beginning, your selected hero start fighting automatically and keeps doing it – the auto-combat feature is always active. There are quests but no quest screens, your tasks are displayed at the left bottom corner of the interface.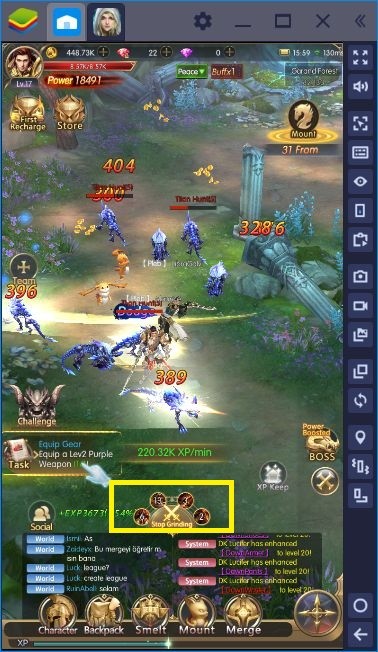 Can you see the marked area? That location contains your skill buttons but you don't need to use them – that part is automatic.
There is no real story to follow other than the usual "save the world from ancient evil". There are no intro movies and nothing to progress the story – you start the game by fighting and that's the only thing you do for the majority of your game time. Raider: Origin is not about an impressive story or CGI movies: It offers the joy of pure grinding and the chance to look good while doing it.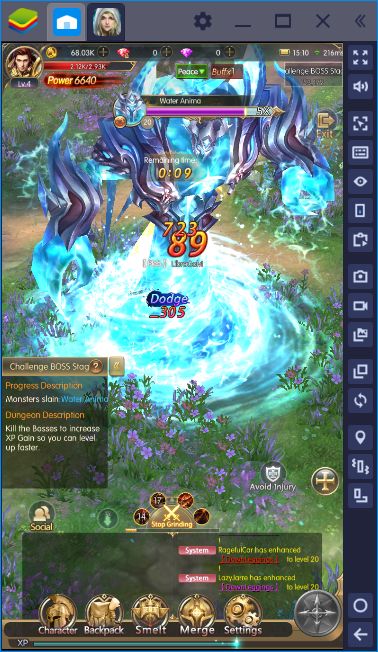 This is a boss fight – after killing enough minions, they spawn automatically. There is no map change (in fact, Raider Origin has almost no loading screen at all) so you just start to attack the boss when it spawns.
Grinding is the main way of acquiring XP points and it is quite effective at earlier stages: We launched the game, let it play itself for half an hour (literally, we did not click any buttons), and we were level 15 at the end of that period. In theory, you can reach the last level at where you start the game, and without playing it. Yes, it will take a very long time, but it is possible.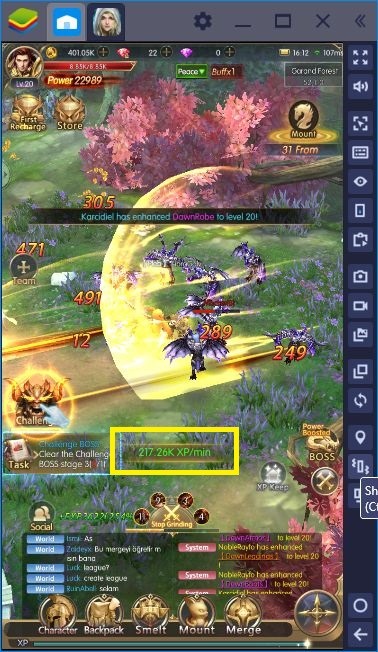 The marked section shows how many XP points per minute you are getting on that area.
You get a pet, amount, and the ability to craft new equipment and enhance it. You can even collect runes to empower your heroes and merge different weapons to create stronger ones – yes, all of the common ARPG features are in Raider: Origin too. Granted, they are not as detailed as others (such as Lineage II and Dark III) but the basic versions of these features are still available. And Raider: Origin does not try to become a "serious" ARPG: It is built for casual players who enjoy simple and tiny things.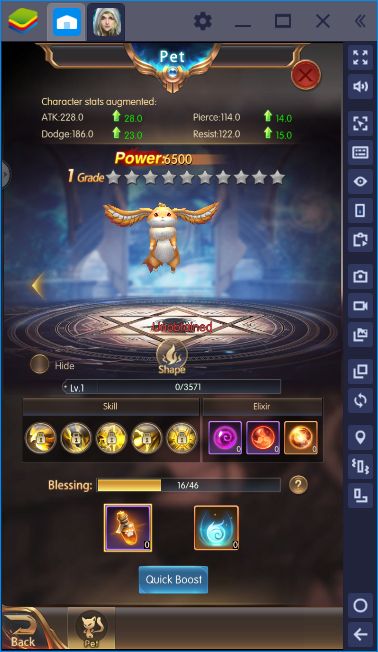 Our pet looks too cute – it also gives various bonuses to our character.
Conclusion
Raider: Origin is not a unique ARPG and it does not contain impressive graphics. But it is the tiniest casual ARPG you can find: If you play these games to have fun rather than to compete, Raider: Origin MMORPG might be the game you are looking for. Because this is what it exactly offers: Casual grinding fun without commitment. You can launch Raider Origin, play it for 10 minutes and forget that it exists for a week. When you return back, you won't miss a thing – you can continue grinding where you left off. And by reading our other Raider: Origin articles, you can enjoy the game even more: We prepared a couple of guides to further help you. Why don't you read them while your hero grinds by itself? Good luck at the game and let's see who will reach the last level first!