App Reviews
Lineage Red Knights – an intense action RPG adventure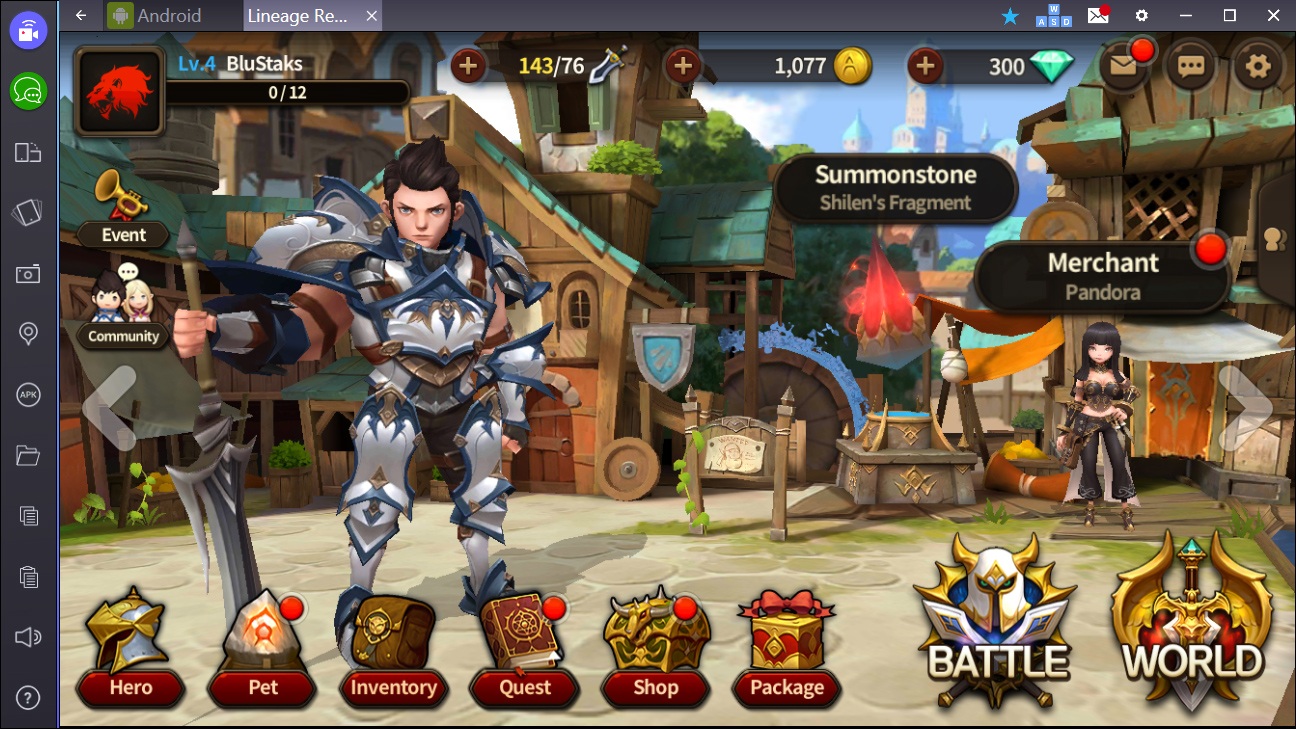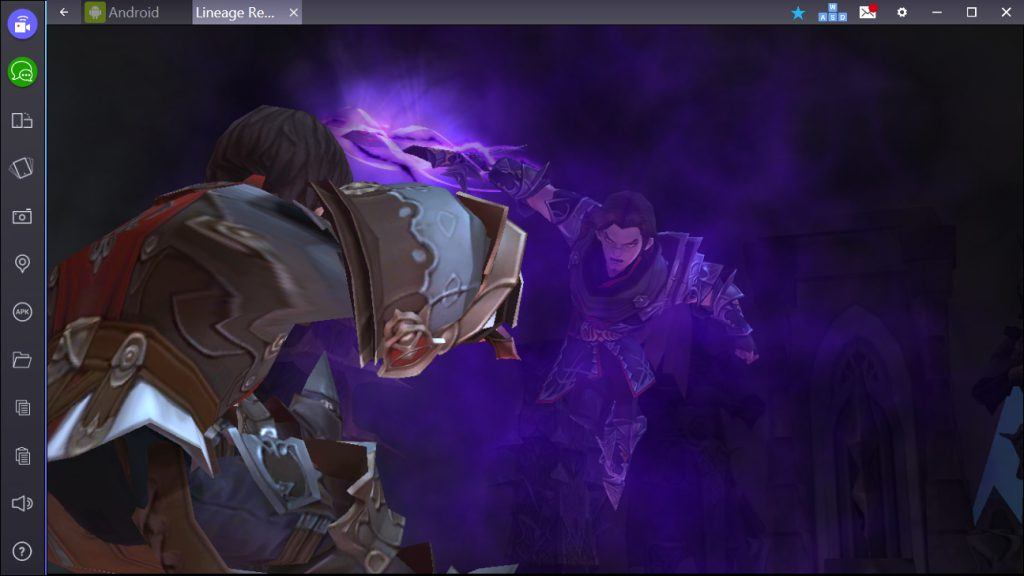 Lineage Red Knights is an RPG adventure with enticing story, amazing 3D animation and theatrical sound. Take on a quest as a fallen warrior without memory of his demise on a rise to conquer unleashed great power in the world of Aden. To aid and protect you in this quest you are surrounded by a trio of "Pets". Level up, transmute or evolve Pets to make them stronger. Play Lineage Red Knights on phone, tablet or PC via BlueStacks and let's get into the review!
Note: this game is available only in limited countries. You can find 3rd party APK and sideload here.
Pros & Cons
Pros:
Amazing 3D graphics and theatrical quality music & sound!
Great story with superb cut scene fights and animations!
Many conquests to battle in!
*Play solitaire or online against others!
Cons:
There are a lot of granular aspects to the game that are not entirely explained/clear.
Slow loading screens.
Minor: many start up popups.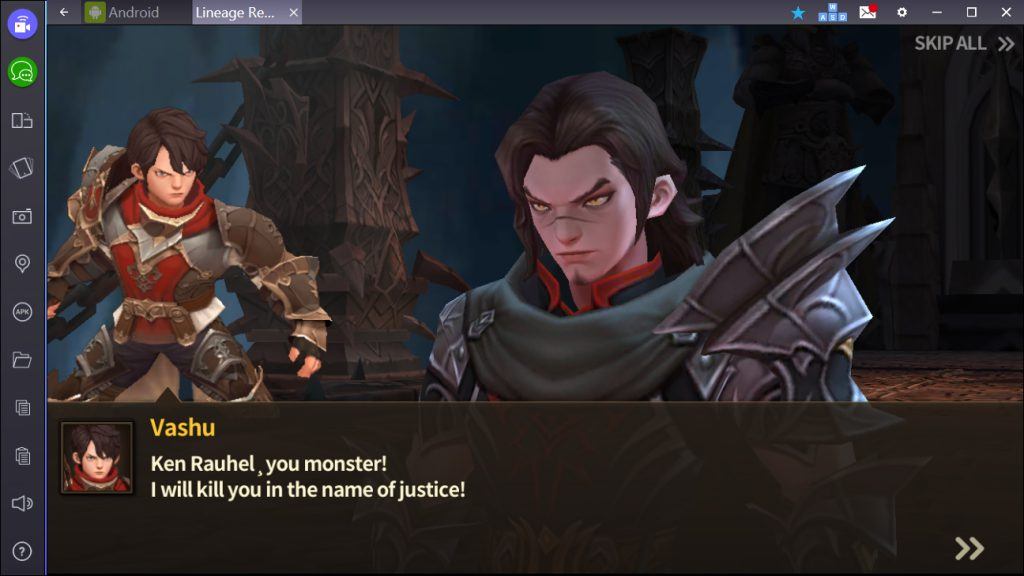 Lineage Red Knights features a wonderful theatrical initial battle tutorial! As the enticing story goes… your protagonist Vashu and his "Pets" were in a fierce battle against evil Ken Rauhel. Vashu was nearly defeated until nearby lurking villain Balrog entered his body and killed Ken Rauhel. Before perishing he revealed the destructive giant Giltas would destroy this world. The game picks up with our hero in the land of Whispering Isle and he has lost his memory. Friends try to help him jog his memory- the mind does not initially come back but his fighting skills never faded. He's on a journey to reclaim his memory and save the land of Aden, however, he requires help…
To watch him as he leaves for his quest Pets are summoned to follow, aid and protect him. At least three pets are required to go on adventures. You can summon pets using Soulstones and make them stronger. You can discover Soulstones during your adventures to summon other Pets. Additionally, you must level up, transmute or evolve your Pet to make them stronger. Don't forget to care for your Pets if you want them to protect you!
Hero & Pet Management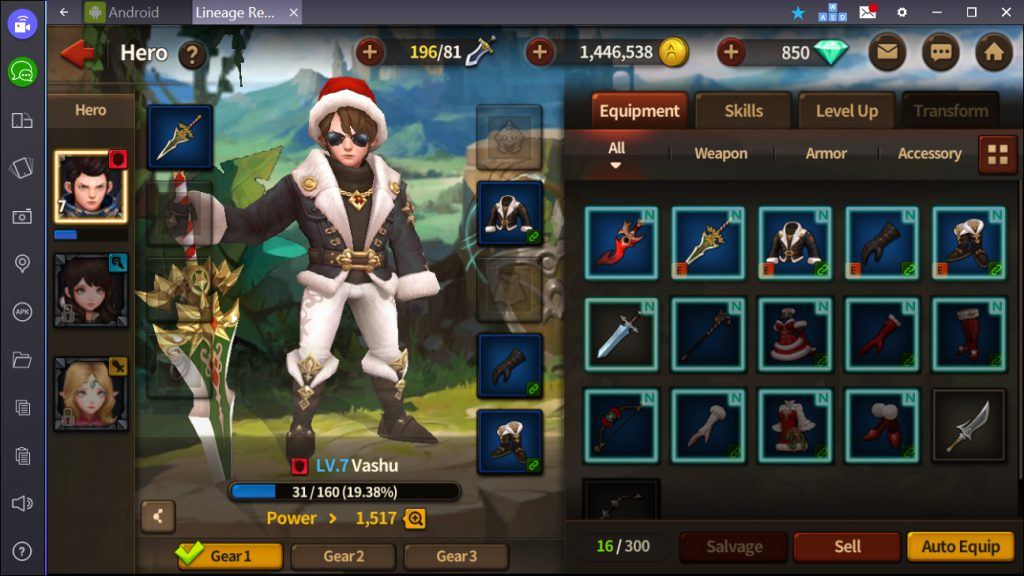 In order to better understand the game you should take some time to investigate all of the various management screens. Yes… they are overwhelming, however, in continued gameplay you will come to value them more. To be brief, there will be many items you will find and unlock from battles and quests. These are used to equip your hero, add weapons & armor, increase skills, level up and transmute them into stronger characters. Much of the same can be done for Pets as well. Lineage Red Knights is as much about farming for resources & management as it is battles.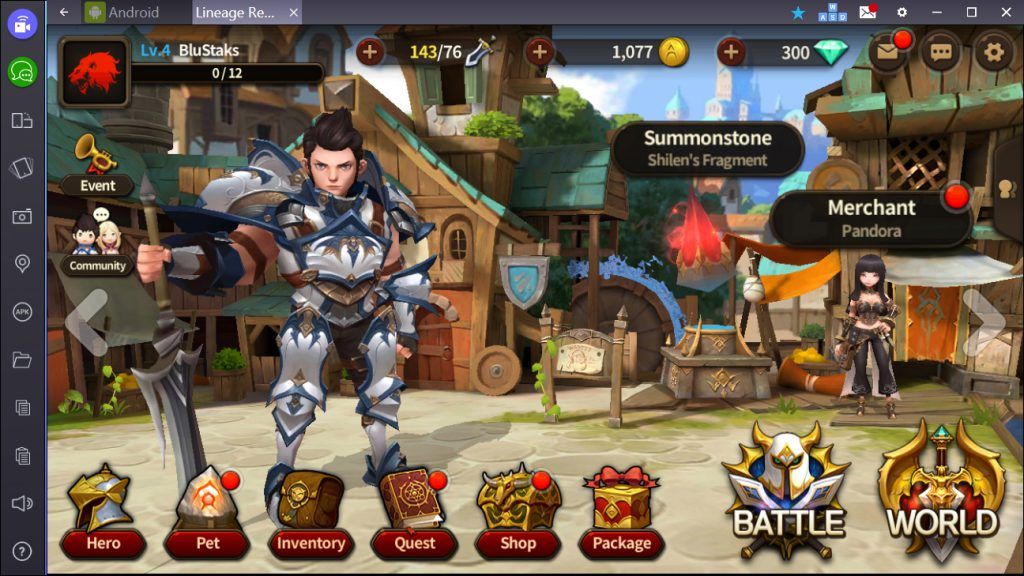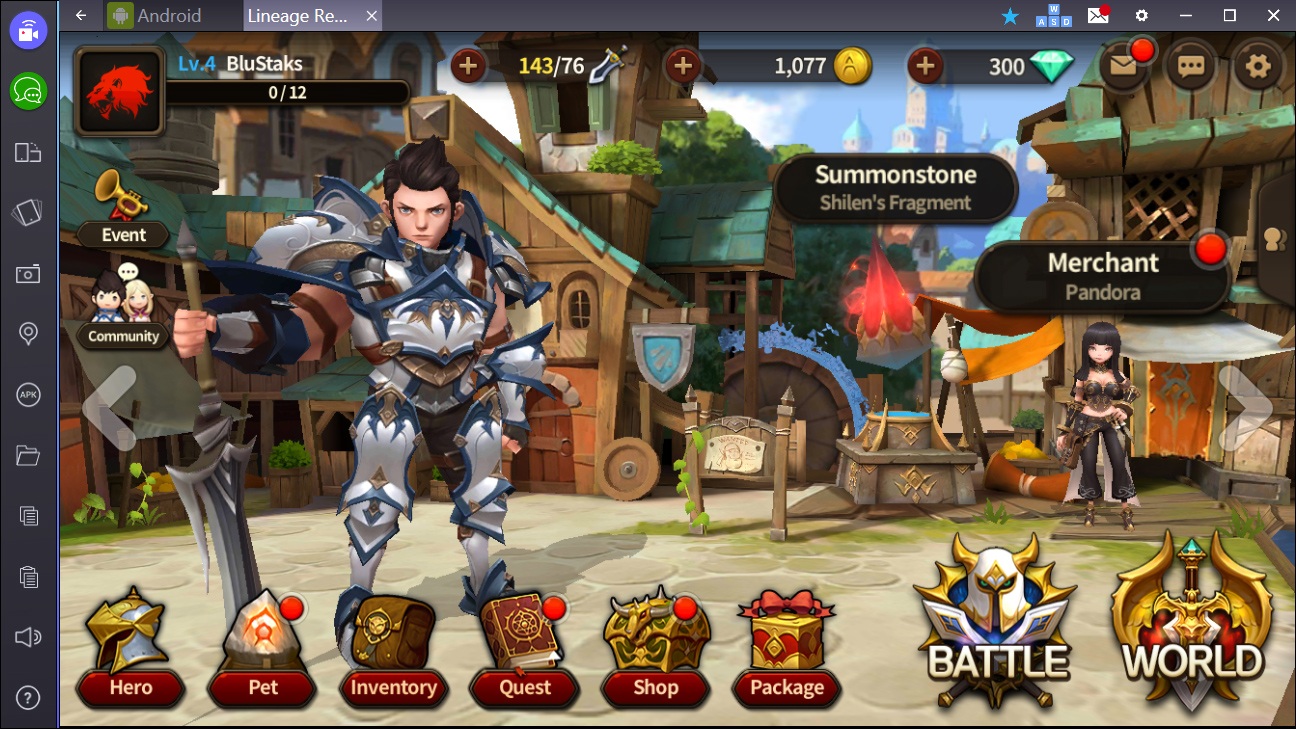 It's important you check the Lobby often as it alerts you to tasks to claim or complete and mail to open. Starting from the top left you will see your character's level, followed by in-game currency such as daggers, coins and diamonds. You receive one dagger recharges every 5 minutes. Coins are found from achieving a variety of tasks. You can use Diamonds to buy in-game items, summon Pets, buy daggers, exchange for Adena, or buy more tries if you fail a bout. Summonstone is a place to gain more items, Pets, Soulstones and more. As a daily gaming incentive you can get 5 free summons for either Soulstones, materials and consumables at 3 am everyday (or purchase with coins). In addition you can get Pets and Soulstones by using diamonds. You get some free with time (or summon with BlessStones for diamond purchases).
Fighting: World & Battle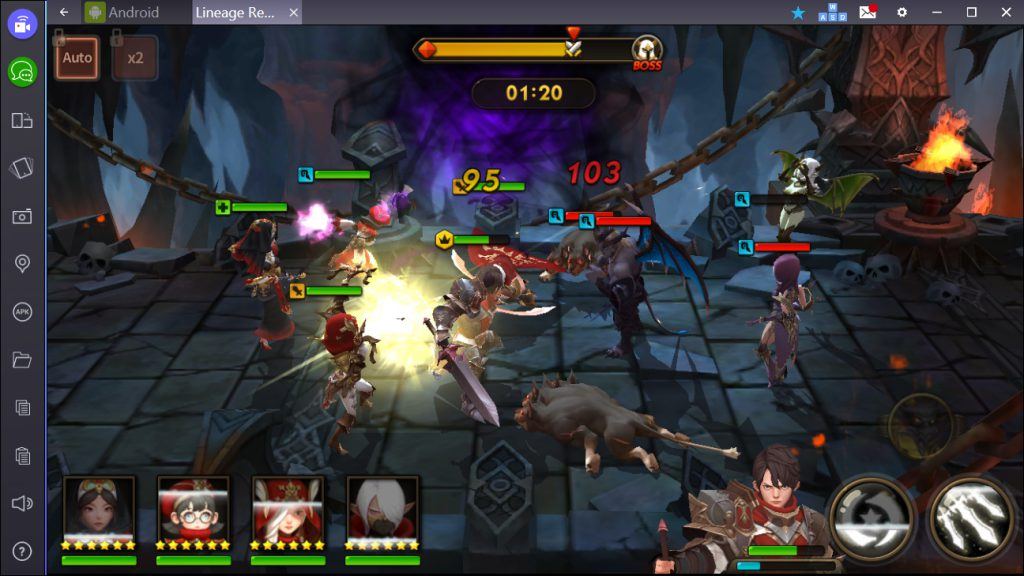 It's of the ilk of games like Lineage Revolution but far superior or a better comparison is to Heroes Charge whereas you play a trio of battles lining up your army and lead a charge to victory. Majority of the fighting is on autopilot, however, you can interject and use a hero's special power as they reach their critical mass. When playing on BlueStacks we have keymapping so you can play better using key strokes. Initially you will not see all active striking buttons but as you progress it will allow for up to four Pets, a pro special move, herd active, hero active 2, and a hero transformation button to morph into a more powerful character (similar to Balrog's transition in the opening cut scene).
These battles are timed one and a half minute bouts. Every so often you will meet a round whereas you run into a bunch of hooligans and you can choose to "pillage" and fight them for bonus items (thus risking your XP) or skip through to the boss. You must defeat all including the boss of that round. Every fifth level you meet a higher boss, however, every tenth is the superior boss you must beat in order to progress to the next world. Battle until you reach the boss level in order to progress to the next world- unlocking various gaming modes, items and Pets. There are many conquests to battle in- as you beat all worlds in Easy mode you then graduate to Normal, then Hard modes.
*You will not be able to battle others online until your account or guild level are of a certain level. When you are eligible you battle in the Colosseum- competing for a higher rank. You attack and win the defeated opponents place in ranking. All players who made it in the ranking list will receive a reward on 8 pm every day. To do so you build a strong defense party to protect your rank from other players and form an attack party with your strongest Pets. You can also seek revenge on another player who has beat you in battle. Note: you cannot seek revenge anymore if the other player's rank has dropped lower than yours. A revenge battle also uses up battle tries and is affected by the time limit of the Colosseum.
Uncanny Graphic, Animations & Sound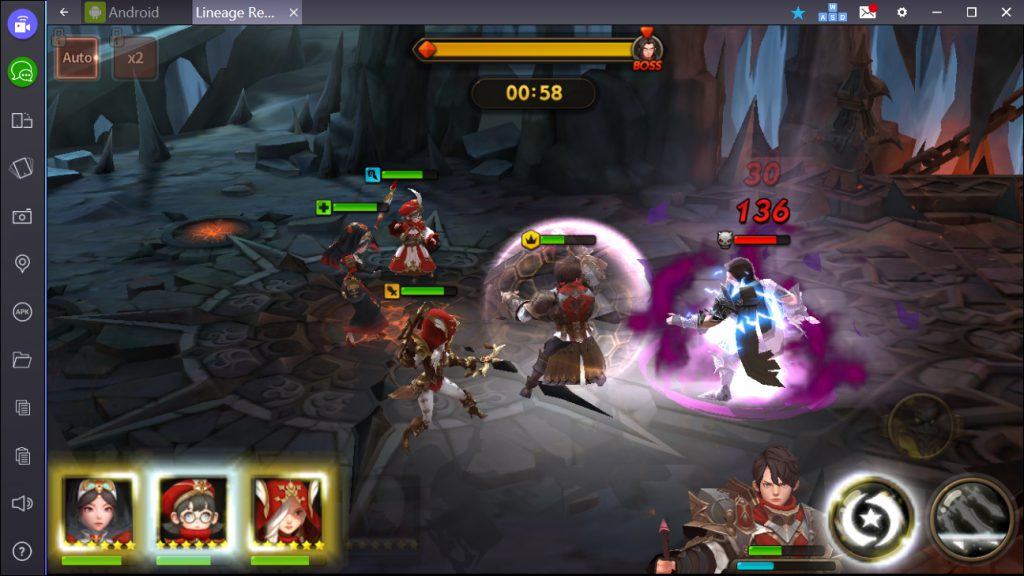 I've raved about it initially and I'll conclude here… Lineage Red Knights features some grade A quality graphics, animation and sound design for a mobile game. Some of the story and supporting cut scenes make it more theatrical or console-like than a mobile game.
BlueStacks Community Points Multiplier!
Since this game is more involved we're offering 50 points for feedback on this game in BlueStacks Gamer Community. To be awarded with the bonus points in the "Other Details" box tell Your Pets? Max World/Level? Max Daggers, Coins, Diamonds & Soulstones & Adena? Any Strategy For Increasing Team Strength? Here's how one of our top gamers assessed it:
"I loved so much the voice over, artwork and animations, the music fits well too. Captivating and exciting story. I really loved all the rewards given as compensation for the moments the game couldn't load. I like the events and facts that you can get free diamonds in the Alchemist room. There are lots of quests and daily quests to help you progress."

-mikeys4mini
Watch Trailer
BlueStacks Rating
Rating: 4.3/5
Should you download Lineage Red Knights? Yes! If the story, stunning graphics and animations haven't reeled you in, then the action packed fighting of this RPG will. True… there is much repetition and limited control of fighting, however, a large portion of the game depends on farming and building your team strategy to send to battle and succeed. You can play solitaire initially then graduate to compete against others in the Colosseum. It's a game definitely worth trying. BlueStacks is the best way to play Lineage Red Knights… download now!