App Reviews
Snake Rivals – Game Review and Interesting Insights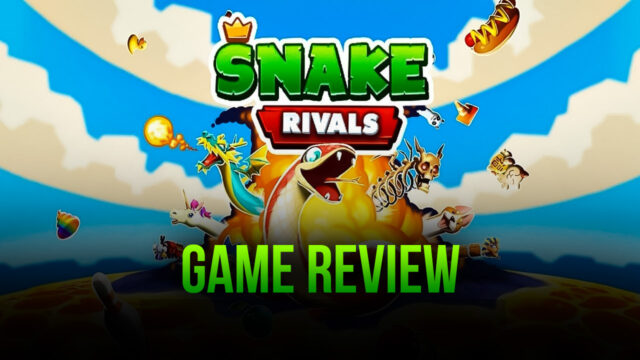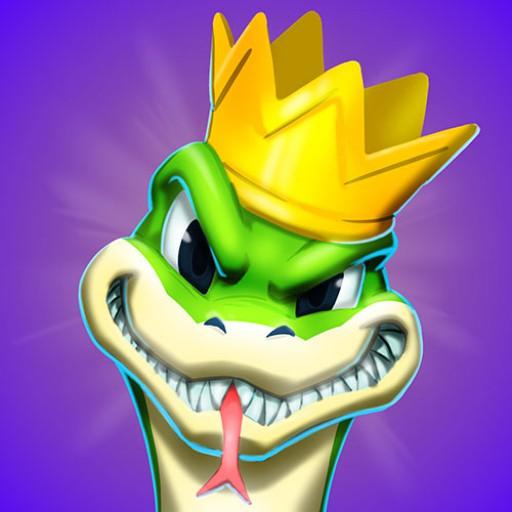 Before the age of the smartphone, the Snake Game (and the hundreds of spin-offs that came from it) was the absolute way to kill some time on the go. There was something about controlling a dot, which then became an ever-lengthening trail, on a monochrome screen that charmed an entire generation. Everybody who lived through the 2000s experienced, in one way or another, the snake craze.
Supersolid, one of the UK's leading mobile games studio, have outdone themselves once more by creating a much-needed Android version of the notorious Snake. This time, it's called Snake Rivals. We've been holding our breaths waiting for SR to become available on the App Store for almost a year. And it was a long time without oxygen. In this article, we'll scrutinize everything that Snake Rivals offers so as to give you an idea if the game is worth your time.
Multiplayer Slither
If there's one thing we always dreamed of when we were playing ye old Snake game is that we'd one day be able to play in co-op or multiplayer mode. When we had to kill an evening, endless hours of debates were spent on how multiplayer Snake ought to be done. Hundreds of pizzas were eaten, friendships were strengthened, but also lost, solely on this topic. Snake Rivals didn't just introduce multiplayer, though; it brought the best kind of shared game environment there is – the battle royale – to this outstanding classic.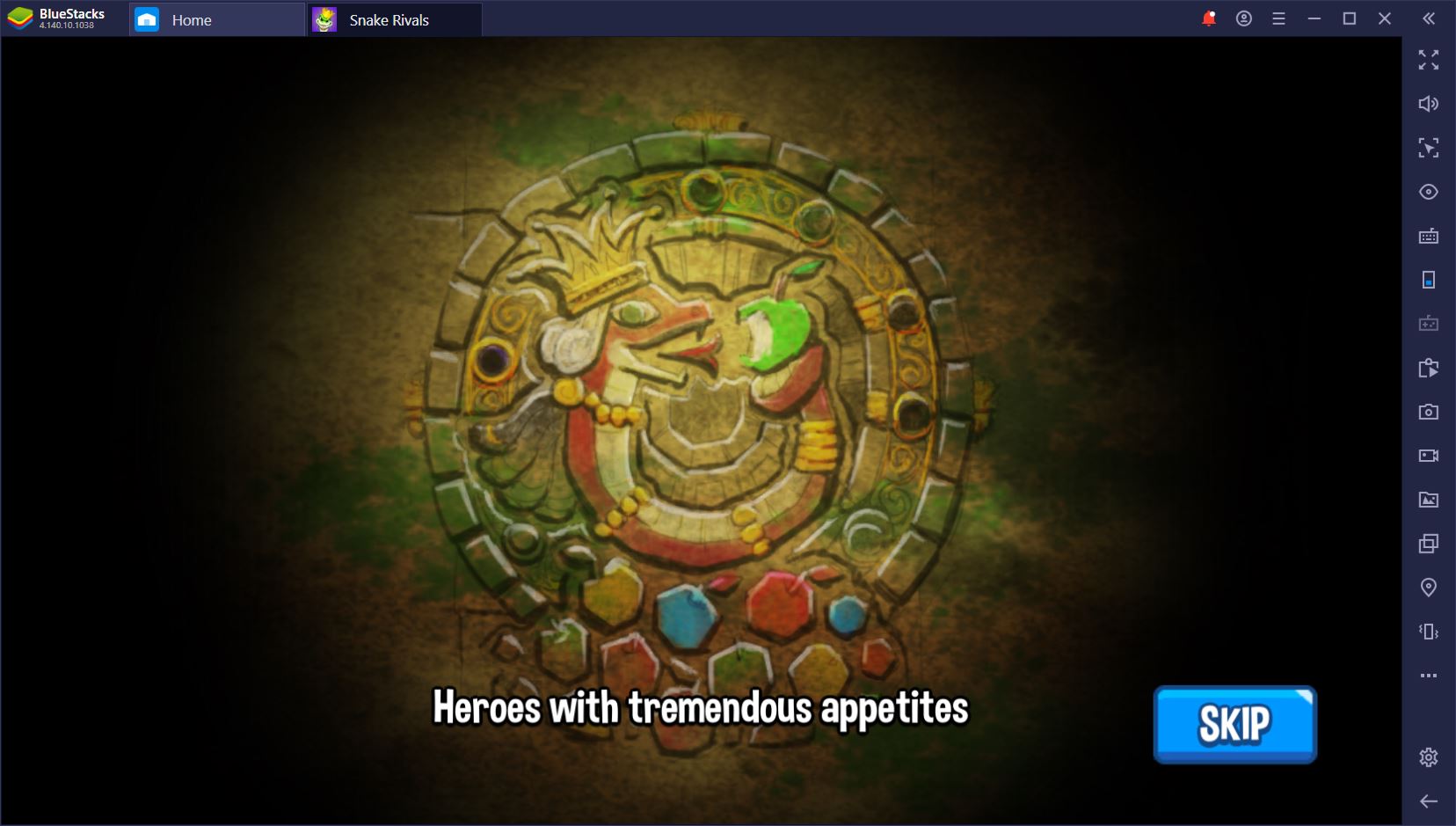 To unlock the latter, you have to play for a bit (no more than 20-30 mins). It wouldn't be fun if the people who got in a match didn't know the game at all, would it? Aside from the BR, there is a Classic Mode, where the longest snake wins, and a Gold Rush, which is more of a time-based PvP approach. Gold Rush basically gives you 3 minutes to kill the most opponents.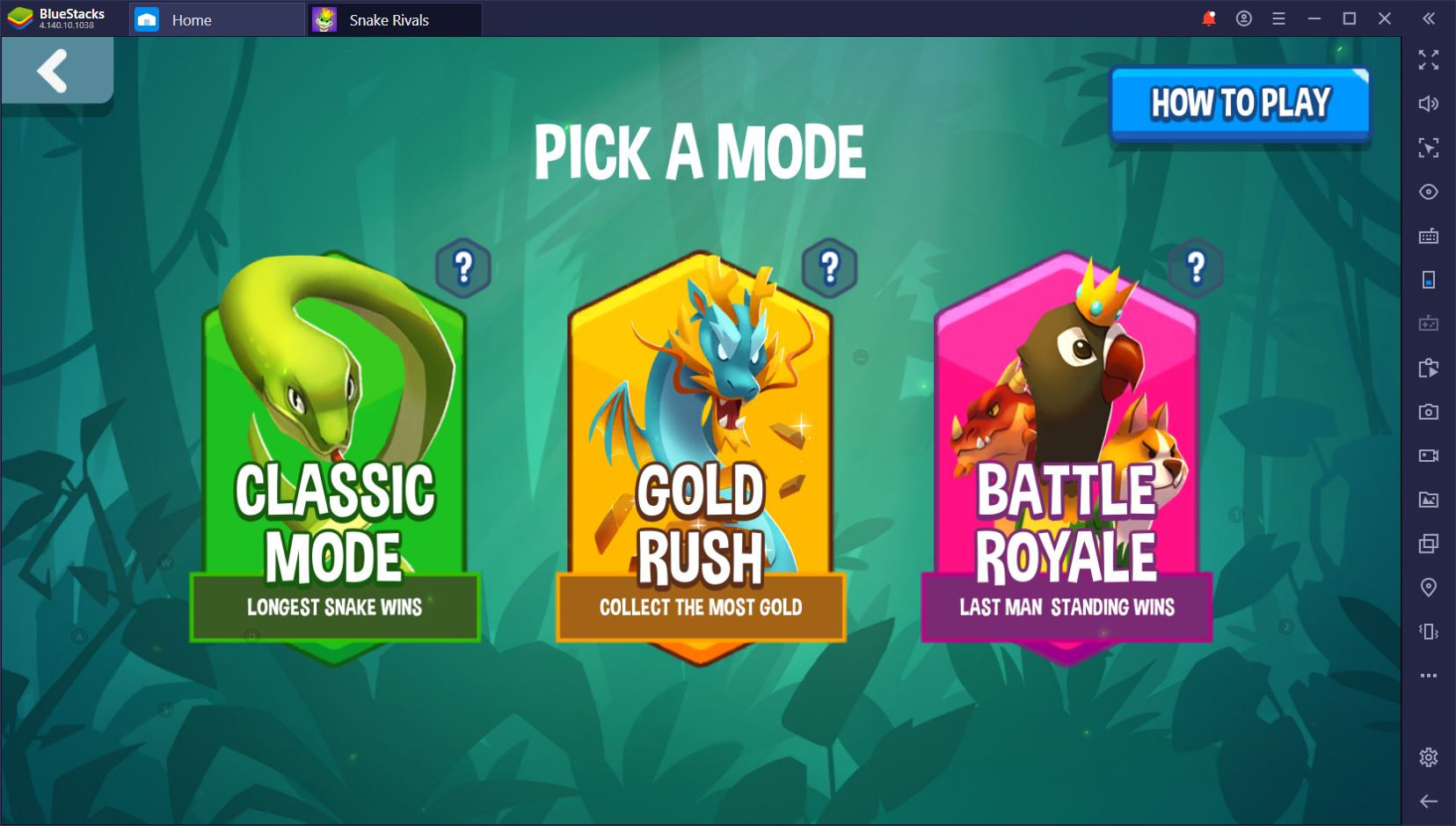 When the timer is done, the player with the most snake kills wins. Straight out of the gate, we love the fact that Supersolid introduced a game mode for everyone: the BR for highly competitive players, the Gold Rush for PvP maniacs, and the Classic for those who just want to… well, snake. To seal the deal, they also introduced a "Play with Friends" feature, which we absolutely love. Sometimes, the proverbial Karen and Dave are a bit too arrogant, so we take great pleasure the fact that we can school them in an old-fashioned way.
Far from the Simpler Times
Another amazing feature of Snake Rivals is that it lets you customize your slithery avatar. One thing is for sure: we're far, far away from the simple times of monochrome pixels. You can be an Orcobra, a Cowbra, a Clownabamba, and much, much more. It's not just the overall look of your snake that you can customize, but also their color and individual parts. The bigger you grow them, the more you can show off your style.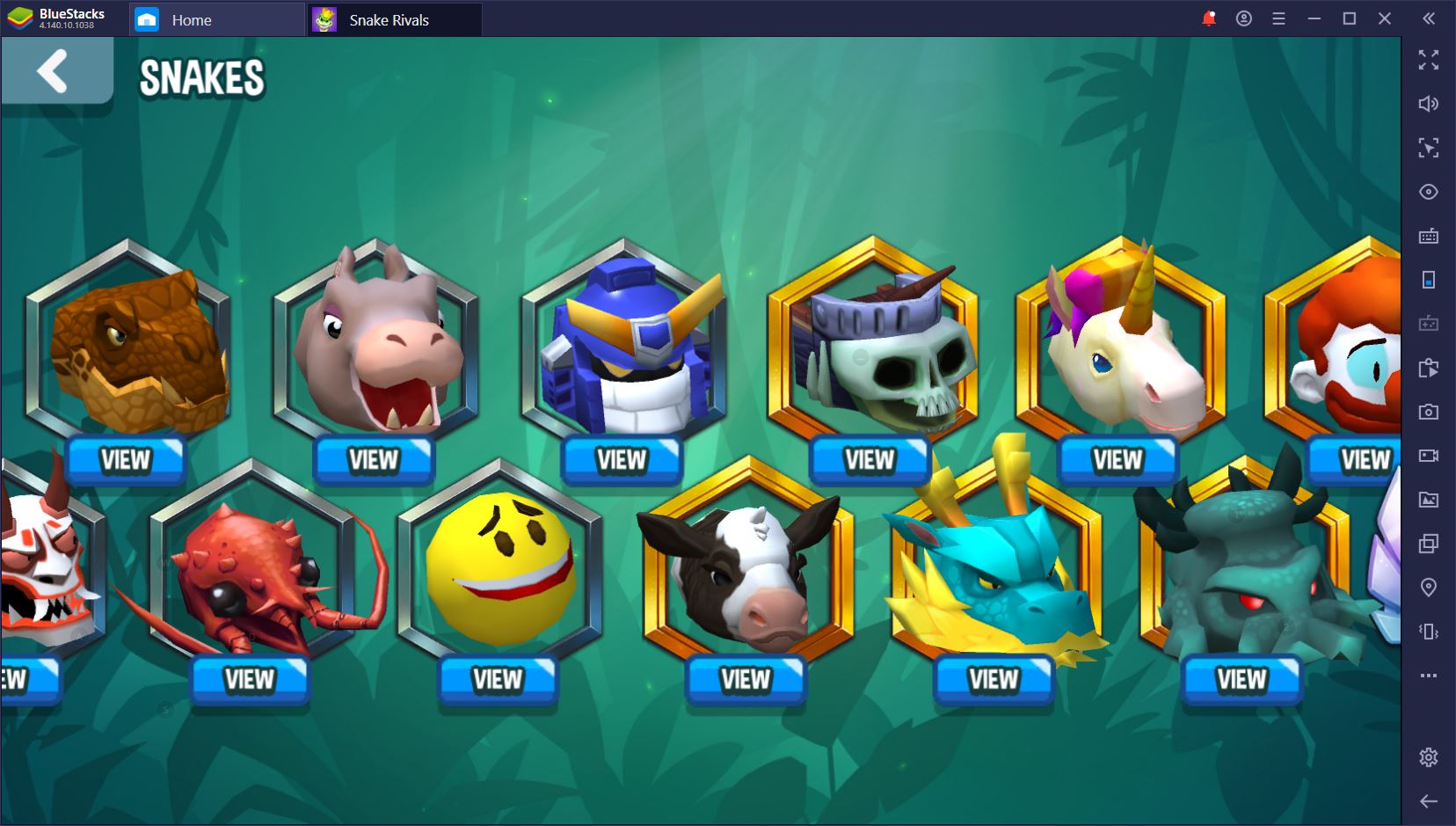 We also love the fact that Supersolid are keeping their ear to the ground of the mobile gaming community. Their application doesn't ask for unnecessary (sometimes fishy, I mean my messages and camera, really?) permissions, whereas the vast majority of the cute skins can be unlocked by just playing the game. Granted, it might take a while to get those necessary coins, but, for once, time is on our side. After all, who doesn't love to snake?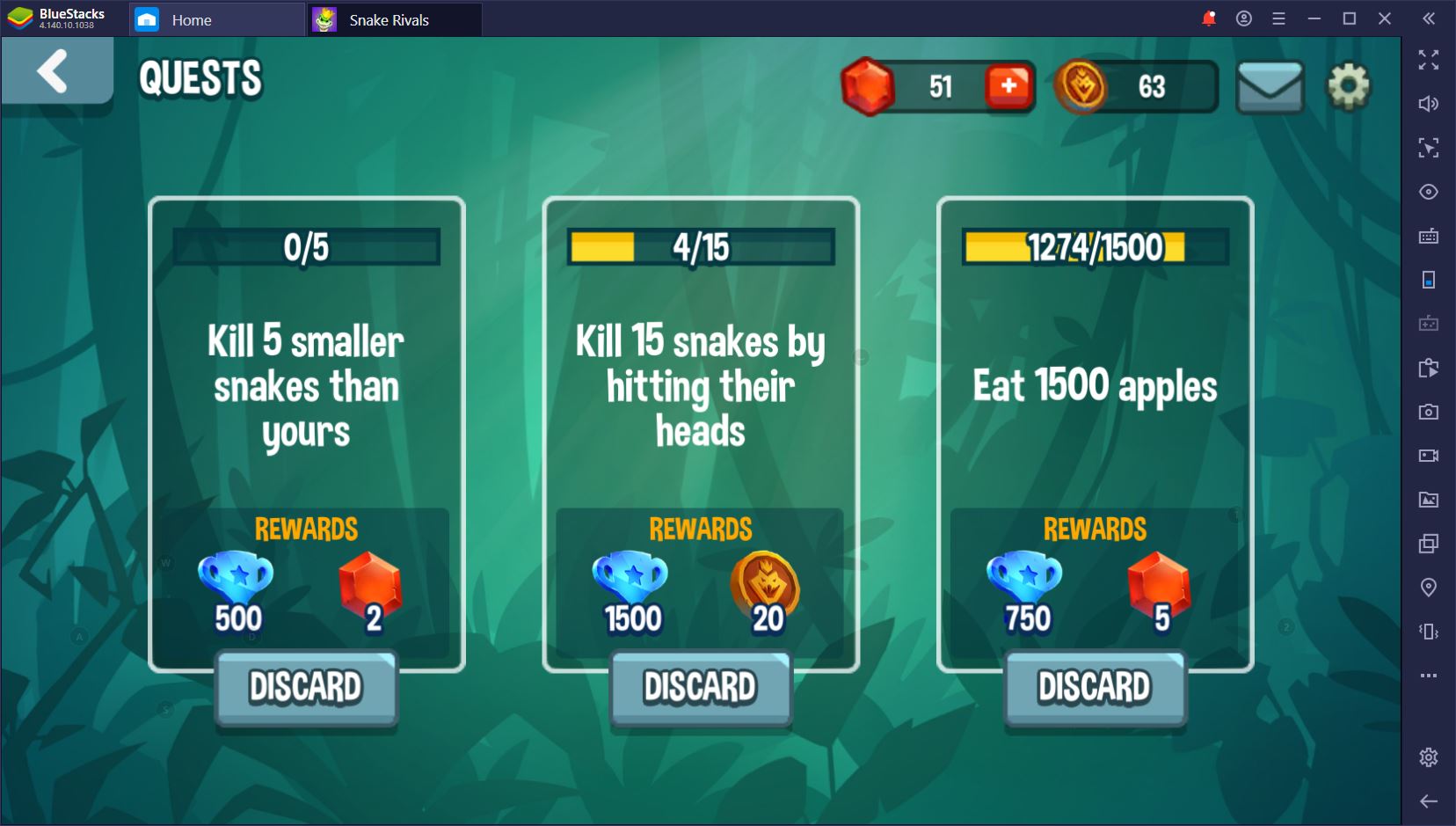 To help you out on your way to your favorite scaled friend, Snake Rivals hands out three daily quests. You can discard one of these for free, every 3 hours or so. Their achievement system ensures that, the more you play, the more rewards you get by handing out gems at various milestones. This is yet another aspect we absolutely love: if we ever want to show David who is the biggest snake in the plains, we'll casually flaunt our Fruitarian achievement. The future is plant-based, David.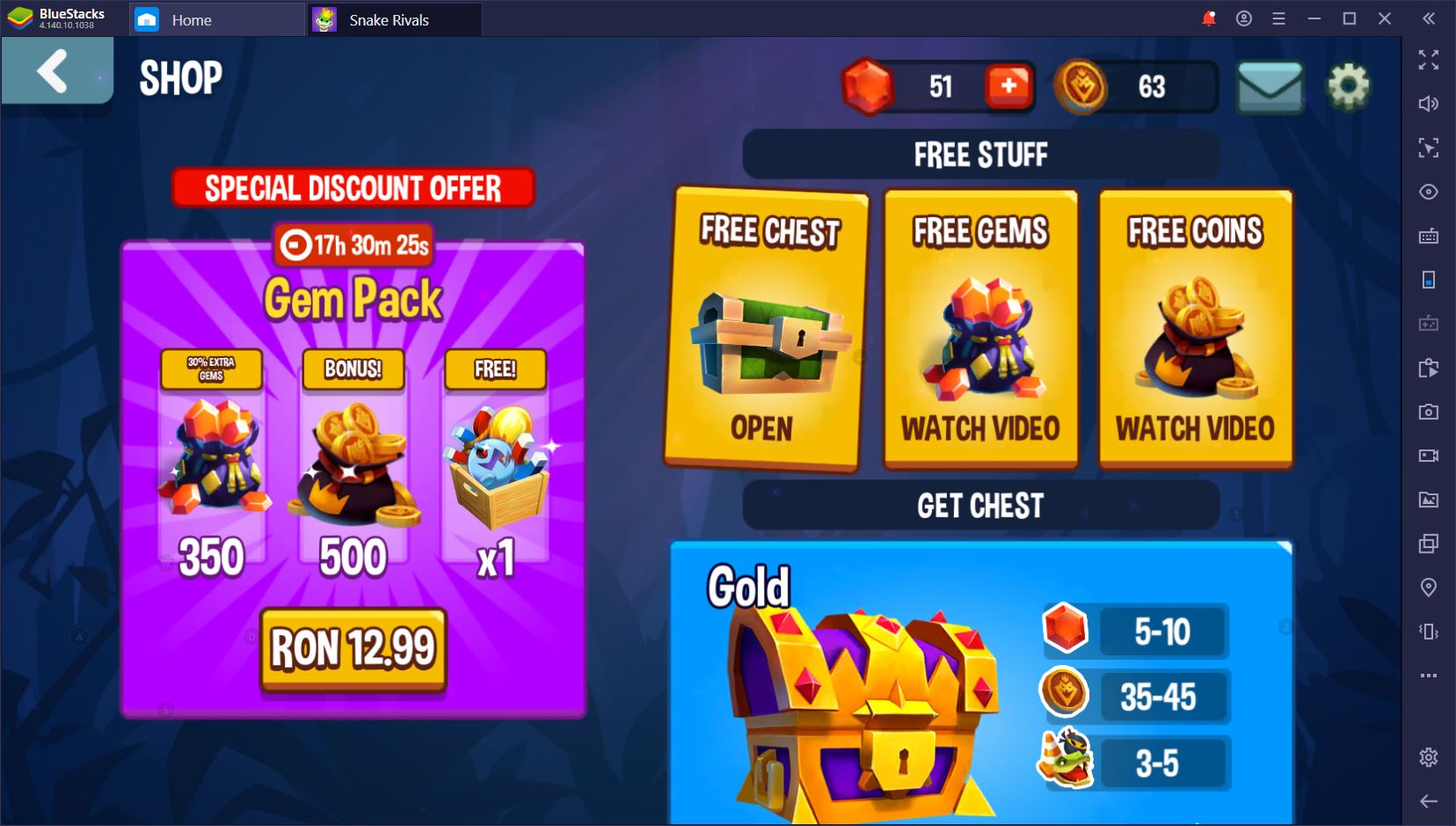 You can also get free gems, chests, and precious coins by watching ads. Well, you don't actually have to keep your eyes on the screen, but don't tell anybody we said so.
The Rules of Snake Engagement
The rules are a bit different from the classic we all know and love, though. There is no friendly fire, which means you can pass through your own snake at any point. We tend to forget this aspect more often than we should and we end up either eaten by an opponent or smacking our tiny head into an obstacle. If there was a game-changing aspect the devs could have introduced, it's this. It makes much more sense now. Snakes can and do touch themselves without exploding to bits.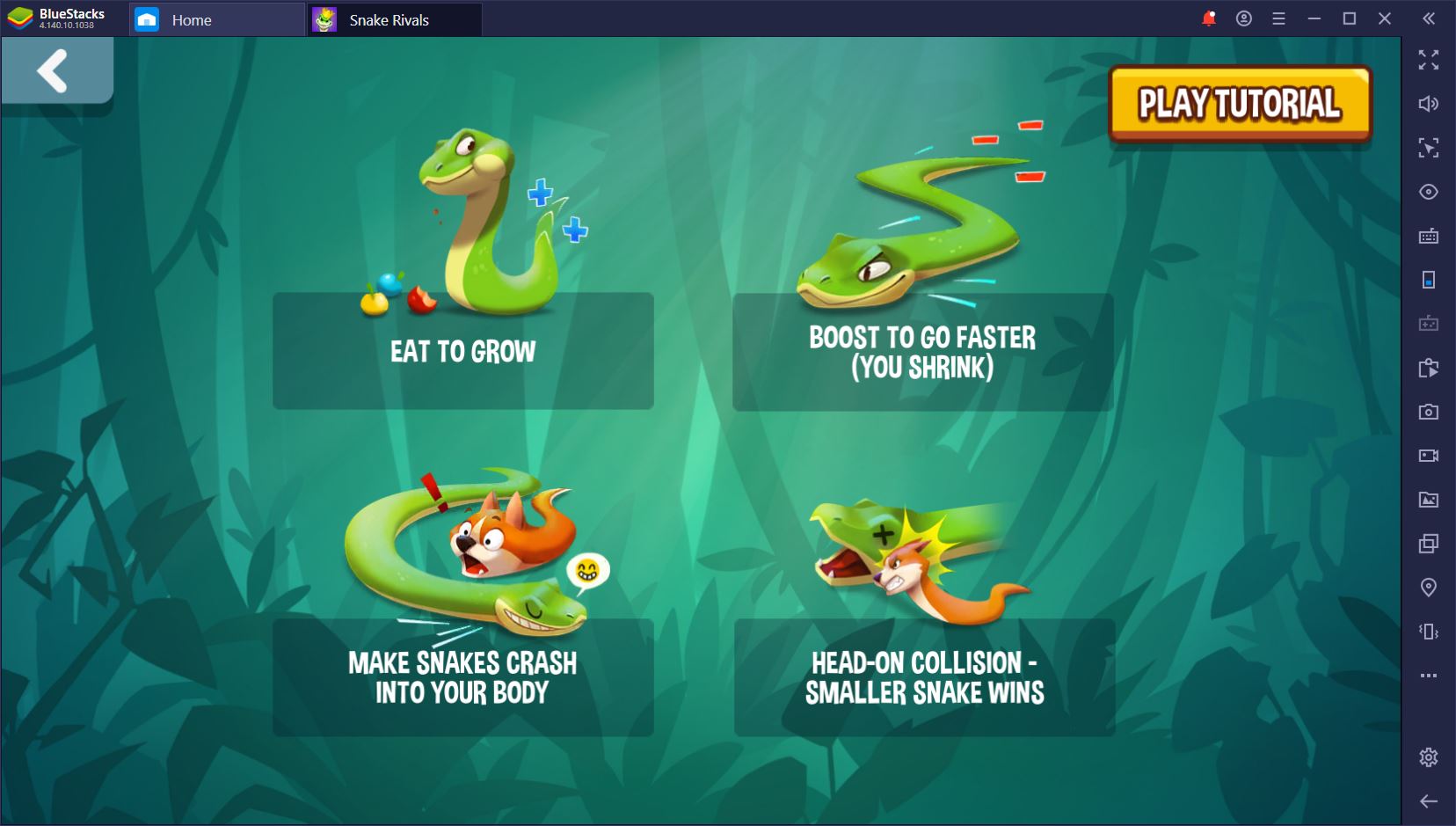 However, crashing into other snakes will kill yours. This is not necessarily the case with frontal collisions. When two snakes go head to head, the smaller one wins, which is a bit counter-intuitive, but incredibly smart from a game-balancing perspective. You get into a Classic Mode arena with somebody that has 10k score and, given their massive avatar, it can be nearly impossible to kill them. That is, unless you jump to the front and go for the head. Check this guide to learn how you can do this even better with BlueStacks. You know the old saying: if you want to kill the snake, tickle the player controlling it.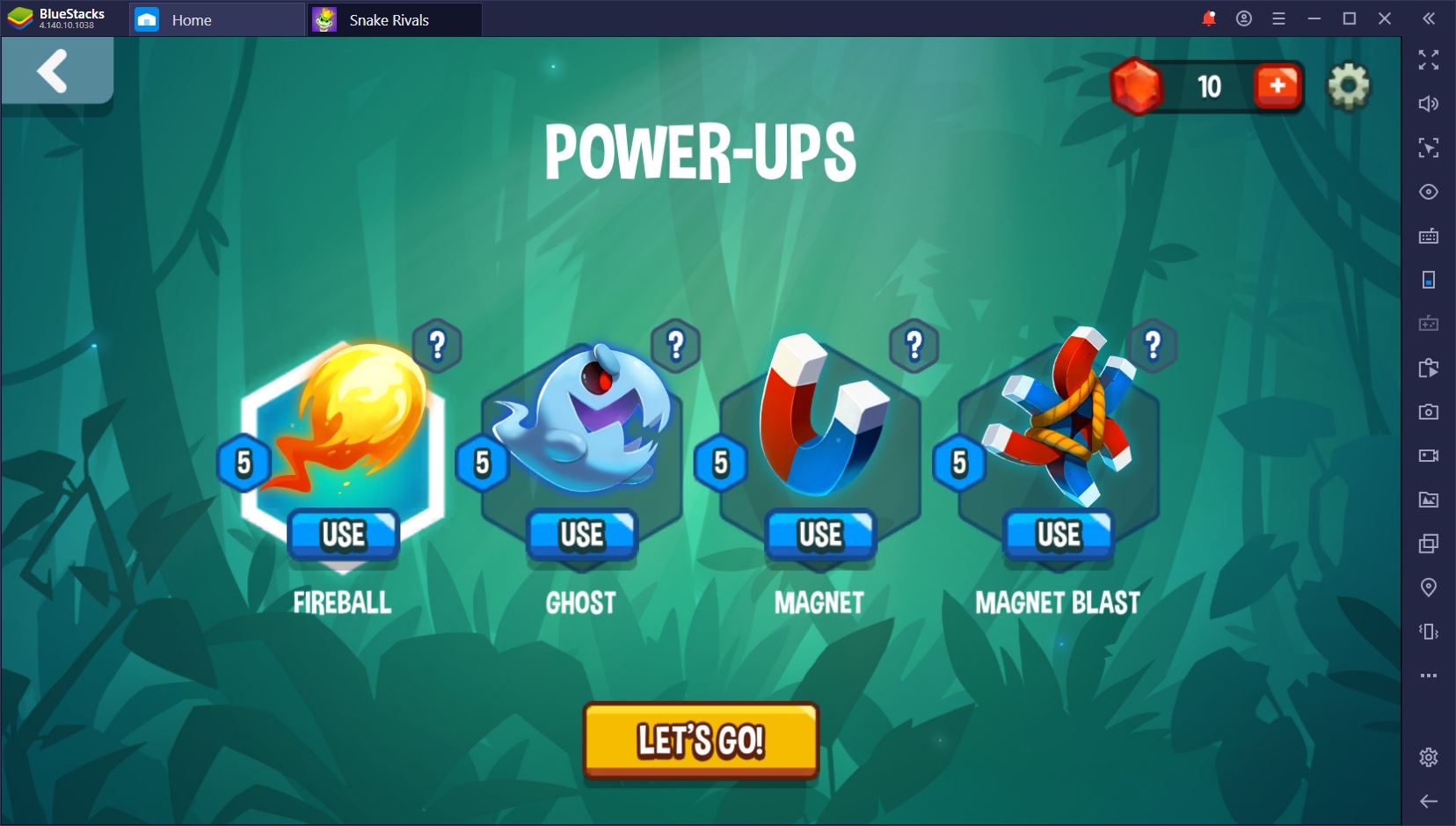 There are also a variety of power-ups you can use to your advantage. Beware, though, that they are easy to waste and hard to get. They add yet another layer of fun to the game, but a pricey one if you're not cautious.
Play Snake Rivals on PC with BlueStacks
Since we work on a computer (like most people in this day and age), we prefer not to switch screens and we end up playing Snake Rivals on PC with BlueStacks instead. We had high expectations from this Android version of a legendary title and Supersolid did justice to the franchise.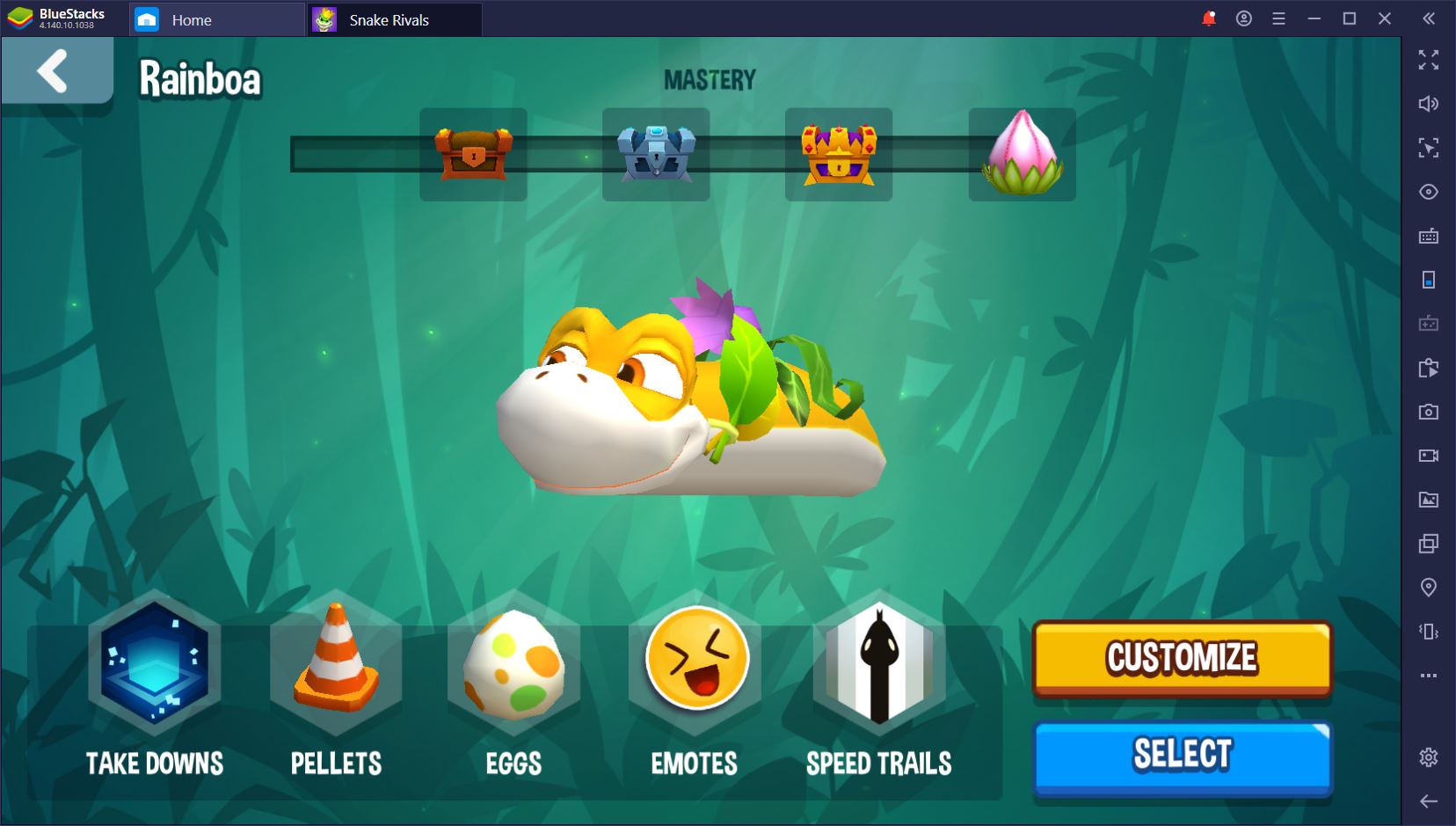 It's a fast, easy, and thoroughly entertaining game you can play at any time, for as long as you want. To be fair, we've been trying to turn it off for an hour now. There's just something mesmerizing about eating apples and growing bigger that we can't give up that easily. Oh well, back to our leafy, yellow Rainboa.