BlueStacks Exclusives
BlueStacks Version 5.8 Lets You Play Mobile Games on PC at 4K Resolution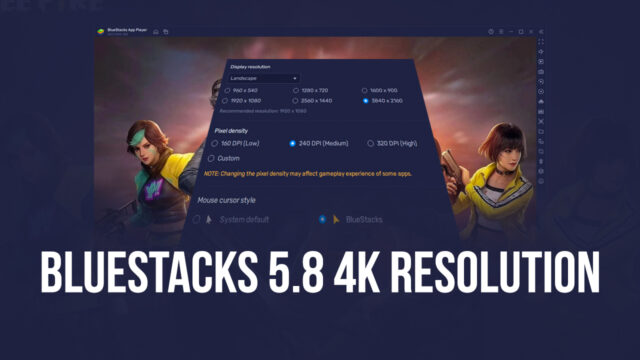 Mobile games aren't particularly known for their graphical prowess. For some users, these titles are more ways to pass the time having some casual fun, but without expecting to get a "proper" gaming experience with dazzling visuals or immersive surround sound, unlike with PC or console titles. However, with BlueStacks, you can not only enjoy your favorite mobile games on PC, but you can do so on a much larger computer monitor and a sophisticated speaker or headphone setup, enjoying much of what makes gaming on consoles and computers so great.
Now, the above is something that you've been able to enjoy for the past few years with BlueStacks. However, the most recent update to our Android App player, version 5.8, is bringing brand new support for 4K resolutions, paving the way for a brand new graphical standard for mobile gaming. With this new feature, for the games that offer native resolutions above 1080p, and up to 4K, you'll be able to enjoy them in their entirety when playing on BlueStacks. And the best part is that you won't even have to spend a ton of cash on acquiring a powerful phone that can run games at this resolution with decent performance.
While we're always striving to update and improve our Android App player, this feature in particular comes from the direct request of our users. For a long time, BlueStacks users have been asking for us to implement 4K support for our emulator so that everyone can get the best resolutions in their favorite mobile games. Well, since you asked, we're more than happy to deliver—all that's left is for you to update to version 5.8 and tweak your resolution settings in order to start enjoying this new feature.
How to Enable 4K Resolution on BlueStacks
Activating this feature is exceedingly simple and takes only a few clicks. To enable 4K resolution on BlueStacks, follow these quick steps:
Go to

our website

and make sure to download the most recent version of BlueStacks. The 4K resolution feature is available only on versions 5.8 and onward.

Launch BlueStacks and go to the emulator settings by clicking on the burger icon on the top right, and then on "Settings".

In the "Display" section of the settings menu, simply click on the 3840*2160 option to enable 4K.

Click on "Save changes" to implement your settings, after which BlueStacks will prompt you to restart the client.

After restarting, your emulator will now be running at 4K resolution.
It's worth pointing out that you'll need a compatible display in order to enjoy the benefits of higher resolutions. Nevertheless, if you do have a 4K display, all it takes is a few clicks in order to play your favorite mobile games on PC, and with the highest possible resolution.