BlueStacks Exclusives
BlueStacks 5 – Unleash the PC Gaming Experience You Always Dreamed of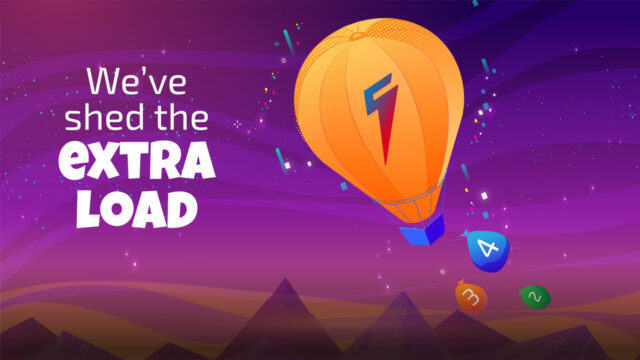 If you've been keeping up with our announcements and updates, you already know that something huge was coming to BlueStacks, and today, it's time to finally unveil our latest creation, which is the brand new BlueStacks 5, the next big step in our journey to bring you the best Android gaming experience on PC.
While our emulator was already the best in the market in terms of performance, versatility, ease of use, and resource consumption, BlueStacks 5 will outclass and leave it behind with all its enhancements. The competition didn't stand a chance before, and this gap has only expanded with our new release.
But enough preamble. In this article, we're going to talk about what's new in BlueStacks 5 and give an overview of some of its most notable features.
Access to the Largest Variety of Android Games
When it comes to the availability and compatibility of mobile games on PC, BlueStacks 5 is definitely the way to go as our app player has the largest game library in the world with over 2-million titles.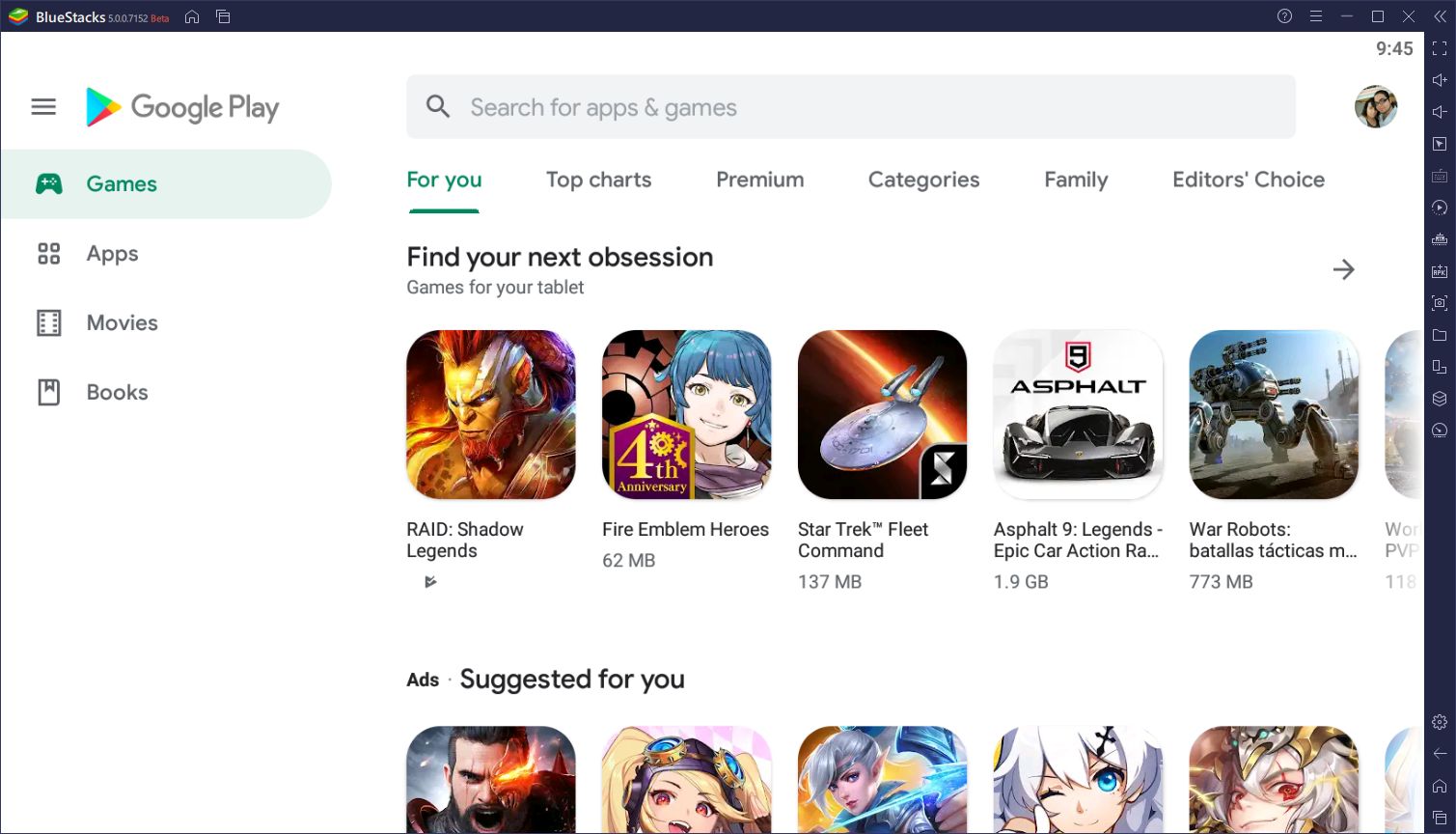 With that amount of games, it'll be a long, long time before you run out of things to play.
Optimized RAM Usage Regardless of Your Hardware Specs
One of the particularities of gaming on BlueStacks is that, compared to even the most expensive phones, our emulator is always superior in terms of performance and resource consumption. In fact, when compared to other emulators like Nox, LDPlayer, or MEmu, our app player is significantly more optimized as it provides a much better experience, at a fraction of the resource cost.

BS5 Vs. BS4 RAM Usage (RAID: Shadow Legends)

BS5 Vs. BS4 RAM Usage (Black Desert Mobile)
This trend is only expanding further in BlueStacks 5 as this new product has at least 40% less RAM usage, allowing you to easily run it alongside other apps, or even to create numerous instances of it without consuming excess resources. This release also includes a new Trim Memory Tool, which allows you to further minimize RAM usage while running games.
A Minimalistic UI
BlueStacks 5 is all about creating the lightest and fastest BlueStacks to date, and this fact no more obvious than in its new interface. Designed to favor speed and screen space, we adopted a minimalistic approach when creating the UI in this new release. The side panel is slimmer, and all the buttons fit on it neatly now, while the settings menu is more streamlined and with all the important features and configurations front and center.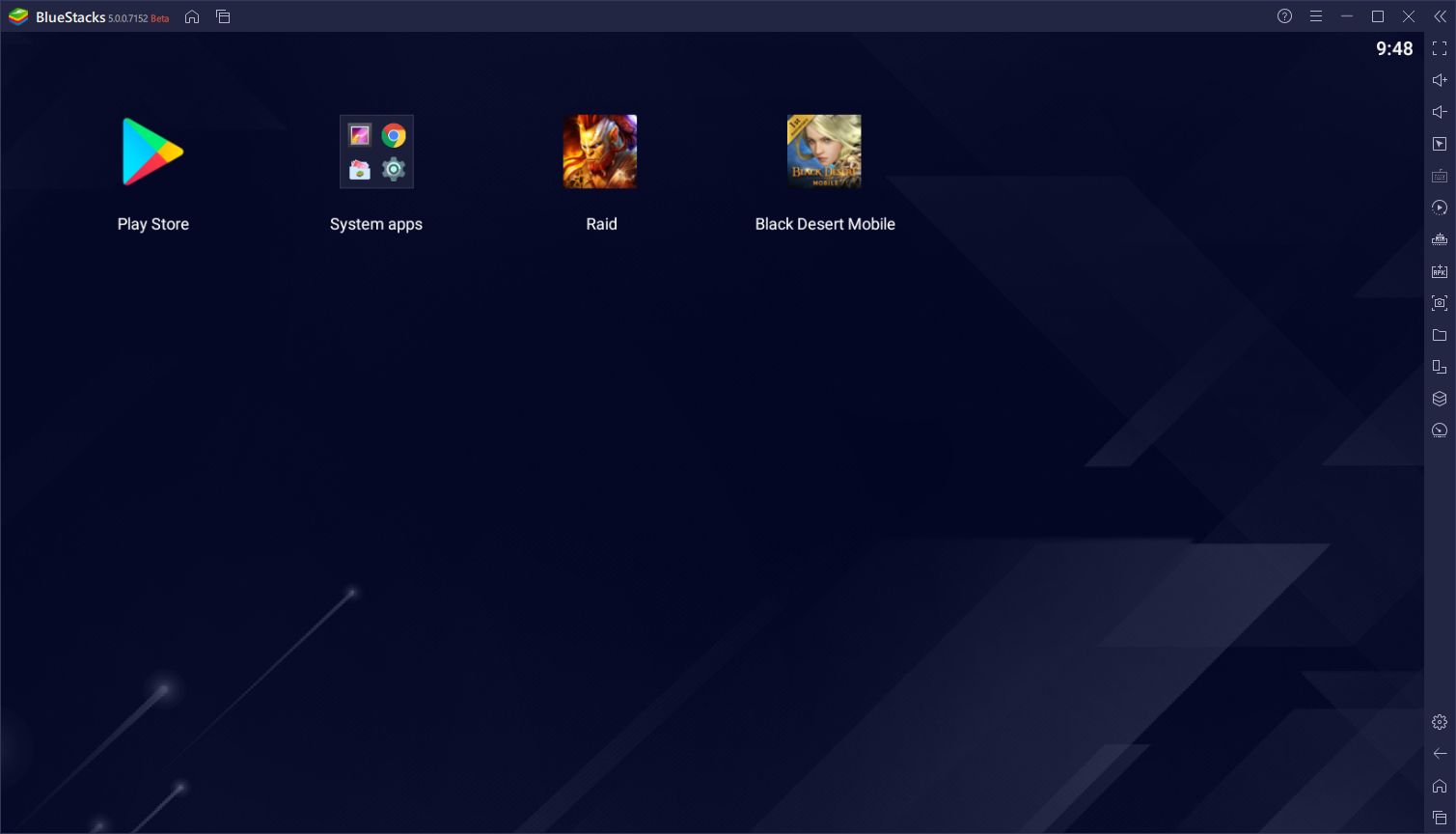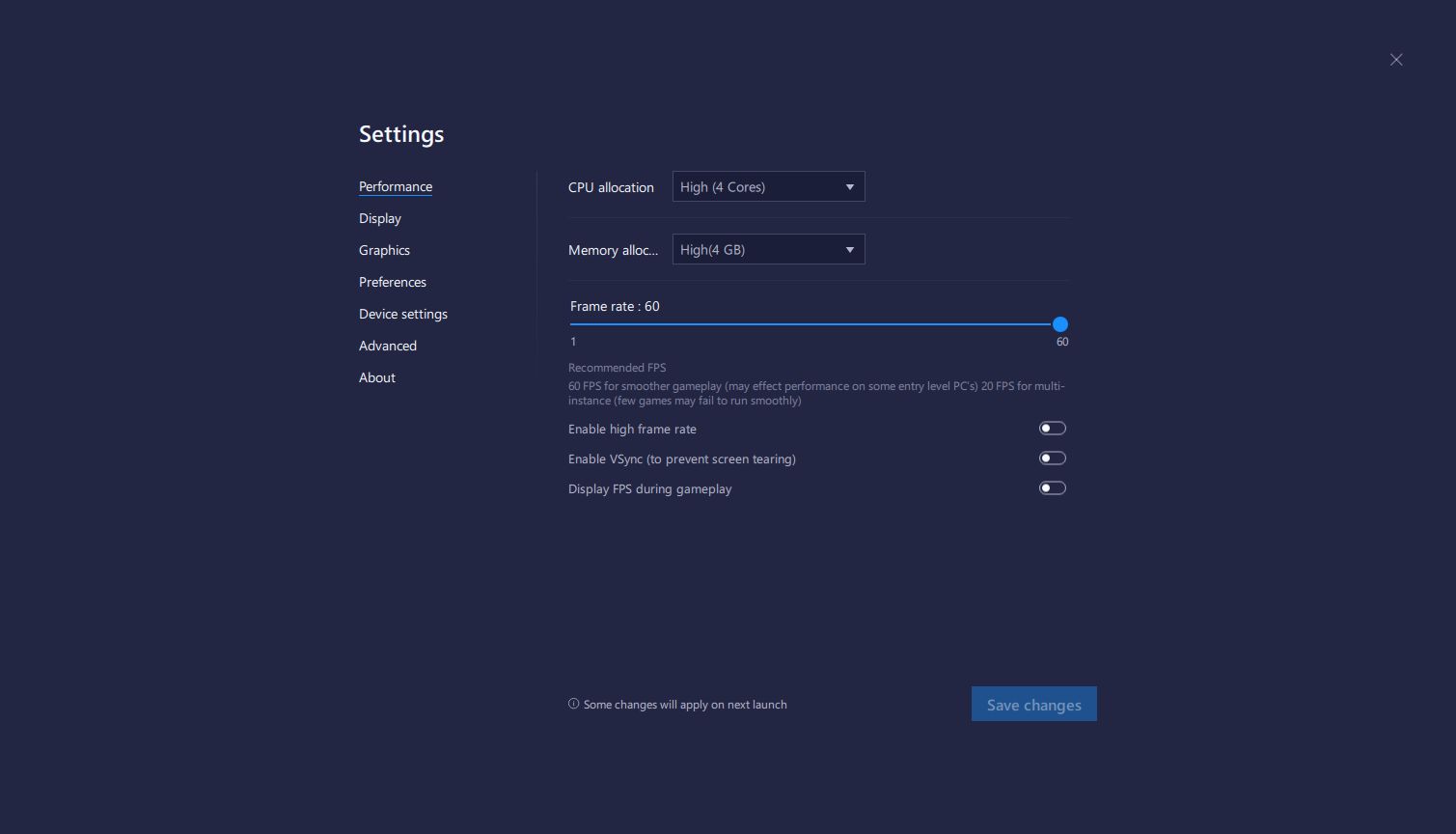 Similarly, when it comes to searching, installing, and running apps, BlueStacks 5 is faster than the previous version. Instead of searching for games in the Game Center, you can now look for them directly in the Play Store. Moreover, when it comes to running multiple games, you can easily switch between your apps, or even return to the home screen, by using the "Home" and "Recent Apps" buttons on the right or top panels.
The Largest Community of Mobile Gamers in the World
For some gamers, playing games is more of a loner hobby that they enjoy in their free times. For others, however, playing games is more about the social experience and being able to collaborate with others, or perhaps fight against them in any game. If you're one of the latter, then you'll be pleased to know that BlueStacks has the single largest mobile gaming community in the world, with a user count of 500-million and rising every day!
And with the launch of BlueStacks 5, many more will switch to our powerful emulator and never look back.
FPS Locking to Guarantee the Best Experience
While BlueStacks has let all its users run their games with the best performance, it was a bit inefficient in the sense that it did so with uncapped framerates. In this sense, even if your monitor was 60hz or 75hz, your games would still be running at 100+ FPS, which is pointless since your screen can never render gameplay at higher frames than your refresh rate.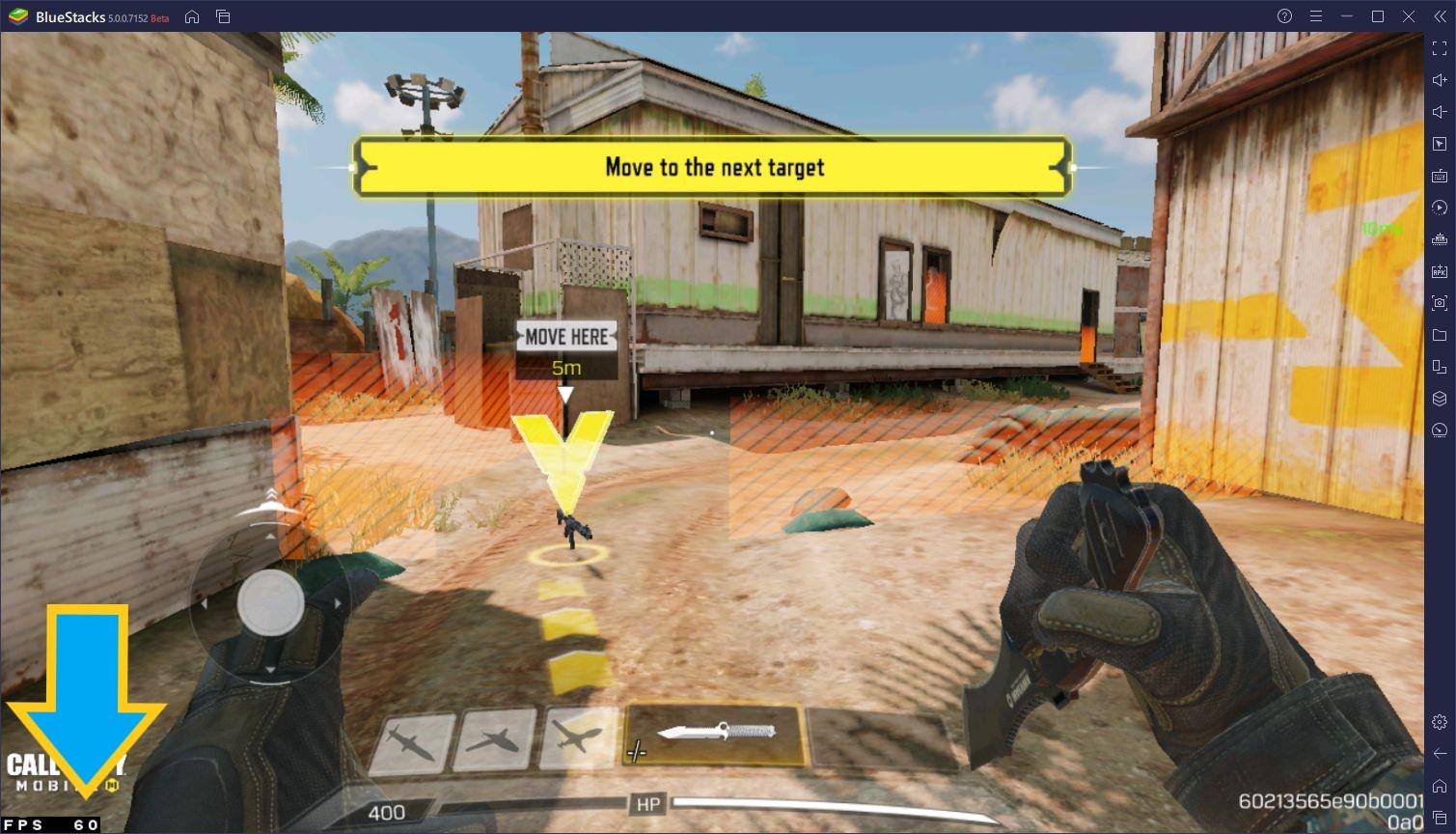 With BlueStacks 5, you can lock your FPS to the refresh rate of your monitor. This will help in multiple ways: Not only will your games run smoother and with fewer frame drops, but this will also prevent your components from overstressing and overheating from running games at uncapped framerates. This is the smoothest we've ever played even the most demanding games like Black Desert Mobile.
Unparalleled Stability Through Even the Longest Gaming Sessions
And speaking of preventing overstressing, we've carefully developed and tweaked BlueStacks 5 to be our most stable version yet, allowing players to enjoy their favorite games for as long as they want without issues, thanks to the new Long Flight feature. We've had games like Rise of Kingdoms or Epic Seven running for upwards of 10 continuous hours with no issues, even when running them simultaneously on separate instances.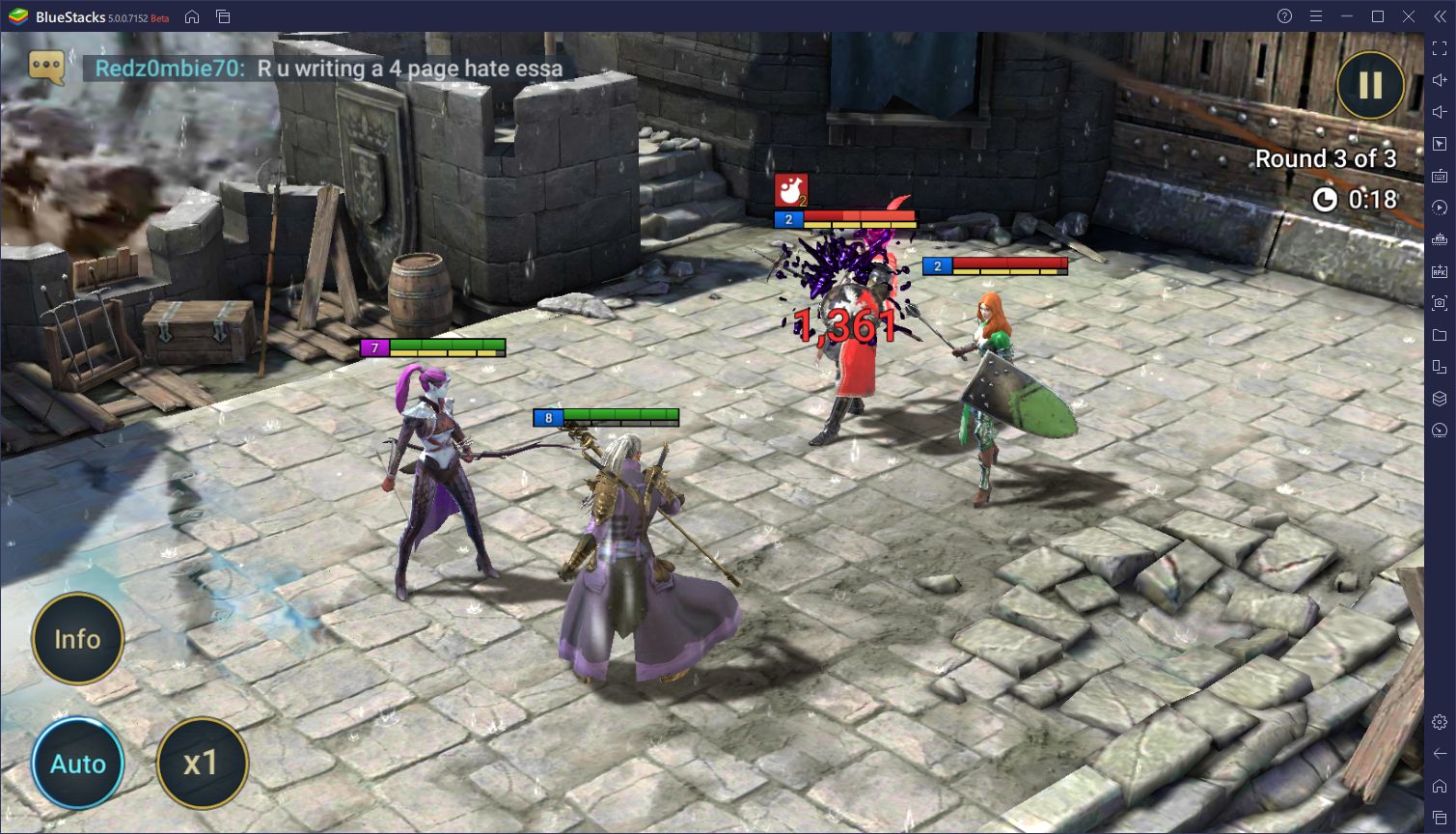 This will be incredible for war and strategy games, as well as gacha RPGs, which are often the games most people leave running in the background in order to farm and grind using our BlueStacks tools like the Macro Recorder.
New and Improved Eco Mode And Instance Manager
When attempting to multitask in most games, BlueStacks was already good enough as it allowed players to leave their games in the background running with a macro while they focus on something else on their PC. However, when it comes to war games and gacha titles that could benefit the most from our Instance Manager and Eco Mode multitasking features, BlueStacks 5 blows every other product straight out of the water.
Eco Mode is a tool designed to cut the resource consumption of the emulator when running multiple instances simultaneously, by significantly reducing the framerate of all except your main instance. While the new Eco Mode will retain the same functionality, it will do so much more efficiently by consuming up to 87% less CPU and 97% less GPU resources.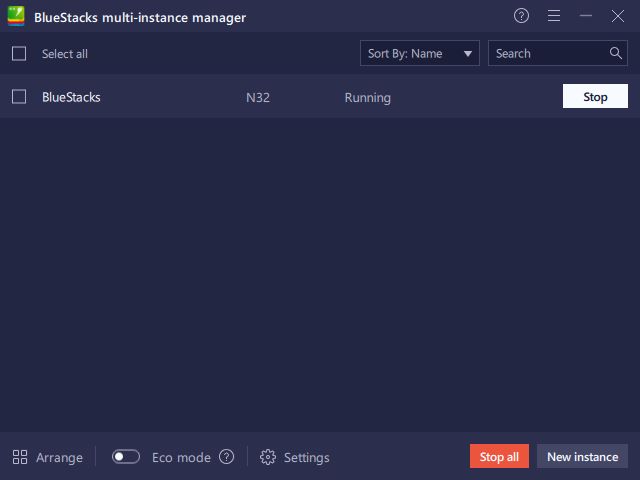 With these changes, you will be able to keep many more instances running in the background without issues. We own three farm accounts in Rise of Kingdoms that we can keep running alongside our main game and we can play just fine with no lag whatsoever, thanks to Eco Mode.
And speaking of multiple instances, the Instance Manager is also getting optimized to consume fewer resources per instance. Even without Eco Mode, you will be able to create more iterations of BlueStacks at the same time, or create the same number you did before while producing dramatically less stress on your machine.
Built and Developed With the Highest Security and Standards in Mind
There's a good reason why we spent so many years on BlueStacks 4 without advancing into the next big version of our emulator, and that's because we're adamant on bringing you the best possible product without cutting any corners. In this sense, BlueStacks 5 has been the product of over 100,000 man engineering man-hours, most of which were devoted to creating a completely new product from the ground up.
BlueStacks 5 is developed in the United States following the highest data security standards, while also retaining GDPR compliance. This means that our app player is unique in the sense that we go to great lengths to ensure the safety and privacy of all our users, regardless of their regional restrictions or legislation. Consequently, BlueStacks is the best product not only for playing Android games on your PC, but also for doing so while staying safe and protected from would-be attackers or shady business practices.
And this is just a brief overview of all that came with BlueStacks 5. We strongly urge you to download it and give it a try; you can even have both BlueStacks 4 and BlueStacks 5 installed simultaneously, but we promise you won't want to go back after experiencing all the new features and enhanced performance! Check out our installation guide to learn how to get started with BlueStacks 5.
Have you already installed and tried the new BlueStacks 5? We'd love to read all your comments and opinions in the section below!