BlueStacks Exclusives
BlueStacks Version 5.5 Update – Double Key Shortcuts Are Here!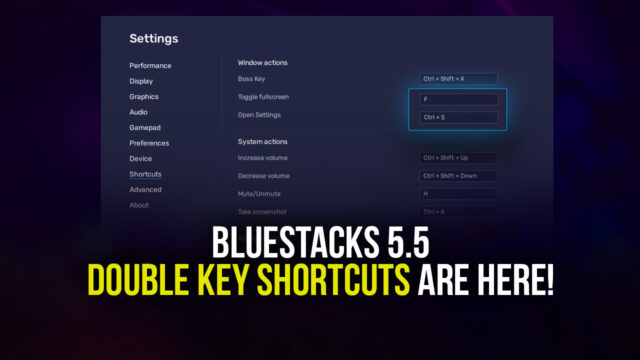 One of the most important aspects of being able to play your favorite mobile games on PC with BlueStacks is not just the fact that you can easily do so in just a few minutes of setup, but that you can enjoy these games with a much better control scheme, using your mouse and keyboard. Particularly in games like RPGs, shooters, or battle royale titles where accuracy, timing, and maneuverability are key, having superior and versatile controls that you can tweak and modify at a whim will definitely give you an upper hand over the competition.
BlueStacks' superior controls are provided by the Keymapping Tool, a feature that also happens to be one of the most intuitive and useful aspects of our Android app player. With it, users can create versatile control schemes for any game using their mouse and keyboard, which in turn will let them enjoy their favorite mobile titles as if they were proper PC games. And in the games where it would be useful, this tool also lets you configure gamepad controls so you can dominate your enemies using your controller.
The Keymapping Tool has been an essential part of the gaming experience with BlueStacks, which is why we're always working on building on top of it and adding more features to it whenever possible. Case in point, the latest BlueStacks update gives even more utility to the Keymapping Tool, allowing users to now assign double key shortcuts, alongside their single key counterparts.
New Double Key Shortcuts in the Keymapping Tool
Typically, when you download and install any popular mobile game on BlueStacks, you'll find that these already have predefined control schemes right out of the box. These settings are created by our team and often cover most of the basic aspects of the game. Whether it's combat shortcuts, menu navigation, or other features, there's a good chance that the default control schemes have at least a few settings to cover them.
However, regardless of the game, our keyboard and mouse controls were always restricted by one crucial limitation; the fact that they only accepted single-key shortcuts as their button inputs. And while this is often enough to cover most of the features in countless games, it leaves something to be desired, especially if you're typically a PC gamer used to playing games that have double-key shortcuts.
Luckily, the newest BlueStacks update now lets you configure your controls via the Keymapping Tool with double-key shortcuts, giving you much more versatility when playing mobile games on your computer. In this regard, your controls will no longer have to be spread out across the keyboard in games where there are a lot of different buttons and options to press.
With double-key shortcuts, you can now add modifiers and other keys to your existing controls, in order to use the same buttons for more than one function. For example, in this instance, while one function might be activated by pressing "T", you may also activate another totally different function by pressing "Alt + T". And for certain games in which the action is very fast and intense, like in Free Fire or CoD: Mobile, having access to a wider array of controls all packed tightly into a smaller area in the keyboard will help you get out of more than a few clutch situations.
Practical Advantages of Double Key Shortcuts
While it's easy enough to play most games using the regular single-key shortcuts, since mobile games often don't have as much combat or action controls as, say, games in other platforms like PC or consoles, some titles can actually benefit immensely from the new double-key shortcuts in the newest BlueStacks update.
Some relevant situations in which this new feature will come in handy may include the following:
Get Kills and Dab on Your Enemies in Free Fire
Though not necessarily life-saving, having access to double-key shortcuts can work wonders for playing with style. After all, what's the point of winning and eliminating your enemies if you can't shame them with a well-placed emote?
With the double-key shortcuts, accessing your emotes in Free Fire is easier than ever. Instead of opening the emote wheel and manually clicking on your emotes to use them, you can simply add a quick and simple double-key shortcut to your favorite gestures. In this manner, whenever you get a kill, simply press "Ctrl + 1-8" to style on your enemies before running away.
Of course, you can always modify these bindings through the Keymapping Tool menu by pressing Ctrl + Shift + A while in-game.
Escape From Clutch Situations in a Pinch
While playing with style is cool and all that jazz, it does nothing if you can't actually survive your encounters. With the double-key shortcuts, you can escape clutch situations in shooters by keeping your first aid and healing items close at hand. For games like PUBG or Free Fire, for example, you can assign the first aid kits to "Alt + 1" and have quick access to them at any given moment.
This also applies to any commonly-used items or functions. Instead of spreading them out on your keyboard and having to move your hand to activate them, simply add a double-key shortcut to them and keep them as close to your WASD at all times.
Faithfully Recreate the PC Controls in any MOBA Game
With our BlueStacks controls, MOBA games like Arena of Valor or League of Legends: Wild Rift were already as intuitive as possible when playing them on PC. However, for those who want the authentic PC gaming experience, the new double-key shortcuts can help to achieve it.
For instance, in games like League of Legends on PC, the default way to use skills is via the "QWER" keys, while the hotkeys for learning these skills when leveling up are the same buttons, but with the "Alt" key as a modifier. With the new double-key shortcuts in BlueStacks, you can now faithfully recreate this control scheme by using your skills with the aforementioned QWER buttons and learning them with Alt + QWER.
With the improvements to the Keymapping Tool in the latest BlueStacks update, our powerful and versatile Android emulator just got even better. Feel free to update and let us know what you think!