BlueStacks Exclusives
Update 5.8 is Bringing Mouse Support for Minecraft Exclusively to BlueStacks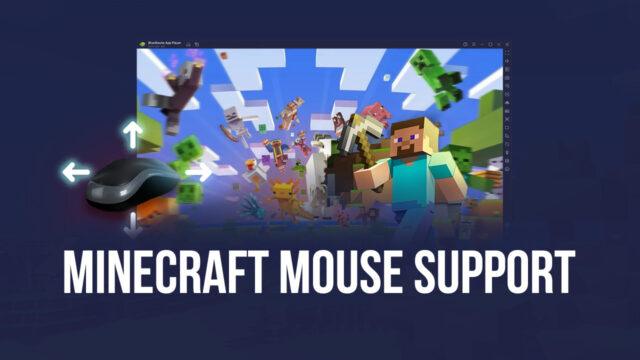 For the longest time, BlueStacks has been the go-to Android app player for enjoying the full version of Minecraft without having to pay full price. Our emulator lets you enjoy the popular survival crafting game on your PC, with many of the same elements as the proper Windows version. However, this experience came with some specific limitations, namely that the camera and movements controls were a bit restrictive, in that in order to pan your view or screen, you needed to hold down the left mouse button, as you would do when playing on mobile, but using your mouse instead of your finger.
However, the solution has finally arrived. BlueStacks 5.8 update is rolling out exclusive mouse support for Minecraft that equips users with smoother controls and brings the entire gameplay experience as close to the PC version as possible. The 5.8 update adds Mouse support for Minecraft in a way that no other emulator has.
Exclusive Minecraft Mouse Support in BlueStacks 5.8
The biggest problem with Minecraft Mobile was navigation. The mouse support rollout in BlueStacks 5.8 solves the same. When you play Minecraft on BlueStacks now, you will have a cursor with all the authentic elements of a Windows cursor to help with navigation as you enter the respective world.
Thanks to the cursor, users will now be able to move freely and with precision instead of having to press the left click and drag to move around in the Minecraft world. Previously, users had trouble placing and breaking blocks due to the dragging concept. With the Mouse Support removing the need to drag with the left-click, they can now use it to break blocks instead. Users can now place blocks using the right-click button without the need to drag, just like it's done in the PC version.
Another advantage of the mouse support is the presence of the classic Minecraft crosshair. The movements are now not only easier but more accurate as well, with users able to just move the mouse in specific directions to look around the world. The left-click button can now also be used to make weapons efficient and accurate.
The Mouse Support will make it much easier for users to play Minecraft on BlueStacks with the mouse and keyboard. As the addition is exclusively available on BlueStacks 5.8 and above, it makes BlueStacks the ideal home for all Minecraft enthusiasts.