BlueStacks Exclusives
Introducing BlueStacks X Mobile Game Modding – Step Into the World of Infinite Possibilities with Creator Studio & Creator Hub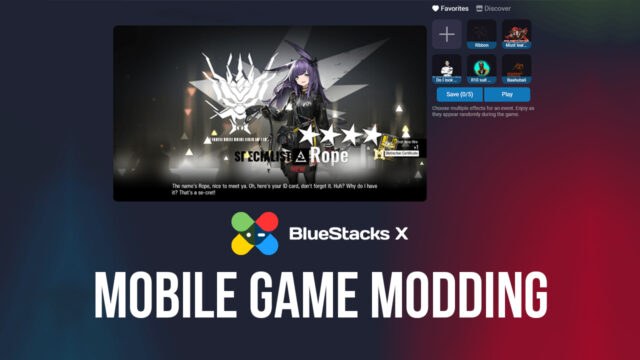 As facilitators of the best mobile gaming experiences on PC, we're constantly striving to be on the vanguard of technology and are always working around the clock to develop new and innovative features to improve the gameplay of our users around the globe. Through the years, we've created the best Android app player on the market, BlueStacks, now powered by Hybrid Cloud, as well as the first and largest mobile cloud, now.gg, that lets gamers enjoy their favorite games on any device and instantly with a single click.
However, we're not ones to rest on our laurels, which is why after releasing our biggest projects, we immediately go back and start working on the next big thing. And on this occasion, we want to introduce our newest awesome project for BlueStacks X, the Mobile Game Modding (MGM) platform. It introduces Creator Studio, that lets you mod your favorite mobile games with unique visual effects, filters, and even new 2D and 3D textures, all of which can even be wholly user-created. And through the Creator Hub, you can not only browse other users' creations, but also upload and share your own so that other gamers can enjoy your unique mods.
Mobile Game Modding and Creator Hub: What Are They?
As its name implies, MGM lets you mod a variety of popular mobile games and change various visual aspects of their presentations, in order to give them a unique touch and flair. It is designed and implemented to be extremely easy and straightforward to use, so even the most inexperienced users can work on their own creations: Simply go to Creator Studio, pick the game you want to mod, choose your preferred effects and filters, and then click on "Play". Alternatively, you can also click on "Share" to upload your mod to the Creator Hub, so that anyone can take a look, or even download and try it for themselves.
The Creator Hub, on the other hand, is the central gathering point for all creations, where you can both browse for other user-made mods, as well as access the modding feature itself. It goes without saying that this is where your own creations will be posted for everyone to see, as well, should you choose to share them.
As we mentioned earlier, there are three types of mod capabilities in MGM:
Basic:

Lets users alter the color of their games by adding filters, similar to the ones in apps like Instagram.
Intermediate:

Allows users to change the visual effects for certain in-game events such as victory screens, defeat screens, gacha screens, and more.
Advanced:

While it won't be available at launch, this feature will let users modify entire 2D and 3D textures of their games.
Mobile Game Modding Features and Benefits
At a glance, you can probably already tell some of the core features of MGM and the Creator Hub. Nevertheless, here are some of the other benefits and interesting aspects that may not be immediately apparent:
Create infinite versions of a mobile game
One of the best benefits of MGM is that it gives users complete liberty to modify their favorite games to suit their preferences, effectively democratizing the look and feel of the titles in question. The result of this is that there can effectively be infinite versions of any given game, all with their own unique effects and flair.
Modding Freedom and Reliability
As we mentioned, one of the things that we wanted to achieve with MGM is to give users a way to express themselves and to celebrate their creative freedom via modding their favorite games. With the MGM and Creator Hub, users can not only realize their creative vision in a fun and easy way, but also find modded mobile games made by other users.
The Creator Hub is our attempt at unifying the mobile game modding scene, by providing a framework with which to modify and customize your favorite games. Our suite of features ensures that you have absolute freedom to customize specific parts of the games by adding filters and visual effects, and in the future also modifying 2D and 3D textures of the said games.
The best part about MGM is that, since these mods are created using our own built-in tools, every creation is completely safe to download and share, with zero risk of infecting your PC with malware, spyware, or any other kind of malicious programs.
As we mentioned above, MGM is designed to be exceedingly easy to use. The creation process is as simple as choosing your desired game, choosing the desired effects, filters, and textures, and clicking on "Save" followed by clicking on "Play" to load your effects into the game.
However, our platform is also versatile enough to allow uploading custom-made gifs from their computers, as well as via Giphy, in case you don't find what you want in the built-in catalog. The creation potential of MGM in BlueStacks X is unlimited, virtually allowing users to create infinite versions of their favorite mobile games, all customized to meet their preferences.
Sharing and Community Aspects
One of the core aspects of MGM is the ability for the users to easily and quickly share their own modded creations, with the click on a button. The idea here is to foster a community of passionate creators that create and develop their own effects in order to create truly unique creations, and then upload them to the Creator Hub for everyone to download and play.
If you've been bitten by the creative bug and have an idea for customizing your favorite mobile games with unique effects, then BlueStacks X will give you all the tools you'll ever need to fulfill all your projects.
While the Mobile Game Modding in BlueStacks X is chock full of features, assets, effects, and filters for the players to mess around with at launch, our platform is only going to get even better and more advanced with time. One of the first features planned for implementation in the near future is the modding of 2D and 3D textures for applicable games, as well as expanding our catalog of moddable games.
What do you think about the new Mobile Game Modding in BlueStacks X? Leave us your thoughts in the comments below!