BlueStacks Exclusives
New BlueStacks 5.11 Update is Adding Multi-Touch Support For Touchscreen-Enabled Devices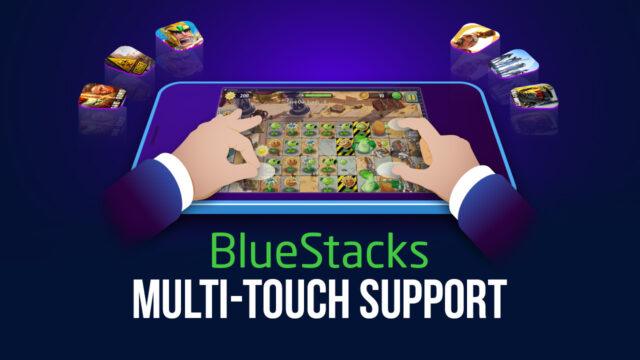 BlueStacks is the best Android app player for enjoying your favorite mobile games on PC, bringing not only the best frame rate and graphics across most systems, but also offering a wide variety of tools and features to enhance your gameplay experience even further than what the best phones on the market can offer. Case in point, the latest update to our Android app player is bringing a feature that will significantly enhance the experience of users who play on devices that have touchscreens: Multi-touch support.
What is Multi-Touch Support?
As its name implies, this new feature will now allow users who play on touchscreen-enabled devices (like tablets or laptops) to gain access to gestures that require multiple taps at the same time. As such, while many gestures were already possible through specific commands via the Keymapping Tool, they are now also possible by directly performing the gestures on your touchscreen. This new feature is useful for specific games, as well as for general utility.
How Multi-Touch Can Improve Your Gaming
While this new feature will be handy for general use in day-to-day apps like social media platforms, there are also some specific cases and games in which you can benefit tremendously from having multi-touch support:
Aim, Move, and Shoot at the Same Time in Shooters
There's nothing worse than running into a bad guy in your favorite shooter game and having to decide whether to use your weapon, or move to a safer position, especially since before now, it wasn't possible to do both things at the same time. With this new feature, however, players can now run, jump, aim, and shoot simultaneously when playing on touchscreen devices
Dominate in MOBA Games with Superior Movement Schemes
In the past, those who played MOBAs using touchscreen controls on BlueStacks were limited to either moving or attacking, but not both at the same time. With this new feature, it's now possible to activate skills, aim them, and also hit your target with precision, all while staying in movement so that you don't become an easy target yourself.
Enjoy Rhythm Games with no Drawbacks
While BlueStacks is awesome for playing a wide library of mobile games on PC, the rhythm game genre is one that has eluded us, particularly since it requires touching multiple random parts of the screen constantly throughout the stages. However, with multi-touch support, players who are playing on PC or laptops with touchscreen support can now not only download and install games like Cytus, Piano Tiles, and Hatsune Miku: Colorful Stage, but can also play them without any issues.
With every new update, BlueStacks just keeps getting better and better. Download and install it now and see for yourself why we're the #1 Android app player in the world!