BlueStacks Exclusives
The New Disk Cleanup Tool in BlueStacks 5.6 Will Help You Free Up Tons of Disk Space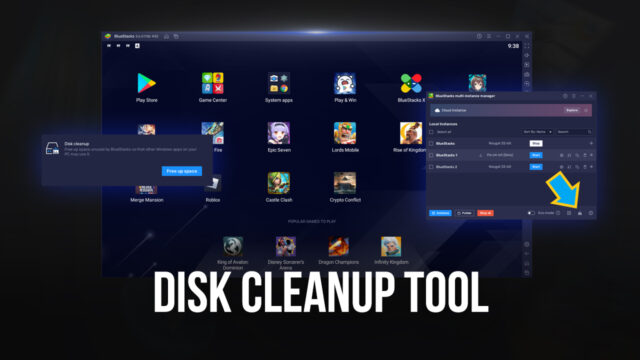 Back in BlueStacks 4, users could not only install all the games that they wanted without any worries or concerns about their disk space, but also get back all the said storage space used by the said games after they were uninstalled. This is because, in the previous version, people had access to a useful tool that would help them to optimize the storage space taken by our Android app player; a feature called the Disk Cleanup Tool. And for those who moved to BlueStacks 5 but had been missing this useful feature, we've got some good news: the Disk Cleanup Tool has now arrived on BlueStacks in version 5.6 and onward.
How to Use The Disk Cleanup Tool in BlueStacks 5
With the newest version of our emulator, you can now easily find the Disk Cleanup Tool with the click of a button. Of course, this means that in order to use this feature, you first need to download the latest version and update your client. If you haven't done so already, feel free to go to our website and update your BlueStacks—it only takes a few minutes.
Now, once you've updated and launched BlueStacks 5, you can find the Disk Cleanup Tool through the settings menu. For your convenience, we've broken down the usage of this feature into a few simple steps:
Open the BlueStacks settings by clicking on the burger icon on the top right, and go to the "User Data" section.
Under "Disk Cleanup", click on "Free up space", and then on "Continue" in the ensuing dialog box.
At this moment, BlueStacks will automatically close all active instances, start scanning for unused storage space, and release said unused space.
After a few minutes, BlueStacks will relaunch automatically, with its storage space optimized and the unused disk storage returned back to your computer for use in any other purposes.
The entire process is mostly automated, and after you run the tool from the settings menu, all you need to do is wait for a few moments while BlueStacks does its magic. Keep in mind that you can also find and run this tool from the Instance Manager, by clicking on the new brush icon on the lower right of the window. The usage from the Instance Manager is virtually the same; and this is just another convenient location where you can find this Disk Cleanup Tool.
With the newest BlueStacks update, you no longer have to worry about storage bloat in BlueStacks 5—install and uninstall all the apps you want, and run the Disk Cleanup Tool every now and then to ensure that your client isn't using more storage space than it needs.
What do you think of the Disk Cleanup Tool in BlueStacks 5? We'd love to read your thoughts and opinions in the comments below!