BlueStacks Exclusives
Win Fabulous Prizes during "12 Days of Christmas Giveaways" from BlueStacks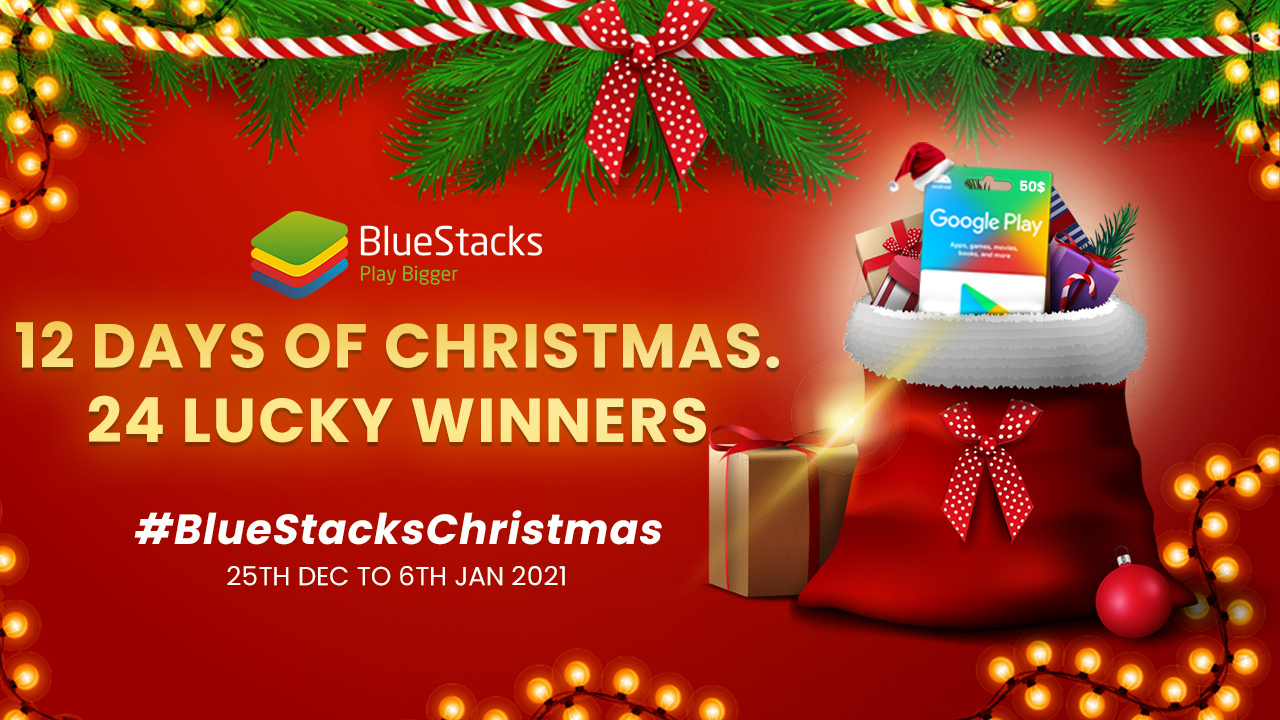 With Christmas only a few days away, we at BlueStacks have been thinking of ways to give back to the community that has helped us grow so much over the past few years. It's because of you that we're able to constantly develop and maintain the BlueStacks app player and continue to improve it with every new version. Every feature we add, bug we squash, and game we make compatible with our emulator is all thanks to the wonderful people that support us.
But enough sappiness.
Today, we want to personally thank our community for all their support. And what better way to do it than by spreading cheer with amazing gifts? In this sense, from December 25th to January 6th 2021, we'll be hosting our first-ever Giveaway.
The 12 Days of Christmas Giveaways
This series of community events will consist of many different fun tasks that you, the users, can participate in on a daily basis, for the chance to earn real prizes. The challenges will take place from December 25th and will last for 12 days, with new tasks and missions every day.
The activities we have planned go from simple things like captions based on given prompts, spotting specific details in certain screenshots of popular games, and participating in other community-based challenges on our social media channels. While we'll be giving more details on every task as they unfold, you'll definitely want to follow us on all our channels to stay on top of the giveaway events.
There are many exciting prizes to be won every single day during the 12 Days of Christmas Giveaways Celebrating #BlueStacksChristmas. And while we'll be revealing more details on the tasks and their respective rewards in the following days, you can expect to wibn some super awesome prizes. What do you want to see in our first-ever installment of the 12 Days of Christmas Giveaways event? We'd love to hear your feedback and suggestions, so feel free to leave us a comment below!
Terms and Conditions
BlueStacks Christmas Giveaway by BlueStacks is subject to these terms and conditions, binding and final on matters relating to the Giveaway, except as explicitly stated otherwise. This Giveaway is not sponsored, endorsed, or administered by anyone other than BlueStacks.
How to Enter

: For eligible entries, users should follow all the rules as stated in the Giveaway's official contest rules as announced.
Eligibility:

The Giveaway is open to anyone aged 16 years or older.

Giveaway Period

: The Giveaway is for 12 Days, December 25th, 2020 – January 6th, 2021 (the "Giveaway Period"). Entries must be during the Giveaway Period to be eligible to win.

Prizes

: If eligible under the official rules mentioned in the Giveaway social post, two winners will be selected per day from across our social media channels (Facebook, Twitter, and Instagram). Each winner will receive a $50 Google Play Gift Card. BlueStacks will contact the winners on their respective social media handles/DMs. In case there is no Google Play Gift card available for a location, an equivalent amount will be given on a similar platform.

Submission Criteria:

Submissions must be according to the official rules and directly accessible by BlueStacks. One participant can submit only one entry.
Employees of BlueStacks, its affiliates, their immediate families are not eligible to participate or win. BlueStacks reserves the right to change, modify, or discontinue the Giveaway without any entrants' liability. It also reserves the right to remove any comments, entries that are harmful or abusive or violate any party's rights.
The Giveaway is subject to all applicable federal, state, and local laws, rules, and regulations.