BlueStacks Exclusives
[Update] Easy way to Install & Play Pokémon GO on PC with BlueStacks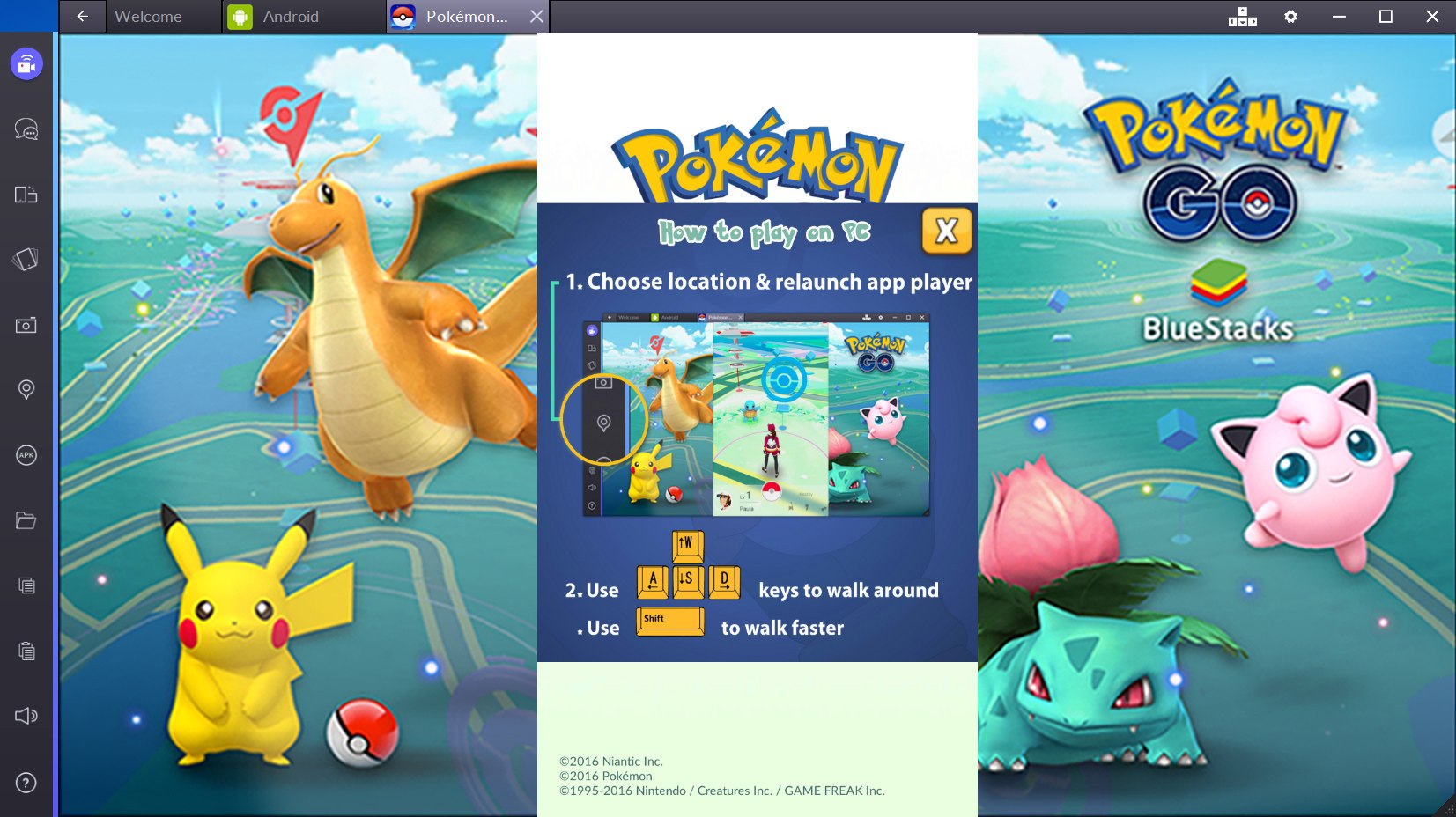 Pokémon GO nearly broke the Internet with popularity recently. Thanks to a tip, many people found out how to play Pokémon GO on PC with BlueStacks. We have released a few new updates to our App Player that will easily allow you to play Pokémon GO on BlueStacks! No more cumbersome tutorials, no rooting or installing several apps, you even can use your keyboard to walk around or run around plus you can chat. These steps can be found on our support page as well, so let's get started and show you how!
Before we continue we want to acknowledge full disclosure that this is against Niantic's terms of use of the game so use at your own risk. We, BlueStacks, do not endorse nor support this in any way. Any loss of data, ban, or other recourse taken by Niantic as a consequence of this process is solely the responsibility of the player.
How To Play Pokémon Go On BlueStacks?
Simply download the latest version of BlueStacks. The latest build is (version: 2.3.41.6024). Uninstall any previous version.
Once installed, you can see Pokémon GO in our Trending Apps section or type it in the search bar to get the official app which comes from Google Play (and no 3rd party downloads).
Once installed, click the Location/Map icon on the left side toolbar. You can either click on the map near your real location or search another popular location. Once selected click the orange Play button to the bottom right. Note: in some cases of BlueStacks upgrade, if you do not find Fake GPS installed on BlueStacks, you can install it from Google Play.
Open Pokémon GO and play! You can use W, A, S, D keys on your keyboard to move around on map. Hold SHIFT key and use WASD keys to run!
You no longer have to remove your Google account after logging in to avoid crashes when catching Pokémon. Furthermore, notice how the App Player shakes/vibrates the screen whenever new Pokémon appears.
Possible Trouble Shooting
While trying to catch Pokémon, if BlueStacks App Player crashes after toggling AR settings, you can use this tip to manually turn off the AR camera:
Close BlueStacks
Disable camera by going into Run > type REGEDIT on your computer and navigating to "HKEY_LOCAL_MACHINE > SOFTWARE > BlueStacks > Guest > Android > Config". Press camera and change to decimal then change the 1 to a 0 then save.
If you found this tutorial helpful please link to it and share! Read our review of Pokémon GO. Subscribe to our YouTube channel for more helpful videos and read our blog for more new apps & games, reviews, guides, tips & tricks.