BlueStacks Roundups
Best Cricket Games on Android in 2022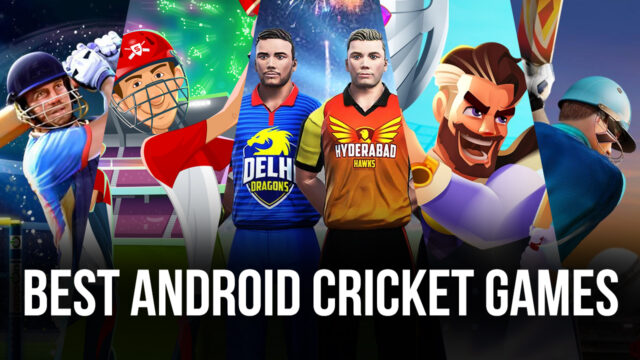 Cricket is a gentleman's game. It is not just one of the world's most popular sports, but it also dominates the Sports category in mobile gaming. Any enthusiast enjoys playing a fun simulation of their favorite sport with their friends or playing as their favorite team seeking revenge on their rivals. Some Cricket games emphasize just on batting, while others include the unexpected additions of fielding and bowling, which enhances the user experience.
A cricket game can feature amazing graphics, realistic simulations, and precise motions from a world-class team, but getting all of these things in one game is challenging. As a result, different games may specialize in distinct experiences and taking everything into account, we've finally discovered the best cricket games for Android.
1. Sachin Saga Cricket Champions
Sachin Saga Cricket Champions is a popular cricket game on the Google Play Store, with over 10 million downloads and a 3.9 star rating.
The game features high-quality graphics along with motion-captured animations providing a premium gaming experience to the players. Cricket Champions also encompasses domestic and international events such as the Big Bash and the Asia Cup. It features not just the classic ODI, T20, and Test cricket forms, but also a campaign mode where you can begin your journey as young Sachin Tendulkar and relive his glorious cricketing career of 24 years. The action is fluid, with motion-captured strokes such as the famed Sachin straight drive, and the option to experience incredible World Cup and IPL trips.
Overall, Sachin Saga Cricket Champions does not let you down and delivers a high-fidelity mobile experience.
2. Real Cricket 20
Real Cricket 20 – The most recent installment in the Real Series has over 10 million downloads and a 4.2-star average rating on the Google Play Store.
Real Cricket is one of the most realistic cricket games available on the Android platform, with high-fidelity images, authentic player faces, great-looking team jerseys, and the most accurate live stadiums, including Mumbai, Pune, Cape Town, Melbourne, and London, each delivering a unique experience. You may pick from all of the standard match styles, like ODI, T20, and Test, as well as real-time multiplayer games in which you can play 1v1, 2v2, and co-op, or watch your friends play live matches.
There are a variety of famous tournaments to compete in, as well as a brand new auction mode where you may bid on your favorite players and put together your ideal squad. Play Real Cricket 20 on PC and have a fun time with your gaming buddies using BlueStacks.
Real Cricket 20 has raised the standard for all future cricket games, delivering the greatest simulation experience with well-synchronized commentary as icing on the cake.
3. T20 Cricket Champions 3D
T20 Cricket Champions 3D is a high-octane T20 cricket game with over 10 million downloads and a 4.0 rating on Google Play.
3D visuals, realistic animations, batsman motion, and ball mechanics keep you captivated throughout Cricket Champions. The game provides a fantastic batting experience, with a wide range of strokes to play lofted or on the ground, depending on the ball, and innovative bowling strategies.
While the game does not include a multiplayer option, it does have numerous modes in which you may play cricket. You may play rapid matches or tournaments, play one-over games, and more, with unique power-up modes such as Unleash Spring Bat, Vampire Batsman, and other Batsman power-ups. When bowling, use SuperFast Ball, FireBall, and other special balls.
This game is a wonderful pick for newcomers because of its simple controls and thrilling rapid matchups, as well as the many modes. The game is developed by Zapak.
4. Stick Cricket Super League
Stick Cricket Super League is a new addition to the Stick Sports portfolio, with over 5 million downloads and a 4.3-star rating on Google Play.
One of the most odd cricket games on the list is Stick Cricket. The game has stunning graphics and mind-blowing animations, as well as very easy and fluid controls that nearly completely replicate the thrill of cricket. On the Play Store, you may get Stick Cricket Live, Stick Cricket Classic, Stick Cricket League, and many other variants. You may compete in tournaments and world cups if you want to. It allows you to make your own player and, if that wasn't enough, compete against your pals. This is referred to as an all-rounder sport.
Stick Cricket Super League is one of the most consistent cricket games on the platform.
5. Hitwicket Cricket Superstars
Hitwicket Cricket Superstars is a cricket manager game with over 1 million downloads and a 4.2-star rating, on the Google Play Store.
Hitwicket Superstars is a fantasy-based cricket strategy game that is another standout on the list. It's your job as the team's manager to develop and train your players. Players have varied skills and powers, so you'll want to handpick your starting lineup to maximize their potential. You can create your own lineups, challenge another online user to a brief 5 over match or a full T20 cricket match, bid/sell players in player auctions, and train them using the game's numerous training systems.
Hitwicket Cricket was one of the award-winning games featured in the Made in India promotion, and it's definitely worth checking out.
6. World of Cricket: Real Championship 2021
On the Google Play Store, World of Cricket: Real Championship 2021 has over 10 million downloads and a 4.1-star rating.
The cricket game is noted for its realistic gameplay and physics, while also offering a variety of modes, including a power team mode in which you may recruit, power, and train your squad to ensure you defeat your opponents. You can play with friends made in-game, from Facebook, and even local friends in the multiplayer mode of this game. There are over 25 distinct batting shots in the game, as well as 16 different foreign teams to pick from.
The intuitive batting controls and unique bowling controls do not let you down, offering you precise control over the speed, line, and length of the ball. It also includes domestic teams, which is a bonus for any cricket fan.
World of Cricket: Real Championship 2021 is developed by AppOn Innovate and is easily one of the more realistic games on the list.
7. Smash Cricket
Smash Cricket is a ready-to-play cricket game with over 5 million downloads and a 4.1-star rating on the App Store.
Smash Cricket is a fast-paced, ready-to-play cricket game. In this game, you may battle your friends and win the World Cup in fast-paced matches. The goal is simple: defend your wickets and score runs in online fights with realistic bat mechanics and ball motions, or challenge the best teams to compete for the world cup. This game is similar to the original smash arenas, where you are handed a bat and must smash all of the balls that come your way while your score is calculated on the screen. Smash provides an engaging environment in which to play, with realistic 3D sound.
Smash Cricket is an extremely enjoyable game designed for people who enjoy playing cricket games in short bursts.
8. World cricket championship 3
One of the most well-known cricket games, World Cricket Championship 3 has been downloaded over 10 million times and has a 4.2-star rating on the Play Store.
The World Cricket Championship is without a doubt one of the most popular cricket games on the market, with realistic gameplay that includes immersive batting and bowling strokes from genuine professionals. You may pick among Test, T20, ODI, World Cup, and other cricket models, as well as engage in auctions with a range of options. Popular stadiums are included in the game, giving you a nostalgic vibe while fielding in a test style over the course of a day. There are also hot events where you may replicate live cricket matches from across the world. Australian cricket icon Matthew Hayden and India's renowned player and top pundit Aakash Chopra provide outstanding analysis in this game.
World Cricket Championship 3 is created by NextWave Multimedia, and they are doing an excellent job of updating the game on a regular basis. Have a fun time with your friends while playing World Cricket Championship 3 on PC.
9. Real Cricket GO
Real Cricket GO is an impressive low-end cricket game with over ten million downloads and a 4.1-star rating.
Real Cricket Go is a stripped-down version of their top-of-the-line Real Cricket 20, with the same mechanics and physics but a little difference in the animation. The game provides the same comprehensive cricket experience as its higher-level counterpart without sacrificing pleasure.
The game has easy-to-use controls. If those controls aren't working for you, simply go to the settings menu and select one of the four control choices offered. It also offers a large number of teams, several camera viewpoints, and two distinct game types to select from, all while being just 45 MB in size.
Because of the game's low demands, it has the highest level of compatibility, making it a fantastic choice for entry-level devices and gamers.
10. Cricket League
Cricket League is a miniclip game with over 10 million downloads and a 4.1 star rating on the Google Play Store.
Cricket league is a quick-play cricket game designed for gamers who enjoy passing their time while on the road by playing small fun games. Cricket League matches are played in venues throughout the world, including Mumbai, Karachi, Adelaide, Dubai, Johannesburg, Dhaka, Melbourne, and London. In this game, each player bowls and bats for one over, or six balls. You must either score as many runs as you can or prevent your opponent from scoring. When you lose a wicket, your innings are over. Games normally take a few minutes, and the winner is the one who has the highest score at the end. Play Cricket League on PC with BlueStacks.
If you adore cricket but do not have access to a high-end gadget, the Cricket League is an excellent way to pass the time.