BlueStacks Roundups
Best Upcoming Android Games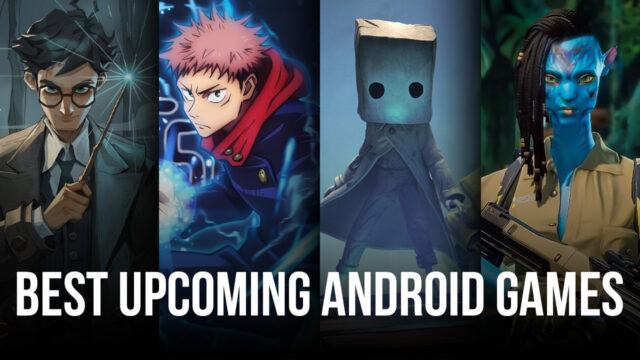 Video games thrive by having multiple releases in a year, united by genres, and providing spectacular memorable moments for players to cherish for years to come. There is one thing that all gaming platforms have in common: having to wait for your favorite games to be released. The excitement of experiencing the conclusion of your favorite game series or another amazing game by the creator of your favorite one. Knowing the best upcoming games, on the other hand, is an exerting process. We have compiled this list to get you excited about the best upcoming Android games.
1. Harry Potter: Magic Awakened
Harry Potter: Magic Awakened is a new card collection and RPG game that takes you on a journey through Hogwarts. The game was originally scheduled to be released in September 2022, however it is now expected to be released globally in the coming months.
The Harry Potter game begins by placing you in the role of a first-year student at Hogwarts (The magical school), allowing you to browse the dazzling shops in Diagon Alley, roam the halls at Hogwarts, and adventure through the Forbidden Forest. The main goal is to collect and level up your cards while also having to meet your favorite characters from the universe such as Hagrid, Harry, and Hermione.
The game's developers, NetEase Games, promise polished gameplay, simple controls, and visually appealing graphics. The game has been released in certain parts of Asia, receiving positive feedback from the community. If the anticipation is driving you insane, Play Harry Potter: Magic Awakened on Bluestacks.
2. Jujutsu Kaisen: Phantom Parade
Jujutsu Kaisen: Phantom Parade is a Turn-Based RPG game set in the universe of the popular anime series Jujutsu Kaisen. The game was originally scheduled for release in 2022, but it was recently pushed back to 2023.
Jujutsu Kaisen: Phantom Parade is a complete adaptation of the anime series, which means the game is set in the same world as the anime series, with incredible animation, impressive combat style, and original voice overs. The most recent gameplay also shows a battle system in which the player can select up to four skills for a character and up to four characters in a group. There are numerous skills to choose from, making each character unique.
According to rumors, the game will include new Manga characters. It will feature pumped-up music, just like the TV show, and characters from various high schools. The developers have not yet released much information about the game, but the recent trailer looks polished, which raises hopes for the game. There is no Pre-registration page yet, but there is an information Google Play page.
3. The Division Resurgence
The Division Resurgence is an open-world third-person shooter RPG set in the aftermath of a viral epidemic. It is intended to be released next year when the Ubisoft team believes it is ready.
The Division Resurgence takes action in a post-crisis America where a pandemic epidemic has caused instability and the government's collapse. As a Homeland Division agent, you face global challenges to safeguard the people from rising enemy factions. Throughout the journey, the game boasts a modern playstyle and fantastic gameplay options like its previous games on other platforms.
Although Ubisoft has acknowledged that the game has no ongoing relation with the old games, the recent ongoing public tests of Resurgence have looked promising in every way, especially the visuals, which seem spectacular for an upcoming mobile adventure.
The game was revealed in July 2022, with a 2023 release date. The Division Resurgence appears to be on the way since there have been a few tests here and there. Pre-Register for Division Resurgence, to receive all the upcoming updates.
4. Racing Master
Racing Master is a racing simulation game that will be available on the Android platform. The game does not yet have an official release date, but the developers are determined to make it a once-in-a-lifetime racing experience.
Racing Master is a racing game that claims to be the most realistic racing sim available, promising to deliver the most immersive racing experience in the palm of your hand. The game features an ultra-realistic racing experience with their new physics engine, new fully licensed luxury automobiles, and stunning racing circuits designed from the ground up, including Yas Marina, Sicily, and Barcelona.
The game is expected to be a truly immersive experience, with the developers attempting to create gameplay that is as realistic as possible. Because Racing Master employs the Unreal Engine, the graphics will be visually stunning. The game has been tested several times over the last year, but no official release date has been announced. Hopefully, the game will be released in the year 2023. You can also Play Racing Master Beta Access on Bluestacks.
5. COD: Warzone Mobile
COD: Warzone Mobile is a top-to-bottom mobile version of the critically acclaimed PC game COD Warzone. The game is scheduled to release in 2023.
COD Warzone Mobile is billed as the "next era" in the Call of Duty mobile franchise. It promises a breathtaking new battle royale experience in the palm of your hand, complete with intuitive controls, visually stunning graphics, realistic physics, and precise gunplay. The game will include the fan-favorite Verdansk map from COD Warzone, as well as an arsenal of top-tier weapons such as the M4 – Archfiend and X12.
The most anticipated feature is the 120-man totally human battle royale experience, as well as the cross-generation Battle Pass progression system, which allows players to progress in any current-generation Call of Duty game on any platform.
The game is currently in beta testing, and Activision has also promised a surprise reward, If 25 million people pre-register for COD: Warzone Mobile.
6. Avatar Reckoning
Avatar Reckoning is a forthcoming Open World MMORPG based on the popular Avatar Movie Universe. The game is scheduled to be released in February 2023.
Avatar Reckoning is a campaign game set in the city of Pandora. Players will be able to explore the gigantic city while interacting with its inhabitants. Disney, Level Infinite (Arena of Valor Developers), Archosaur, and Cameron Lightstorm Entertainment are working together on the game.
Avatar Reckoning doesn't have much information yet, except that it's in development and has both PvP and PvE modes. The game is full of hype because it has big names working on it. Make sure to pre-register for Avatar Reckoning if you are an Avatar fan.
7. Warcraft Arclight Rumble
Warcraft Arclight Rumble is a mobile action strategy game in which warcraft minis compete in epic life battles. The game is scheduled to be released in December 2022.
Warcraft Arclight Rumble is an immersive experience set in the realm of the popular World of Warcraft franchise. The user takes control of an army of Minis to combat enemies and characters from the ground up, effectively collecting, developing, and powering up an army of Warcraft Minis for tactical tower defense gaming. There are five different warcraft families, as well as several unlockable powers and new maps.
Arclight Rumble places a strong emphasis on single-player content, including a PvE campaign, as well as competitive online gameplay and co-op campaigns for multiplayer fans. After being tested in a few beta versions throughout the year, the game is expected to be released in late 2022 or early 2023. For all the WoW fans, Pre-registration for Warcraft Arclight Rumble is available here.
8.Tom Clancy's Rainbow Six Mobile
Rainbow Six Mobile is the first mobile game in the renowned Rainbow Six Franchise. Although a 2022 release date has been confirmed, the game is expected to be released in the coming months.
Rainbow Six Mobile is intended to be one of the most realistic games on the platform. It is a direct port of the world-renowned game Rainbow Six Siege, with breach mechanics and destructible terrain to make each match unique and keep you on your toes throughout the game. The game is highly strategic, with teamwork being the most effective way to win.
The acclaimed tactical shooter game features an epic roster of Operators (Characters in this game), cool gadgets, iconic maps, and game modes such as Secure the Area and Bomb. The ultimate destructible game will give you mobile-based controls that are easier to use and impressive graphics to help you strategize your way to victory against the opposing team.
Rainbow Six Mobile has been in alpha testing for weeks and has recently had closed beta tests in certain parts of the world, which have left players astounded by its realistic gameplay. Rainbow Six Mobile can be pre-registered here.
9. Valorant Mobile
Valorant Mobile is a direct port of the popular Valorant Competitive 5v5 PC shooter. The game does not yet have a release date, but it is expected to arrive sometime next year.
Valorant is a 5v5 Hero Shooter game that has the potential to take the mobile platform to new heights. Players can select from a roster of Agents (Characters), each with their own set of skills and abilities, as well as a variety of weapons like SMGs, shotguns, and assault rifles. The game is highly strategic, with multiple maps to choose from.
This game is for FPS competitive fans and is a fun way to interact with your friends. Riot Games is taking their time to ensure that the controls are simple to grasp and that the quality of life is comparable to other games. Valorant has only had beta access in China,which looked promising even at this early stage.
10. WreckFest
WreckFest is a one-of-a-kind racing brawl game in which you burn rubber and shred metal to become the ultimate driving playground's king. The game is expected to be released later this month. (November)
Wreckfest is not a typical racing game in which your goal is to be the first to reach the finish line, but rather to prevent everyone else from doing so by employing visually striking vehicular combat. The game's brawl aspect is highly realistic, including soft-body damage modeling, which represents damage on your vehicle realistically and can affect its performance.
To help you ravage your boredom, the game will include single player, multiplayer, and arcade modes. The game is jam-packed with amazing cards, whether they are off-road or SUVs. There are numerous customization options to make it a fast derby or to strengthen the car with hard armor. Wreckfest is set to be released this month and can be tried out right now.
which looked promising even at this early stage. Players can pre-register here to receive information as soon as it becomes available.