BlueStacks Roundups
Best New Games on Android in 2022 (June)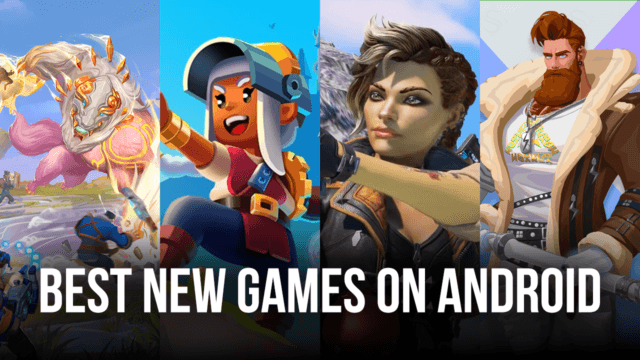 One of the most popular platforms for both gamers and game creators has always been Android. Amazing games may be found in the Google Play Store, and since it is relatively simple to create games and release them to the market, we frequently see hundreds of incredible games being released. It's normal for new games to come out, but who doesn't enjoy trying out new racing adventures, action-packed scenes, or competitive games? It's only been six months in this year, but there are already a ton of new options available and we've compiled a list of the top games to try out right now on Bluestacks to help you make your judgment call.
1.Dislyte [ Free ]
Dislyte is an urban mythological RPG game, It has over 1 million downloads and an average rating of 4.4 on the google play store.
In Dislyte, a game with a futuristic setting and an urban mythological concept, you battle monsters that are hell-bent on wreaking havoc as common people awaken to their true divinity and acquire divine abilities through divine sound waves. You must take a stand in these dire circumstances, assemble these heroes, and save the world.
The game offers a seamless gaming experience while conveying an aesthetically appealing story of heroes. The main goal is to assemble your own squad to battle the enemy. Although the battle is beautifully animated, it doesn't provide anything particularly unique from other games in the genre. There is also a rhythm game with a fantastic soundtrack and heroes with well-known names that provides you with extra resources. It's a very unique game on the list and we would recommend you give it a shot.
Dislyte was just launched on May 9 and you can try it out on PC here.
2. Apex Legends Mobile [ Free ]
Apex Legends Mobile is a new generation battle royale game with elemental twists, with over 10 million downloads in the first month of release and a stellar 4.4 average rating on the Google Play Store.
The fast-paced Apex Legends Mobile gameplay is sure to give users a memorable battle royale experience, with the game blending supernatural skills with distinctive environmental features. The game was initially available for other platforms, but along its development, it was optimized for Android to preserve all of the original characters, settings, and graphic clarity.
The objective of the game is the same as in other Battle Royale games, but with the addition of character skills. However, this does not imply that it is the same because the games' developers vowed to release more exclusive content, starting with their newest legend Fade.
You may warm up in 3v3 competitive combats in the other arena, join the brawl in the new mobile-exclusive deathmatch mode, or queue with up to three people by inviting your friends or by running random PUBs in a 60-player Battle Royale.
In addition to being the hottest battle royale on the platform, it is one of the most played games on streaming platforms and made our list of the best games to stream in 2022.
Apex Legends Mobile was just recently launched globally on May 17 2022 and you can check it out on Google Play here.
3. Hot Lap League: Racing Mania! [ $4.99 ]
The most recent racing game to be released, Hot Lap League, has more than 5,000 downloads and an overall rating of 4.4 stars on Google Play.
Hot Lap League allows you full control of the selected vehicle, allowing you to hone your driving skills and earn a spot in the league. You may drift and race your car across 150+ mind-blowing tracks in the game, each requiring a different set of tactics and methods. The only route to the top is to race the best and improve your time. There is nothing between the clock and the track.
With so many options, this game is one of the best arcade racing games with the competitive PVP modes where everyone wants to put their name on the global scoreboard. With the winding roads and unique vehicles. Although the game had a rocky beginning, the most recent patch adds 60 & 120 fps options as well as controller support.
Hot Lap League has only been available for two months, but already it is taking on the hallmarks of an arcade racing game. It's worth a shot!
4. Medieval Merge: Epic RPG Games [ Free ]
Medieval Merge is a brand-new RPG game, which has more than 1 million downloads and an overall rating of 4.5 on Google Play.
Medieval Merge starts off by taking us to a mysterious land. As you assist the heroine in completing her mission, you will find fresh discoveries around every turn in this realm of epic adventure. There are many thrilling battles to fight in the wonderful role-playing adventures, which feature diversified gameplay, well-known merge puzzle mechanisms, and a special graphic design. Your village's problems must be resolved, monsters must be slain, the damage must be repaired, and the populace must be shielded from the enemy.
The developers have made sure that there are numerous varieties of weapons to pick from, but ultimately there is only one path, i.e., to become the hero, the merge master warrior! To defeat these challenges, top-notch equipment and weaponry will be required, but they can be accomplished with a grind. With its soothing soundtrack and simple controls, the game has a highly aesthetic atmosphere. This could be the game for you if you're seeking a relaxing role-playing experience.
Medieval Merge, which blends puzzles, action, and role-playing games into one package, was just released three months ago and has demonstrated tremendous promise since then, so it is definitely worth checking out. Play Medieval Merge on PC to enhance your experience as you embark on the journey on the mysterious land.
5. A Story of A Company! [ Free ]
A Story of a Company! is an enjoyable novel-based game with over 100k downloads and an average rating of 4.5 stars on Google Play.
A Story of a Company is a touching video game based on a graphic novel that depicts the working life of animal/human hybrids. The narrative explores the regular lives of amazing Hybrid people while also taking the reader on a path of personal development. With its messenger-based office novel concept, the game is simple to play, engaging, and replicates a typical workday while promoting relaxation.
This game invites you to just unwind and read so you can easily reach the conclusion. The player has a range of options to choose from in this omniverse-style visual novel, but keep in mind that each decision that you make affects the characters' fate. The watercolor-style artwork and lovely scenery that make up the game's aesthetics go really well with the cool soundtrack.
If you're looking for a relaxing, primarily story-based game, you might want to play A Story of a Company! on PC.
6. Nova: Iron Galaxy [ Free ]
Nova: Iron Galaxy is a strategic space defend-attack game with over 100K downloads and a Google Play rating of 4.1 stars overall.
You assume command of your space station in Nova. Create additional buildings to affix to it, improve them, and use them for their own specific function. You may enhance your own equipment and access new content by researching cutting-edge technologies. assembling several fleets with various ship types that may be equipped with armor, weaponry, and other equipment.
A few personalities, including galactic generals and others of comparable status to the player, will be encountered during the course of the game. Building your own fleet is a new kind of fun; the improvements motivate you to work harder and the stunning visuals keep you hooked. It's a crazy experience made even more so by the voicelines and music, which make you feel your significance in the universe.
Although the game's condition wasn't great when it was launched last month, it has since improved, and you should also play Nova: Iron Galaxy on PC if you want to enjoy this space-based strategy game on a larger screen.
7. Diablo Immortal [ Free ]
The renowned World of Warcraft developers have released Diablo Immortal as their first MMORPG for Android. The game has been downloaded more than 5 million times and currently has a 3.6-star average rating on Google Play.
You start off in Diablo Immortal by selecting one of the four incredibly recognizable and customizable classes: Barbarian, Demon Hunter, Monk, or Wizard. With each successful encounter and conflict along the way, you gain new skills that will help you become the most powerful participant in the war arena. Equipping yourself with brand new set items and legendary weapons is crucial. You also level up your favorite weapons so they can develop their power alongside yours. Diablo Immortal offers you a massive MMORPG world of Sanctuary to explore with a ton of ways to customize your character and equipment.
The game does a fantastic job of translating the greatest PC mechanics to give you a true Diablo experience but the challenge with this game is the grind you need to go through in order to get hooked. You can still be more efficient in your grind by playing Diablo Immortal on your PC.
The community has condemned it because of the pay-to-win features, and the developers need to take action to improve the players' casual experience. However, the game still does the Diablo name justice and if you've never played any Diablo games, this one might introduce you to the wide world of Diablo.
Diablo Immortal was launched on May 31st, just a few short weeks ago.
8. Gunfire Reborn [ $6.99 ]
Gunfire Reborn is a level-based adventure game that has amassed over 10K downloads and an astounding average rating of 4.7 in the Google Play store.
Gunfire Reborn is an independent shooting roguelike game which was first released on PC in 2021. You can find several paths to triumph in the game, which features an endless cycle of rebirth. With unique characters and a variety of weapons, you may create unique builds using dozens of weapons and hundreds of scrolls.
Heroes in Gunfire Reborn have different skills, allowing players to create a variety of builds and traverse randomly generated levels with weapons and objects that are occasionally dropped. The game allows you to embark on a solo adventure while also having the option to play with up to 4 players in its multiplayer mode. In an effort to provide a realistic gaming experience on mobile devices, Gunfire Reborn mobile has improved both its fundamental Controls and weapon firing.
The game strives to offer a balanced Control and Shooting experience and is highly optimized for mobile devices. Obviously, you can further optimize your experience by playing Gunfire Reborn on PC.
It was published on May 17 and is unquestionably among the greatest games on the list.
9. Streets of Rage 4 [ $7.99 ]
The most recent installment of the well-known Streets of Rage series, with over 10,000 downloads and an overall rating of 4.8 on the Google Play Store, is Streets of Rage 4
This game's narrative is centered on a brand-new crime gang that appears to have taken over the streets and tainted the cops. Your pals and your fists are all you need to battle them. You get a unique combat experience with the most recent version's new fight mechanics and iconic retro hand-drawn comics-inspired aesthetic images. There are several ways to challenge yourself, including the essential Arcade mode as well as Story and Training modes.
In the narrative mode, a player may unlock up to five new and iconic playable characters and fight their way through 12 distinct stages to restore order to the streets while seeing juicy combat animations. This game is among the greatest brawlers available thanks to its excellent soundtrack that enhances the gameplay experience and controls that seem incredibly responsive. In order to enhance the experience and controls further, you can try playing Streets of Rage 4 on PC.
Streets of Rage 4 was released a month ago on May 20 and is a must-play game if you're seeking a new combat adventure.
10. Catalyst Black [ Free ]
On the Google Play store, Catalyst Black, a multiplayer battleground shooter, has received over 500K downloads and a rating of 4.2 on average.
You go on an epic quest with mysterious primals from another dimension, powerful firearms, and customizable skills in Catalyst Black. You may pick your loadout and jump right into any game mode, including Hydra, Slayer, and Eventide Adventure. To win, compete against other players' teams in real-time multiplayer action while designing your plan. To defeat the entire opposition team, you must take on the role of the game's hero and harness the might of a primal.
In the game, you can construct the ideal combo for your battles, collect, upgrade, and personalize your loadout. The gameplay is fairly flexible, allowing you to hunt down prey as a long-range sniper, combat other players as a cunning assassin, or engage the opposition as a primal hunter. There is also the possibility to get together with your pals, plan out fresh approaches, and go hunting. This is one game you would love to try on a bigger screen and you can always play Catalyst Black on PC to experience the battleground shooter much more magnanimously.
Judging by the number of downloads since its May 24 debut, Catalyst Black has proven to be a great success thus far. If you're seeking a fresh multiplayer experience, this could be the game for you.