BlueStacks Roundups
Top 10 Zombie Games For Android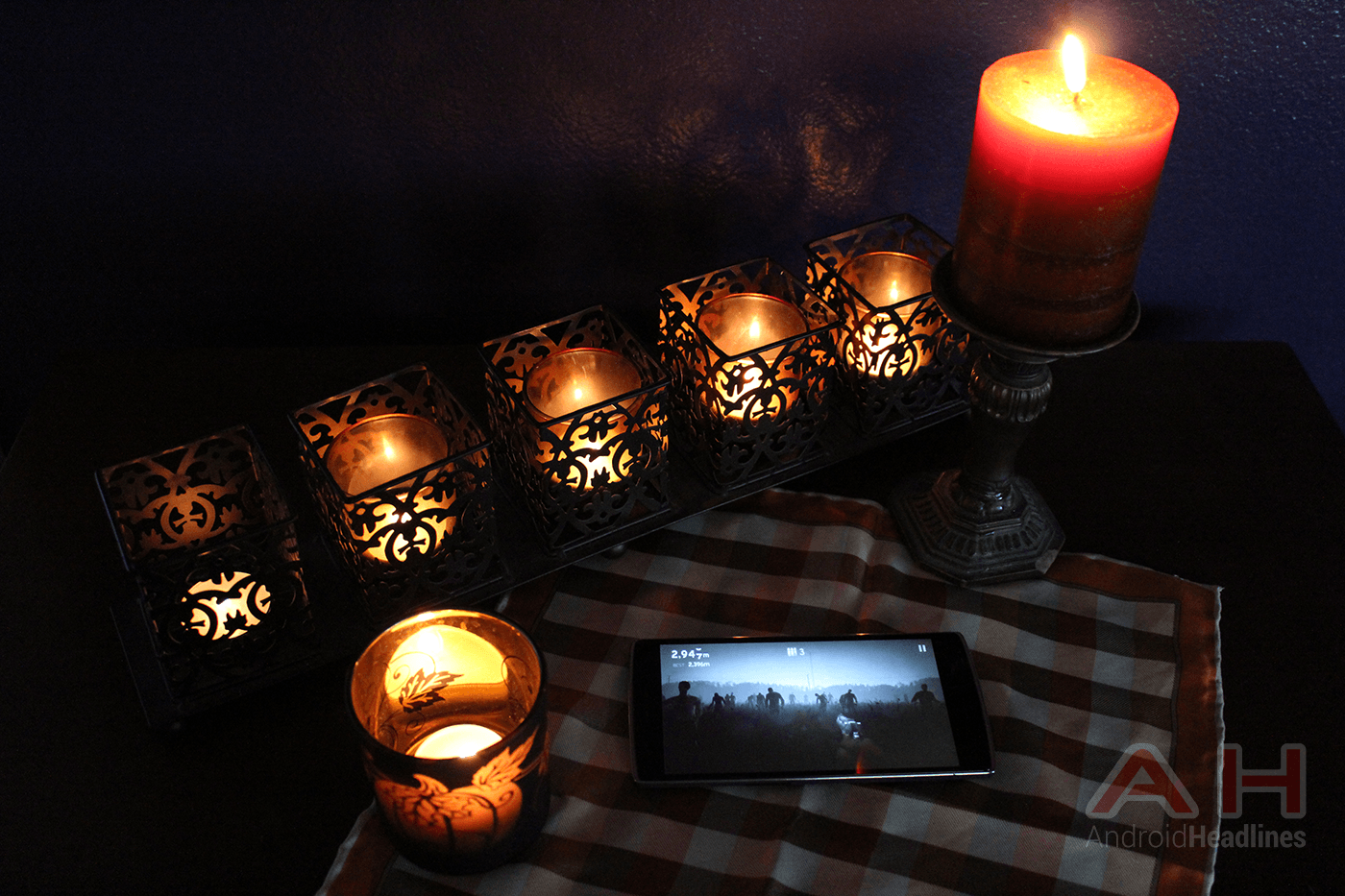 It's almost that time of year again! Pumpkins will be littered on nearly every doorstep, bats hanging from the ceilings, spiderwebs out in full force, and tombstones in the front lawn are among the many telltale signs that Halloween is fast approaching. What better way to celebrate it then by playing some of the best zombie-themed games out there? Over the past couple of years the popular zombie theme has reached maximum potential as shows and graphic novels like The Walking Dead have fallen into the mainstream, spawning tons of other zombie related entertainment and filling our minds with those lovable brain-eating creatures. These games range from the serious to the silly, action to strategy, and somewhere in between, so let's get cracking.
Dead Trigger 2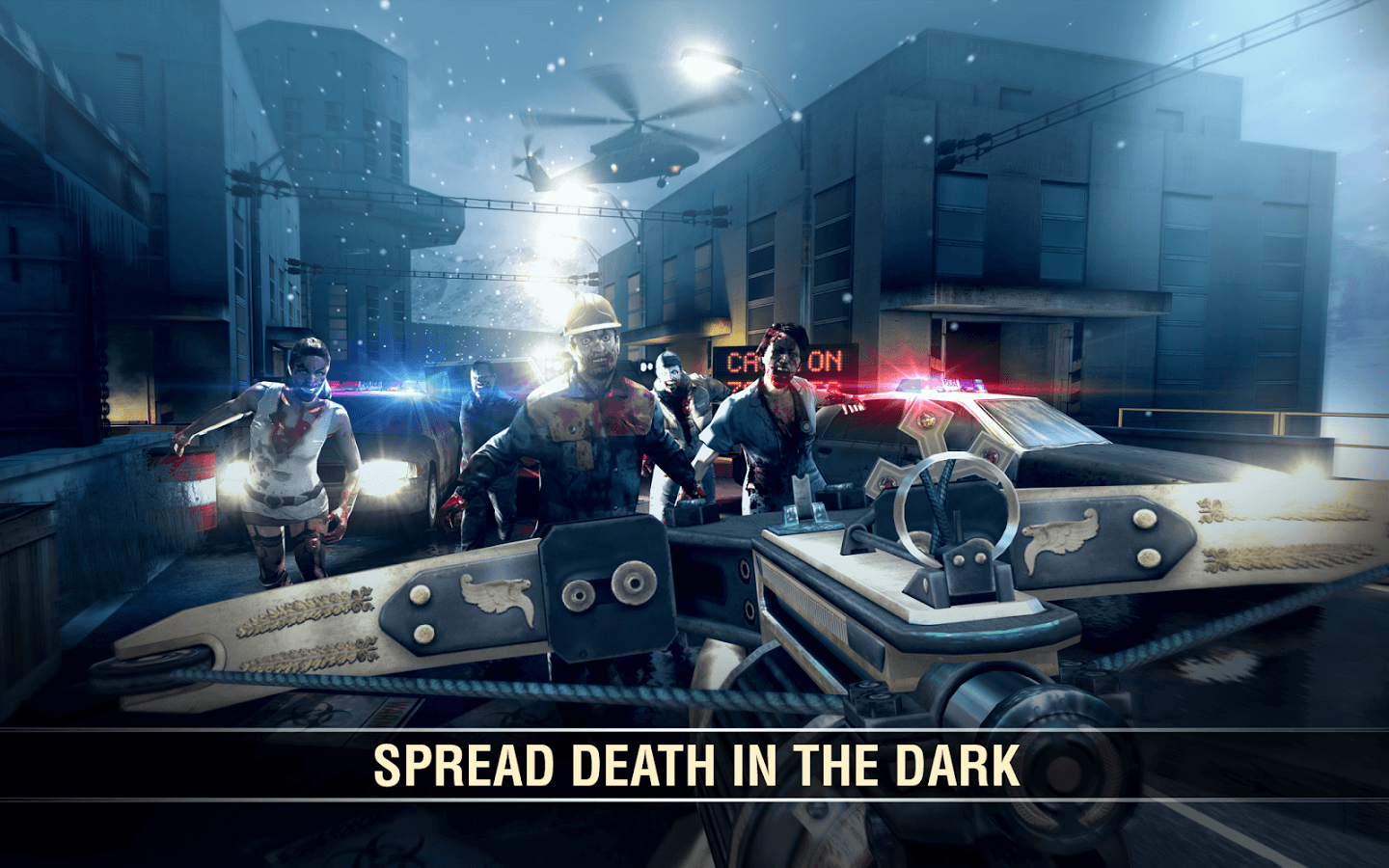 Dead Trigger 2 is the sequel to the award-winning original, which was also a first person wave-based zombie shooter. The concept here is simple, waves of zombies come at you and your team and it's your job to eliminate all of them before everyone is dead. Building upon the concepts in the original game, Dead Trigger 2 features a real-time story that stretches across all the games played by players, meaning that taking the world back from the zombies is an actual possibility, giving players unique scenarios and gameplay every time. As a free to play game you can earn rewards and in-game items by just playing, or give yourself a boost by spending a little real cash. Content is updated constantly and you're always guaranteed a fresh set of challenges, boss battles and areas.
The Walking Dead: Season 1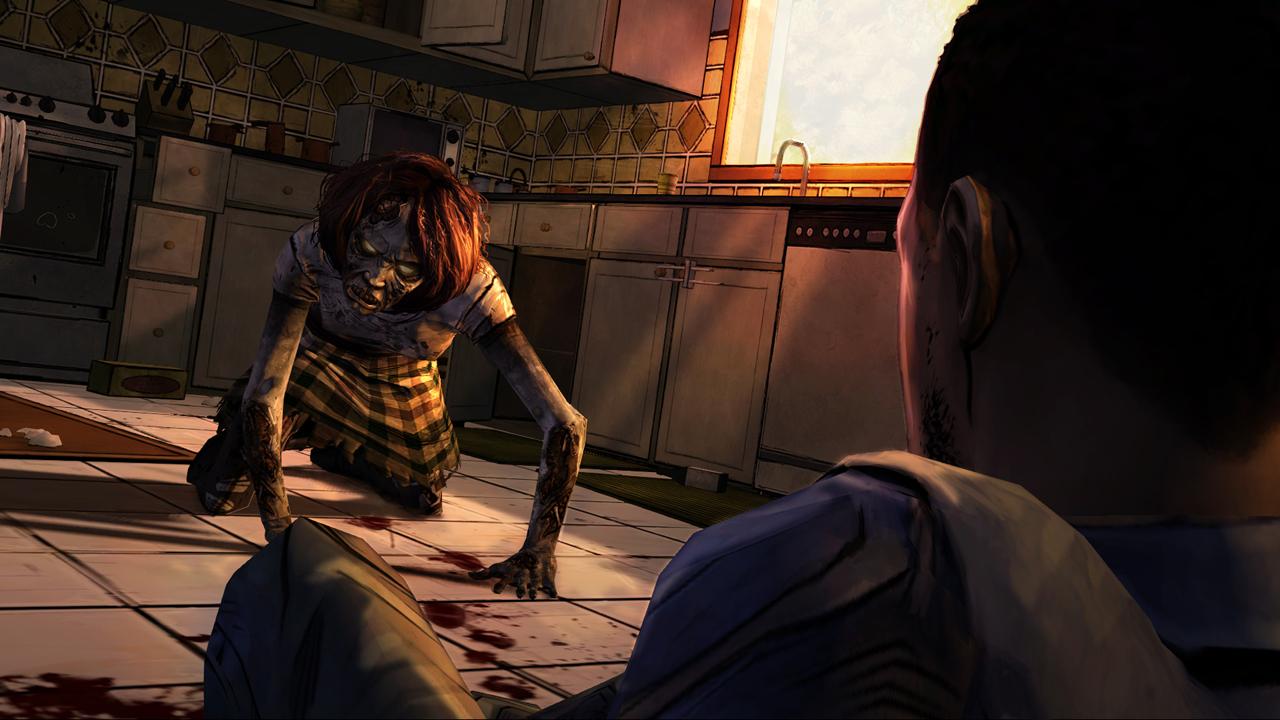 If you haven't heard of the Walking Dead games by Telltale Games before you've probably been hiding under an old, mossy rock, but that's OK because now's the time to fix your mistakes. The Walking Dead games are based off the world in Robert Kirkman's graphic novels, but all have their own unique stories and characters from the graphic novels and TV show. The game plays very much like the rest of Telltale's games, which are modeled after the classic point-and-click adventure games on the PC that were most popular in the 80's and 90's. To say these games have completely revived the genre is an understatement, and that's a testament to just how bloody good they are. The characters, stories, dialog and action are all top notch, and will have you on the edge of your seat the entire time, feeling for the people that die and making decisions between who lives and dies feel more real than any other game probably has. The first episode is free, while episodes 2 through 5, and the short story "400 Days" are going to cost you a little extra. Make sure to buy the season pass to get all the content at a discounted rate!
The Walking Dead: Season 2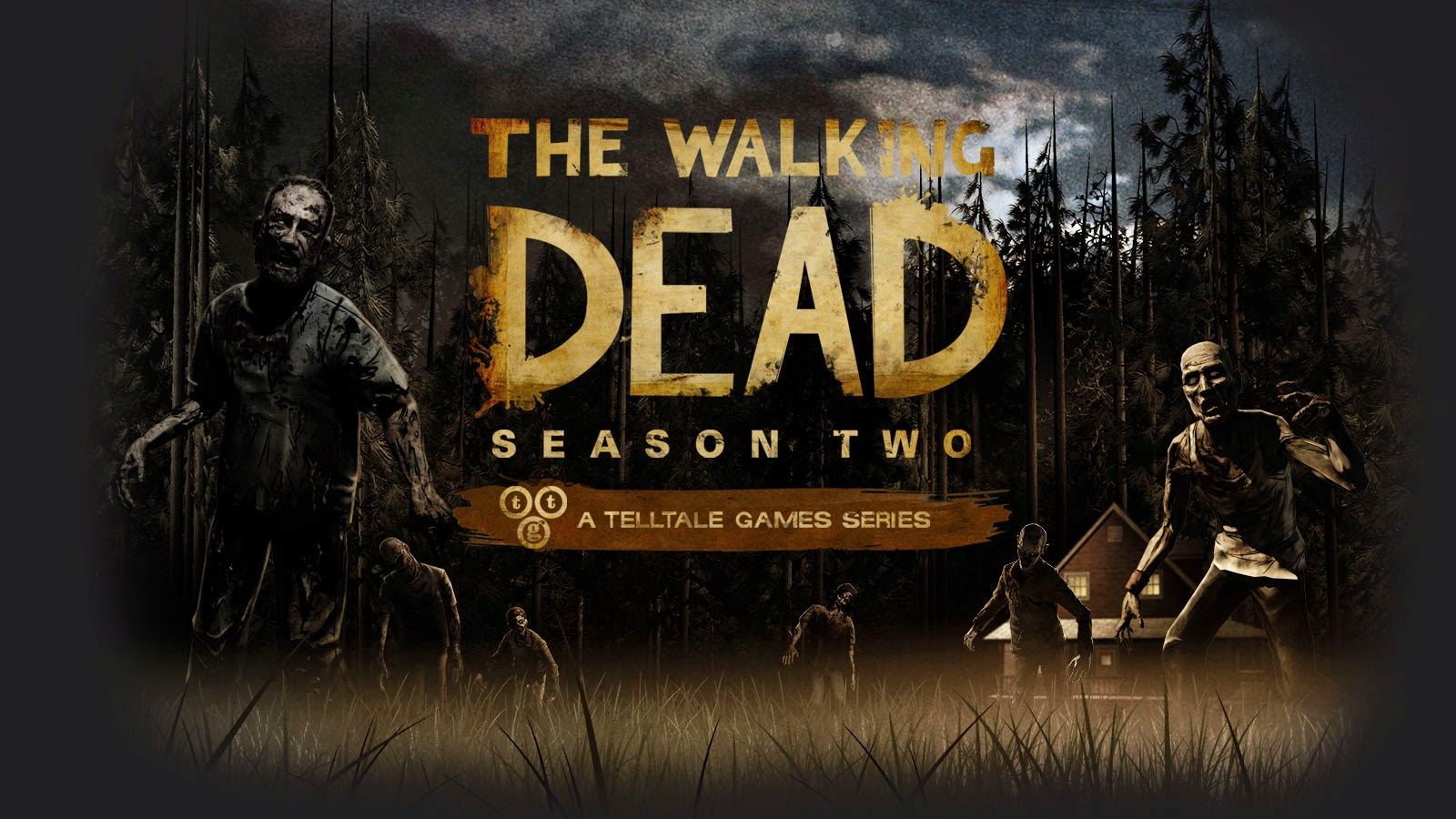 Those who haven't played The Walking Dead: Season 1 need to begin that first, as Season 2 is a direct continuation of the story that ends at the end of Season 1. I'm not going to spoil anything and purposefully picked a generic picture of Season 2 just so that you don't know what's going on in the story if you haven't finished the first one. Season 2 is just as suspenseful and masterful as the first season, and Telltale has made decisions and dialog trees more prominent in this season than the last. There aren't as many large areas to explore, and while that's a bit of a downside considering how enjoyable those always end up being, the choices you make in the game more than make up for the lack of exploration. It doesn't feel like any more linear of a game for it simply because there are so many other small decisions in dialog along the way. The pricing structure is the same as the first season, with the first episode being free and the rest able to be purchased either individually or via a season pass for a discount. Do not miss out on this series, you'd be doing yourself a huge disservice!
Plants vs. Zombies 2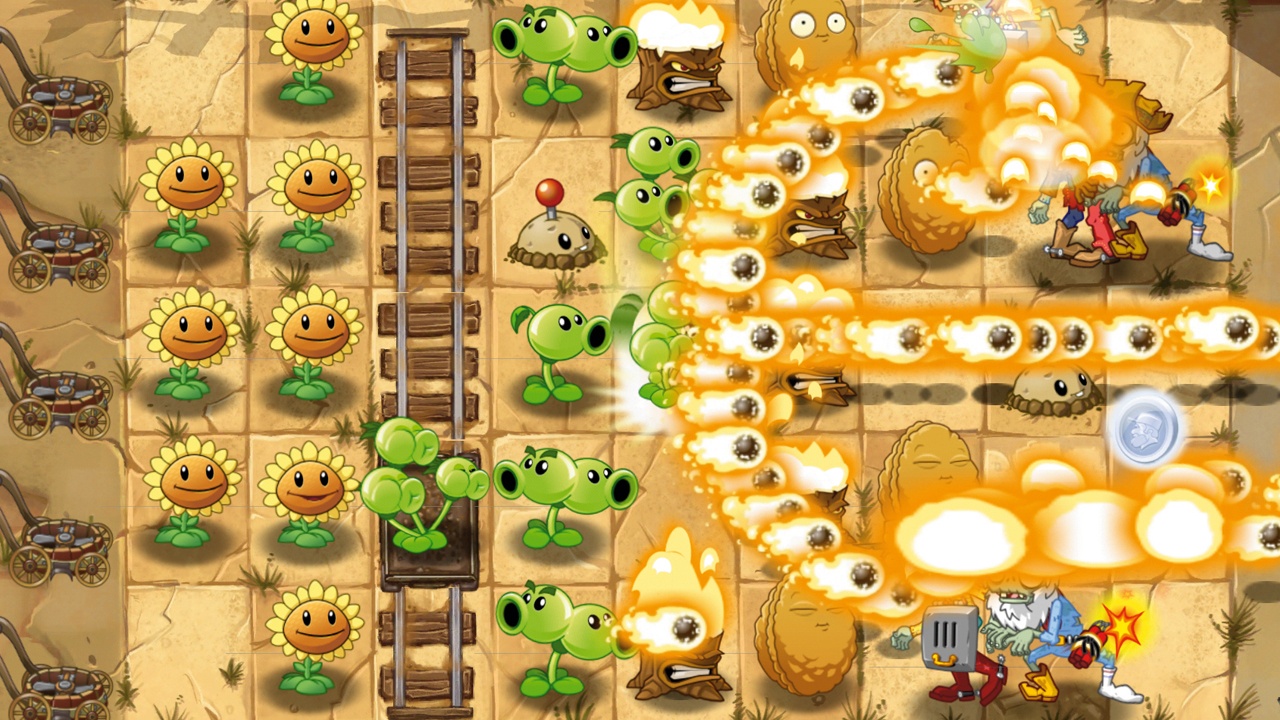 Another sequel to a successful original game, Plants vs Zombies 2 takes the concept from the original and builds upon it massively. The game is laid out like a checker board, and the goal is to keep the zombies from getting from the outside world on the right to your property on the left. You place plants on the checkered lawn area in the middle, which is made up of a handful of rows, and the zombies make their way from right to left in each row. The plants each have their own unique abilities, some attack while others provide all-important sun-power to place additional plants. The game sounds silly at first, but once you start playing you're pretty much guaranteed to be hooked, especially if you're a fan of tower defense, puzzle or strategy games. PvZ2 takes place in an ever-expanding universe of time-travel, so there's plenty of unique new zombies, plants and settings for you to play. Free to play is the name of the game here, so give it a shot and see if it's worth plunking down hard-earned dollars to get an extra boost or content.
Zombie Tsunami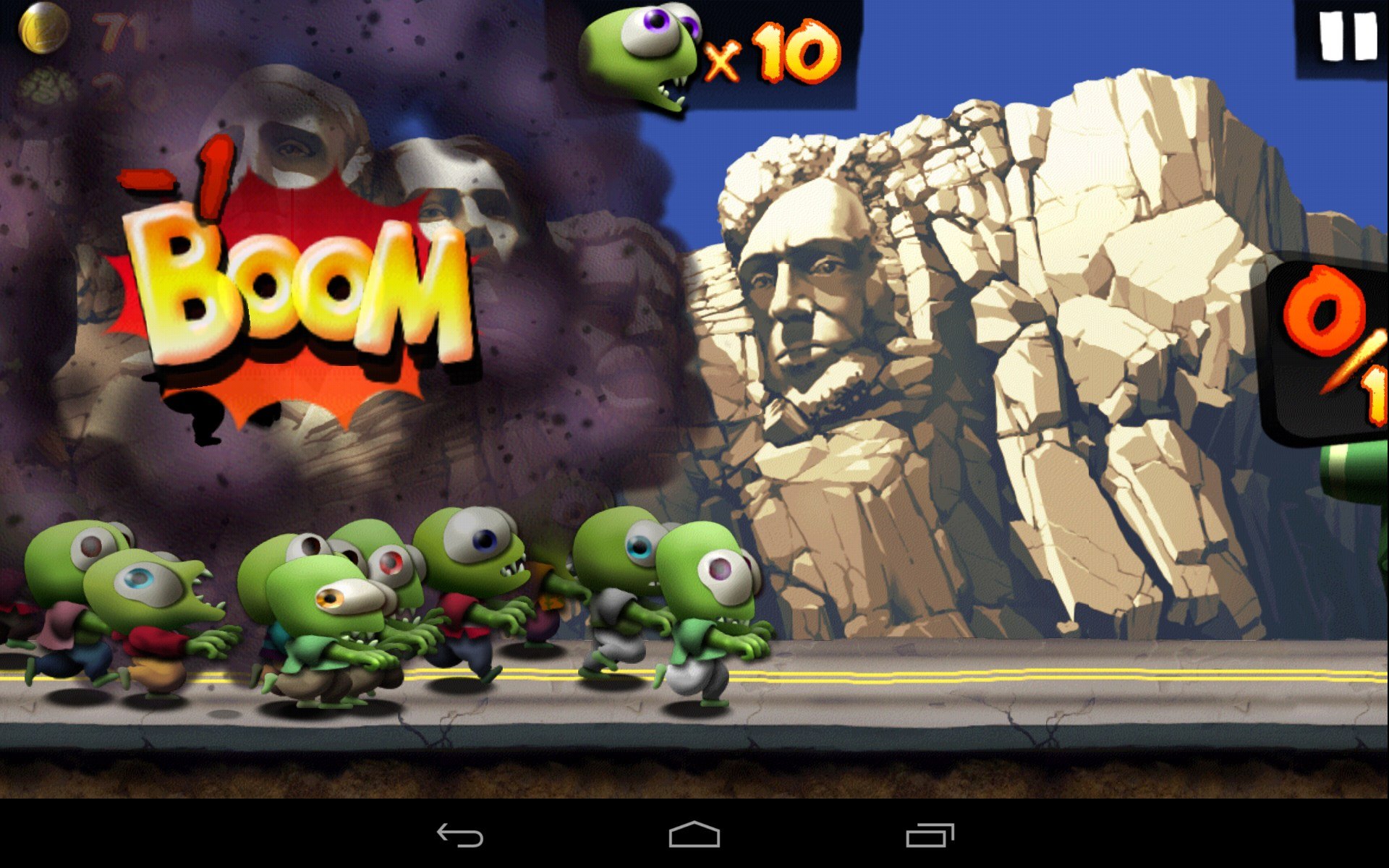 Zombie Tsunami is all about turning the living into the dead; quite the opposite of most zombie games out there! An endless side-scrolling runner full of power-ups and mayhem, Zombie Tsunami is utterly fantastic and just downright pure fun, and will likely have you coming back day after day to best your previous score. You begin with a single zombie running to the right through a city, with the goal of eating humans along the way and making them join your horde. After a while the entire screen is practically filled with zombies and it becomes difficult to see where you are going; part of the difficulty and charm of the game. The art style is straight up silly and lends to the humor of the game, which introduces ninja zombies, linebacker zombies and a host of other special power-ups that get you through each level. There are over 300 missions and the game is free to play, so get cracking on it!
Into the Dead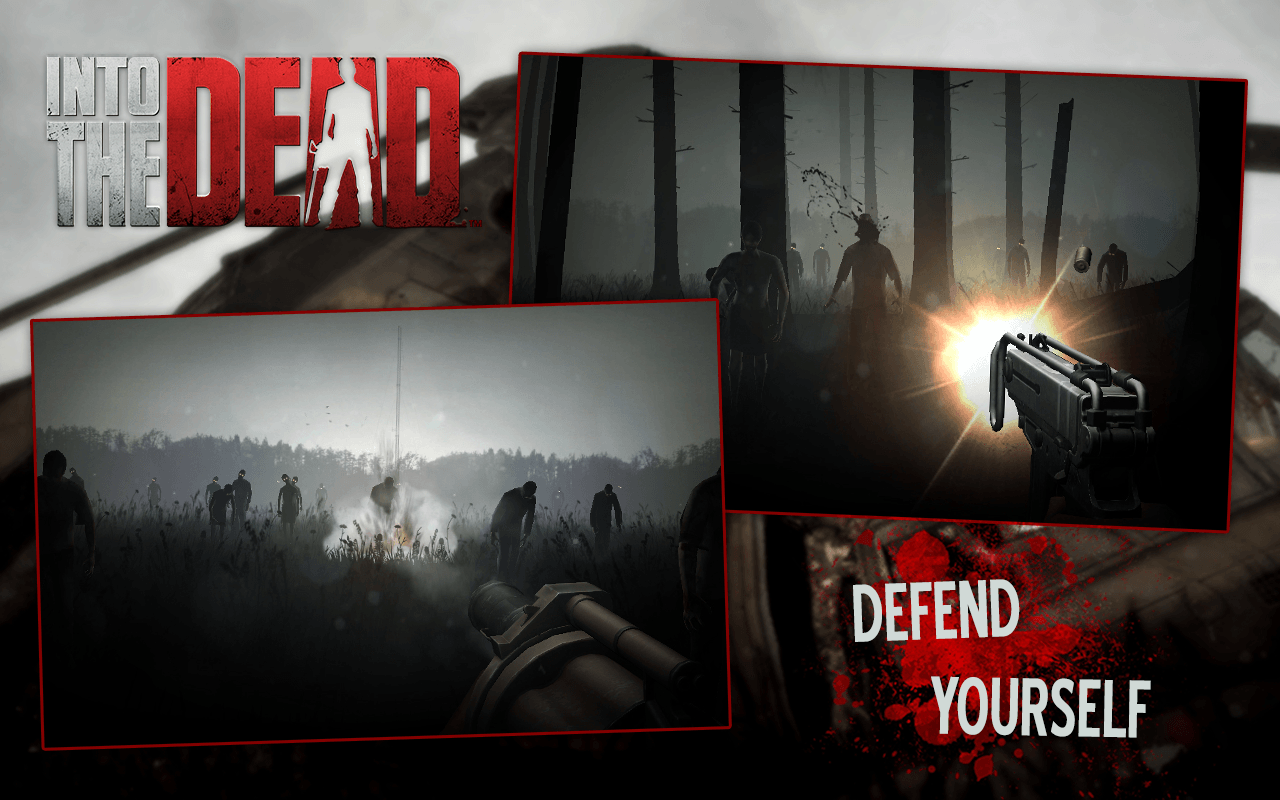 Imagine you're running for your life, trying to get to safety but everything is foggy and hard to see, and worse yet zombies are infesting nearly every square foot of your path! That's the concept behind Into the Dead, which is an endless runner in the first-person perspective, requiring you to move left and right to avoid the zombies as you run though fields, woods, jungles and other areas to get to safety. Weapons are included but should only be used in emergencies as ammo is scarce and power-ups are few. Challenge friends to see who can get the furthest, and new modes and content are always being added to keep you coming back. Unlike some of the other zombie games here this one is intense and downright scary at times, so play with the lights off and headphones on to get the full experience. This is another free to play game with in-game purchases, so yet again give it a shot and see if it's your cup of tea.
The Walking Dead: Assault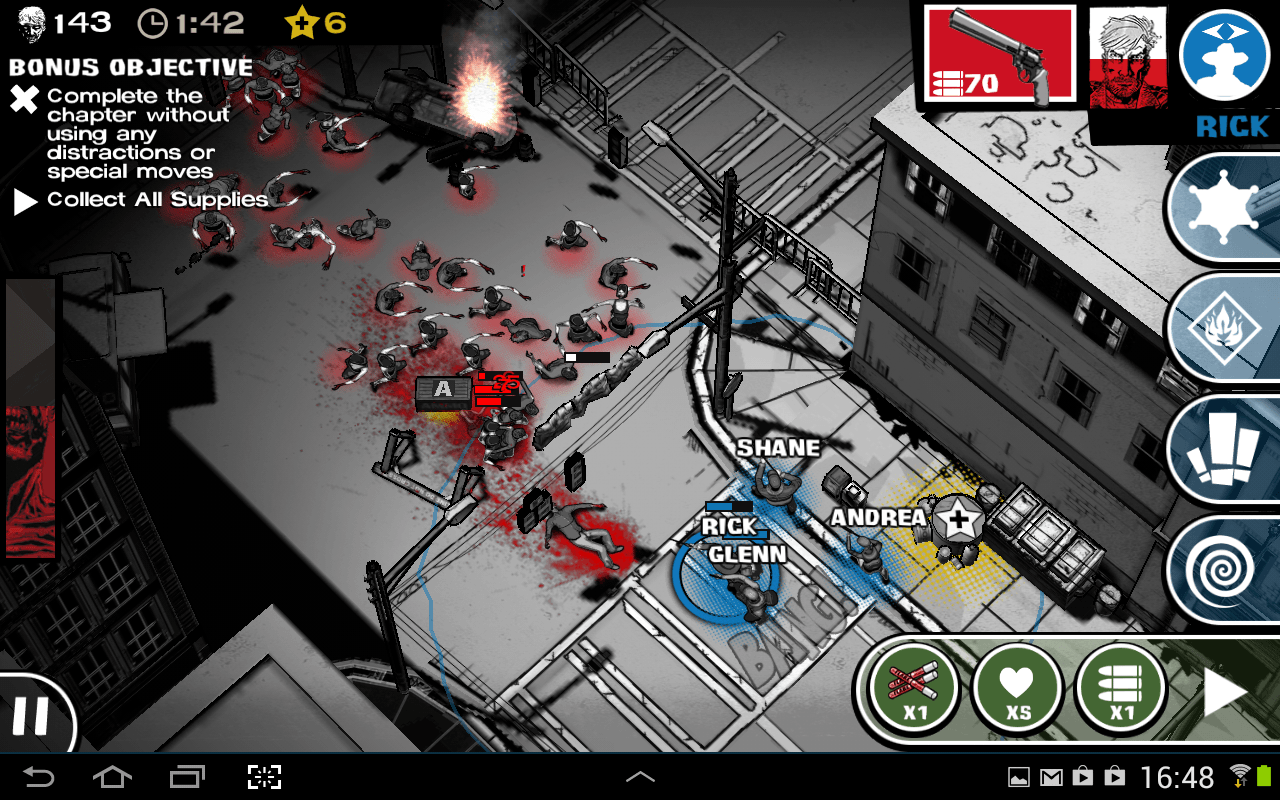 Another Walking Dead game, you say? Why, yes, of course, since it's based upon the most popular zombie fantasy world of all time, it's pretty easy to come up with new and different concepts and stories to fill it with. This time The Walking Dead Assault takes place in the graphic novel's story, playing as Rick and a host of other familiar characters as they fight their way through the zombie hoard to scavenge supplies and take them back to your friends and allies. The game is all about strategy, taking place from a top-down perspective and forcing you to think before you make your next move, not unlike a twisted game of chess. Google Play Games integration assures that you'll be competing with your friends for high scores, unlocking achievements and coming back when content is added to this masterful strategy title. The Walking Dead Assault is $2.99 and offers additional in-app purchases for more content and such.
Zombies, Run!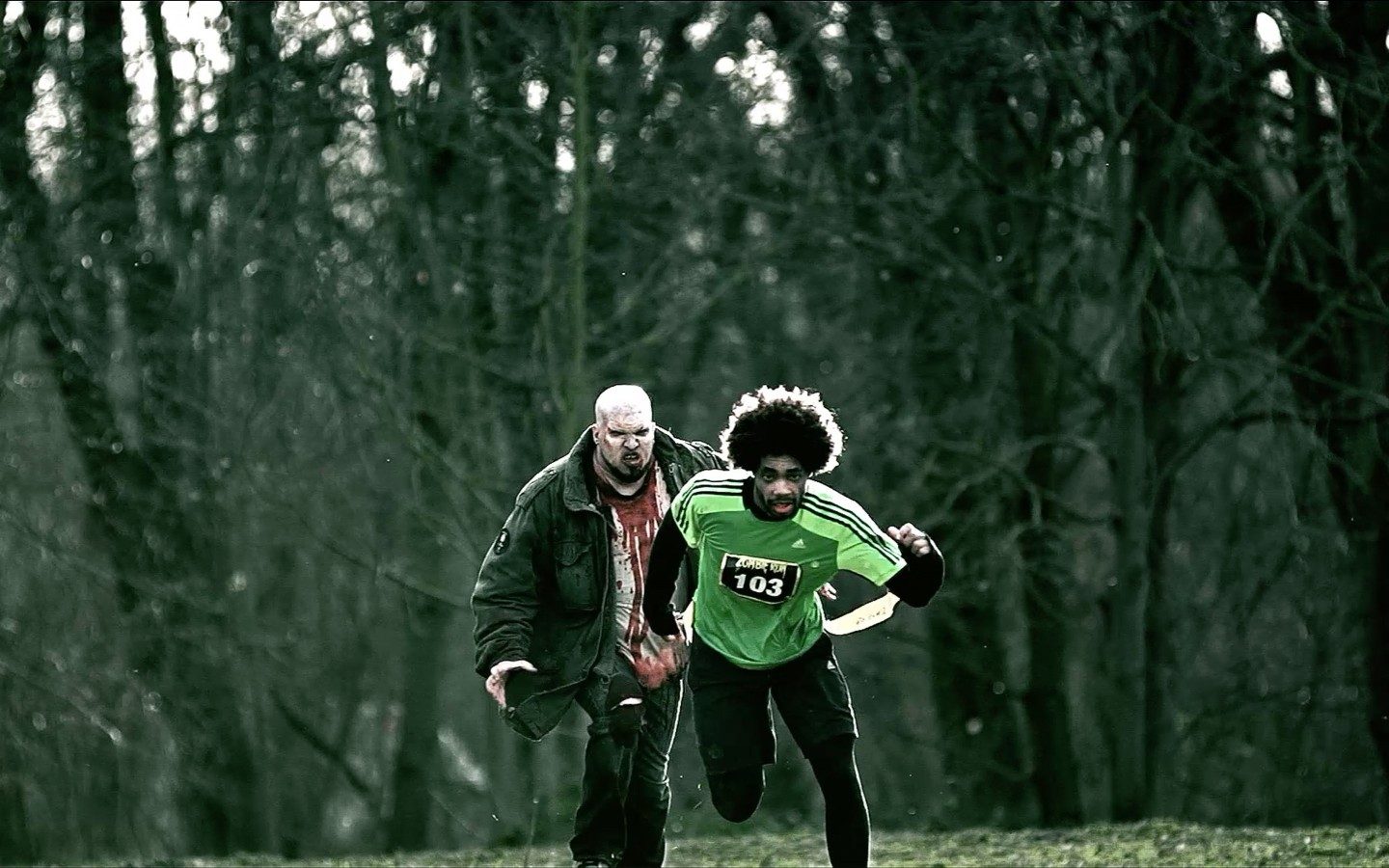 Zombies, Run! is a game that actually makes you exercise in order to play it. It's been around for a few years now, but the developers have added new stories, content and seasons along that time frame, keeping the action fresh and giving you a good excuse to pick up running every year. The concept is simple: you start off by yourself, confused by what's going on only to find zombies trying to kill you along the way. You run into a camp of survivors and as a token of your appreciation decide to help everyone else out by running to destinations to scavenge for supplies that you can bring back to everyone. The story itself it written by novelist Naomi Alderman, so you know it's good and will keep you intrigued along the way, and the spoken dialog and sound effects make this as real as the zombie apocalypse will probably ever be. It's literally a game that interacts with your world, forcing you to run from zombies and tracks your fitness patterns while doing it. $3.99 is the entrance fee, and additional seasons generally cost extra.
Zombie Puzzle Panic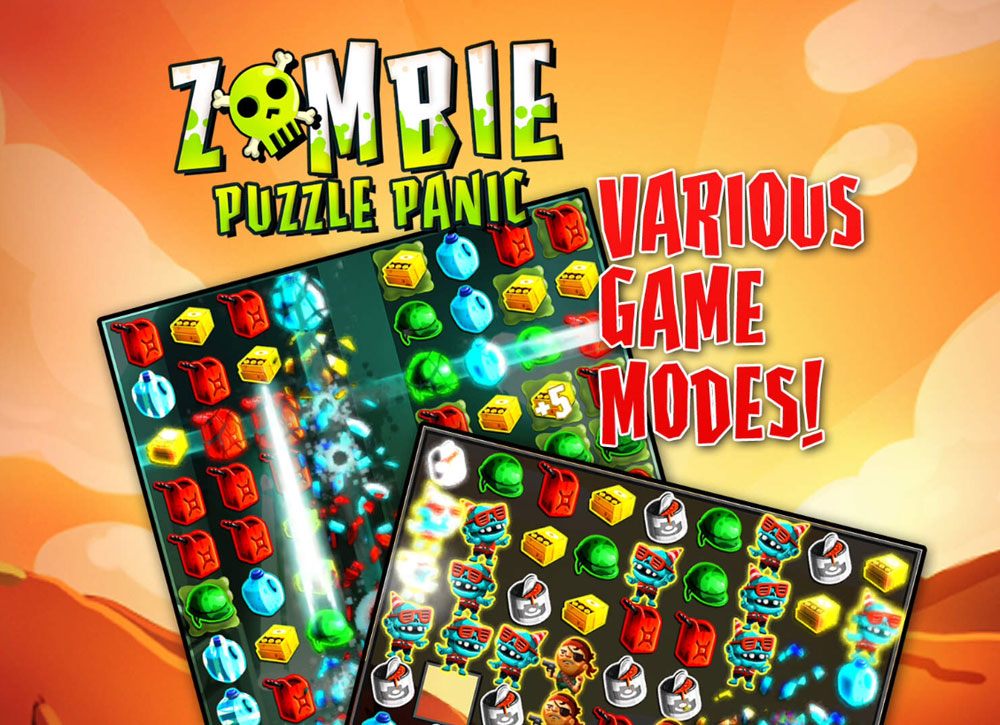 Those familiar with match 3 puzzle games and lovers of zombies will find themselves right at home in award-winning developer's Noodlecake Studios' latest game. Taking the age-old concept of matching colored board pieces together to score points, Zombie Puzzle Panic has an obvious zombie twist on the whole formula that ranges from matching blocks next to zombies to blow them up, to making super pieces to eliminate all the zombies on the board. It's a level-based puzzle game that has an overworld much like Plants vs Zombies, but the gameplay of something like Candy Crush Saga and a 1950's post-apocalyptic world theme. The game is free to play and there are also in-app purchases to unlock additional content.
Plight of the Zombie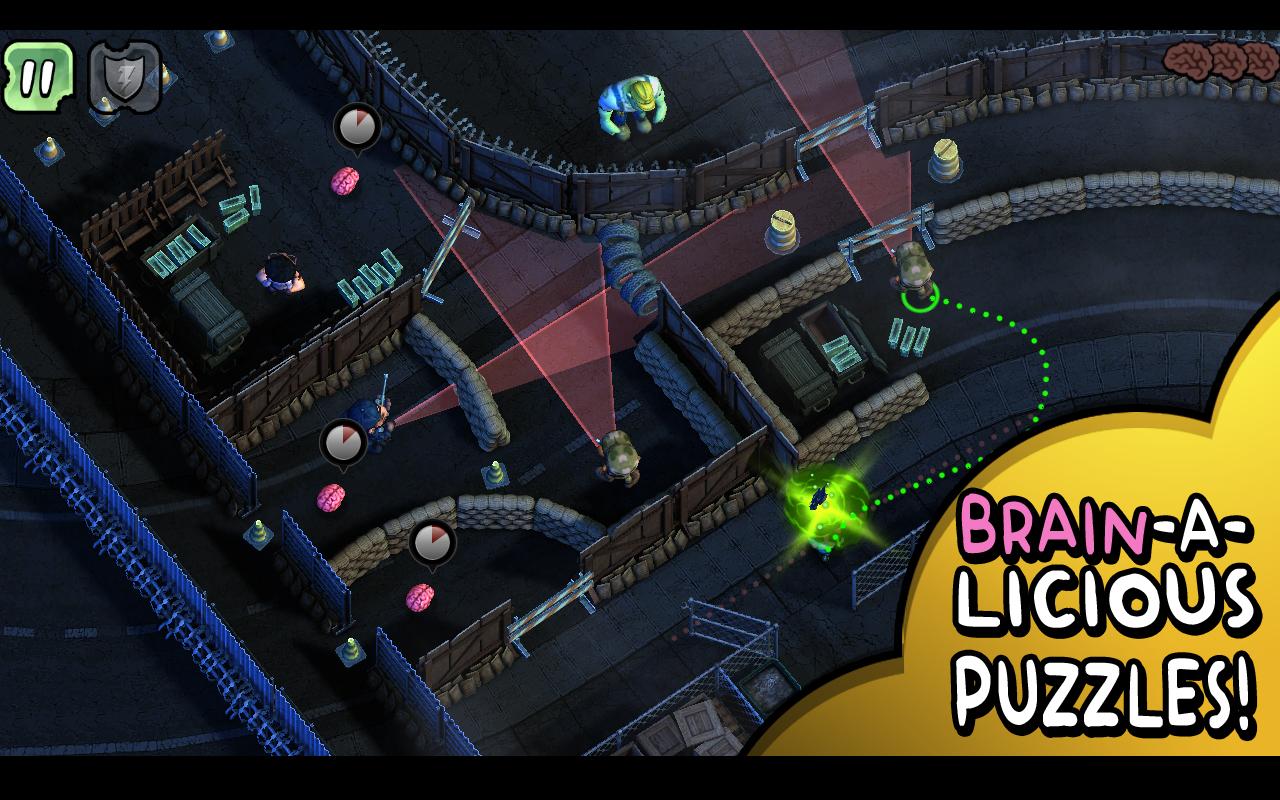 An oldie but goodie, Plight of the Zombie hasn't been updated in two years, but for those who have never played it there's no way to tell that this isn't a brand new game. Featuring fantastic visuals and brain-twisting strategy gameplay, Plight of the Zombie takes place from Craig's position, a lovable zombie that's just hungry for brains. Your goal is to turn all the humans in each level into zombie friends by eating their brains, and collecting extra brains just laying around along the way for bonus points. The first 30 levels are free and there are a handful of additional level packs for a buck each, making this a cheap strategy fare that's going to last you for hours. Some puzzles are downright difficult and will take you plenty of times to solve, while others rely on coaxing you into collecting all the additional brains in the level. Good, clean zombie fun to be had here, with some great humor and fantastic puzzle solving. It never gets old.