BlueStacks Roundups
Top 5 Crypto Games on Android in 2022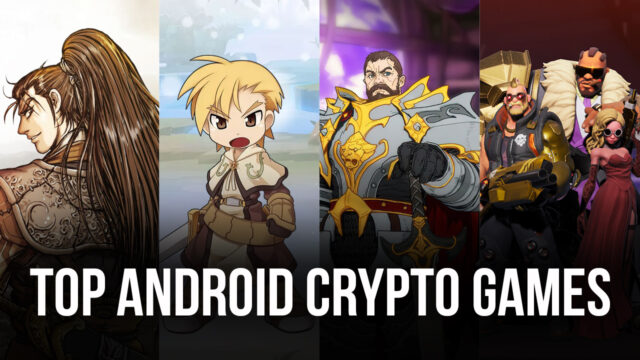 Gaming is always a unique experience and gives you many things to learn, providing you an immersive experience in the palm of your hand, no matter which virtual world you are going to explore. One of the methods to acquire accomplishments and, of course, get in-game benefits is to grind the game and earn rewards. The rewards system of the top android games has grown over time, and you can now obtain achievements on practically every platform, including free cosmetics and even money.
With the widespread use of cryptocurrency in recent years, it has had an influence on the gaming industry, allowing us access to the metaverse. There are real-life milestones that serve as a form of indirect real-world cash, and there is a crypto element to it that may even enable you to make money while playing games. Various games that are tied to the crypto world provide Non-Fungible Tokens (NFT) and in-game currency. While most of the games will require a crypto wallet, we've compiled a list of the best Play to Earn (P2E) Crypto games currently available on the market.
1. MIR4
MIR4 is a new MMORPG by Wemade that is based on the original Legend of MIR MMORPG published back in 2004. On the Google Play Store, the game now has over 1 million downloads and a 3.4 star rating.
Play it your way by venturing into MIR's open world and beginning your adventure. Join a strong clan to participate in large-scale PVP with other allies and adversaries, or live a tranquil life of hunting, collecting, and crafting. Capture the Hidden Valley and collect taxes on the territory's earnings, place a bounty on an adversary and recruit allies to help you track down your foe, join a 50-player raid for some uncommon riches, or declare war on opposing clans.
The game is surprisingly simple to grasp. When you receive a new mission objective, simply click on it, and your character will automatically go there, fighting any foes in the way, and consuming potions to prevent itself from dying. Manual control is an option, although there doesn't appear to be much incentive to do so.
You may mine in-game metals in return for Draco coins, which can then be transferred to your WeMix wallet, but keep in mind that there are already people who are on the way to wreck out of an MMORPG end-game that guarantees real-world cryptocurrency. You can also use an array of tools to mine Draco coins faster and more efficiently if you play MIR4 on PC using BlueStacks.
2. Yulgang Global
Yulgang Global, the follow-up to the successful Yulgang Online, is an MMORPG with over 500K downloads and positive reviews on Google Play.
The game, like many MMORPGs, has its own distinct universe. The in-game realm known as the Martial World offers gamers a lot of excitement and enjoyment. Players have to build a team by picking a side and battling it out with the opposing side in an eternal war between two factions. The game begins by allowing you to choose between seven classes, each of which is defined by its primary weapon: 'Knife, Sword, Spear, Bow, Orb, Dagger, Staff, and a bonus Class called 'Fist.'
Yulgang Global is a peer-to-peer (P2P) game based on the WEMIX blockchain technology platform. Its currency is TIG Token, which means you can earn money by grinding games and getting crypto tokens in return.
3. Ragnarok Labyrinth NFT
Ragnarok Labyrinth NFT is the first 'time-effective' MMORPG based on the Ragnarok Online IP, with over 100K downloads in just two days since its debut.
Ragnarok Labyrinth NFT is a unique 'Time-Effective' MMORPG mobile game genre that features labyrinth dungeons with iconic Ragnarok Online stages and monsters aimed to give not only amazing game experiences, but also digital cash assets that may be gained with every minute of play.
Ragnarok Labyrinth has both PvP and PvE modes, allowing players to defeat creatures by exploring a number of Maze Dungeons, each with progressively complicated and difficult patterns, in order to get magnificent treasures. Swordsman, Archer, and Mage are some of the characters with distinct powers.
Your goal is to fulfill the challenging tasks by refining various types of equipment, gears, and cards along the way. Each time you fulfill a goal, you will earn ONBUFF points, which can be exchanged for Realtime cash. You can scale up your ability to earn ONBUFF points if you play Ragnarok Labyrinth NFT on PC using BlueStacks.
4. Chromatic Souls: AFK Raid
Chromatic Souls: AFK Raid is a tactical RPG that leverages NFTs as its fundamental gameplay concept, and registrations on Google Play have just begun. The game is created by a firm that is affiliated with the prominent Com2us c2x Blockchain platform.
Players employ a variety of equipment, talents, and character types to gain an advantage in battle in Chromatic. In exchange, players and their friends in battle can obtain useful NFT equipment.
Players have to pick one of the four starting classes — Knights, Mages, Assassins, or Druids – before beginning their adventure across this enigmatic region. Each class has its own set of powers that may be enhanced as you continue through the game. You can also have a taste of all four classes before choosing which one to go with if you play Chromatic Souls: AFK Raid on PC using BlueStacks, thanks to the Multi-Instance function that allows you to run several instances of the game at the same time.
Players acquire new and unique weapons, talents, and prizes throughout the story, based on the call they make. This will assist in bringing diversity to fighting methods. You will receive unique tokens that can be exchanged for cryptocurrency in the famous com2us c2x blockchain ecosystem as you go through the game. This is the first game on Com2uS's list of forthcoming games that has a road map in place for this year. On Google Play, gamers may currently pre-register for Chromatic Souls: AFK Raid to receive free rewards.
5. Golden Bros
Golden Bros is the latest game by the well-known developers NetMarble, which aims to combine the gaming industry with their own blockchain platform. On April 28th, the game will be released on Android.
The game features high-intensity 3v3 real-time fighting with easy controls. You can gain access to better controls and the ability to customize them by playing Golden Bros on PC with BlueStacks.Players may choose their Bro (Character) based on their playstyles, and each encounter offers fresh experiences owing to brief battle periods and the opportunity to earn tokens, which are cryptocurrencies indirectly.
There are also skill capsules in the game that may be used to grant specific talents to roles as the game progresses, allowing for the development of several specialized combat roles. Although the makers NetMarble have yet to provide official pre-registration links, Golden Bros is undoubtedly one of the most anticipated titles on the list.