BlueStacks Roundups
Top 10 Educational Games For Android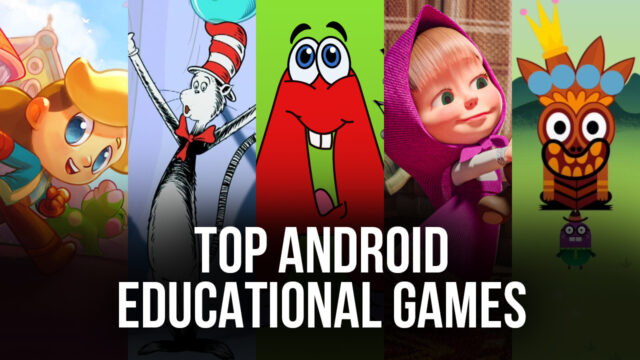 Learning can be incredibly fun or incredibly boring, depending on how you are taught. Children are inherently curious and are always looking for new things to learn. Since their brain is developing rapidly during these formative years, it is imperative that parents instill a lifelong curiosity and love for learning in their kids so that learning is never boring for them. Although this may have been difficult to do in the past, with increasingly accessible technology, apps and games have been developed that are aimed at teaching children interesting and integral concepts in a gamified manner, making these subjects more interesting and fun to learn about. These ten educational games are a must for any parent that wants their child to learn more and be better prepared for school and their future academic career.
1. PBS Kids Games (Free)
The first game on our list of the best educational games for Android is PBS Kids Games, released by PBS Kids. The app is geared towards children from the ages of 2 to 8, with several recognizable characters, games, and stories helping children learn new and important skills in a fun and informative manner. Introduced in 1993, PBS Kids, or Public Broadcasting Service Kids, is a media channel that has produced and aired some of the most iconic kids' shows of all time, including familiar names such as Cat in the Hat, Sesame Street, Odd Squad, and Curious George. The PBS Kids Games app allows children to see these familiar characters on their screens and with the help of these beloved personalities they can learn various skills and build important habits.
The PBS Kids Games app allows children to learn STEM skills with the help of various math, science, and engineering puzzles which help to build a love for science and technology in children from a young age. Along with this, the app also allows children to learn various intangible but equally important abilities such as kindness, mindfulness, and building new habits using daily routines. If your child is more interested in art and loves to draw or paint, the app also has several games that allow them to do just that. When using PBS Kids Games, not only is your child learning math and science skills but they are also allowed to nurture their creative side with the help of such art games. The app has hundreds of games of various kinds for children to play through and new games are added to the app every week so that your child never runs out of fun and informative learning material. Games on the app can be downloaded for offline use, and you can be sure that the app only has material that is safe for viewing by kids. There is no explicit language or visual material that may be unsuitable for children.
The app's user interface is tailored for children between the ages of 2 to 8, making it extremely easy for them to navigate through the app and learn new subjects on their own. Kids are inherently curious and are always looking out for new things to learn, and PBS Kids Games fosters and nurtures this curiosity by providing them with varied material teaching them important life skills that are crucial for their aptitude and overall mental development. The app is available in both English and Spanish, allowing children to learn new material in whichever language they are more comfortable in. You can also play PBS Kids Games on PC with BlueStacks.
With over five million downloads, PBS Kids Games is rated 4.2 out of 5 stars on Google Play Store.
2. Khan Academy Kids (Free)
Similar to our previous pick, the next app on our list is Khan Academy Kids, which is another storehouse of games of different kinds that augment children's learning. Created by Khan Academy, a free online learning platform that helps students of all ages learn skills on their own through the internet, Khan Academy Kids is geared towards children from the ages of 2 to 8. The main focus of the app is to create an environment in which children feel comfortable learning about new subjects and also to inculcate a long-term sense of curiosity and a love for learning. The app does this by creating a holistic syllabus for all the subjects available on it, including reading and literacy, language, math, and executive function and logic. Having a varied syllabus that covers different topics and aspects of a subject allows children to learn about that subject in a more complete manner. This further enables them to continue their learning in whichever subject they are most interested in.
Reading and literacy covers topics such as phonics, letters, spelling, and comprehension. Learning how to read at a young age is an essential part of a child's learning journey, and Khan Academy Kids accomplishes this with interactive games which children can partake in, learning the subject along the way. For example, teaching children the various letters of the alphabet is done through a variety of games, some of which include using the touch screen to draw each alphabet. Children can also learn how to spell by looking at an image presented on the screen and then choosing from the various letters provided to them to spell out the word that corresponds to the image. Language covers vocabulary and parts of speech, meaning your child will be able to learn new words, their meanings, how to apply those words in a sentence, as well as learn different parts of a sentence, such as verbs, nouns, adverbs, prepositions, etc. All of these are extremely useful things to learn if you want your child to have a good basic understanding of the language they speak. Math covers counting, numbers, addition, subtraction, shapes, and measuring, while executive function and logic covers focus, memory, and problem-solving. While the two subjects aren't the same, they share many aspects and are interrelated in many ways, meaning that if your child studies both, they will have a more holistic understanding of Math as well as Logic.
Apart from audio-visual elements in the app, Khan Academy Kids also has yoga videos as well as catchy songs which allow children to move their bodies and find physical expression and learn new subjects in multiple ways. The app is completely free and without ads, and you can also download content for offline access.
With over one million downloads, Khan Academy Kids is rated 4.7 out of 5 stars on Google Play Store.
3. Kahoot! Multiplication Games (Free)
If your child struggles with math, especially with multiplication, Kahoot! Multiplication Games is the app for you. Math can be a difficult subject for many children; especially multiplication tables. We all remember spending long nights trying to memorize the tables for 1-10, and when it got to double digits, the task only got harder. With Kahoot! Multiplication Games, children no longer need to struggle with math and multiplication, since the app offers a fun and inventive way to learn the various multiplication tables.
The app offers more than twenty different mini-games for children to be able to learn the multiplication tables. Not only are these games very fun to play and will get anyone playing hooked to them, but they also allow the user to have a deep understanding of numbers, how numbers multiply, and how to quickly multiply numbers in one's head without much effort. The app has a user-friendly interface, allowing you to navigate through the various mini-games with ease. This is especially important if the app is being used by children since having an easy-to-use UI will keep children on the app, which will further aid their learning process. As mentioned, the game has over 20 mini-games for you to play through, and each game presents a different aspect of multiplication. Having such a variety of games will encourage children to learn about numbers and multiplication in various contexts, providing them a more holistic understanding of a skill that they are sure to use for the rest of their lives.
One big reason why children fail to learn math or dread the subject is that they aren't clear on the basics and are unable to catch up with whatever is being taught in class. Kahoot! Multiplication Games solves this problem by providing children with an adaptive progression system that lets them learn multiplication at their own pace, making mistakes and learning from them, and also understanding where and how their mistakes can be resolved. This, in and of itself, makes Kahoot! Multiplication Games a must-play for anyone who wants to learn more about multiplication and wants to be clear on the basics of the number game. The game has no third-party advertising, and you can also play up to 5 different challenges per day for free. In order to gain premium access to the app, one must buy a Kahoot! subscription or make a one-time purchase on the app.
With over ten thousand downloads, Kahoot! Multiplication Games is rated 4.4 out of 5 stars on Google Play Store.
4. Prodigy Math Game (Free)
The next game on our list truly takes the idea of an educational game to the next level. In Prodigy Math Game, you get to select a character of your choice, customize the way they look, and partake in over one hundred different levels of math-related adventure. Prodigy Math Game believes that learning of any kind should be fun and relaxing and not an arduous task that drains you of time and energy. For this reason, the game has been created in such a way that you truly feel like you're playing a best-selling RPG instead of a math game. The game's graphics are high quality and the colors pop before your eyes. Each character has a unique design and the ability to customize characters ensures that children feel personally connected to the character as well as the game.
You must work through over a hundred levels of math-related questions, and in the process, you can do other cool stuff such as collect pets, fight bosses, and play online with your friends. The character designed by the user is known as the Wizard, and as the player continues on with the game and proceeds through the various levels, the Wizard gets stronger and more adept at solving the questions presented to them and fighting bosses, and rescuing pets. After each level the user finishes, the game rewards the user with different kinds of prizes which can be used for various purposes in the game. You also unlock new zones every time you finish a level, ensuring that there is always something to look forward to and a new level to play through every time you open the Prodigy Math Game app.
Apart from the wonderful graphics and the engaging gameplay that Prodigy Math Game provides, the app is especially useful for those who want their children to learn Math based on a particular curriculum. Prodigy Math Game is completely aligned with state-level curricula, meaning that everything taught on the app can be used by the students directly in their classes and exams, ensuring that they get a whole lot of math practice simply by playing a video game. The app is completely adaptive to the particularities of the user too, meaning that you get questions of different kinds, difficulties, and curricula depending on how old you are and what state you belong to. For example, if you happen to live in California, and your child is in the 1st grade, the app will cover the California Common Core Curriculum which includes Operations and Algebraic Thinking, Number and Operations in Base Ten, Measurement and Data, and Geometry. In contrast to this, if you live in Idaho and your child is in the 7th grade, the app will cover the Idaho Content Standards Curriculum, which includes Geometry, Ratios and Proportional Relationships, The Number System, Expressions and Equations, and Statistics and Probability. You can also download Prodigy Math Game on BlueStacks.
With over five million downloads, Prodigy Math Game is rated 4.2 out of 5 stars on Google Play Store.
5. codeSpark Academy (Free)
Coding and programming languages have become an integral skill to learn in the last decade, and anyone who works remotely close to the IT field has been rushing to learn programming languages such as Python or Java. The world of the future is going to be a world of computers, which is why it becomes necessary to teach children how computers work and how programming languages work in particular. But how do we do this when coding is as tough as it is? Here's where codeSpark Academy comes into the picture.
Created in 2014, codeSpark Academy is an easy-to-use app that gamifies coding and programming languages and teaches integral concepts of coding such as Boolean Logic, Variables, Sequencing, etc through bright and colorful animations and graphics that make it extremely easy for children to learn the basics of coding and the core concepts that all programming languages share.
The app starts off with a character creation page. Each character in the app is known as a Foo, and children can create their own unique Foo with characteristics and features as they like, allowing them to connect personally both with the character as well as the game as a whole. Once they are done creating their Foo, users can proceed to play puzzle games from the main menu. Although there are other things to check out in codeSpark Academy, the puzzles section is where most of the learning related to coding will happen. The puzzles section is divided into various levels and stages and each level feels like a separate game of its own where children can learn the basics of programming and understand how programming languages work. Things such as sequencing, events, loops, etc are introduced in the puzzles section of the app. The puzzles work in a visual command format, which means that kids can drag and drop items and move items on the screen around in order to solve the puzzle. While they are not dealing directly with coding yet, these puzzles are designed to make children understand and learn the core concepts related to coding. Once these concepts are clear, using actual code will be a breeze and users will be able to learn any programming language they wish with relative ease.
Solving puzzles rewards the user with various gifts and rewards. However, you don't just get a prize for solving a puzzle, but you also get additional prizes for solving the puzzle with efficiency, that is, with just one or two lines of code. Different levels teach kids different aspects of coding. For example, at one level, the user must serve Foos some type of eatable item. In this level, the user will learn how to use IF and THEN conditional operators. There are dozens of such levels and tons of coding-related information to be learned from the puzzles.
Apart from puzzles, codeSpark Academy also has hundreds of minigames that teach concepts of coding in an animated and abstract visual format. For example, the minigame Crocodile Cath teaches variables and inequalities, Pet Pals teaches automation and conditionals, and Sweet Sorter teaches Boolean Logic. Kids can also create games and stories within the app, allowing them to unlock their creative side and use code to create new and inventive games of their own.
With over one million downloads, codeSpark Academy is rated 4.1 out of 5 stars on Google Play Store.
6. The Cat in the Hat Builds That (Free)
Next on our list is another offering from PBS Kids, this time a science app for children up to the age of 5. Science is incredibly interesting and fun when you learn about it initially, but as the years go on, concepts start to get more complicated and the teaching becomes monotonous, making it arduous for many students to maintain a love for science. With apps like The Cat in the Hat Builds That, you can be sure that your child will learn about science in a fun and enjoyable way, allowing them to understand key concepts while also encouraging or maintaining a love for science.
The Cat in the Hat Builds That is focused primarily on STEM concepts such as science inquiry and engineering, and each aspect of the game is made keeping in mind that children need to both learn and have fun when using the app. The app has five main games that kids can play through, each one focusing on a key concept of science and engineering. The first game, known as Bridge-a-rama, is a game in which kids must build bridges and see how well made they are. This game teaches concepts related to measurements since the user must know the length, breadth, and height of the bridge they're building as well as the various components of the bridge. Along with this, kids will also learn which materials are sturdy and which ones are not, and how particular materials interact with each other. When putting a bridge together, kids will also see how gravity factors in when you try to build something, and how one must take all these factors into account when trying to build a bridge. The next game is called Sorta-ma-gogo, which, as the name suggests, is about sorting and identification.
The third game is known as Slidea-ma-zoo with Thing 1 and Thing 2, in which children learn about the basics of physics, momentum, and surface tension with the help of slides. But the app doesn't just limit itself to constructing buildings, since the fourth game, known as Sounda-pa-looza, lets you create new musical instruments, and in the process learn about concepts such as sound and pitch. The final game in the app is called Builda-ma-loo, in which children learn how to mix colors and learn about the color wheel. Concepts such as primary colors, secondary colors, and which colors mix to make a new color are taught in this game.
The app is vibrant and colorful and is perfect for any child who wants to learn more about science and is interested in the concepts of physics and chemistry. The app also rewards kids every time they complete a game. You also have a treehouse in your backyard which grows the more you play the game, as well as a garden that grows and expands as you finish levels and get clearer with the concepts being taught by the app.
With over a hundred thousand downloads, The Cat in the Hat Builds That is rated 3.6 out of 5 stars on Google Play Store.
7. Intellijoy Kids Academy (Free)
If your child is about to begin kindergarten and you'd like them to get some extra practice in before they begin going to classes, then Intellijoy Kids Academy is the app for you. Designed for children just beginning kindergarten or first grade, Intellijoy Kids Academy has everything you need in order to teach your kid the basics of their curriculum in one app.
The app is divided into three different academic levels, namely, Preschool, which focuses on children above the age of 3, Pre-K, which focuses on children above the age of 4, and Kindergarten, which focuses on children above the age of 5. As mentioned, Intellijoy Kids Academy has everything you need to teach your child in one place, meaning that it has a very holistic curriculum that will ensure your child has practiced in all areas of study and has a well-rounded understanding of the subjects they will be studying in their pre-school. The curriculum is divided into three main areas: the Literacy Unit, the Math Unit, and the Creativity Unit.
The Literacy Unit teaches kids the fundamental language skills they require in order to be able to properly communicate. This unit teaches children about various topics such as letters, what letters sound like and how to pronounce them, the differences between uppercase and lowercase letters, arranging the letters in alphabetical order, and understanding what vowels and consonants are. Once the kids have letters down pat, the app moves on to words. In this unit, children are taught how to blend sounds to form words, how to form simple words from the letters they learned in the previous unit, as well as matching rhyming words. The math unit blends together aspects of basic level geometry as well numerical math to make an interesting mix. The first topic is related to shapes, in which children learn the names of various shapes and how to identify them, as well as find different shapes in everyday life.
After this, kids are taught numbers through puzzle pieces, the names of various numbers up to 100, learning how to write numbers, as well as learning the numerical order. Once kids learn what numbers are and how to write them, counting numbers is the next logical step in learning. Kids are taught to count objects using the numbers they learned previously, as well as associating a particular number of objects with written numerals. They are also taught the basic mathematical operations such as addition and subtraction in both numerical and word problems. Finally, there is the creativity unit, in which kids are taught about colors, art, and music.
An additional aspect of Intellijoy Kids Academy is the "World Around Us" section, in which children learn to create a mental map of the world around them which includes work, home, sports, and animals.
With over one hundred thousand downloads, Intellijoy Kids Academy is rated 4.0 out of 5 stars on Google Play Store.
8. Masha and the Bear (Free)
Based on the wildly popular Russian TV series, Masha and the Bear is an educational app that contains over 30 games aimed at children up to the age of six. Masha and the Bear is about a retired circus bear who wants to live a peaceful life in the forest. While he is in the forest, he meets an energetic and curious young girl by the name of Masha, who interrupts his plans for a peaceful life and takes him on adventures of different kinds. The game is based on the series and uses the likeness of all the characters present in the series, so if your child has watched Masha and the Bear and is a fan of the show, they are sure to love this game and everything it aims to teach.
The app has six broad varieties of games, each attempting to teach a different skill to children. The Paint and Color category aims to teach children about drawing and painting with colors available on-screen and an outline provided to them which they can color as they please. The game has tons of different colors to choose from as well as different brush sizes, allowing children to make as detailed a painting as they want. The game has several outlines to fill in, so be assured that your child will not tire of this game quickly. The next category is Word Search, which provides children with rows and columns of jumbled letters from which they must find particular words listed on the side of the screen. This helps to improve their cognitive abilities immensely since they are not only improving their vocabulary but also learning to look through the rows and columns and find words both horizontally and vertically.
The next category involves memorizing objects and their silhouettes and identifying objects from a given list of silhouettes. This helps to develop the child's visual perception as well as their ability to remember shapes and objects. After this, we move on to puzzles where children must solve puzzles based on pieces of different shapes and sizes. The app also has musical instruments such as piano, drums, and xylophone, which helps to develop the child's aural capabilities and helps them develop an interest in music. Finally, the app also has games based on numbers and mathematical operations such as addition and subtraction which helps children learn the numbers from 1 to 10 as well as how to add and subtract numbers.
With over a hundred million downloads, Masha and the Bear is rated 4.2 out of 5 stars on Google Play Store.
9. Zoombinis ($2.99)
Next on our list of the best educational games for Android is Zoombinis, released in 2015 by TERC. Zoombinis is an educational puzzle game intended to teach children many important skills and also to aid them in their cognitive and behavioral development. The game is a recreation of the classic 1990s computer game known as Logical Journey of the Zoombinis. In the game, the user must create a group of creatures known as the Zoombinis. Each member of the group has distinct features and the party must then move forward through trials and travails in order to find their home, know. as Zoombiniville. Their journey comes at a great cost and with great danger, however, since they are trying to evade the Bloats who had imprisoned the Zoombinis and overtaken their home. The Zoombinis must solve dozens of puzzles, each requiring a different skill set, in order to get back to their home peacefully and safely.
The game has four different difficulty levels and each puzzle can be played on all four difficulty levels. The game's story is incredibly engaging and is sure to keep users hooked for several hours as they solve puzzles, and uncover the backstory behind the Zoombinis as well as the Bloats- the evil creatures who had imprisoned our small blue friends. The puzzles include titles such as Allergic Cliffs, Stone Cold Caves, Pizza Pass, Titanic Tattooed Toads, and various others. These puzzles challenge users in many different ways and engage them in different cognitive activities. For instance, puzzles such as Captain Cajun's Ferryboat and Titanic Tattooed Toads help children increase their mathematical abilities. Both puzzles require the user to set objects in order, link different kinds of information, as well as solve various problems that the puzzle presents to them. On the other hand, puzzles such as Stone Cold Caves and Allergic Cliffs require users to arrange the various Zoombinis in a particular order so that they can pass through the level. This helps develop their deductive reasoning abilities since they must figure out which order of Zoombinis will work and which ones won't with the help of the information available to them.
The game is strikingly detailed and beautiful in the way it has been designed, retaining the original backgrounds but having them digitally painted. The original voices from the 1990s game are also present in the Android version of Zoombinis, as is the background music and score from the first version of the game. Download Zoombinis on PC with BlueStacks now.
With over fifty thousand downloads, Zoombinis is rated 4.1 out of 5 stars on Google Play Store.
10. Teach Your Monster To Read ($5.99)
The final game on our list of the best educational games for Android is Teach Your Monster To Read, a BAFTA-nominated game that helps your child to learn how to read. The game is aimed at children from the ages of 3-6 and has also been approved by the UK Government for their Hungry Little Minds campaign.
The game is extremely simple. Children must create a monster, customize the way it looks, and then go on an intensive reading journey that will take them through the basics of language learning up to the point where they can read books on their own. The game is divided into three parts. The first part is known as First Steps, in which children will learn about letters, phonics, how to write down alphabets, as well as learning letter-sound recognition. The second part, known as Fun With Words, will teach children how to blend together different letters in order to form words. This is where concepts such as vowels and consonants will be introduced, as well as blending and segmentation of different parts of a word. Concepts such as verb conjugation are made easy and fun to learn so that children can learn English without having to wade through boring textbooks and exercises in order to be able to learn the language. Not only do children learn nouns and verbs, but also pronouns, adverbs, adjectives, and other parts of speech that are essential for them to be able to learn how to read.
The final part of the game is called Champion Reader, in which kids will take all that they have learned from the previous two parts and put them together to read complete sentences, including exercises such as filling in the blanks and matching the words. The game is easy to play, and the user interface is designed in such a way that kids have no trouble moving from level to level and going back to relearn concepts that they may need more clarity on. You can also play Teach Your Monster To Read on PC with BlueStacks.
With over five hundred thousand downloads, Teach Your Monster To Read is rated 4.6 out of 5 stars on Google Play Store.
Also, read our article about Top Android games that are perfect for kids aged 6 and up.