BlueStacks Roundups
Top Android Games Under 50 MB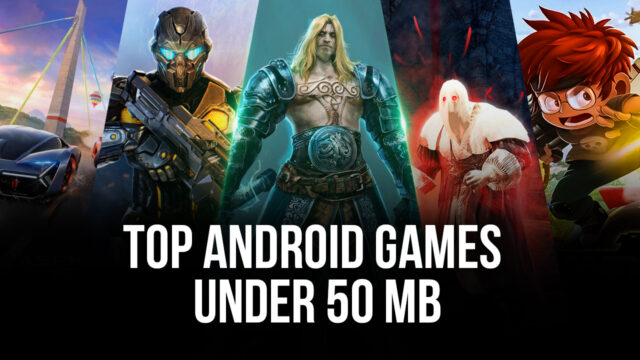 Technology has progressed so rapidly that these days it is very normal for phones to have hundreds of GBs of storage in them. However, this storage capacity increase is also parallel to the amount of storage capacity we require these days. Our phones contain dozens of apps, thousands of pictures and videos, and hundreds of songs.
Video games, as we know, require a ton of memory too, or at least most of them do, and we often need to delete something else in order to make space on our phones to download such games. This isn't always the case, however. Tons of video games are also very small in size and require barely any storage at all. These allow you to save space without getting in the way of your gaming. This article compiles a list of 8 such Android games that are under 50 MB.
1. N.O.V.A Legacy
Developed by Gameloft SE, N.O.V.A Legacy is a multiplayer first-person shooter experience game that pays homage to NOVA: Near Orbit Vanguard Alliance. Not much has changed in terms of basic premise; set in space, N.O.V.A. is a galaxy adventure game, wherein, Kal Wardin, a space marine must perform tasks, engage in combat, and progress through levels. All of this is done to achieve his ultimate goal- defeating the Xeno aliens attempting to destroy the galaxy and save humanity. Kal isn't alone, he has help in the form of Yelena, a secret agent assigned to accompany him.
What has changed when it comes to N.O.V.A. Legacy, however, is graphics. The 2017 version has been updated with stellar graphics along with seamless gameplay. N.O.V.A is a three-dimensional, sci-fi game that can be played in both offline and online mode. When you play online you can battle players in specialized arenas. It has a replay option that allows you to view the action in third-person which helps gain perspective when it comes to combat skills. You have access to a variety of weapons and tools that are customizable, and you can personalize weapons for every mission assigned. Additionally, there's a matchmaking feature for the multiplayer option that facilitates optimized pairing of players. Once you've completed your mission, you receive tools that help you build and craft weaponry for your next mission.
NOVA Legacy is renowned for its recreation of the console-gaming experience on a mobile phone. The controls are simple and easy-to-navigate, the virtual-D pad on the left of your screen helps in first-person movement and direction, while the virtual-D pad on the right of your screen is meant for combat; shooting, changing weaponry, charging with grenades, etc. For a game so small in size, the graphics for N.O.V.A Legacy are great too. Enjoy N.O.V.A Legacy game on your PC
With over fifty million downloads, N.O.V.A Legacy is rated 4 out of 5 on Google Play Store.
2. Death Moto 4
Fourth in the Death Moto series, WEDO1.COM's Death Moto 4 is a racing game. There is an element of the style of 90s racing games to Death Moto 4 – all you have to do is race against scores of other players on a motorcycle. Of course, you have to do this while navigating your way through highways, rural roads, snowy terrains, and traffic. Plus, you also have to fight the other players through hand-to-hand and weapon-based combat while racing. You can do so by using a machine gun or a missile launcher that you can unlock further into the game. While racing and combatting at the same time is very fun, you have to be very careful because there's always a risk of collision.
The graphics of Death Moto 4 perfectly encapsulate the grainy element of vintage racing games like Road Rash, and the visuals are greatly improved when compared to previous installments of the game. You can unlock new motorcycles and upgrade from old ones with up to 10 options available, each with a unique build of its own, with elements like nitrogen, machine guns, attached weaponry, and a rocket launcher. As you race, you're offered a variety of options to choose from; flaming bottles, baseball bats, saws. The sole objective is to kill any riders you encounter in your path and race your way through obstructions. And this is what makes the game enjoyable, it's simple but engaging, and the speed is enthralling.
With over five million downloads, Death Moto 4 is rated 4.1 out of 5 stars on Google Play Store.
3. Asphalt Nitro
Asphalt Nitro is one of the most compact racing games available right now. With a file size of just 45MB, it can run on any mid-level mobile phone. To achieve this, Gameloft, the developer of the game, has made some sacrifices when it comes to graphics and detailing, but overall, the game is as great as any other racing game out there. While they may have had to cut down on excessive details, Gameloft certainly did not hold back when it came to the gameplay of Asphalt Nitro. The game has eight different modes for you to choose from, and all of them are fantastic racing modes that are a joy to play.
Unlike Gameloft's other racing games such as Asphalt 8 or GT Racing 2, Asphalt Nitro does not have any assisted controls. There is no braking or steering assistance and the user must control the car all by themselves as they race through the scenic roads in the game. Speaking of scenic roads, Gameloft has included the best driving roads of the world into Asphalt Nitro. From Brazil to China, there is no shortage of scenic roads for you to race on in this game. The controls are easy to use and understand, and they're simple enough that even those with small screens on their phones won't have a problem playing this game. Divided into six different seasons with twenty-one races in each season, one mustn't think that simply because the size of the game is small there is little to do in Asphalt Nitro. The various seasons and races along with the different game modes make for a game that can be played for a very long time. If you do end up finishing all of the given races and seasons, you can go back and replay them, or go online and play with fellow users using the Multiplayer mode. This, however, requires a strong internet connection, and the race might lag if you don't have a good network.
There is a large variety of cars to choose from in the game. From Lamborghinis to Ferraris to McLarens, Asphalt Nitro has it all. Cars are divided into five different tiers, with Tier D being the worst, and Tier S being the best. The aforementioned cars fall into the S Tier, while cars in the D Tier include the Mini Cooper S Roadster or the Chevrolet Camaro GS. All cars in the game are upgradable. You can buy new parts for your car in the game using in-game currency, and replace the stock car part with the one you just bought to increase your car's performance. This is a very important aspect of the game, since upgrading your car and buying new cars will help you win races and rack up points. Play Asphalt Nitro on your Computer.
With over a hundred million downloads, Asphalt Nitro is rated 4.3 out of 5 stars on Google Play Store.
4. Iron Blade: Medieval Legends
Gameloft's Iron Blade: Medieval Legends is an action RPG set in a fantasy medieval period, in a land plagued by war and chaos, and filled with magic and mystery. This land is on the edge of doom, as monsters threaten to destroy the kingdom. The players must hunt down these ravenous monsters, defeat them and ensure that the kingdom is protected from any and all threats. Iron Blade is quite immersive, with a rich history and backstory within the game, renowned knights and warriors, mysterious subplots to uncover, and much more. The objective for the player is to become a monster hunter to protect his kingdom from an approaching demonic war. You must fulfill the prophecy and keep the evil at bay.
The graphics are without a doubt gorgeous, with a variety of locations and sceneries in the medieval setting of alternate-reality fantasy Europe. You go from battling Demon Knights in the famed Notre Dame to hunting nefarious vampires in a Transylvanian dungeon. And in addition to this, the plot is actually quite nuanced, with complex conspiracies and elements of intrigue that keep the player riveted. The controls have been specialized for a mobile RPG, so the gameplay is seamless. You can curate a personalized fantasy fight style by constantly swiping and tapping on monster-hunter combos. You can also collect a good amount of armor and weaponry as you progress through the game. As you encounter enemies, you also gain the ability to battle them through magic spells or action combat. You can create a kingdom of your own and participate in exciting PvP challenges. Most importantly, you can fight and bring down other players' castles in order to collect important resources for yourself. You also have to build your own defenses to ensure that you aren't at risk of attack from other players.
Iron Blade is one of the most engaging RPGs out there. Unlike most games that employ a medieval setting, it leaves no space for monotony. The slash and hack combat, the player rating system that enables progression to the next level, optimized controls, and the exemplary setting makes it all the better.
With over ten million downloads. Iron Blade: Medieval Legends is rated 4.2 out of 5 stars on Google Play Store.
5. Modern Sniper
Candy mobile's Modern Sniper is a first-person shooter game with 3D graphics. A classic shooter game, Modern Sniper is set in the criminal underworld, where you have to embark on a series of shooter missions across the world. You are assigned multiple targets through the course of the game, and as you progress through the game you have to find new and more innovative ways to assassinate them. You will have to do this by using the many in-game weapons, tools, and accessories available to you.
Modern Sniper is exemplary because of its use of intuitive touch controls, which enable players to find a distinctive sniping style of their own. As you improve in sniping ability, your accuracy and marksmanship improve, which allows you to easily fulfill missions. In addition to this, Modern Sniper also offers a variety when it comes to in-game missions, with a range of over 50 crime shooter missions. You can either target a mob or take out a single important target. You have 7 weapon upgrades to choose from and 6 different maps and locations to coast through.
Modern Sniper's creators have paid excellent attention to every detail of the game. From different settings to weaponry, to the first person perception, which makes it all the more realistic and immersive. The sound quality is just as realistic too. The game also offers a variety of plots during the mission. You can save the crowd from danger, assassinate threats to society and destroy mobs. The in-game currency you earn can be used to elevate strength, firing speed, and quality of ammunition. The weapons are upgradable, the missions are intriguing and the mechanics are breathtaking.
With over fifty million downloads, Modern Sniper has 3.9 out of 5 downloads on Google Play Store.
6. Ramboat
Ramboat is an offline shooting-action 2D game developed by Viva Game Studios. You're Mambo, a version of Rambo, tasked with using his speed boat to explore different zones and eliminate all the enemies you encounter in your path. In Ramboat, you're given a metal slug gun which helps you make your way through several levels, battle metal tanks, helicopters, metal squad guns, and speedboats and fulfill your sole objective: to defeat the evil army and put an end to its reign of terror. Ramboat is a completely offline game, so you can play it anywhere, even without an internet connection. Its primary controls involve tapping to jump, shoot, and dash. You're offered a variety of weapons like heavy machine guns, grenades, rocket launchers, etc.
Ramboat has an easy and seamless intuitive control system, you can shoot automatically when an enemy is in your vicinity. It has the feel of a platform runner game, with impressive mechanics and retro graphics. It's a non-stop runner game, and as you progress through it you're faced with challenges. You shoot automatically, but you have to navigate your boat to ensure that you shoot from the right direction. All you have to do is tap and hold the side of the screen to accelerate the boat, and let go when you want the boat to stop
Ramboat is a light, fun adventure game. You have to use weapons and power-ups you accumulate on your journey by collecting them from fallen enemies. As you progress through the game you unlock more impressive vehicles, including a shark. Throughout the game you have threats coming in from various directions – including paratroopers, planes, and copters. You also unlock different setting stages during the course of the game; the first being The Jungle, followed by Independence Day, Bloody Sunset, and Frosty. These settings help create a variation in gameplay that keeps you occupied. Missions involve a lot of range, from diving underwater and catching fish to shooting down planes. In addition to this, you also have the option to play poker on the side in Ramboat and if you win, you are rewarded. The inventive scenarios, fresh gameplay, and arcade-style action in Ramboat ensure that you don't lose interest.
With over ten million downloads, Ramboat is rated 3,9 out of 5 on Google Play Store.
7. Stack
Stack by Ketchapp is one of the simplest and most beautiful games you will ever play. There is no story, no characters, no overarching theme. This may make you think about what the point of the game is at all. Well, it's simple, and in the name. The entire point of the game is to stack. There is no tutorial, and you're thrown directly into action, but you don't really need one in the first place since the game is so intuitive. You control a block that moves diagonally. Below it is another block of the same size, and what you must do is try to tap the screen exactly when the diagonally moving block is above the block below it. If this is done properly, you are successful in stacking and are given another diagonally moving block of the same size. If you miss the timing, however, and the block doesn't stack exactly right, the part of the moving block that is left outside will be chopped off, and the next moving block you receive will be of a smaller size. If you keep missing the timing, the blocks will get smaller and smaller, making the game harder as you go on. To keep things interesting, the game also makes the moving block swing faster and faster as you go on with the game. This makes the game harder since you are more likely to mess up your timing.
The controls of the game are also extremely responsive. There is almost no time lag between the moment you tap the screen and the moment the moving block settles on the block beneath it. Every time you are able to stack ten blocks, you receive a diamond. These diamonds add up, and once you've collected two hundred such diamonds the game unlocks a new pattern for you, and there are more than thirty patterns for you to unlock in the game.
As mentioned, Stack is an incredibly beautiful game. It does not make use of showy graphics or any other flashy elements, choosing instead to keep things simple. The game is minimalistic, but the colors in the background (which also the color of the blocks) change consistently. These changes occur so smoothly and without interruption that you begin with a particular color and end with a completely different one without once noticing the changing shades. Play Stack game on your PC with BlueStacks.
With over fifty million downloads, Stack is rated 4 stars out of 5 on Google Play Store.
8. Gods of Rome
Gameloft's Gods of Rome is a game set in a world of both Greek and Roman Mythology. The primary gameplay mode in Gods of Rome is a single-player campaign, which involves traveling through iconic locations from Greek and Roman Mythology – like Mount Olympus, The Colosseum, and of course, Pompeii. You can also opt for game modes that involve fighting other players in PvP fights. As you begin with Gods of Rome, you can only choose one character for yourself, but as you progress, you can access new characters, like Zeus, Atlas, Prometheus, or Vulcan. Your first quest involves defeating a dark demon named Tenebrous, who has unleashed a dark force known as the Chaos Vessel, which has the potential to enslave the greatest heroes. Only one of the Ascenders can defeat him. You can also unlock new attributes as you make your way through the game to improve your player's combat abilities, There are a total of three game modes, story, PvP, and special events. Story mode features three chapters with a large number of maps. Special events are altered on a daily basis, and you can choose the level of difficulty you want to play. While in PvP, you can choose between one-on-one or three-on-three fights.
The controls in Gods of Rome are incredibly optimized, you can slide the screen to the right for an attack, or slide the screen to the left to make a blocking move. Also, for a basic attack, you have to tap the enemy, swipe the screen for a minimal attack, and tap and hold the screen for a brutal attack. The graphics are breathtaking. Each Sphere you go through contains treasures within, such as fighters, important resources, gems, and loot. You can win rewards, upgrade your skills and abilities and become one of the best Ascenders in the game. You can also move up a level by drinking the blood of the gods. The graphics for Gods of Rome are gorgeous and the gameplay is riveting. The game features a number of legendary mythological characters, from Zeus and Medusa to Spartacus and Achilles. With Gods of Rome, the more you play, the more invested you become.
With over ten million downloads, Gods of Rome is rated 3.9 out of 5 on Google Play Store.