BlueStacks Roundups
Top VR Games For Android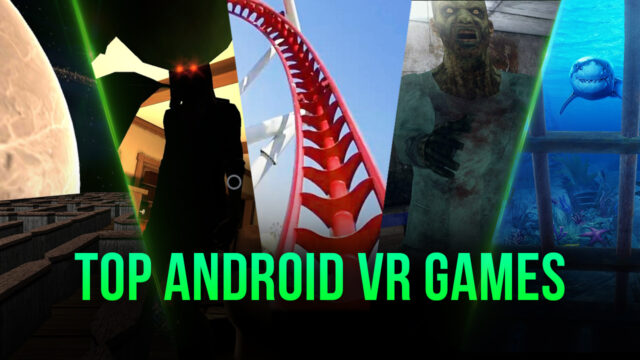 VR games have been around for a while now, and in many ways, they offer an immersive experience that non-VR games just can't. When you play a VR game you feel as if you have been quite literally transported into another world, and playing a game that doesn't offer that just doesn't compare. In this article, we'll be looking at the eight best VR games for you to play with your Android device as well as with your VR headset.
1. VR Thrills: Roller Coaster
When it comes to the best VR games for Android, 'VR Thrills: Roller Coaster undoubtedly charts at the top of the list. Created by Rabit Mountain, VR Thrills: Roller Coaster is exactly what you expect it to be, a VR game in which you can build and ride different roller coasters. Not only that, but you can also create your own tracks and ride those as well. The tracks and roller coasters you make can also be viewed by other creators in the game, and they can ride your tracks, and vice versa. If your VR device doesn't have a gyroscope, the game has a fix for that too. In order to make the game accessible to a large audience and also to make sure that it isn't available only for certain VR devices, you can simply move your head to the left and right as you ride the coaster using your VR device.
As of right now, the game has over 150,000 user-created roller coasters, all of which you can ride. The game also offers a live music feature, in which the music interacts with the coaster ride and also visualizes it for you, making for an amazing VR experience. The game has been optimized for Android devices that use Google Cardboard, but there are also other devices the game is compatible with, such as VRTX One, Stooksy, VR KiX, Durovis Dive, Merge VR, and others.
With over ten million downloads, VR Thrills: Roller Coaster is rated 3.5 out of 5 stars on Google Play Store.
2. VR Horror
If you're a fan of everything haunted and spooky, VR Horror is one of the best games out there for you. Created by Forstech Studios, VR Horror takes you through a mental asylum whose patients have in some strange way turned into undead monsters, and your objective in the game is to make it out of this asylum alive. This isn't your regular run-from-the-zombies type game though; VR Horror takes you through a multitude of levels, which include collecting tools and weapons, figuring out various puzzles so you can move on to the next level, and also making sure you aren't caught by any of the monsters out to get you.
The game is very atmospheric both in terms of graphics and sound design, and it is evident that the designers wanted to make this game the scariest version of itself it could be. From dirty, grimy walls, with no one around until someone suddenly is, to eerie silences that are cut through by screams of people being tortured, VR Horror has it all. This game is not for the faint of heart, since it contains several jumpscares, both visual and auditory. For this reason, if you have epilepsy or a heart condition it would be best if you avoided playing this game. The game is compatible with Cardboard, Homido, Free Fly, and many other VR headsets.
With over one million downloads, VR Horror is rated 3.5 out of 5 stars on Google Play Store.
3. VR Abyss: Sharks and Sea Worlds
In case you're more into exploration than straight-up thrills or horrors, both of which the games above present, then VR Abyss: Sharks and Sea Worlds would be worth a try for you. Created by Rabbit Mountain, VR Abyss takes you down into the depths of the ocean, allowing you to see all of the life that exists underneath us at all times. With a very diverse range of fishes and other aquatic life for you to see and explore, VR Abyss never has a boring moment, since there is always something for you to see. There are also several game modes for you to play through. There is, of course, the endless VR diving mode, in which you can explore the ocean for as long as you like and go as deep into the depths of the oceanic world as you please. This is one of the more relaxing game modes, and it is easy to lose track of time when you're playing it. The other game modes are more thrilling and adventurous, such as the Shark Attack game mode, in which you are placed inside a cage and taken down into the ocean, where a shark sees and attacks you. You can also witness many other awe-inspiring visuals, such as looking at a Killer Whale up close, or discovering the coral reefs from up close, or watching an oil tanker sinking into the ocean.
The game controls are very simple. All you need to do is look left or right to swim in a particular direction and look up or down to swim up into shallower waters or go deeper into the ocean.
With over five million downloads, VR Abyss: Sharks and Sea World is rated 3.2 out of 5 stars on Google Play Store.
4. Acron: Attack of the Squirrels
Acron: Attack of the Squirrels, made by Resolution Games, is a mix between a VR and a controller-based game. The main plotline of the story follows a gigantic tree that is overly protective of its golden acorns and a bunch of crafty squirrels who will stop at nothing to get past the tree and get to the much sought-after golden acorns. A game made for friends and family, the role of the tree is played by one individual who will be wearing the VR headset of their choice and protecting the golden acorns from the sly attacks of the crew of squirrels. The squirrels will be played by the rest of the users playing the game, and they will be controlling the squirrels using their mobile phones.
The user who plays the role of the tree has several options to keep the squirrels away from his beloved acorns. They can hurl rocks and boulders at the squirrels, knocking them away and keeping them dazed for a few seconds, or they can use sticky sap to keep the squirrels stuck to one place so they don't come for the acorns. If all else fails, the user who plays the tree can also pick up the squirrels as they attempt to get to the acorns and throw them as far as possible so that the squirrels have to try again. The squirrels, too, have their arsenal of tricks to get to the acorns. They can hide behind bushes or dodge the boulders and rocks being thrown at them by the tree. They can also use wooden shields, or grow pumpkin trees to use as a shield, trying to survive the Tree's relentless attack. They can also make use of mushrooms as launching pads to jump high into the tree itself and get their hands on the golden acorns.
Acron's art style is fantastic and so is the sound design and gameplay, with smooth movements both for the tree and for the squirrels, and it is a game that is sure to make any family event a lot more fun.
With over one hundred thousand downloads, Acron: Attack of the Squirrels is rated 4.4 out of 5 stars on Google Play Store.
5. Deep Space Battle VR
Created by Archiact Games, Deep Space Battle VR is a game that takes a lot of inspiration from pieces of media such as games and movies that feature space warfare, such as Star Wars, without ripping them off. It is a first-person shooter game in VR form, where you see yourself captaining a spaceship that must take out other larger ships, part of the Shadow Fleet, who are trying to take over the galaxy. It is a fast-paced game with excellent graphics that are bright and colorful, with the sound effects and gameplay being just as impressive. The game has been made exclusively for Google Cardboard, however, so users with other VR headsets may not be able to play this game.
The game offers six different ship designs for you to choose from, each with its unique capabilities. The best part about the gameplay in Deep Space Battle VR, though, is the auto-shoot ability that your spaceship has every time you get an enemy ship within your sights. It is extremely simple to follow the controls, and you'll be able to start blasting away in no time. While there was a criticism of the game that it has too many in-game purchases and ads, Archiact Games listened to its audience and made the game completely free, with all ships, and all levels not costing a single penny anymore.
With over one million downloads, Deep Space Battle VR is rated 3.8 out of 5 stars on Google Play Store.
6. Goosebumps Night of Scares
If you were a fan of scary stories as a child, you must have read at least one of R L Stine's Goosebump books. The series is long and is full of terrifying reads, and Cosmic Forces' Goosebumps Night of Scares brings to life the scariest monsters from Stine's books. The main objective of the game is to survive a night in Stine's house itself and stay hidden from all of the monsters that are ready to pounce on you at any moment. Featuring Slappy the Dummy, Werewolves, Gnomes, and other iconic monsters from the books, the game is filled with traps and jump scares to chill your bones.
The only way to survive this game is to stay hidden, and while that may sound easy enough, you also need to solve puzzles and collect clues in order to escape from the house. This means avoiding monsters whenever you can, and running for your life if they find you and come after you. Featuring Jack Black as R L Stine's voice, the game is filled to the brim with scary content that is going to be even scarier if you play it on VR. As with any horror VR game, avoid playing this if you have epilepsy or a heart condition.
With over ten million downloads, Goosebumps Night of Scares is rated 4.1 out of 5 stars on Google Play Store.
7. Vanguard V VR
From ZeroTranform, an indie game developing company, comes the breathtaking Vanguard V VR, another VR game set in space, but this time in third-person. The first thing that strikes you when you play Vanguard V is the amazing graphics, filled with gorgeous otherworldly scenes that leave you in awe as you play the game, especially because of how much more amazing they look in VR. The story revolves around a parasite that has come to Earth from hundreds of light-years away, and that Qu, the main character of the story that the user place, with the help of her AI known as BiT, must eliminate from the world in order to save the human race from utter destruction at the hands of this parasite.
A truly innovative VR game, Vanguard V allows you to dive into the orbit of the Earth from way up in space and look at the brilliant scenery while also fighting space battles in order to exterminate the threat that this alien virus poses to the world. Not only is the gameplay amazing and really fun to play, ZeroTransform has left no stone unturned to make this game the best possible VR experience, and this reflects not only in the combat sequences but also in things such as voice acting and sound design. All of these elements combined make for a game that immerses you in it completely, and you shouldn't be surprised if you spend hours playing it without noticing the time going by.
With over one hundred thousand downloads, Vanguard V VR is rated 3.5 out of 5 stars on Google Play Store.
8. VR Maze
VR Maze is a game created by Evkar LTD, and the game is exactly what the name would suggest, a game of mazes in virtual reality. What makes the game unique, however, are the graphics, which look like they've been taken straight out of a surrealist painting made in the 1930s, with a stark contrast between the maze and the setting behind it. The game offers over fifty different mazes for you to figure out and finish, and the controls are very easy to learn. The ball, which is what you use to clear the maze, always moves forward, and in order to move the ball to clear the maze, you must simply tilt or shift your head in the direction you want the ball to move. The game gets progressively harder as you keep going up the levels, and this keeps things from getting boring since apart from clearing the mazes, there isn't much else to do in VR Maze. Apart from the fifty main mazes, there are also unlimited procedurally generated mazes, all of which are playable.
To make things interesting, the game adds diamonds in the middle of the maze that you must collect, and which will also affect your final score. These diamonds are intentionally placed in areas of the maze that do not lead to the exit, so in order to collect these diamonds, you must go to the wrong parts of the map, collect the diamonds, retrace your steps, and then move towards the exit. The game requires agility and control and is a fun little VR game for you to enjoy.
With over five hundred thousand downloads, VR Maze is rated 3.5 out of 5 stars on Google Play Store.