BlueStacks Roundups
Top 10 Non-Gaming Apps For Android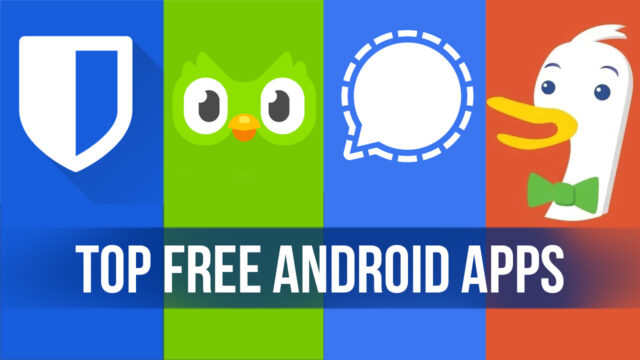 While video games are awesome and deserve all the praise and attention they get, Play Store has an almost unending list of non-gaming apps to offer to you as well. While a large majority of these apps may not be worthy of your attention, there are a few that we believe to be essential apps that should be on everyone's Android devices. Ranging from apps that ensure your privacy as you browse the internet or talk to your friends, to apps that help you learn new things on the go, here is a list of the 10 best non-gaming apps for Android.
1. DuckDuckGo (Free)
Created by Gabriel Weinberg and launched in 2008, DuckDuckGo, or DDG, is a web browser that emphasizes heavily on privacy and providing users with the search results they need without tracking their data. This is in stark comparison to other popular web browsers that aim to track users' data in order to provide them with personalized search results and advertisements. While many users across the globe enjoy and prefer personalization in terms of searches and ads, this practice of data tracking also raises questions of privacy and data protection. This is why, in order to provide an alternative to such browsers, DuckDuckGo was launched and has become increasingly popular.
While in its initial years DDG was very bare-bones, and without many of the features we've come to expect from browsers and search engines, such as auto-completion, and instant search results, it was still praised by critics for doing what the company said it would do: protect users privacy and data. Over the years, however, these features were added to the browser, and users could personalize some aspects of the search results, such as whether or not they wanted to see the page number on the search results page, whether they wanted region-specific results, changing the language in which they wanted the search results, and also safe search mode which filtered out any adult content, which is especially useful for parents whose kids have mobile devices.
In terms of search results, while DDG may not be as great as Google, the results the browser provides are still useful and get the job done more often than not. DuckDuckGo's searches and results are based on a compilation of several hundred sources, such as Yahoo! Search BOSS, Yandex, Wolfram Alpha, and its own crawler known as DuckDuckBot. Knowledge panels on the right side of your search results come from various crowdsourced websites such as Wikipedia, among others. The browser, keeping in line with its focus on user privacy, also allows you to use Tor, which is short for The Onion Router, along with the browser itself. This ensures complete end-to-end protection and fully anonymous searching for the user, and if you use DDG's encrypted homepage you also get complete end-to-end encryption.
With over ten million downloads, DuckDuckGo is rated 4.8 out of 5 stars on Google Play Store.
2. Feedly (Free)
It is becoming increasingly difficult to spend hours watching the news or reading it in order to keep up with the goings-on in the world. This cannot be avoided, however, since knowing what is happening in your locality and country, and the world in general is becoming more and more important. A good example of this is the spread of the Coronavirus and its many variants. It is now essential to our health and safety to keep up with news of the spread of the virus, the vaccination rates, and any potential lockdowns in the future. DevHD's Feedly is your best bet if you are looking to simplify this endeavor.
Feedly is a news aggregator app that allows you to customize your news feed and also personalize it according to your needs and wants. If you are an investor, for example, it is likely you would want to be instantly updated whenever there is any big news with relation to certain companies or the stock market in general. Or if you're a sports fan you'd like to be updated on the scores and the upcoming matches of the teams you root for. Feedly allows you to do all of this and more. Feedly also has a minimalistic user interface that keeps things neat and clean. You do not feel overwhelmed with the sheer volume of information present in front of you, and the reading experience feels smooth. The app also has a night-mode feature that allows you to stay updated and read the news even when you're in low lighting.
Feedly's information comes from a compilation of a host of different sources. The app works using RSS aggregation, meaning you can get information from any blog, website, or news source that uses RSS. Since RSS is an incredibly popular technology, this means you have tens of millions of sources of information at your fingertips, ready to be customized to your liking.
With over five million downloads, Feedly is rated 4.3 out of 5 stars on Google Play Store.
3. Signal (Free)
While DuckDuckGo provides security and end-to-end encryption in your internet searches and browsing, Signal provides this security and encryption in your instant messaging. As stated above, security and privacy have become primary concerns for users across the globe. Other instant messaging apps track your data and have several other security concerns, but Signal assures complete protection to its users. Just like any other instant messaging application, Signal allows you to video call and voice call your contacts, send and receive files and data, and also converse with multiple people at once in group chats. The app is cross-platform, meaning you can use Signal on your Android, or iOS device, as well as your desktop or laptop.
Messages as well as voice and video calls are sent and received through WiFi or data connection, meaning you have to pay no extra charges to use Signal, only whatever you pay for data. Calls can connect up to 40 people at once, which is excellent for conference calls or online meetings in case users cannot meet physically or must communicate something urgently. On Android, you can choose to make Signal your default SMS/MMS service, which would allow you to view both encrypted messages sent on Signal, as well as unencrypted messages sent to your phone number as an SMS or MMS, all in one app. You can also lock the Signal app itself using a pin, password, or fingerprint authentication. The app also allows you to set an automatic screen lock time, which will lock the Signal app after a certain period of unuse. This is especially useful if your phone is stolen or you're afraid of others snooping into your private messages.
Another essential and novel feature that Signal introduces is its disappearing messages. Users can set a timer for the messages they send, ranging from five seconds to one week, and once the recipient of the message has read or seen the message, the timer begins and the message disappears once the timer is up. In addition to this, Signal also allows users to blur the faces of people in pictures in order to protect their identities. Finally, Signal is also working on introducing a way to send and receive MobileCoin, a form of cryptocurrency, which will allow users to make monetary transactions through the app.
With over fifty million downloads, Signal is rated 4.5 out of 5 stars on Google Play Store.
4. DuoLingo (Free)
The benefits of learning a new language are known to all. Not only do you reap logistical benefits, such as being able to converse with new people, and being able to add it to your list of skills, research has also proven that learning a new language improves brain function, and, in a way, makes you smarter. However, if you live a fast-paced life in which you have little time to do anything apart from the most essential things, then learning a language can be extremely tough. This is not only because you need to make time to learn the language, but you also need to find time to study, practice and find someone to speak the language with. Doing all of this is very time and energy-consuming. This is where an app like DuoLingo comes in.
Duolingo is a free language learning app that allows you to learn and practice a new language on the go. You can put in as much or as little time as you want, it all depends on you. DuoLingo also makes learning a new language extremely simple and keeps you motivated throughout your process of learning it. The lessons in the app are structured in such a way to make learning even the most difficult languages easy for beginners. Speaking of languages, DuoLingo offers over 30 different languages for you to learn. These include English, Spanish, French, German, Mandarin, Dutch, Hindi, Hebrew, and many more. In fact, you can also use the app to learn fictional languages such as High Valyrian and Klingon, from A Song of Ice and Fire and Star Trek respectively!
The app has an XP system that makes learning languages a lot more fun and competitive. You can compare your progress to that of your friends and even find yourself on the global leaderboard if you are consistent with your language learning. DuoLingo uses a variety of learning methods in order to augment your language learning, such as listening to a particular word's pronunciation, recording your own voice to see if it matches the word you are trying to pronounce, reading out sentences, matching images with their corresponding words, arranging a list of words to form a sentence, and many others. DuoLingo also emphasizes going over what you have previously learned in order to strengthen your hold over the language and to get the basics down properly so that you can progress to the tougher aspects of the language you're learning. This is especially helpful if you are learning a completely new language that shares little to no similarities to your mother tongue.
With over a hundred million downloads, DuoLingo is rated 4.5 out of 5 stars on Google Play Store.
5. Clue (Free)
Created by BioWink GmbH, Clue is an app that tracks menstrual cycles and lets you know accurately when your next period will be. The app came out of a need to make female reproductive health less taboo, and to normalize it all over the world. Due to the overly secretive way in which periods and the menstrual health of women, in general, is spoken of across the world, women often don't find the resources to aid them during their periods. Clue changes this. The app tracks your period cycles predicts when you will have your next period, along with other things such as ovulation, PMS, etc. The app stores all this information so that you can have a ready record of your menstrual cycles in case you need to visit a doctor regarding it. Apart from this, the app also lets you track your flow, mood, and other variables so that you have in-depth information regarding your periods and can predict when the next three cycles will take place and find other patterns in your cycle. This helps to predict symptoms such as cramps, mood changes, headaches, body aches, etc. The app also informs you about your ovulation so that you can track and predict your days of fertility.
You can also input your birth control information into Clue and the app will send you regular reminders to take your birth control so that you never miss a dose. The app also has a science section in which you can read and learn about menstrual and sexual health and expand your knowledge of your own body. If you are pregnant, Clue also helps you track your pregnancy, bringing you helpful and relevant content for each trimester so that you can take care of yourself and your baby as best as possible. You can customize your trackers and prioritize which symptoms you want to track and which ones you don't. You also get a detailed analysis of health trends over a particular period of time which can help you keep your body in check, letting you know when it is necessary to visit a doctor. The app's user interface is clean, minimalistic, and easy to use, and Clue's inclusive language helps make it accessible to a large population of people who menstruate.
With over ten million downloads, Clue is rated 4.4 out of 5 stars on Google Play Store.
6. Adobe Lightroom (Free)
Similar to Adobe Photoshop, Adobe Lightroom is photo-editing software that is available for Android, iOS, Mac, and Windows. One of the main differences between Photoshop and Lightroom, however, is that the former alters the original image and changes it to whatever the editor wants, while the latter saves the edited version of the image as a new file, and keeps the original image intact. Given how many devices it is compatible with, Lightroom is excellent for those who work on the go and don't always have access to their laptops or desktops. The mobile app works just as well (albeit with some changes which are to be expected due to platform limitations), meaning you can edit your images using the same features on both your PC and mobile phone.
Lightroom is a very intuitive app, and you don't need to rack your brains to learn how to edit a picture satisfactorily. You can tap and slide the various sliders available to you to edit your image, be it to retouch the image, to increase or decrease the contrast or brightness, or to add a filter to your image in order to change how it looks. Speaking of filters, Lightroom also allows you to create your own presets which can be accessed easily in the app. This option lets you edit your images using your distinct style, and you don't have to go through the same editing process over and over again since the preset will do it for you. If you're not sure you want to create your own presets, worry not! Lightroom has over 150 presets ready and available for you when you use the app. This makes the editing process a lot easier, especially if you are new and don't know your way around. For new editors Lightroom also offers detailed tutorials that you can use to learn how to edit an image the right way. These guided tutorials help you learn what the different options do and what you need to do in order to make your images look stunning.
Finally, Adobe Lightroom also has a Pro Camera feature which allows you to adjust exposure, timer, instant presets, and other options in order to unlock the full capacity of your camera. There are also modes such as Professional and HDR available to you that will definitely help enhance your photography skills.
With over one hundred million downloads, Adobe Lightroom is rated 4.2 out of 5 stars on Google Play Store.
7. Asana (Free)
Asana is a productivity app, as opposed to a yoga app as the name might suggest. Created by Dustin Moskovitz, one of the co-founders of Facebook, and Justin Rosenstein, Asana aims to aid companies and their employees organize the work they need to do in order to make things clear for everyone and increase the productivity of everyone involved. Asana works on both mobile and web browsers, meaning you can use it on your phone as well as your laptop or PC, allowing you to add or delete tasks wherever you are, using whichever device is more convenient.
In order to use Asana, you must set up different tasks for you and your co-workers to finish. You can also add larger goals, such as "Finish New App", under which you can add all of the tasks that need to be done in order to accomplish this goal. Finishing tasks under a larger goal helps to propel the completion meter forward, and employees can track their progress to see what percentage of a particular goal has been accomplished and how much is left to do. Individually, you can see all of the tasks assigned to you in one place and you can choose how you want to prioritize each task. The app also allows you to create your own checklist in order to make things easy for you. Asana also prioritizes communication between team members so that no task is left undone and everyone is clear on how to proceed further. You can comment, like, and add files to a teammate's tasks, and you also get regular inbox updates on tasks, both yours and your team members.
With over one million downloads, Asana is rated 4.3 out of 5 stars on Google Play Store.
8. Khan Academy (Free)
Next on our list of the best non-gaming apps for Android is an educational tool that is useful not just for children but for people of all ages trying to learn new things using their mobile devices. Khan Academy is a website and mobile app created by Sal Khan that aids people of all ages in learning and educating themselves. Created with the goal of helping students using online tools of learning, Khan Academy has grown immensely popular since it was first launched in 2008. With over 10,000 video lessons, Khan Academy has information and instructional videos on a vast variety of subjects, ranging from Math and Science to Social Science and Language. The app is also available in many different languages such as English, German, Portuguese, French, Bangla, Uzbek, Turkish, and many others.
The app also offers test preparation tools for several high-level exams and tests such as the SATs, LSATs, and MCATs. Reports also suggest that studying for the SAT on Khan Academy for 20 hours is associated with a 115-point increase in test scores. The app also offers over 40,000 different tests, many of them interactive, in order to aid students' learning and to help them understand concepts more clearly, using audio-visual techniques and many other such learning forms. The app also allows you to bookmark, save, and download content for later in case you don't have a stable internet connection or are looking to study at a time when you may not have access to the internet. Overall, Khan Academy is an excellent tool for students of any age to supplement their in-person learning.
With over ten million downloads, Khan Academy is rated 4.4 out of 5 stars on Google Play Store.
9. Sketchbook (Free)
Art is becoming increasingly democratic due to it becoming increasingly online. Now, with a little help from the internet, anyone can make art, which has allowed budding artists worldwide to become more and more creative and showcase their art online. With the rise of NFTs or Non-Fungible Tokens, ownership of art is also slowly transferring to online mediums, meaning that it is likely that in the future a considerable amount of art will be made and sold online. In this scenario, what is a traditional pen-and-paper artist to do? How do you shift from pen and paper to virtual without spending several hours trying to learn virtual art or without investing in a graphic tablet? Sketchbook is the answer to these questions.
Sketchbook is an app that allows you to make art on your mobile or tablet device using your fingers or a stylus, as you may do with a dedicated graphics tablet. The app has a whole host of features that will allow you to draw on your device as you may on actual paper, and the user interface is such that the transition from the real to the virtual will be barely noticeable. For instance, Sketchbook has many different brushes, pencils, markers, and other such instrument types that you may need to create the drawing or sketch you want. All of these options are completely customizable so that you get just the effect you want on the screen.
Apart from these instruments, you also have several tools to help you while you draw on-screen, such as rulers, guides, and other precision tools that will keep you from making mistakes. In case you do make errors it is easy to remove them and go back so that you can have another go. The layer option allows you to work on different layers of the drawing or sketch at once, such as the background, the focused objects, and the secondary or tertiary objects. This feature helps you pay full and complete attention to each element of the drawing so that, once they're put together, none of the elements feel lacking in detail.
In terms of the user interface, Sketchbook is very easy to learn how to use. Your drawing surface is big and wide, and the various options available to you aren't clogging up the screen. You can mix and match colors easily and without hassle to get as accurate a shade as you require, and you can also zoom into any part of the canvas to work on your artwork in a more detailed manner. Sketchbook also offers many things that traditional art forms cannot, such as the ability to pick and drop colors, add text in different fonts to your artwork, crop your image, and several other such options.
With over fifty million downloads, Sketchbook is rated 3.6 out of 5 stars on Google Play Store.
10. Bitwarden Password Manager (Free)
In this article, we've focused a lot on safety and security, and for very good reason. Cybercrimes don't seem to be slowing down, and now you also have to worry about big corporations pilfering your data and using it to sell as many products as possible. Focusing on the former though, cybercrimes often happen because users set incredibly easy passwords for their accounts that could be guessed by anyone. One of the main reasons for setting such easy passwords is convenience, and also because they're not very hard to remember. However, prioritizing convenience over security could be the difference between your account being safe and your account being hacked into. If you're worried about forgetting your passwords and being permanently logged out of an account, Bitwarden Password Manager is the app for you.
Released in 2016, Bitwarden Password Manager is a free, open-source software that can be used not only on your mobile phone and PC device but also as a web interface and browser extension. Having so many different client applications means you can be safe and secure no matter what device you're using. As is probably apparent from the name of the app, Bitwarden Password Manager helps store the various passwords you have for different websites and apps all in one place, so that you only need to remember the password for the Bitwarden app itself, and the rest of the passwords can be as complicated as you want to ensure maximum security. Bitwarden also helps you generate high-level, secure passwords. In case you want to create a password of your own, Bitwarden helps you see how strong the password is by checking the strength meter of the password. You also have the option of saving your credit card details and other passwords, all of which will be encrypted end-to-end, for ease of use. The app also has the option to unlock using biometrics if you're looking for that extra bit of security.
With over one million downloads, Bitwarden Password Manager is rated 4.3 out of 5 stars on Google Play Store.
Since you read our Non- Gaming apps list here, you might also like our collection on the 10 best video editing apps available for Android right now.