BlueStacks Roundups
7 Breathtaking Mythology Games to Play on Your PC with BlueStacks in 2021

Quietly and slowly, the darkness is awakening and humanity is on the verge of extinction. Now, the task of saving the world has fallen into your hands. Fall into the stunning backdrop of a mythical era with some of the best mythology Android games on your PC and MAC with BlueStacks and prove your strength by using your immortal power to crush your enemies. Mythology games are one of the top grossers in the online gaming community and are loved by people from almost every age group.
We at BlueStacks bring you some of the most loved Android mythology games that you could try out on PC and have an immersive experience. These games are sure to give you an in-depth experience of the world filled with demi-gods, evil Gods and Goddesses, oracles of the ancient Greek and Rome. Be the Hero to take on everything that crosses your path to victory and live the mythology in real life. Download them, and feel the power of the ancient world running in your veins.
1. ROG- Rage of Gods (Free to Play)
The world of gaming was thrilled with the introduction of ROG- Rage of Gods. The game was introduced by one of the most prominent gaming firms, EFUN Company Ltd. The angels were cast out of heaven and evil was released from its shackles. Now the land of Gods is under heavy threat and you are the only hope to save it. ROG consists of a couple of character classes with special powers and abilities, including assassin, warrior, mages, etc. The game holds some of the most astonishing graphics that are complimented by several ranges of gaming modes. You could grind all day and play the game in offline mode if you lack internet connection.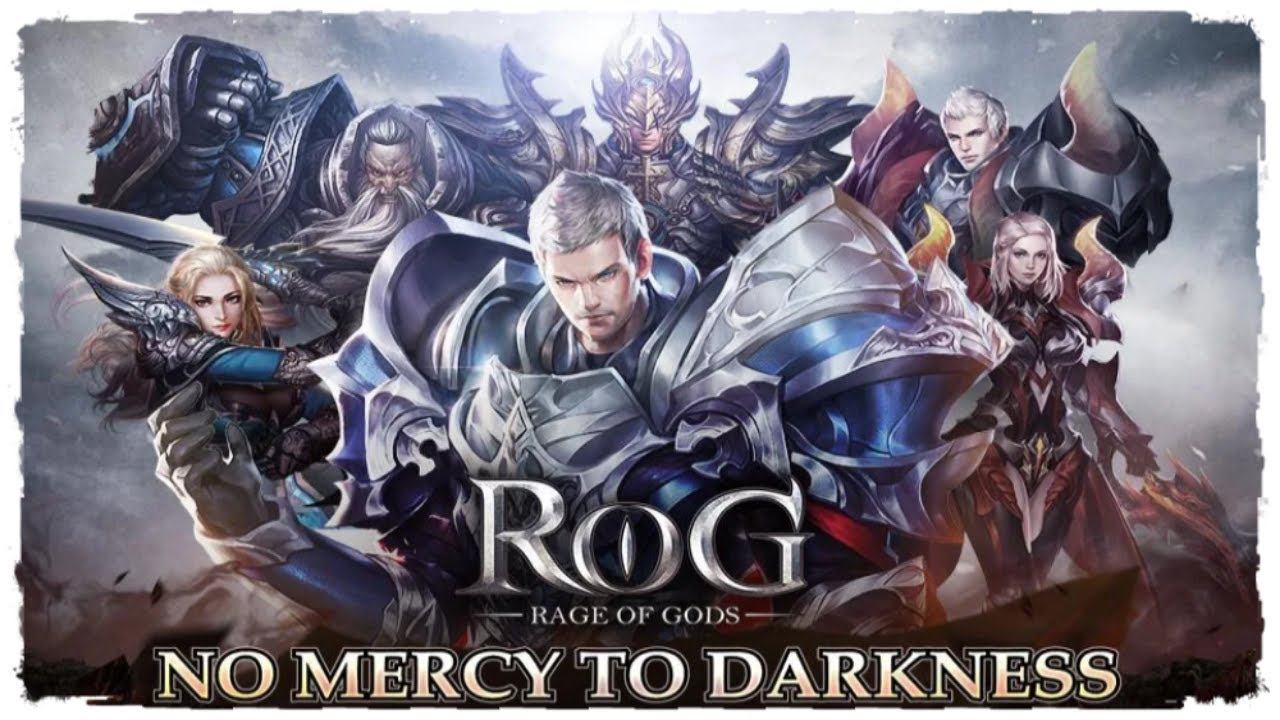 Remember all you are required to do is make your character stronger in the game, just get the best gears possible, raise the bar of your skill set and level up by using the power of Gods. Play ROG- Rage of Gods on PC with the help of BlueStacks as the emulator and get better graphics and audio to have an alleviated experience.
2. SMITE Blitz (Free to Play)
As soon as people who are fond of virtual gaming got to know about SMITE Blitz they have been eagerly waiting for its release. However, it has only been launched in a few countries including USA, Sweden, Canada, Netherlands, Norway, UK, Denmark and Finland by Hi-Rez studios. The game gives you the feel of the ancient kingdom when gods and titans roamed the earth. Gather a group of Gods from different mythologies and save the Queen of Gods as Loki has kidnapped her for his evil plans. Enemies are everywhere in the game.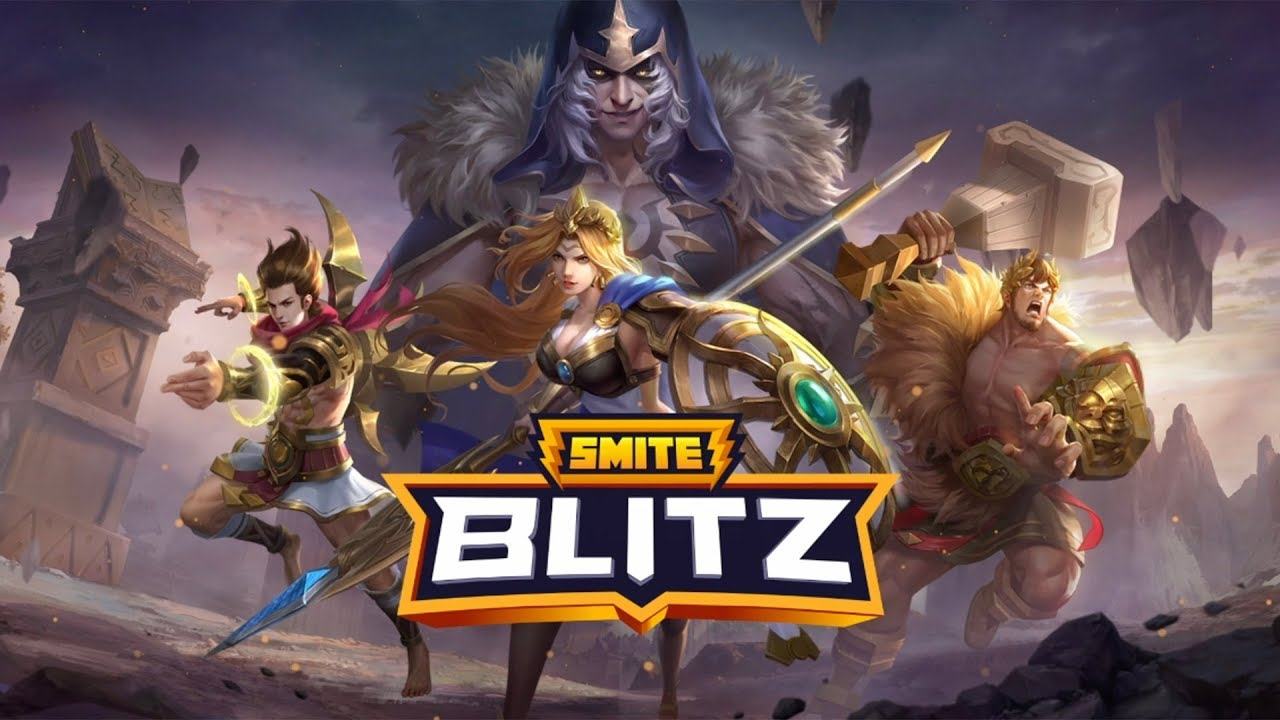 The graphics and sound will surely sweep you off your feet, giving you an vibe you have never experienced. You can download and play SMITE Blitz on PC with the help of BlueStacks and get better audio and visuals on a better hardware.
3. Dawn of Titans (Free to Play)
Do you like titans? Well, who doesn't?! If you are one who likes those crazy monsters and their powers then, here's an amazing game for you. Dawn of Titans is a War Strategy RPG, which is by Natural Motion Games. Dawn of Titans is a stunning 3D war game where you can battle with other players online and take your gaming skills to a global platform. You can also form alliances with other players and friends to complete new challenges.
This game is featured as an Editor's Choice on Google Play so you can expect some top-notch quality from this game. It is also a winner of the IMGA Award for Best Technical Achievement and Game Artist of the Year.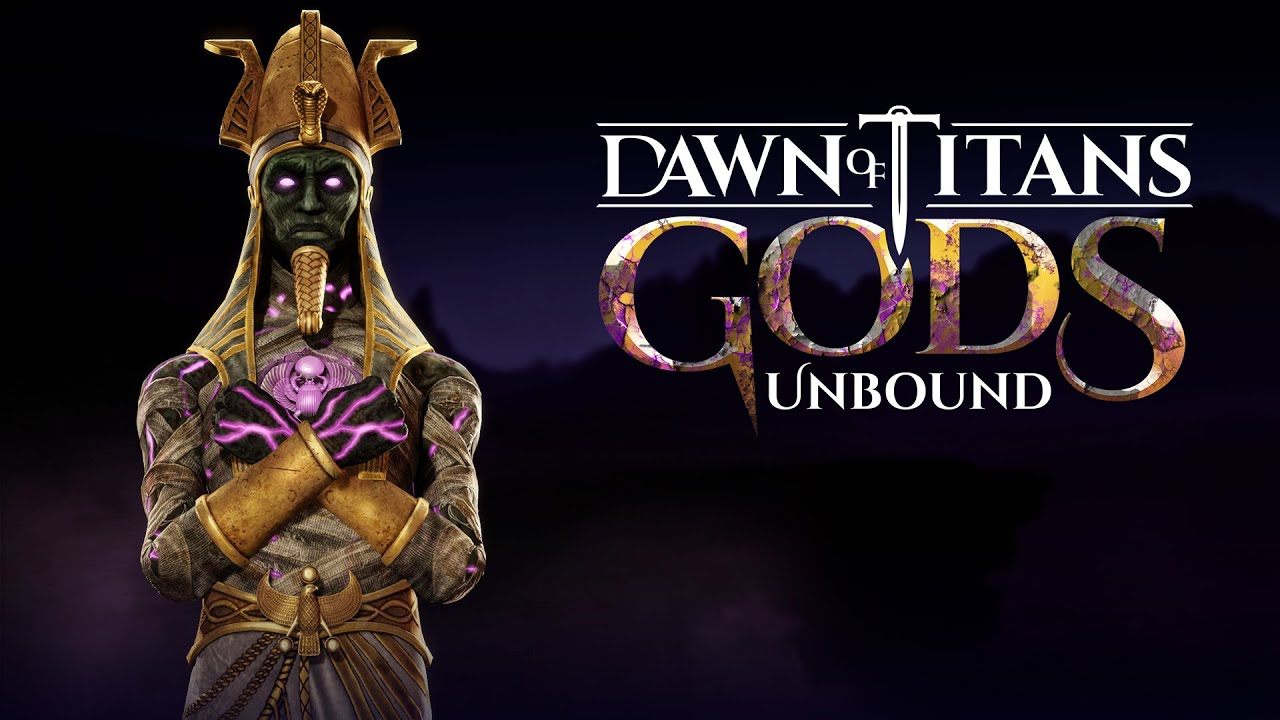 You have to lead your own army against an army of your enemy. The gameplay lets you effectively control every aspect of battle like attack, defense and spells which makes strategizing more fun, immersive, and captivating. As you move forward, you need to upgrade your soldiers, your village and get higher ranked soldiers in your units who have specific functions to perform. Controls and gameplay are really easy to understand, all you need to do is select your troops and the area you want to defend or attack on the battlefield. The graphics are really well done and the character movements certainly makes the game much more interesting to play.
The best part of this game is that it offers a lot of content every week for players to enjoy. Although the game is free to play, the game offers various in-app purchases. If you really like playing strategy games with complete control over battle strategies, Dawn of Titans offers it all. Go, conquer and build your ultimate fantasy land!
4. Titan Quest (Play it for $7.99)
Titan Quest is a paid hack and slash game available on Android. It was released originally for PC back in 2006 and was offered by Handy Games. Titan Quest is a game set in the backdrop of Greek mythology where the Titans and Gods of Olympus were in a constant battle for power over the land of Greece. After seeing immense popularity, it was released on Android phones with specially adapted features.
Titan Quest is an RPG game which takes the player through ancient civilizations like Greece, Babylon, China and Egypt. The player gets to experience their favourite ancient civilizations and fight against many legendary creatures!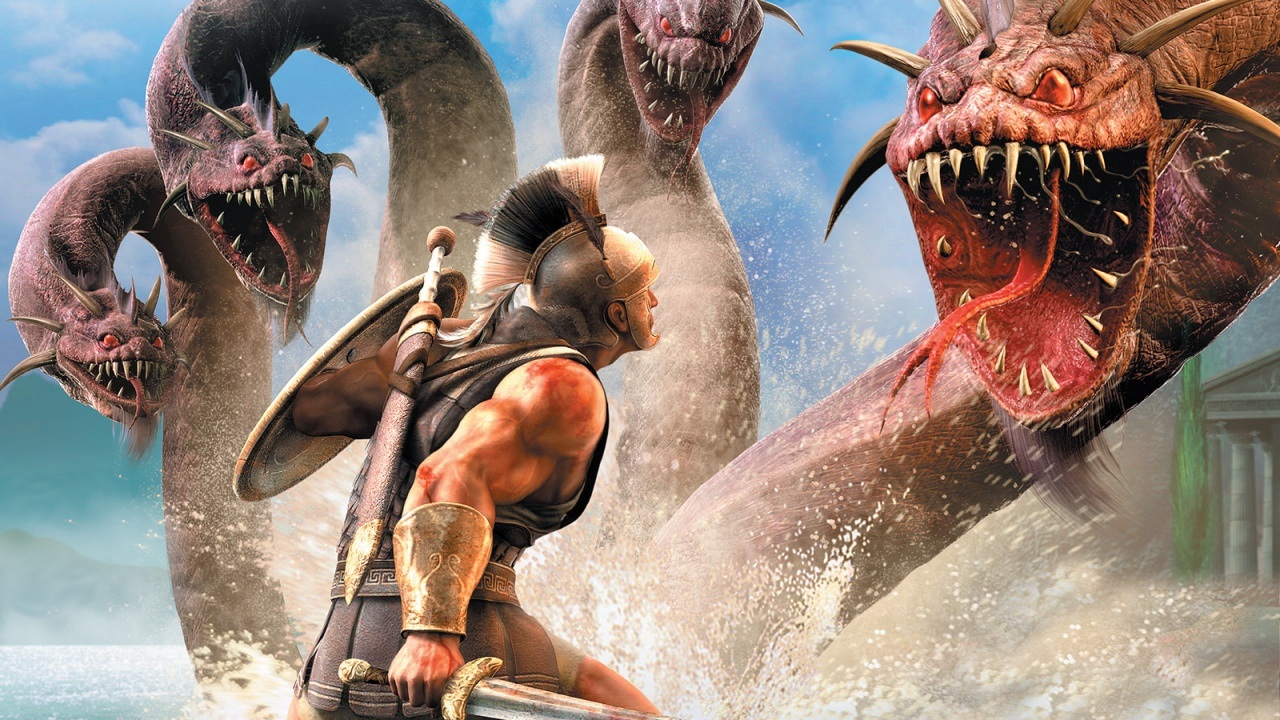 The game has very simple and intuitive controls with an engaging interface for players to enjoy. Coming to the gameplay, it's a third person, RPG, action-adventure game having more than 60 hours of playtime. The graphics are really admirable which is obvious considering its past popularity. The gameplay is energizing, fast paced and with intense rhythm. The game also offers a rich world with a lot of creatures, characters and ancient settings. As of now, the game also offers you three DLCs as in-app purchases providing you a more immersive experience.
If you are someone who is interested in playing an immersive game with a good story and enjoy such mythological settings, this game is perfect for you. Download and play the Titan Quest on PC with the BlueStacks if you want to enjoy the game with better graphics and superior audio.
5. Age of Myth Genesis (Free to Play)
Age of Myth Genesis is an online, strategic game where you grow your city based on an ancient Rome war setting. Your goal is to expand and make your city stronger. Age of Myths Genesis is primarily a town building game which has battle strategizing elements to it too. The game is by Barley Games and they have done a good job in designing it.
It is an online, town building and strategy game where you grow your city and make your army stronger, and fight other players online. The game is based in ancient Rome and naturally borrows many elements from there. The game gives you enough content to keep you engaged and invested in it. The game interface is a standard one which comes in many town building and war strategy games but has a very clean look to it. By the way, if you like playing games with gods and goddesses then, do check our blog on this game now.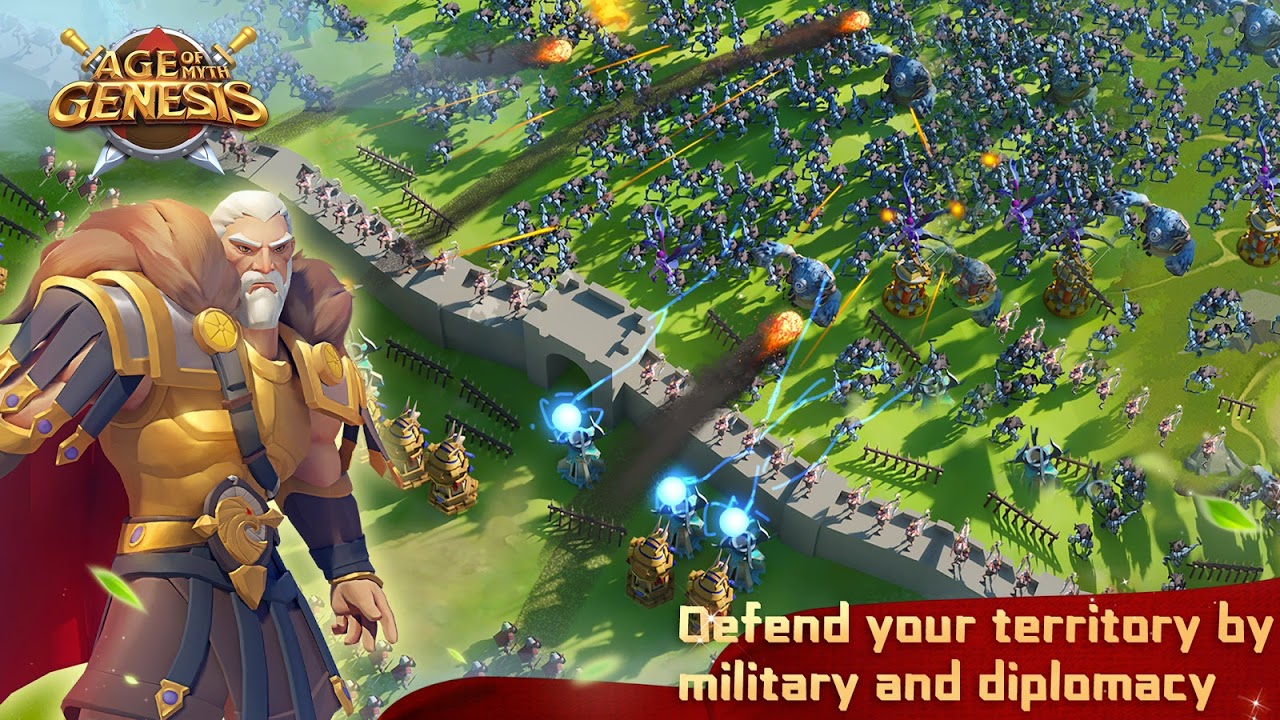 The gameplay, controls and upgrading system is really easy to understand and offers a pleasant experience to the players. The biggest advantage of this game is that the building and upgrading are well balanced and don't make your wait days to upgrade a single building.
Overall, the game looks good, has enough content to keep you entertained. If you are into some casual town building and war strategy games, Age of Myth Genesis will not disappoint you.
6. Dark Awakening: Olympus War (Free to Play)
Almost a myriad of days have passed since Zeus, King of gods of Mount Olympus has won the throne with the help of the pantheon by overthrowing the King of Titans, Chronos, who also happens to be Zeus' father. However, the God of Mischief, Loki has once again escaped from the temporal plane (A location far away from Asgard) in an attempt to bring upon the second Ragnarök. Now, the fate of Ragnarök depends on you.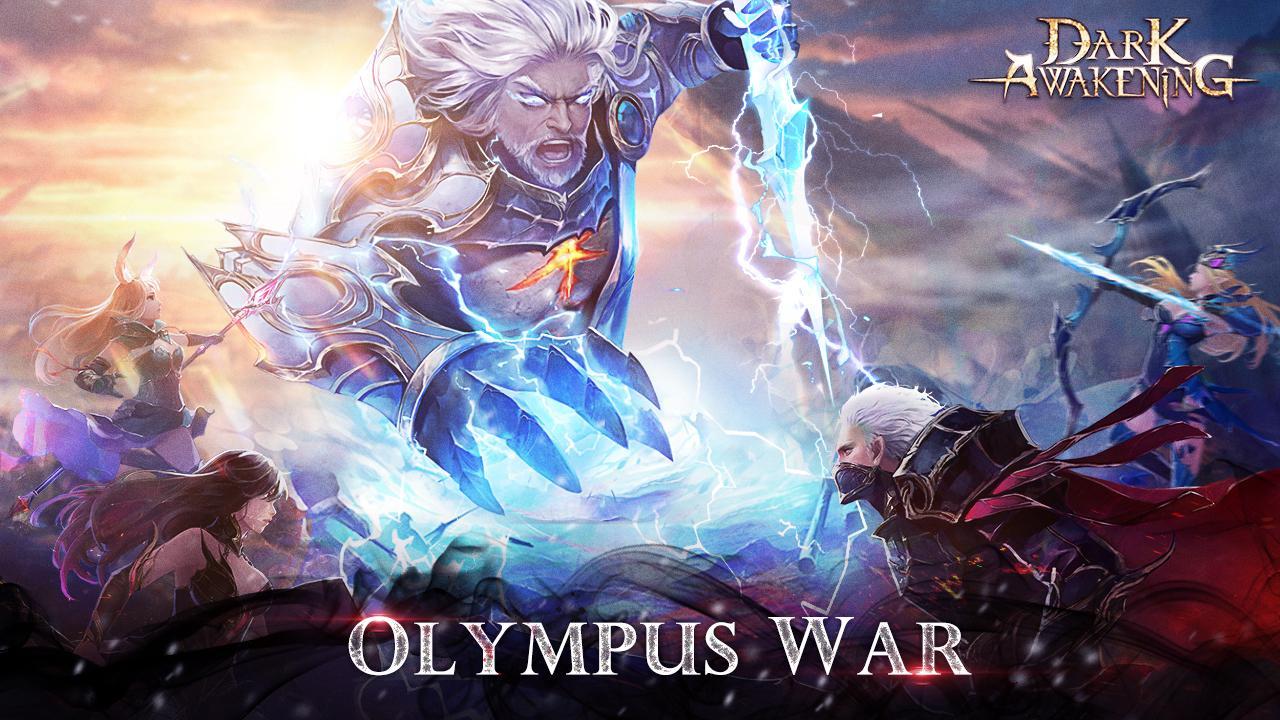 In Dark Awakening: Olympus War you have to fight the villains, boost your power, challenge every obstacle that comes on your way and who knows, you might end up leaving a footprint which would be followed by other heroes who would die to reciprocate your achievements. If one of your childhood fantasies was to save the world from a threatening future then, now is the time to turn your fantasy into reality.
7. Olympus Rising (Free to Play)
Survival and defense have always been a challenging genre for gamers. Olympus Rising is an exciting journey, literally from ash to sky launched by Flare Games. In one of the very early episodes, Mount Olympus gets trashed due to a rebellion out of jealousy against the King of Gods, Zeus, by his brother, the God of Death, Hades. Throughout the game, you have to restore everything that is lost in Mount Olympus, starting from a single house to a whole of a new region by using workers and resources to restore with the latest upgrade.
If you're really looking to set your foot towards a target with your army then, this game is truly for you. Although you need to show a lot of patience to reach your final destination through various levels, the journey itself won't bring boredom. The challenges that you will face throughout the game are going to keep you on your seat's edge making you grind for every step you try to take towards victory.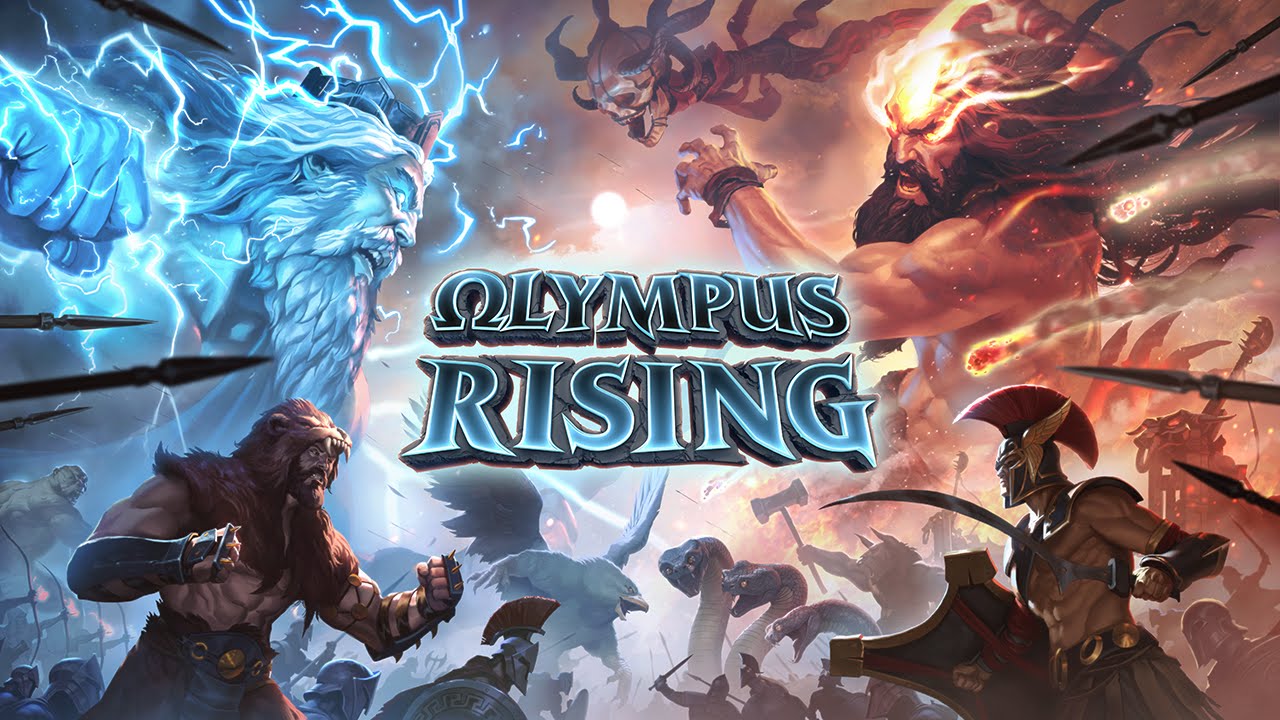 Playing Android mythology games on your PC is surely one of the best experiences that you could get. These mythology games are sure to bring the age of mythical creatures in front of you, giving you the chance to battle it out and become the hero of ancient Greece and Rome. Download all of them on BlueStacks and get an experience like never before.