Game Guides
Animal Crossing: Pocket Camp – The Best Tips and Tricks For Getting Started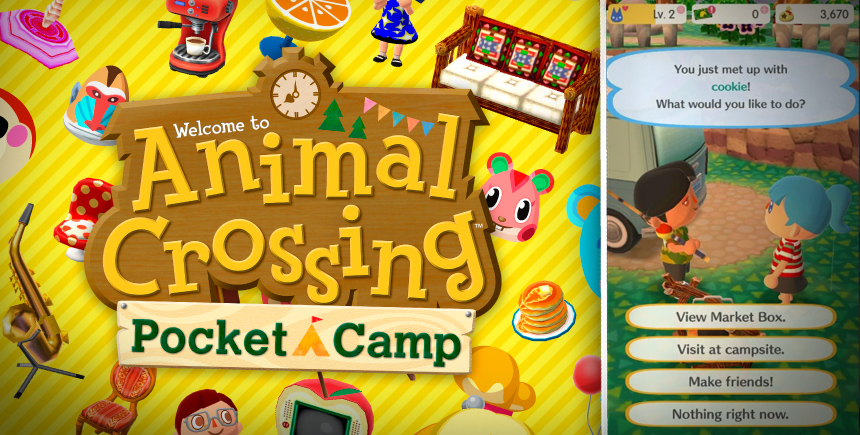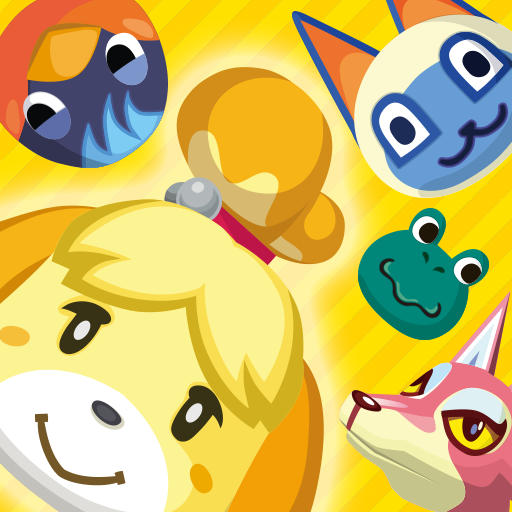 The tons of love that Animal Crossing: New Horizons for the Nintendo Switch is getting is definitely seeping to other AC games, including Pocket Camp. It seems that the audience of gamers, not content to just playing just New Horizons, is also coming back to Pocket Camp in droves in order to partake of everything this game has to offer. However, unlike the other games in the series, the mobile version of Animal Crossing has quite a unique gameplay loop.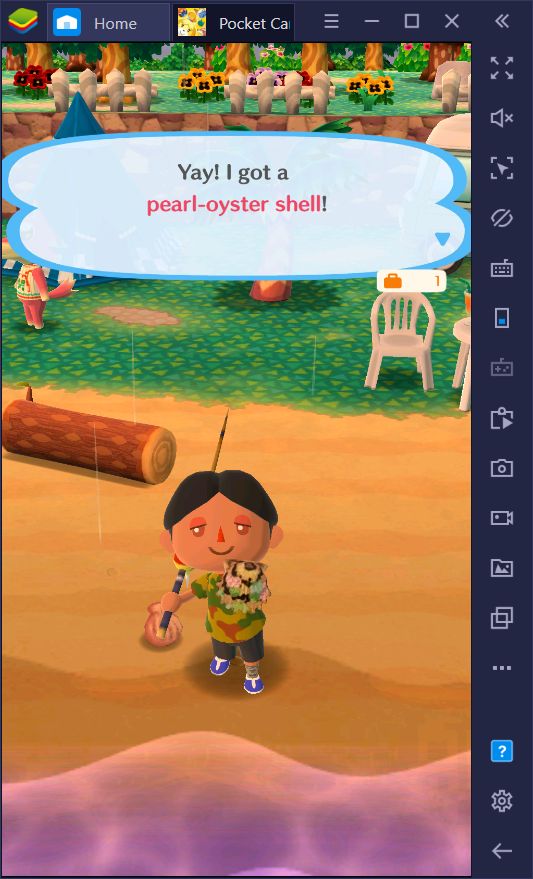 While retaining the same art style and general gameplay feel, Animal Crossing: Pocket Camp is much more straightforward in its objectives. While the player has plenty of freedom to do whatever they want after completing the tutorial, there are specific quests, goals, and objectives that must be completed in order to proceed. Furthermore, there are numerous daily tasks that anyone can complete to score extra loot. In other words, Pocket Camp is, without a doubt, a mobile game.
In the spirit of helping out newcomers and veterans alike, we've decided to create a useful guide with numerous tips and tricks that you can use to progress in Animal Crossing: Pocket Camp.
1. Enjoy Animal Crossing on Your PC
First and foremost, while Pocket Camp is quite comfy to play on your phone, it doesn't hold a candle to the comfort and versatility of enjoying Animal Crossing on PC. With BlueStacks, you can install this game and play it on your PC, using your superior hardware to achieve peak performance, and with significantly better controls thanks to your mouse and keyboard. Moreover, our Android emulator also has plenty of other tools to streamline your experience with Pocket Camp, including the Keymapping Tool, and the Instance Manager, among others.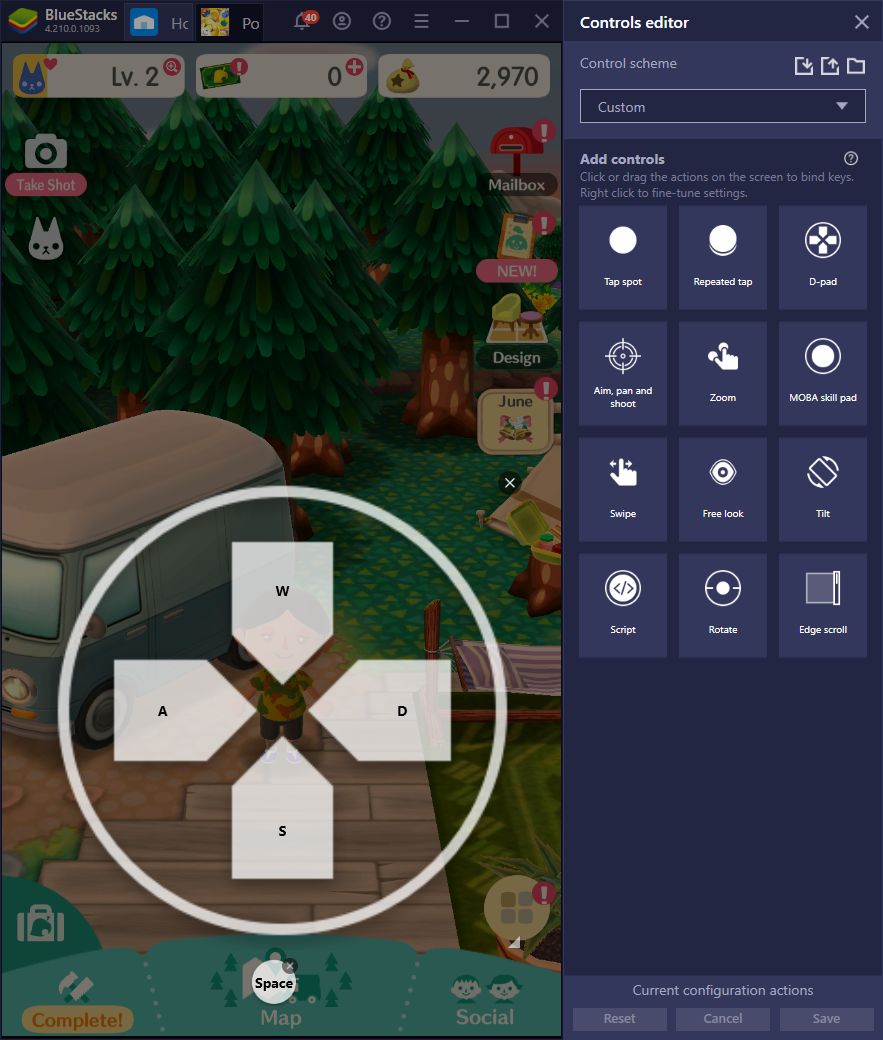 Installing Animal Crossing on PC is quite easy and only takes a few clicks. If you want to learn how to do this, feel free to read up the guide we have written on the topic, which you can find in our blog.
2. Farm Those Villager Requests Multiple Times a Day
As you travel around the different recreational zones in your Camper, you will meet many different Villagers wandering around. These characters offer a bit of dialog, as well as three different requests that you can complete for them in exchange for certain rewards. It's important to complete these Villager requests since it's the only way of increasing the friendship level with the corresponding character, as well as farming player experience in order to level up and unlock more crafting recipes. Moreover, these requests also give plenty of crafting materials, which you'll definitely need later on.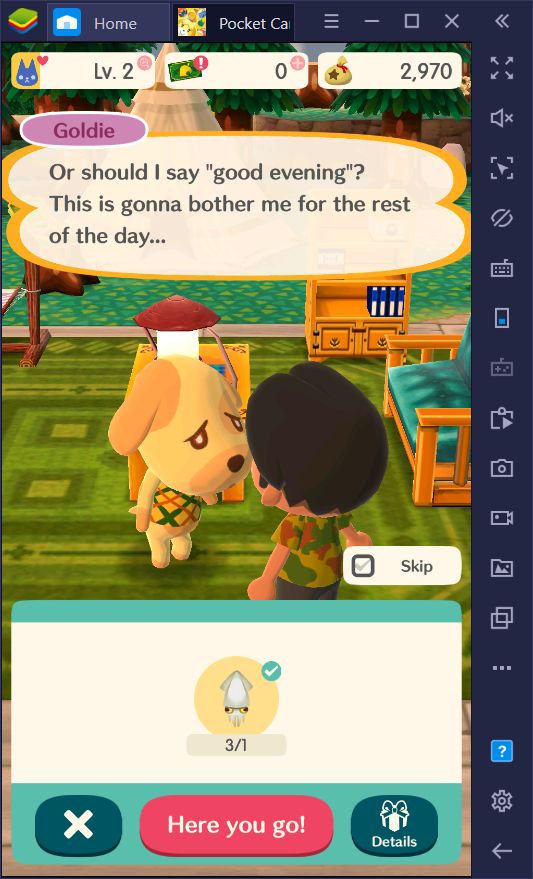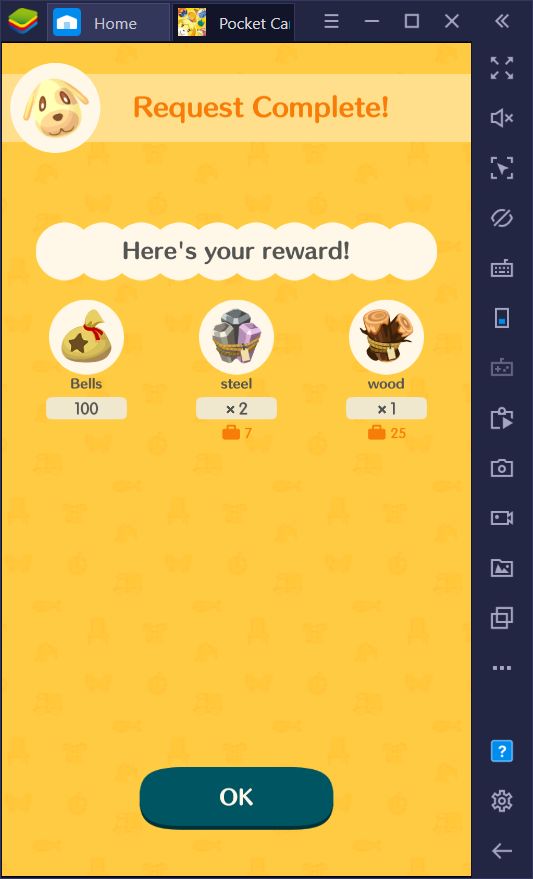 The Villagers in Animal Crossing stay in one place for a three hours before leaving, after which others will take their place. Make sure to talk with them and complete their requests before they leave as this is the key to getting started in Animal Crossing: Pocket Camp. The objective here is to come back, ideally, every three hours to chat with Villagers and complete their requests. However, if you can manage to play at least twice per day, you'll be fine.
3. Keep a Varied Campsite Population
Once you increase your friendship level with a Villager to a specific point, you can ask them to move into your campsite permanently, or until you decide to replace them. However, before inviting the first Villagers you befriend over to your camp, keep in mind their species and type. This is because, whenever you complete requests for them, they will reward certain materials as a bonus depending on their species. In this sense, having too many similar animals in the camp will make you have a surplus of certain materials and not enough of others.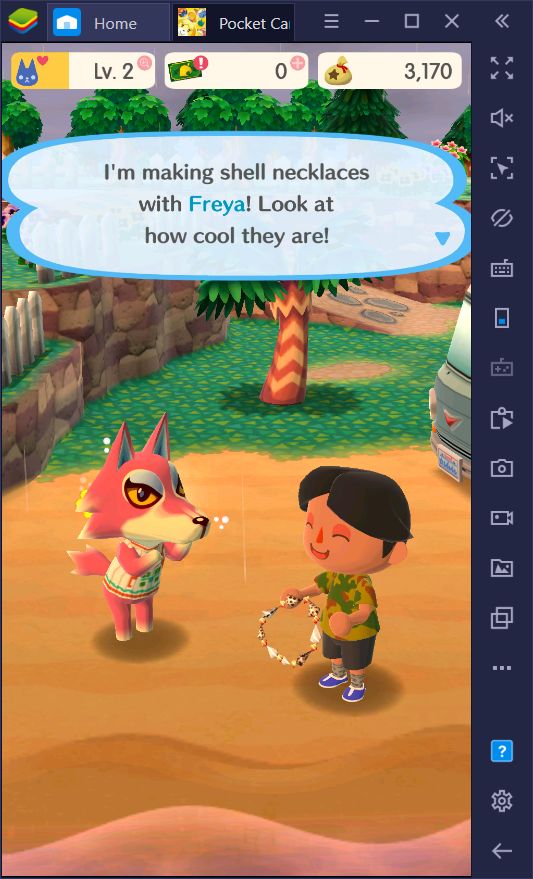 In our guide on the Animal Crossing Villagers, we explained the different species of characters in this game as well as the specific materials that each of these can give when completing their requests.
4. Catch Every Single Fish and Insect You Come Across
A good habit in Pocket Camp is to interact with everything you find in the world, including fishes and bugs. If you see a shadow in the water nearby, click on it to have your character fish for it. Similarly, if you see an insect flying by or on a tree trunk, try to catch it.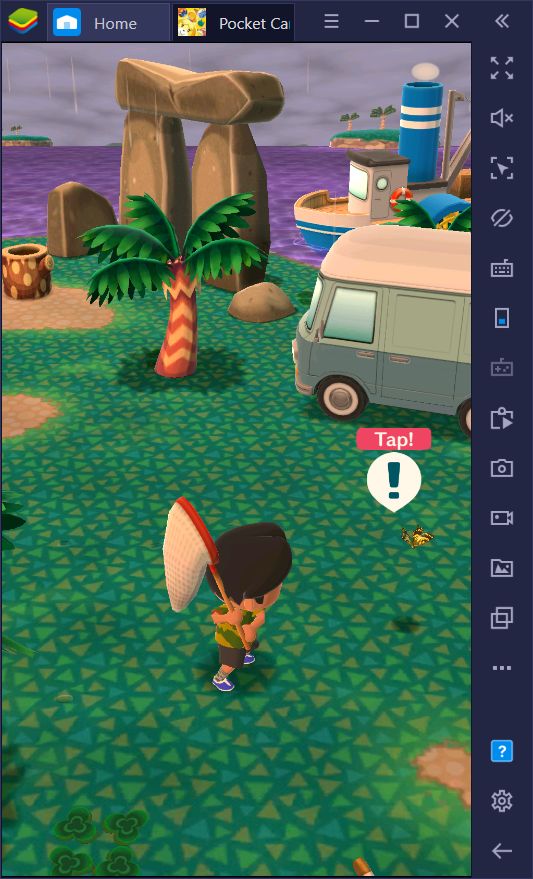 While these bugs and fishes don't have much use on their own, most of them are part of certain Villager Requests. If you catch every single bug and fish you come across, there's a good chance that you'll already have the materials on hand to turn them in and reap those sweet rewards.
5. Stay on Top of Your Stretch Goals and Timed Goals
While you're free to do whatever you want after finishing the tutorial in Animal Crossing: Pocket Camp, you have a series of goals that you can work to complete. These tasks are called the Stretch Goals and the Timed Goals, with the former being static challenges that never change, and the latter being limited tasks that expire after some time.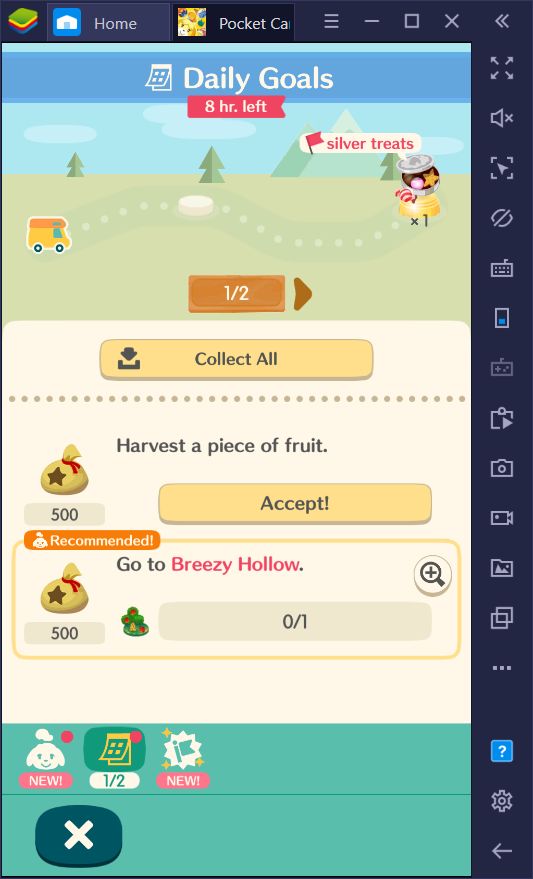 These Goals are the closest that this game will come to giving you a specific objective. The daily quests, in particular, are quite important since they give some great rewards. Meanwhile, the Stretch Goals are permanent and can be completed at your leisure, and also give good prizes.
6. Add Lots of Friends to Your List
Some of the challenges and game modes in Animal Crossing: Pocket Camp depend on having active friends. For instance, the Shovelstrike Quarry is a zone in which you can farm lots of crafting materials and bells. However, it requires a whopping 20 Leaf Tickets every time you want to access it. Luckily, if you have at least 5 friends, you can get in for free and farm to your heart's content.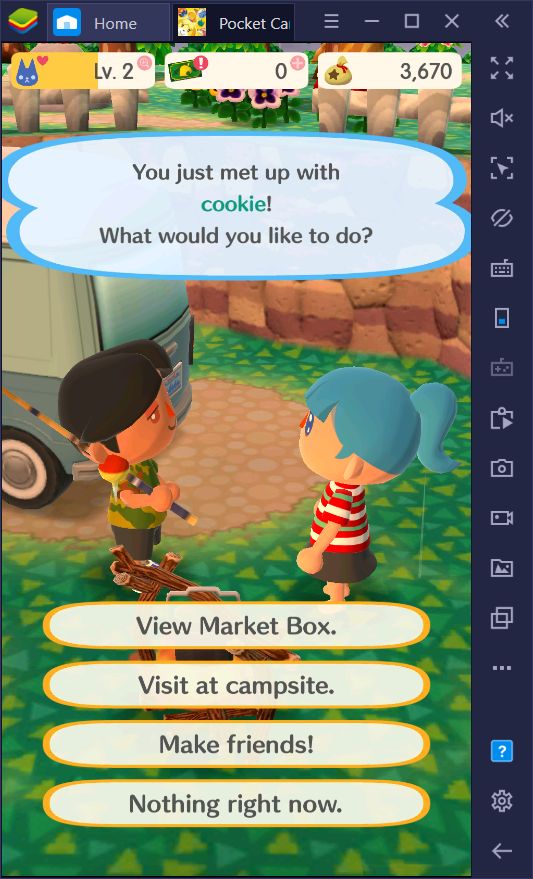 The friends' help request in the Quarry refreshes every 24 hours, which means that you can only access it for free with friends once per day. Nevertheless, this is something you'll never want to pass up as the rewards from gathering here are quite significant. So get out there are start making some friends!
Playing Animal Crossing on PC is some of the most fun we've had with BlueStacks. With the tips and tricks in this guide, we're now ready to take our game to the next level and start leveling up our character!