Game Guides
Asphalt 9: Legends – The Absolute Best Cars for Each Class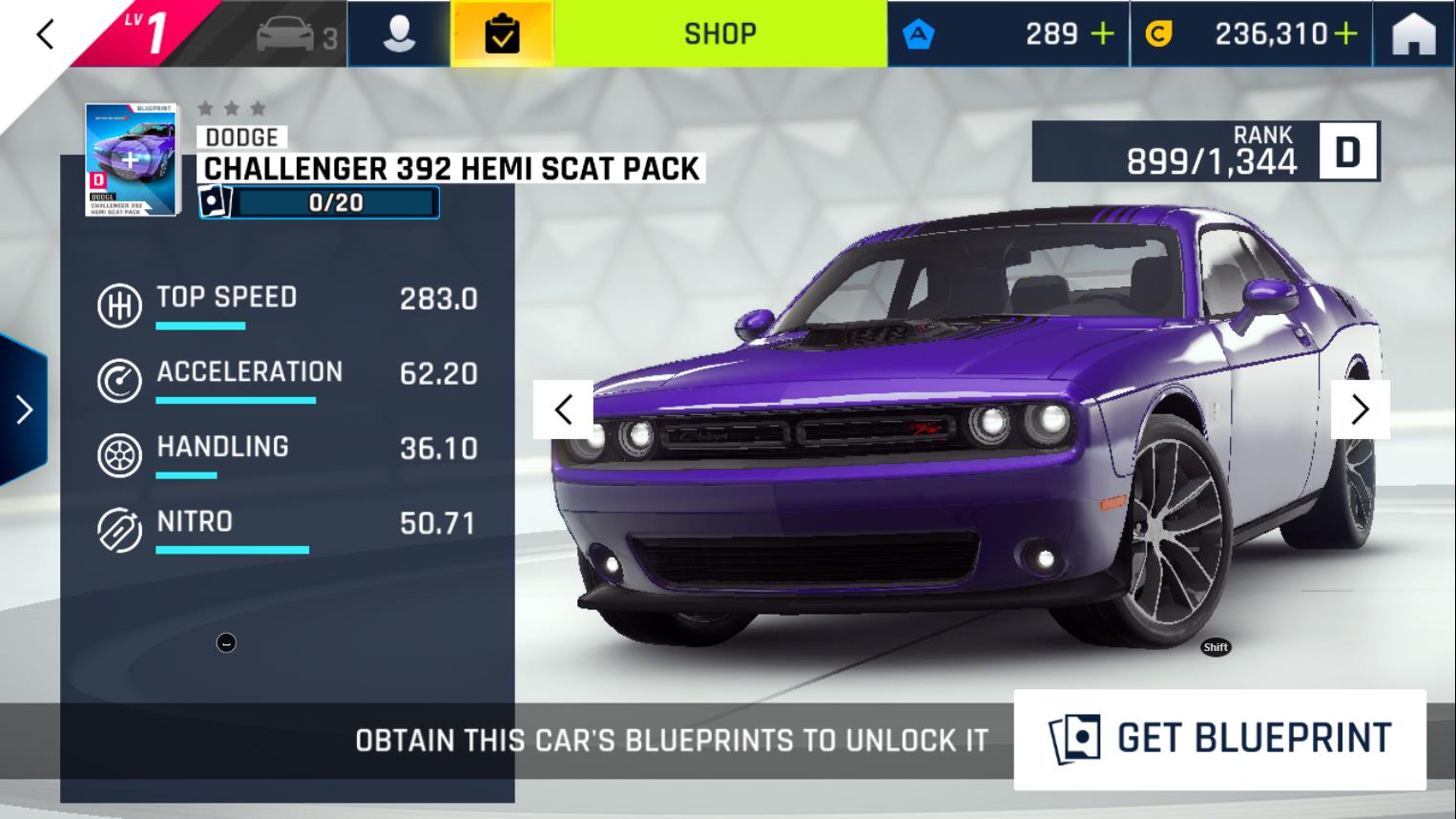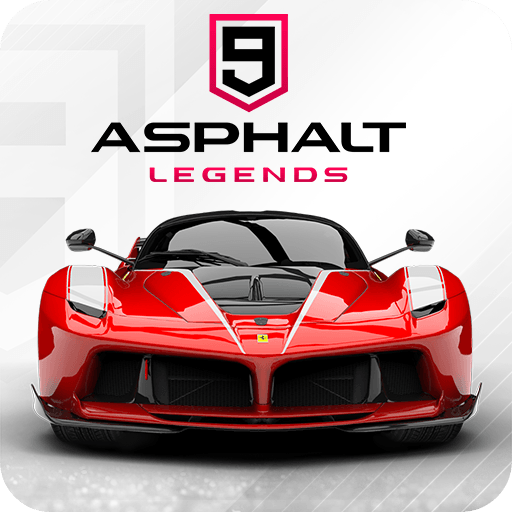 Asphalt 9: Legends may not be the most realistic driving simulator, but it's a feast on the eyes for players who also happen to love classic racing cars. From the Nissan 370Z that was practically synonymous with the early releases of Need for Speed to the Dodge Challenger 392, the Ford Shelby GR-1, the Lamborghini Terzo Millennio, and the more recent Koenigsegg Jesko, this game encourages you to put together a legendary garage and use these cars in ways that you would never consider in real life.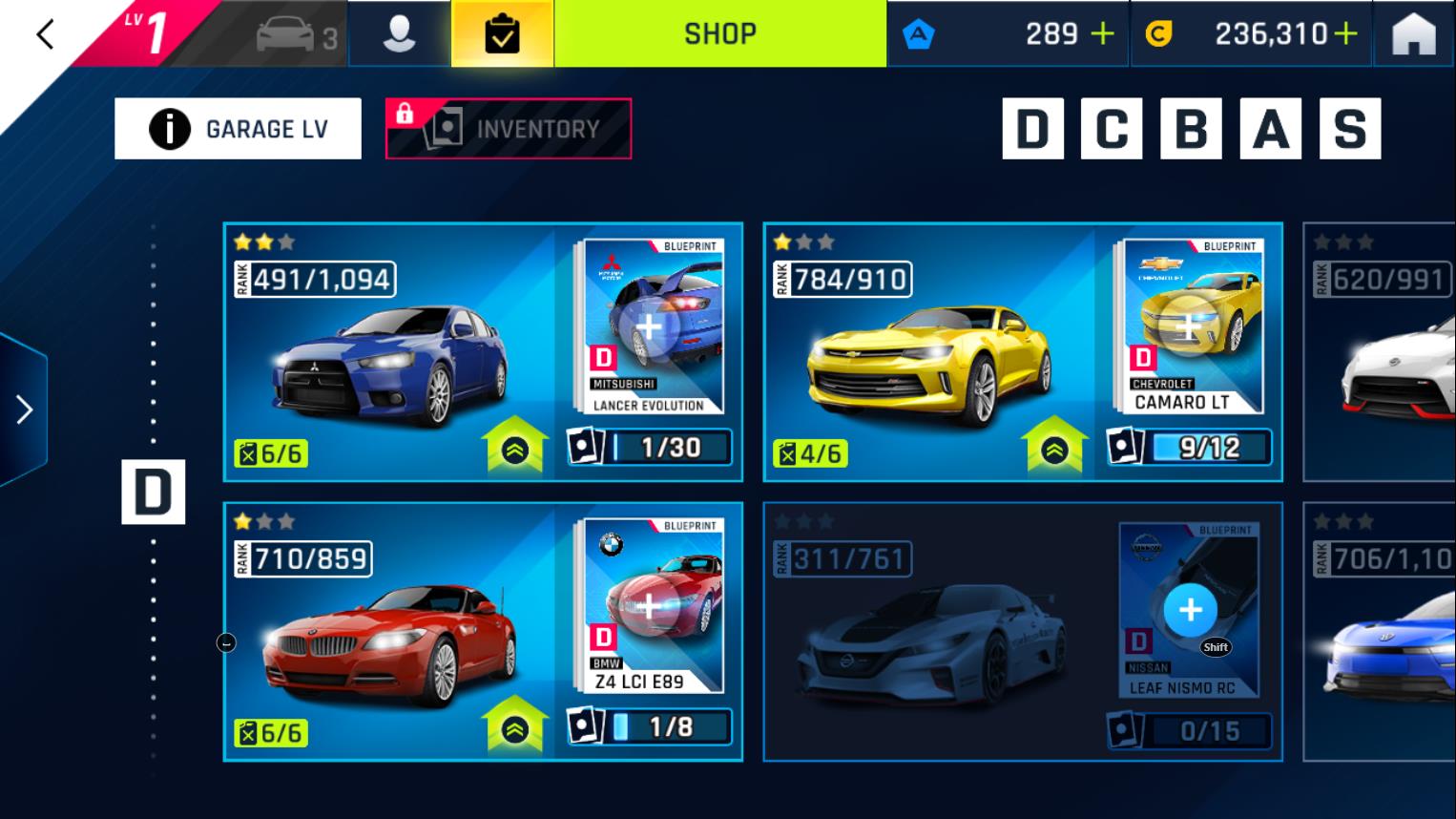 However, the experience is not free. Asphalt 9: Legends is an F2P mobile game, but if you intend to stay F2P, then you'll have a difficult time collecting the best cars and upgrading them to their maximum potential. Since vehicle improvements are so expensive, you might want to decide on which cars to upgrade per class very early on. The list below is meant to help you make this choice.
The Best D-Class Cars for Beginners
When you start a new game as an F2P player, D-class cars are pretty much your best (and only) friends. Even if you decide to get ahead by spending some real currency, you'll still need to max out one of these classic vehicles in order to participate in special events. Our top 3 favorite D-class cars are:
The Ford Shelby GT350R
Although this car has the highest possible rank in the D-class, it is not necessarily the fastest, nor does it have the best Nitro potential. Still, we love its excellent acceleration rating (64.9) and can't complain about its Handling (47.58).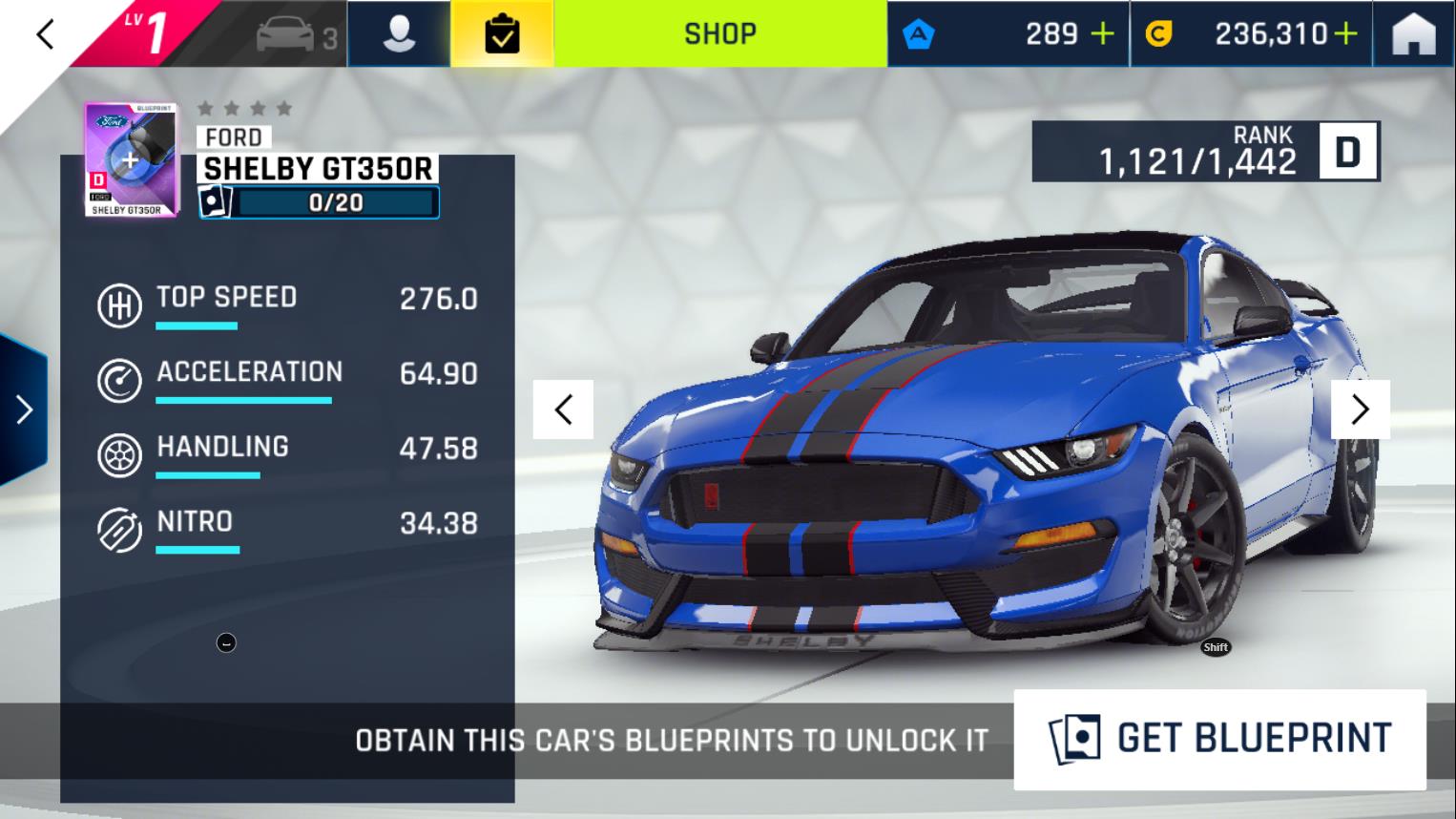 The Dodge Challenger 392
This all-time classic is actually our favorite D-class vehicle. Its top speed is the best in its class (283), while its Acceleration (62.2) and Nitro potential (50.71) are also decent. Its only problem is its terrible Handling rating (36.1), the lowest in its class, which can create some problems in cities.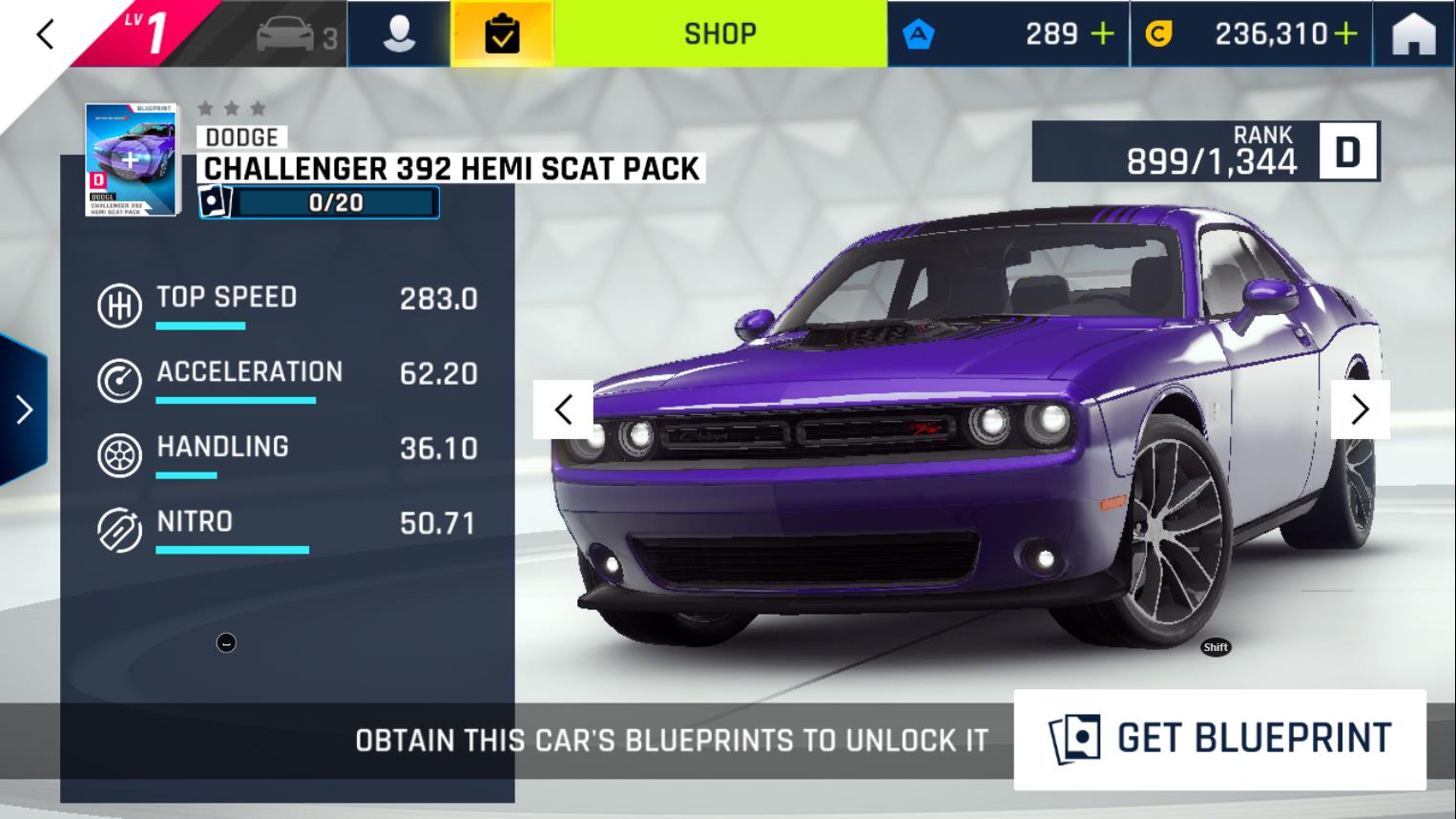 The Porsche 718 Cayman
Just slightly slower than the Ford Shelby, this car is still above average in terms of top speed (275) and has decent Acceleration (55.9) and Handling (51.89) stats. Its Nitro power is fairly low (39.39), but overall, the Porsche 718 Cayman is a solid option.
The Best C-Class Cars
C-Class vehicles are also unlocked fairly early in the game and you can immediately put them to good use in special events. Our top 3 favorite cars in this category are:
The Mercedes-Benz AMG GT S
The fastest contender in its class (310), this car has decent Acceleration (65.8), but is held back by its terrible Handling rating (35.63) and its average Nitro potential (39.96).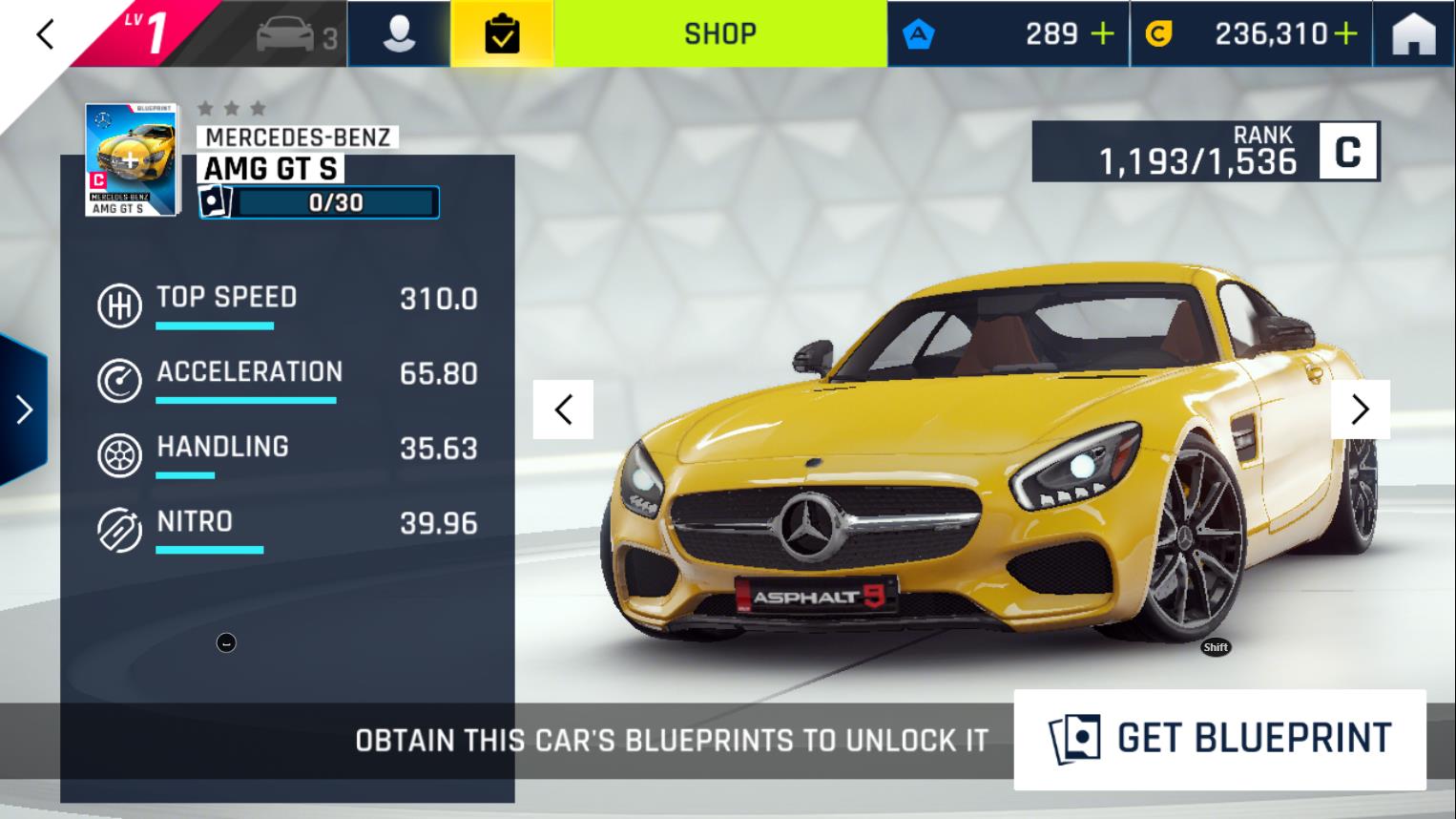 The BMW M4 GTS
This car might be mediocre in terms of max rank, but it's actually the third fastest in its group (305), with reasonable Acceleration (65.8) and Handling (43.9) stats. Its Nitro is fairly low (38.85), but you can still rely on the BMW M4 GTS to fetch you a good rank in most early races.
The Acura 2017 NSX
This gem of a vehicle is by far the best in its group. With a generous max rank of 2119, it's only the second fastest C-class car (306), but the difference in top speed between it and the Mercedes-Benz AMG GT S is negligible. What's more, the NSX features excellent Acceleration (75.7) and decent Handling (48.17) stats.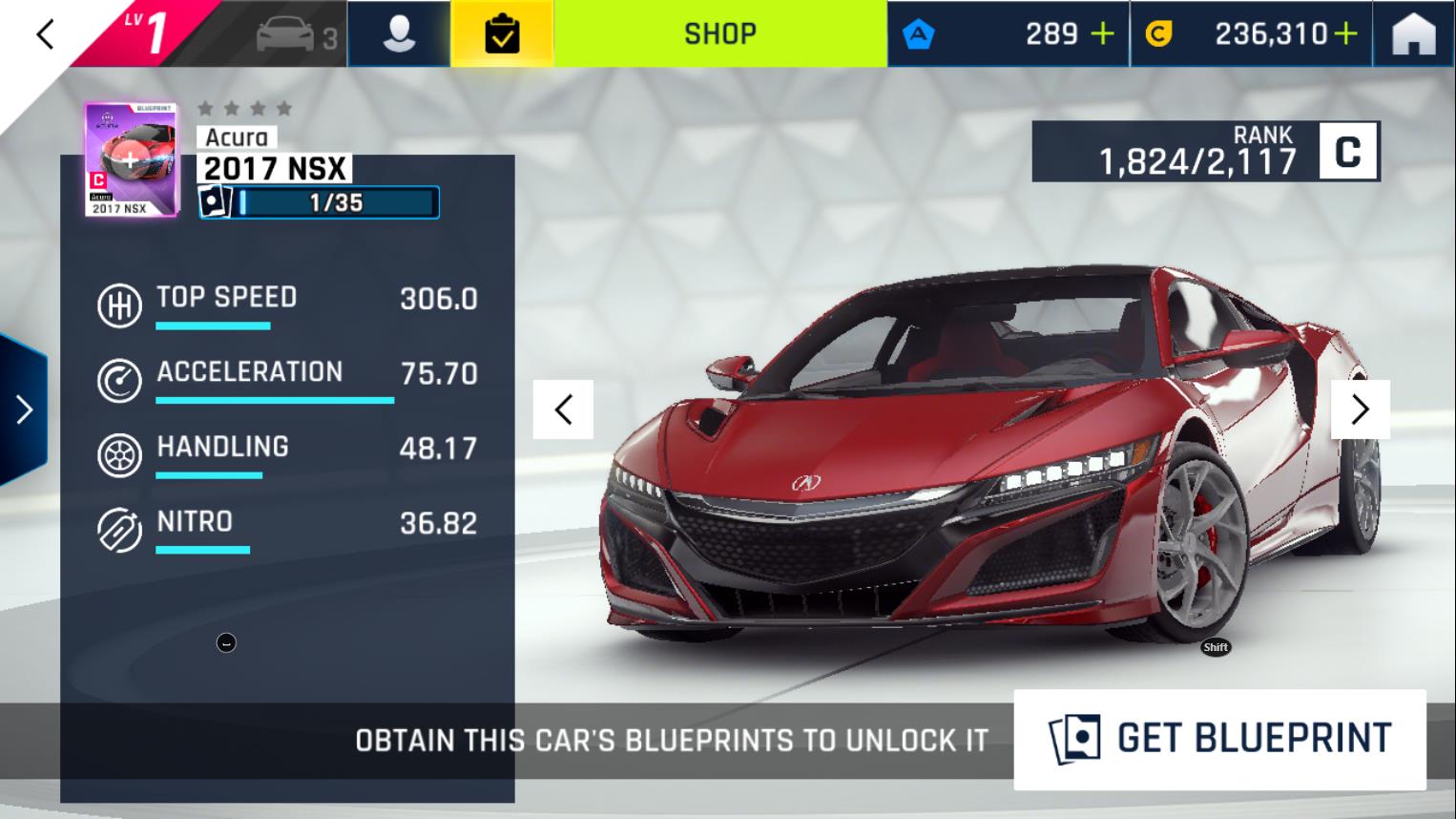 The Best B-Class Cars
The B-class is the first to feature some of the best vehicles in the game. Top speeds get serious at this point and some cars boast a max rank that rivals even that of their S-class counterparts. Our top 3 favorite B-class cars are:
The SCG 003S
Although not the highest rank in its class, this car achieves a top speed of 350, which is only reached by the Cadillac Cien concept in the same category. The SCG 003S also comes with excellent Acceleration (73) and above average Nitro (63.93). Its Handling rating is pretty low (36.92), but that's a small drawback compared to the car's overall performance.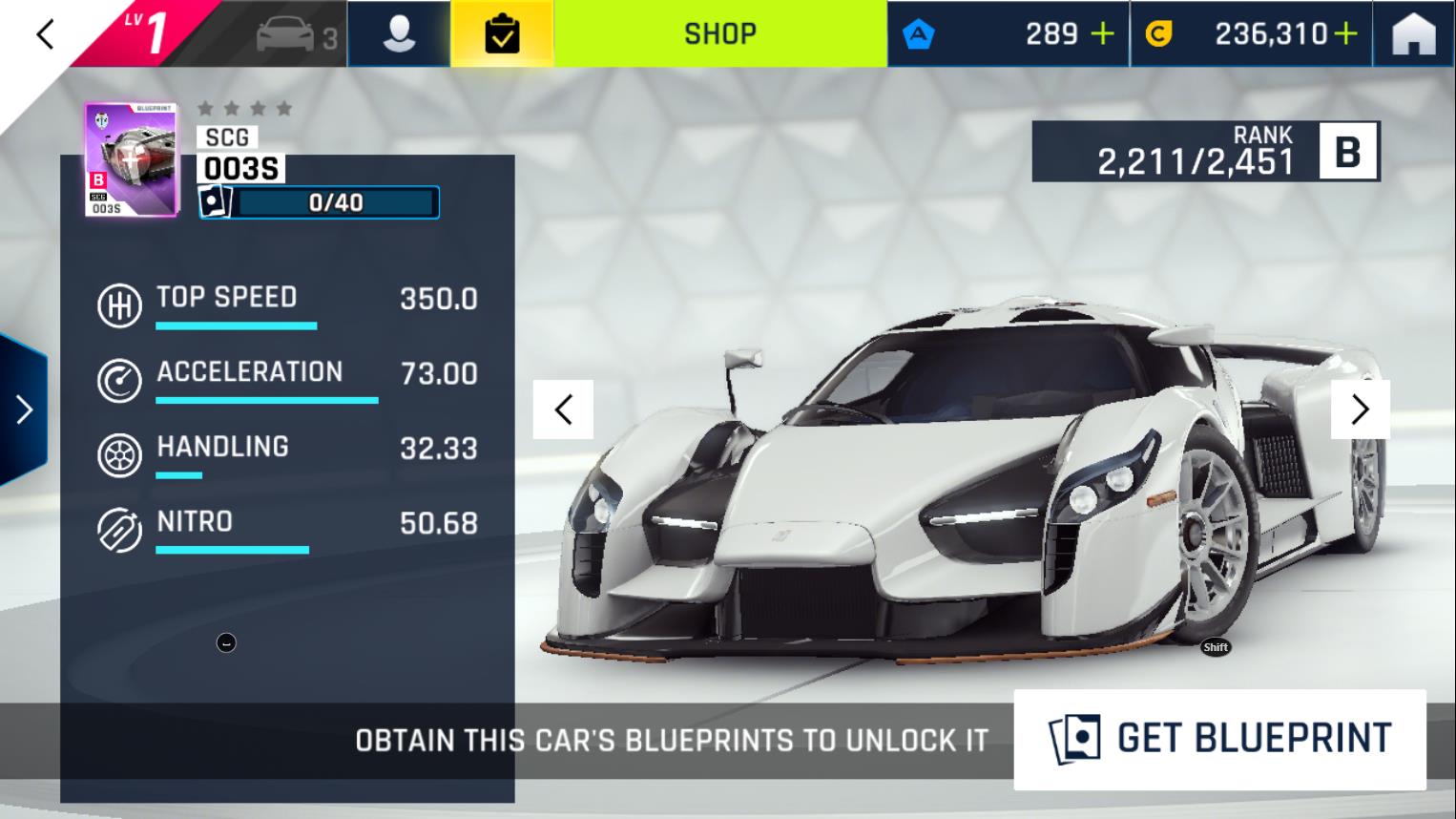 The Ferrari 488 GBT
This vehicle is just as good as the SCG 003S in terms of Acceleration (73), but slightly worse when it comes to top speed (330). Its Handling rating (41.99) is above average, however, and its Nitro power (56.41) can more than make up for its lower speed.
The Cadillac Cien Concept
Our second favorite of the group, this car is as fast as the SGC 003S (350), with a slightly lower Acceleration (68.5) and Nitro (54.76) stats. Its maneuverability or Handling score is rather low (36.15), but this won't bother you too much unless you're racing in a city.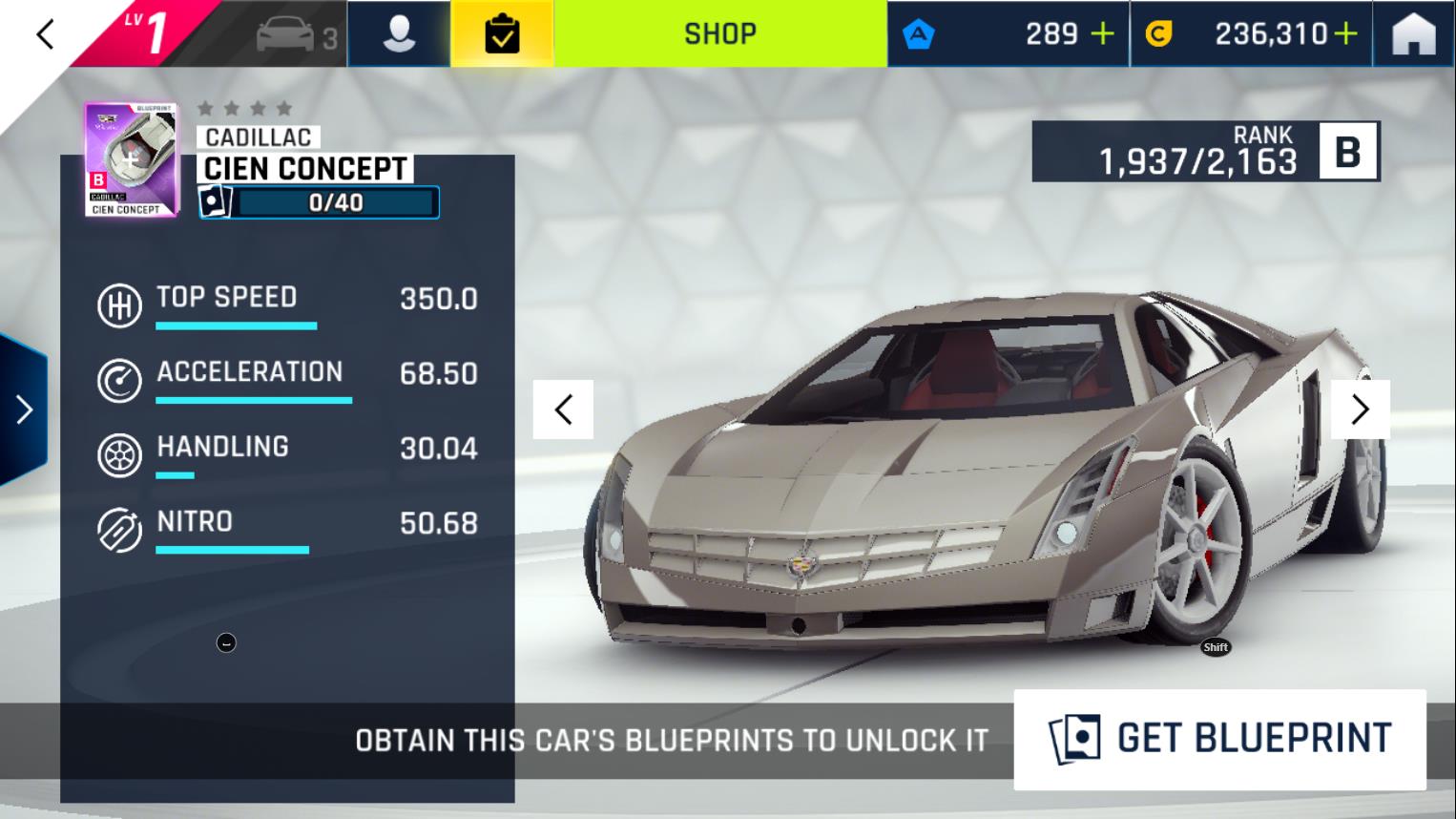 The Best A-Class Cars for Mid-Game Races
The difference between B-class and A-class vehicles is almost insignificant in terms of stats, especially when it comes to top speeds. Max ranks are nevertheless much higher for the latter category and small improvements in Acceleration and Nitro potential are mostly the reason why. Our top 3 favorite vehicles in this category are:
The Pagani Huayra BC
With a top speed of 350 and a staggering Nitro power of 72.09, this car is certainly one of the best in its class. Its Acceleration stat is, however, the lowest in this category (71.2), while its maneuverability (41.5) is just above average.
The Porsche 918 Spyder
Another B-class top contender, this gorgeous car is just slightly slower than the Pagani Huayra BC (345), but has the highest Acceleration rating in its group (76.59) and a decent Nitro score (72.09). Even its Handling stat, although not the best, is above average (41.83).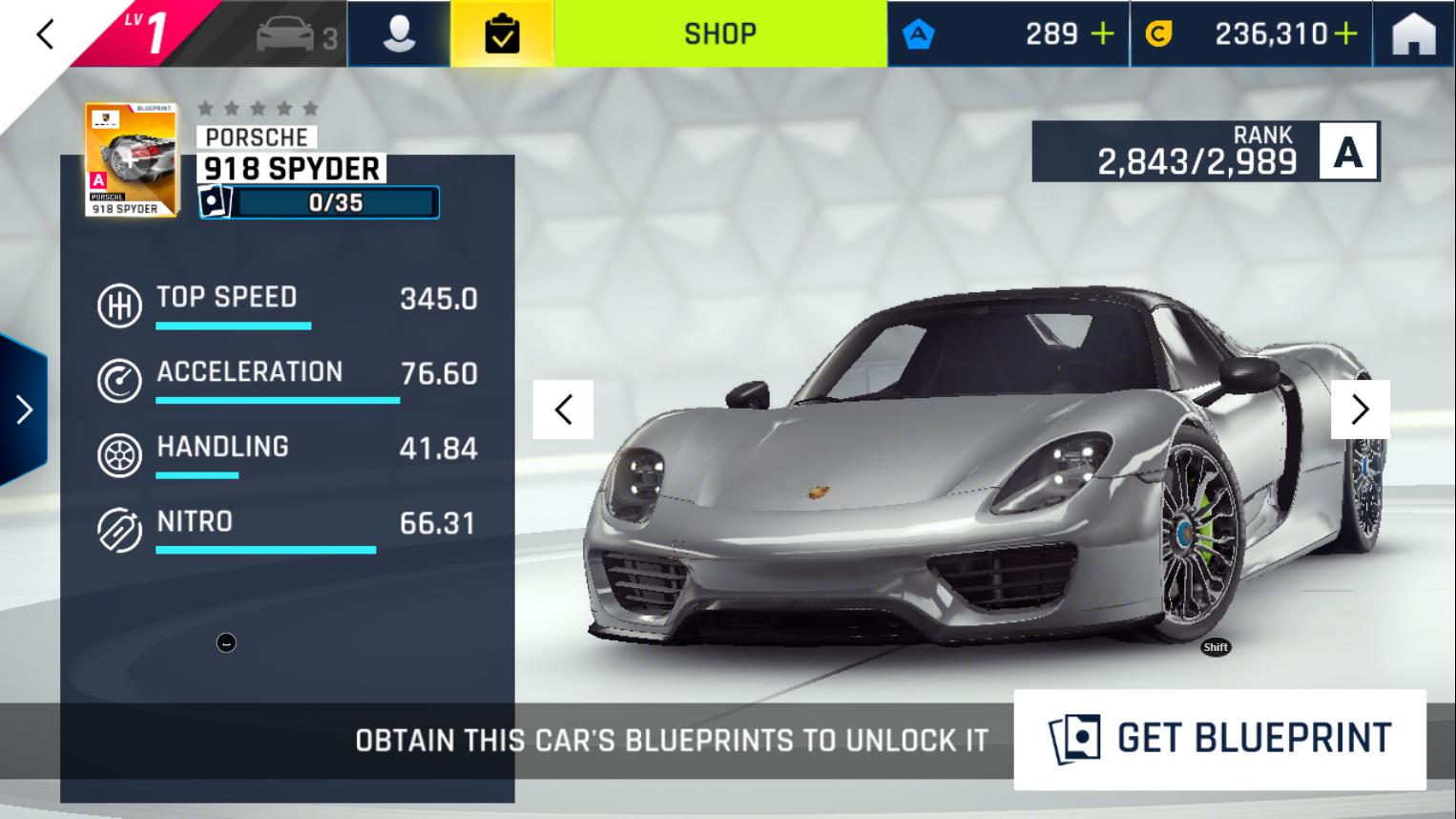 The Lamborghini Aventador SV Coupe
This car features a top speed of 350, the highest in its category, as well as above-average Acceleration (74.8) and Handling (41.5) ratings. Its only significant drawback is its Nitro score (59.86), which is just below average.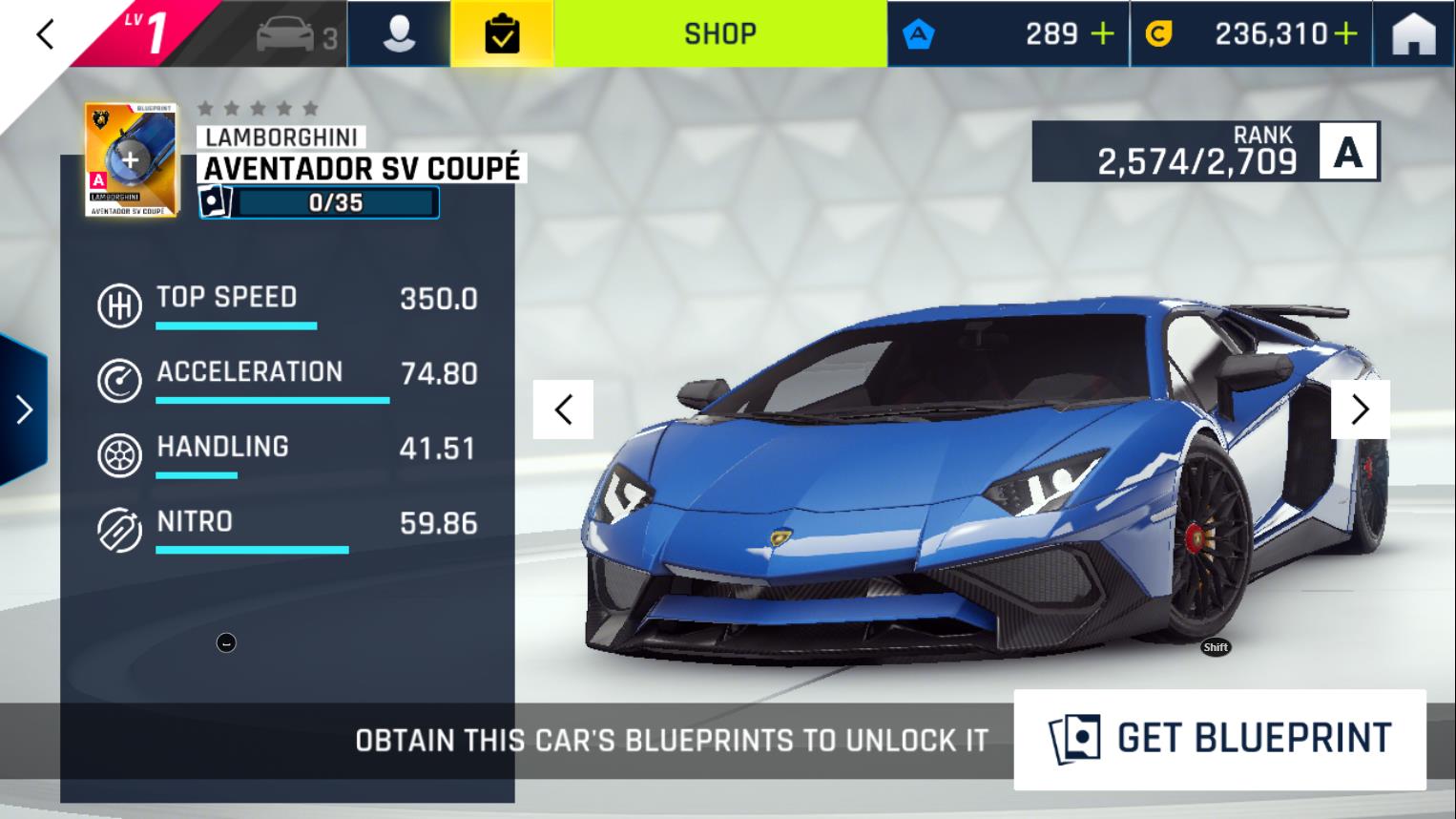 The Best S-Class Cars for a Legendary Finish
Vehicles in this category need no introduction. With outrageous top speed and Acceleration stats, they are guaranteed to facilitate some of the most exciting races in Asphalt 9: Legends. Our topmost favorite S-class cars are:
The Koenigsegg Regera
This car can reach the incredible top speed of 440, the highest in Asphalt 9 so far, which is complemented by a decent Acceleration stat for its class (74.8). The trade-off, however, is the fact that the car has rather poor Handling (39.74) and Nitro (42.73) ratings.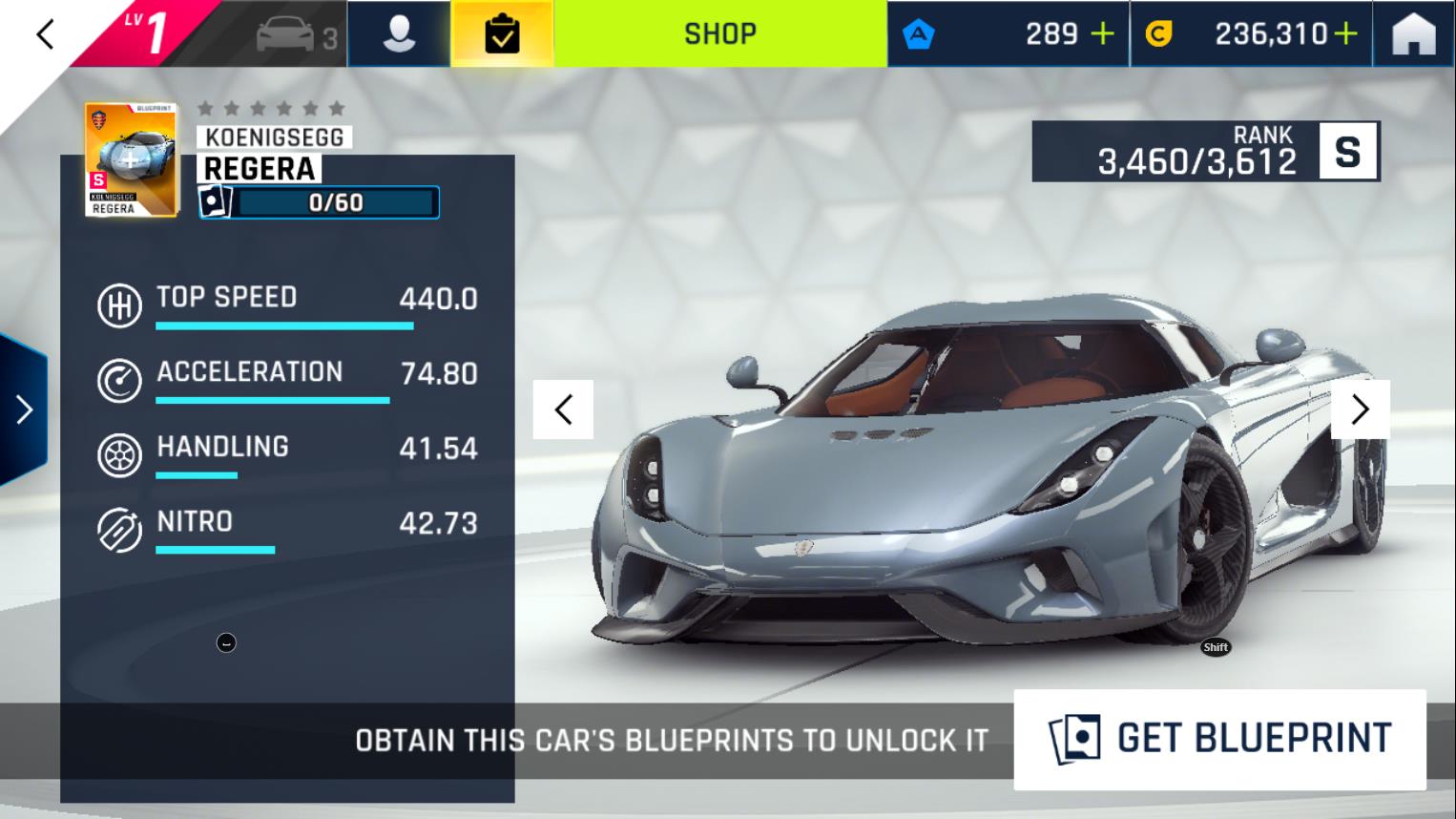 The Bugatti Chiron
This vehicle is slightly slower than the Koenigsegg Regera, with a top speed of 420, but we actually prefer it due to improved Acceleration (77.5) and Nitro (53.33) scores. Its maneuverability is quite low (38.75), but this is to be expected for monstrously speedy cars such as the Bugatti Chiron.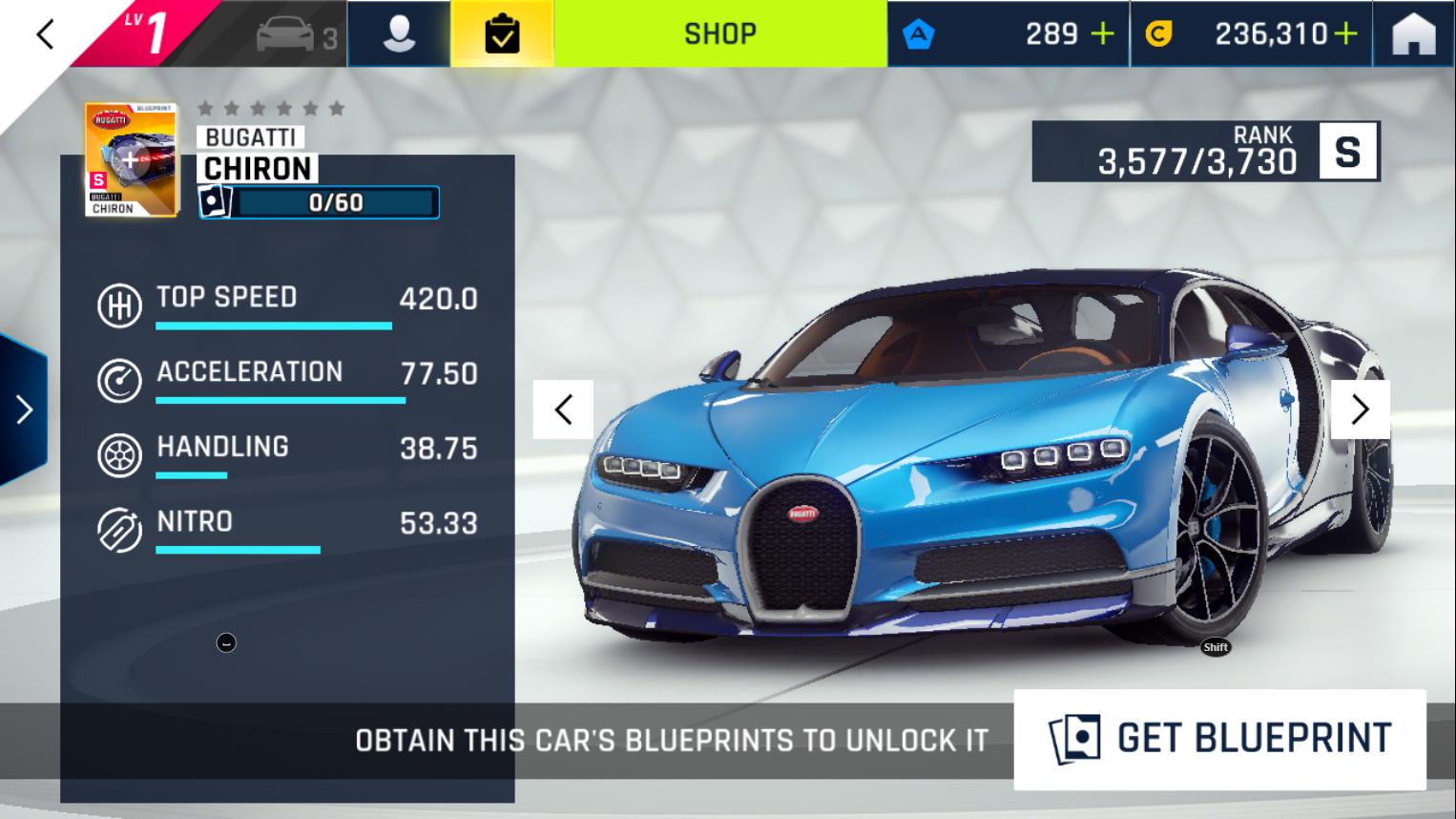 The Trion Nemesis
Although perhaps not as impressive as the two jewels mentioned above, this car is still one of the best in its class. With a top speed of 434, it's just slightly slower than the Koenigsegg Regera, with a comparable Acceleration stat (73.9) and reasonable maneuverability (36.77) for its speed. Its only major drawback is the poor Nitro potential (30.53).
Haven't found the car you love the most in our list? No problem! Most of the vehicles in Asphalt 9 Legends are decent for their respective classes and can help you achieve resounding victories if used properly. In fact, why don't you let us know what your favorite cars are in the comments section? We'd love nothing more than to hear about your glorious Multiplayer races and compare the numbers.