Game Guides
Creative Destruction: BlueStacks Guide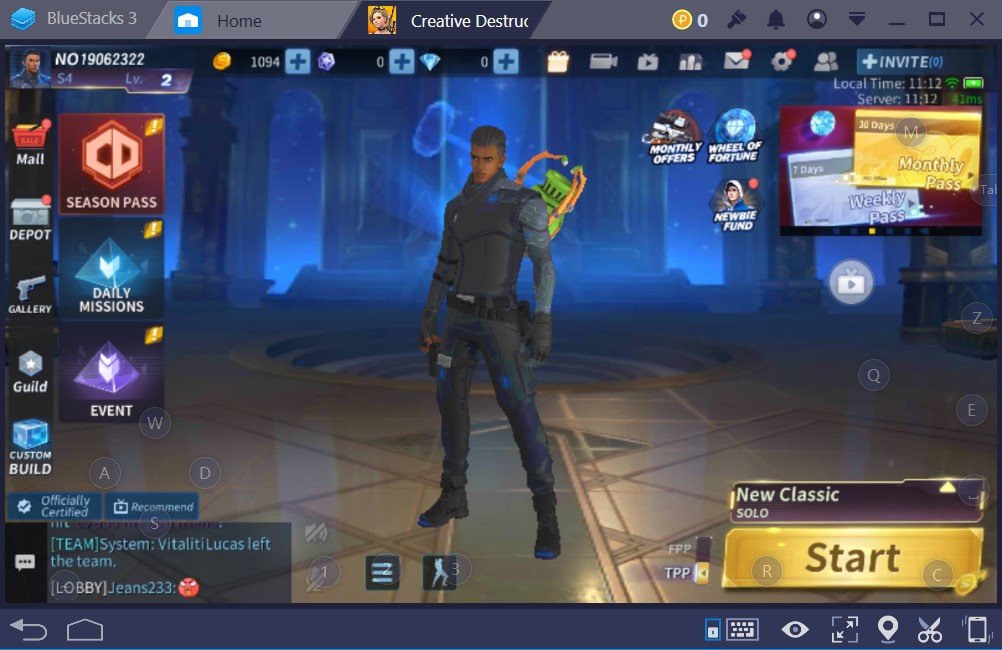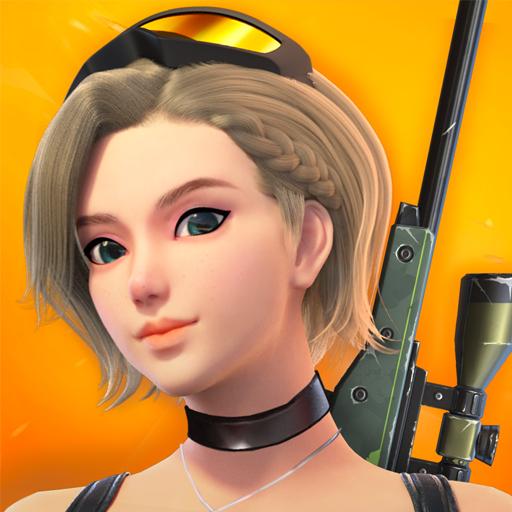 Creative Destruction offers a Fornite-like battle royale experience for mobile gamers. Instead of a regular pickaxe that you use in Fortnite, you use some sort of a vacuum that sucks the materials in that you need to build those instantaneous apartment complexes.
Gameplay mechanics aren't the only thing that Creative Destruction borrows from Fortnite. The battle pass and player customization options are also as rich as Fortnite.
There are a couple of additional building mechanics that you will find different from Fortnite, which also makes building and having cover in firefights much easier for mobile gamers. However, even though these additional building mechanics make the game a tad easier, building in Creative Destruction still feels quite cumbersome while playing on a smartphone. Luckily, we have BlueStacks. With the help of BlueStacks, you will be able to build, shoot, and win games easier and a lot more effortlessly in Creative Destruction.
We will show you the essential control modifications for having the best experience of Creative Destruction on BlueStacks, but first, we need to install the game.
How to Install Creative Destruction on BlueStacks
Before experiencing one of the best mobile battle royale games, aka, Creative Destruction, we need to install it on BlueStacks.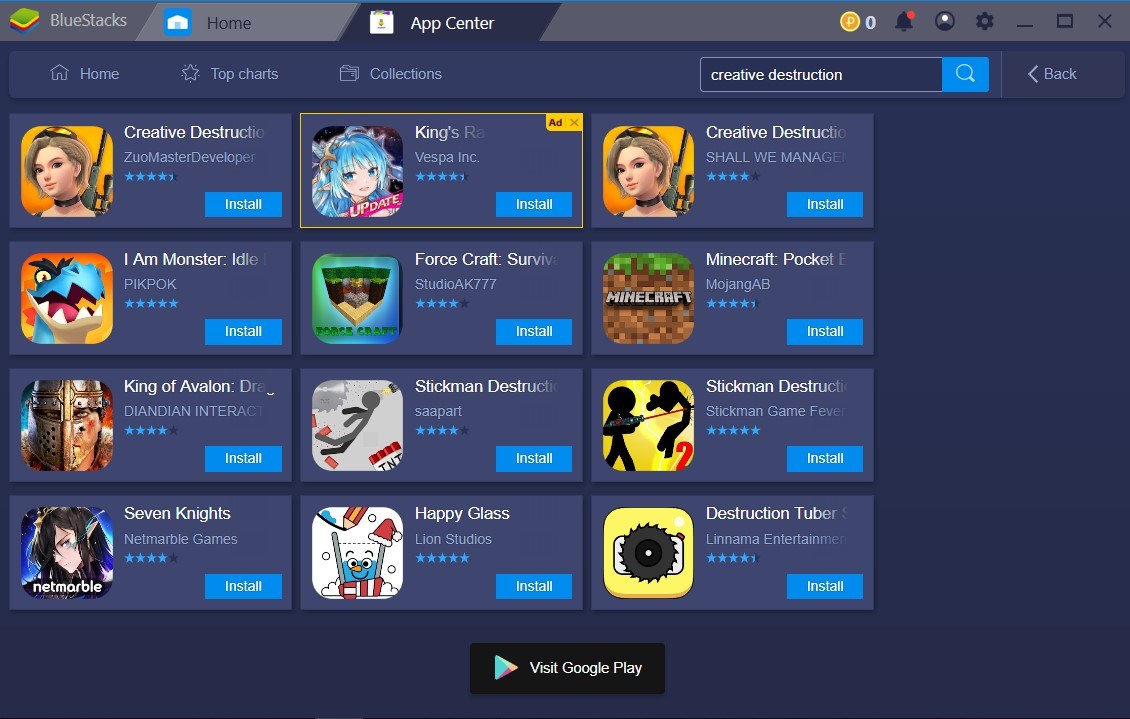 To install Creative Destruction on BlueStacks, you can use either the Google Play Store App or the App Center on BlueStacks. Just type the name of the game, and it will pop up. After you find the desired app, all you need to do is click on "Install". It's that simple.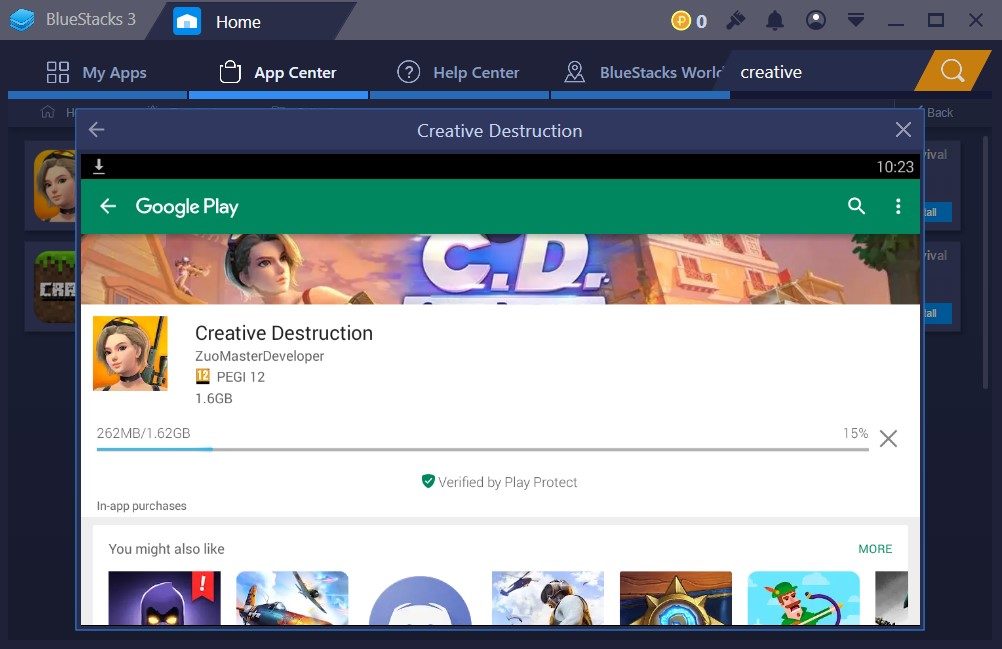 The installation process will begin immediately after you've clicked "Install". Creative Destruction requires you to download a massive 1.6 GB file that might take some time for you to get over with. After the download ends, the game will be installed automatically.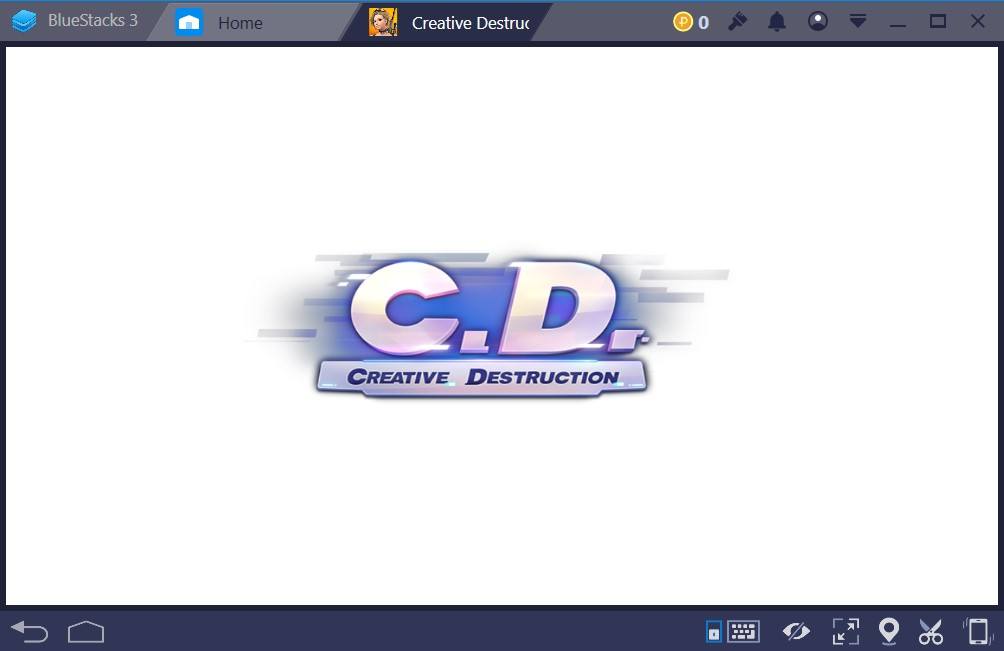 After the game installation is complete, all you have to do is click on the game's icon and it will launch.
Third Person or First Person?
One of the most important features of Creative Destruction is being able to switch from first person perspective to third person perspective. This feature is great because both FPS and third-person shooter fans can enjoy the game.
When you play Creative Destruction for the first time, you'll have a tutorial section to complete. Even though you can skip it, we suggest you see it through. At the end of the tutorial mode, you'll be asked in which mode you would like to play Creative Destruction. After you make your selection, you can change it anytime in the game menu.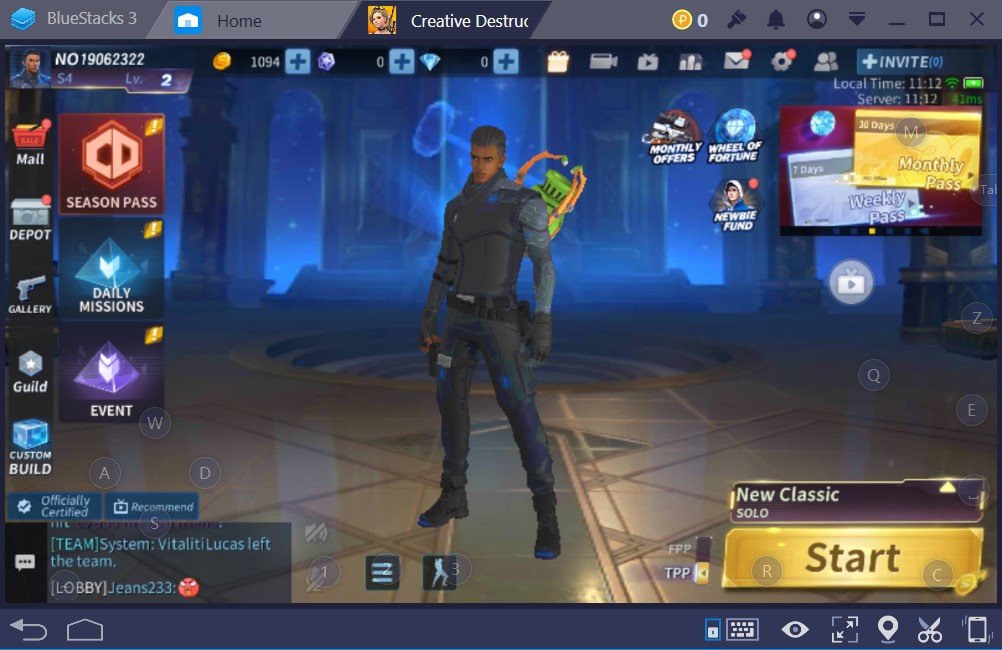 On the main menu, below, left to the 'start' button, you can change the mode from FPS-Third person or vice-versa. It's that simple.
After showing this little but essential detail, let's get to something even more important, the controls, of course.
Best BlueStacks controls for Creative Destruction
Building in Creative Destruction is not an easy task. Even if you use a mouse and a keyboard, while playing Creative Destruction, you'll have to utilize some additional controls. Some buttons will be more crucial than others. To maximize your efficiency in the battlefield, we'll help you modify your controls in the best way possible.
Like Fortnite, Creative Destruction also has two essential gameplay factors; building and shooting.
Creative Destruction Building Controls
Majority of the people can't utilize the building factor to their advantage in Creative Destruction. That's mostly due to unfriendly mobile controls. But with BlueStacks, you'll have a lot easier time and create a big difference.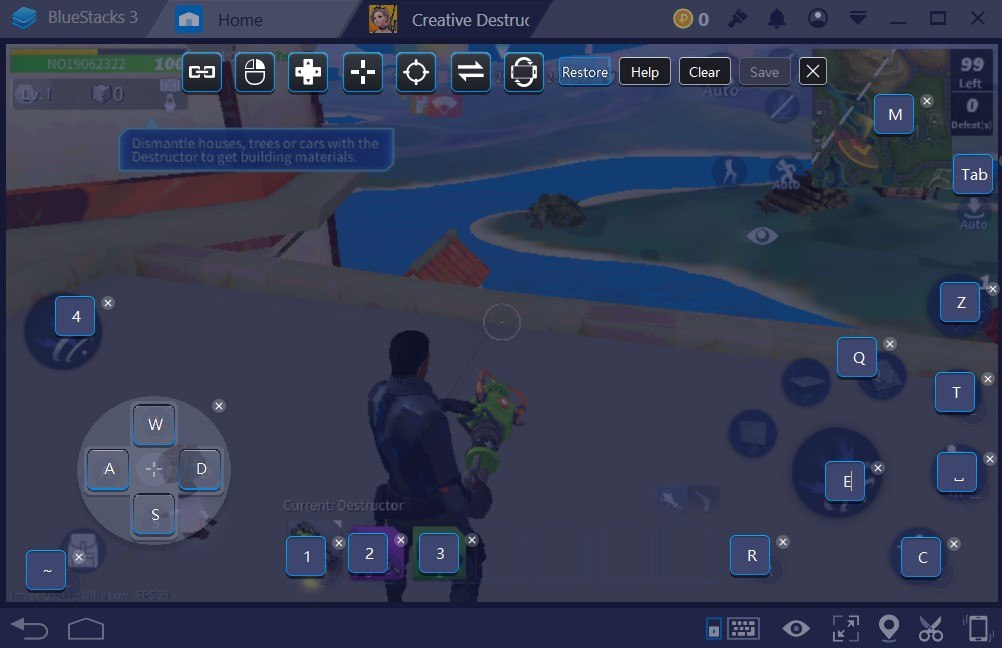 Click on the tiny keyboard icon at the bottom and the BlueStacks controls will be available for editing. The right side of the screen belongs to the building controls. In here, assign the building block buttons to your liking. The default controls do not have buttons assigned for every building button. That's why it's really important to get your controls figured out before diving into your first match.
Creative Destruction Shooting Controls
The other critical control setting for Creative Destruction is related to the shooting. You'll have two shooting button icons while playing the game – one on the right and the other one on the left. You'll only have to assign a single button to one of them. It doesn't matter which one, just pick the button that suits you best.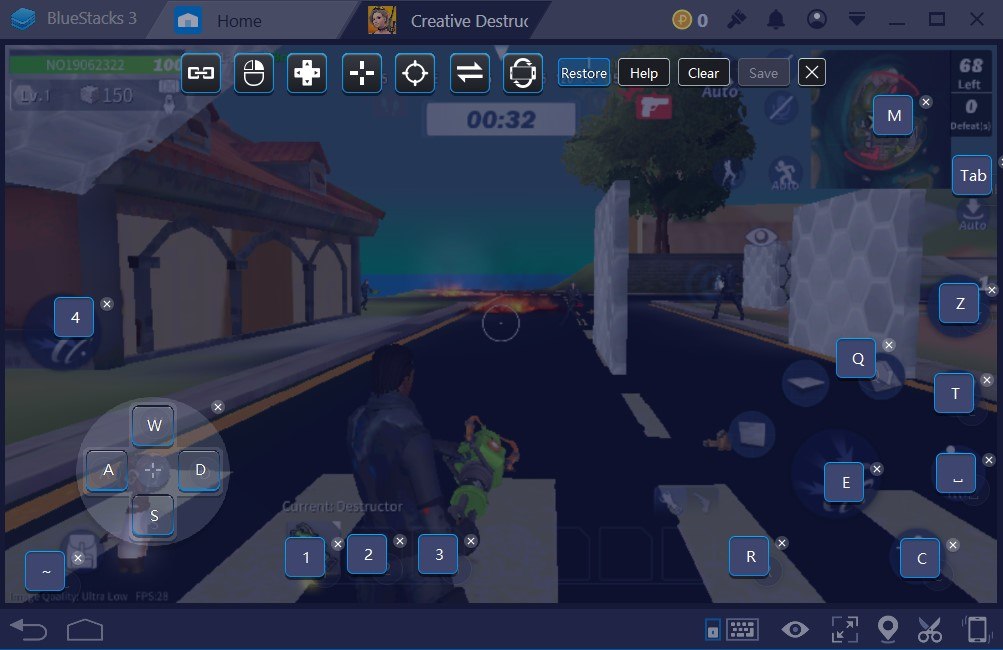 Choosing a comfortable button layout for the shooting is really important in Creative Destruction. Even though building part of the game is also essential, due to being a mobile game, you won't come across many people that utilize the building. Make sure your shooting controls are set and start getting the kills.
Creative Destruction Sniper Controls
Creative Destruction has a variety of weapons in its arsenal. But no matter which shooting game you play, the sniper always has a special place.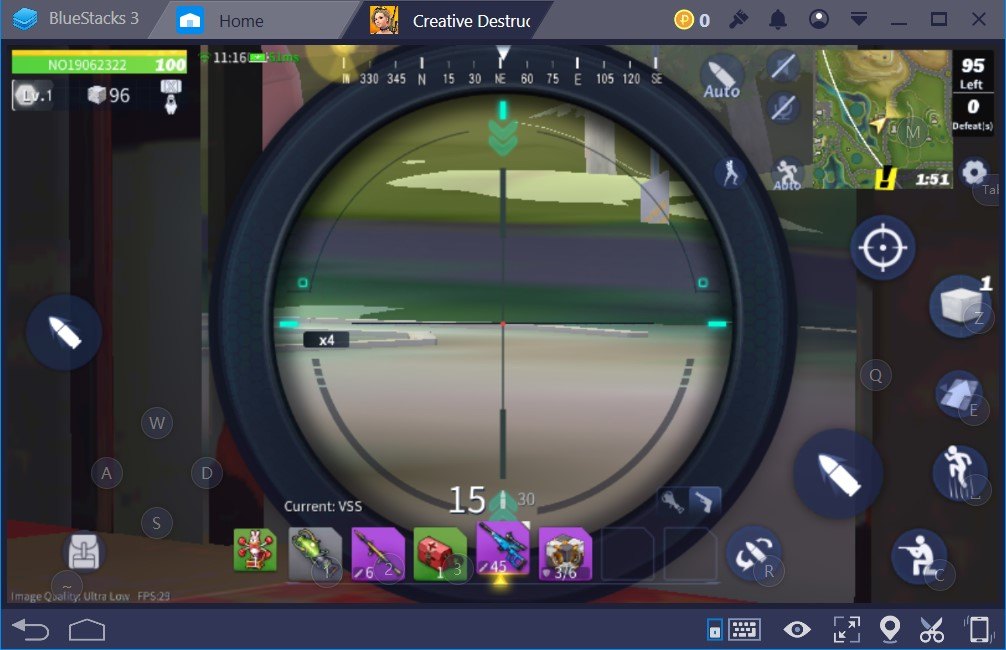 No matter which mode you play, the third person or the first person, you will have to zoom in with the sniper rifle in Creative Destruction. For this, the game has a dedicated button which you can easily customize with BlueStacks, of course.
Just open the keyboard mapping on BlueStacks and assign a button for the sniper zoom. Sniper rifles are powerful weapons that can get you that super-cool one shot kill. Considering you'll be using your mouse to aim, thanks to BlueStacks, there isn't a single reason for you to not use this powerful tool.
Creative Destruction is just another very fun and addictive game that you can play on BlueStacks and use its advantages to be one of the best. Make sure to modify your keyboard button layout in the best possible way, use the mouse for aiming, and choose your favorite view mode. Is everything set? If yes, you can even get your first win on your first try just like us.