Game Guides
FIFA Soccer: FIFA World Cup (FIFA Mobile) Advanced Management and Gameplay Tips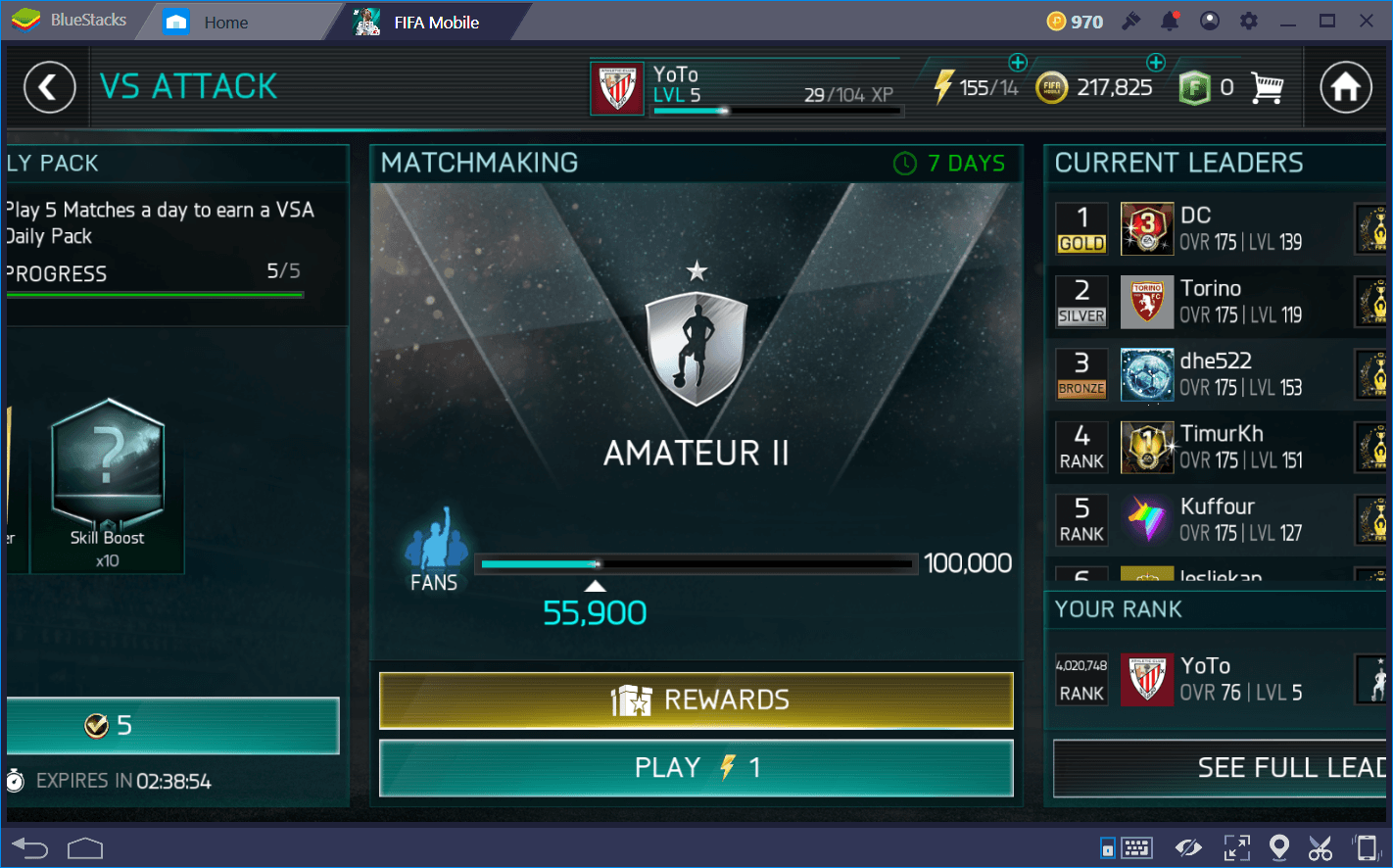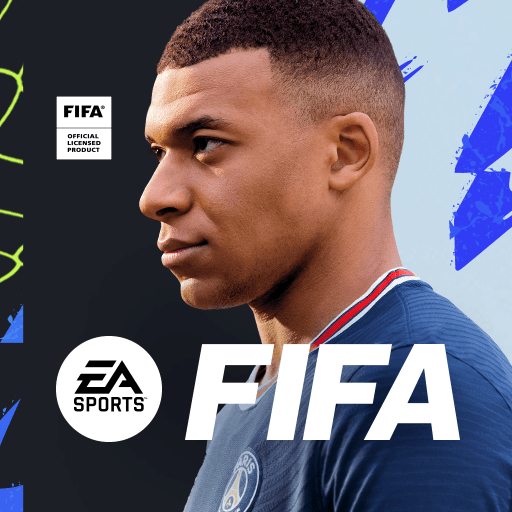 Let's say you already know all you need to know about building your startup squad and getting started with FIFA Mobile. Let's also say that you've managed to win several victories in Attack Mode, and are climbing the ranks in the scoreboard. Your team is looking better than ever, and victory seems certain for you.
First off, if this is your case; good for you! However, a time will come when your prowess in the field will not be able to match the enemy's sheer numbers. And by numbers, we're not talking about the number of players since both teams usually play with their starting eleven. No, we're talking about the enemy's attributes and OVR. As your rank increases, you will face opponents that not only have similar or higher OVR than you (giving you less scoring scenarios), but they will also have highly specialized players that are difficult to get past, and will likely be able to penetrate your defenses easily. Before you know it, your plans of success go down the drain, as you can no longer score a single goal against players of your same level.
Harsh, but real. So, what will you do?
We've already covered how to get started with your squad in other guides. In that sense, we will explore how to build a better team, and how to continuously improve your players so that you can better face stronger opponents as you climb the ladder to stardom. In this guide, we will give you some advanced tips that you can use to improve your game, and that will help you make a name for yourself in FIFA Mobile.
Use BlueStacks
First off, the very best tip we can give you, that can potentially help you more than any other tip, is that you should use BlueStacks, to play FIFA Mobile. With this platform, you will be able to enjoy the game on a much larger screen, with better graphics, and with a control scheme designed for your mouse and keyboard. After all, what's the point of having an awesome team if you can't even control them that well with your touchscreen, right?
Improving your Team
You might think improving your team is a no-brainer. After all, it all comes down to replacing a spot with a player that has better OVR, right?
Well, yes and no.
Depending on what you want to do, having a higher OVR does not necessarily mean that your team is better than others with a lower OVR. Despite this number acting as an overall indicator of your team's power, it leaves out one very important fact: your team's level of specialization. You see, besides OVR, your players also have attributes. These attributes, in turn, shed light on what their strengths and weaknesses are. The sum of their attributes is what constitutes their OVR, with higher attributes leading to higher OVRs. However, what happens when a player has low scores on nearly every attribute, except two or three? He will undoubtedly have a low OVR. But consider this: what happens if those two or three attributes that are excellent could actually make him a great defender, or a striker, or midfielder? You see where we're going with this?
Despite having a lower OVR, a player can still be better at some positions than others with a higher number. It all depends on what you want to use them for.
Nevertheless, OVR has other uses. There are some squad-building challenges that have you create a squad with certain prerequisites, such as OVR. In this case, your player specs don't matter much, as long as you can meet the OVR criteria to receive the rewards of the challenge. In these cases, having a higher OVR can really help, so it's always good to keep a few players that have high OVR around, just in case.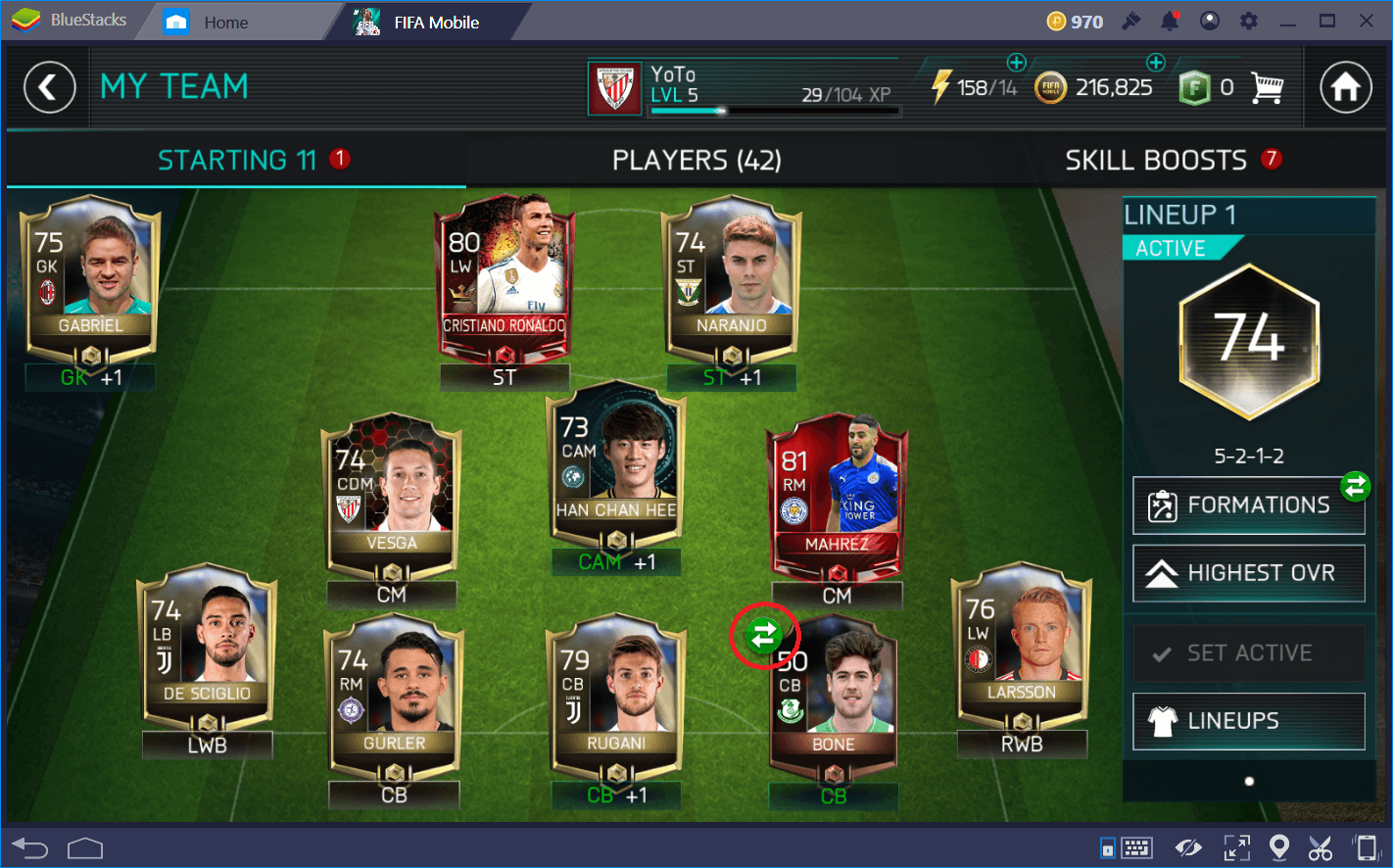 Now, when it comes to building a better team, don't simply replace your players with new player cards. A good idea would be to replace only players that have a white swap symbol in the top left corner. This means that this player, in particular, can be upgraded and that there is a better card for that spot available in your roster. This will not only help you to build a better team in both theory and practice, but it will also sometimes lead to better OVR, which increases your odds of getting scoring opportunities in most Attack Mode matches.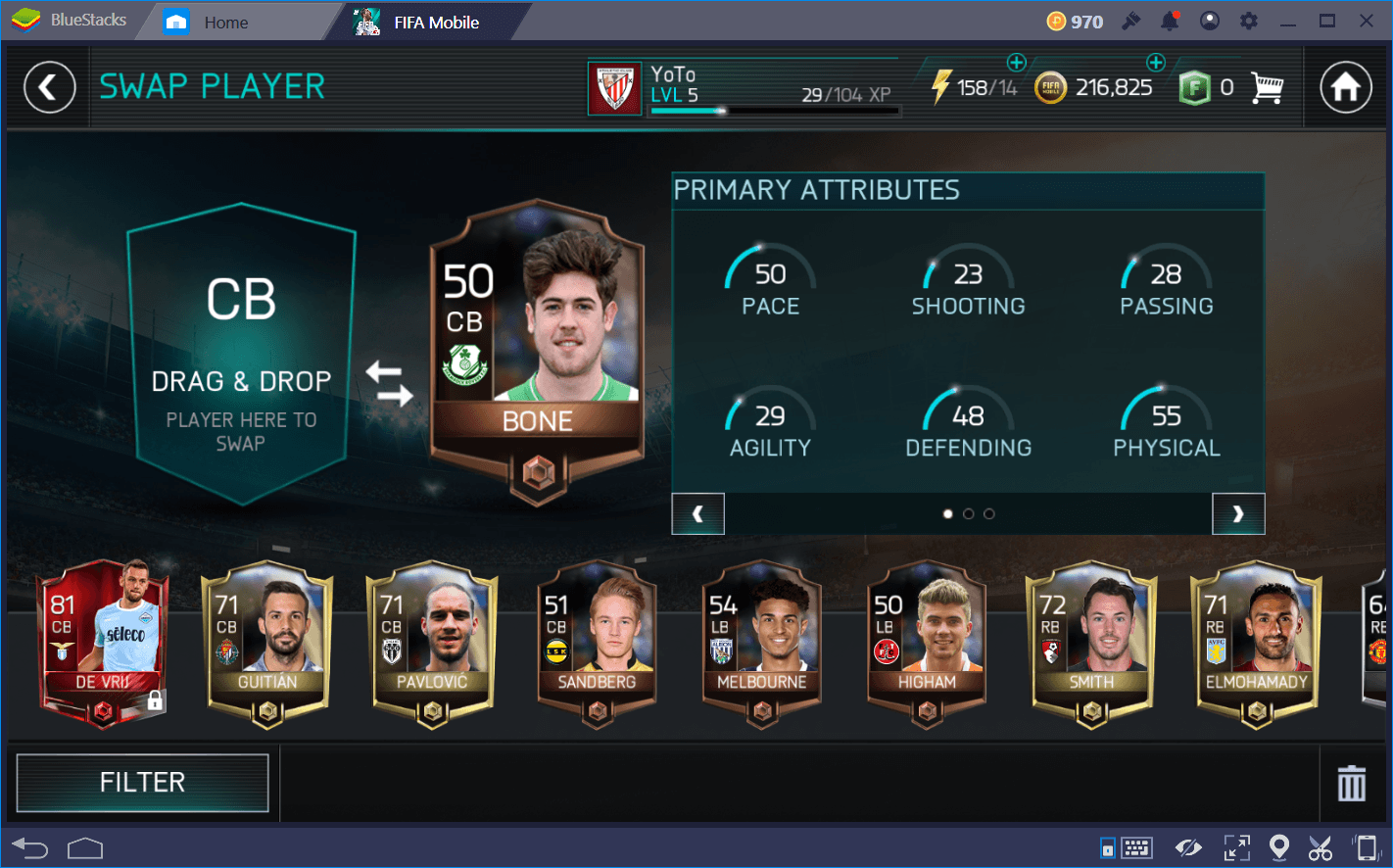 Now, in order to swap a player in your starting 11 for a better one, simply tap on the player, and then on "Swap" in the menu that appears.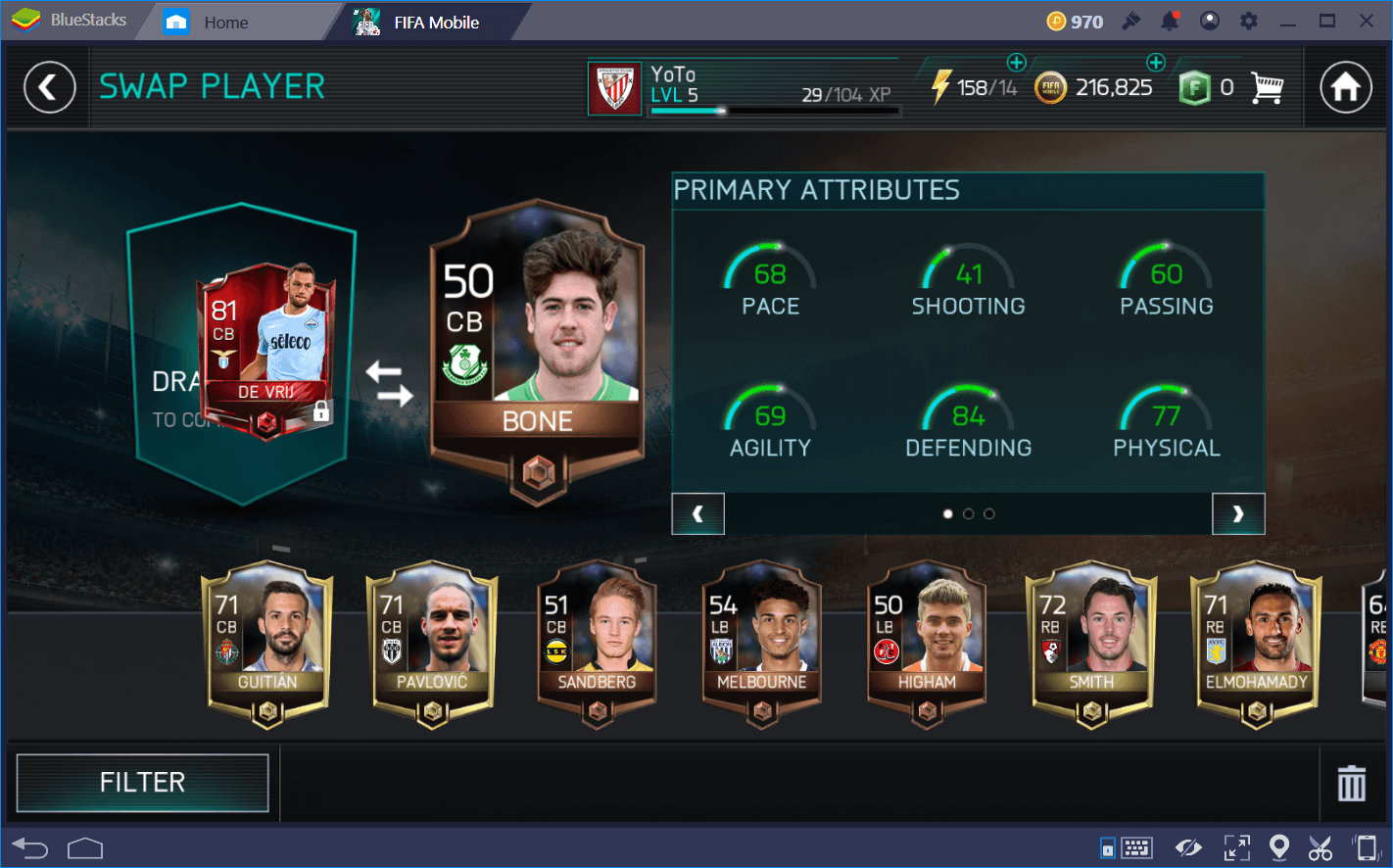 This screen is where you swap players. As you can see, there is a list of players below, which you can freely scroll through. You'll want to pick the one not only with the highest OVR, but that is also most suited to the position due to his attributes. In order to find out which player is better, simply hover him over the "Drag & Drop" slot, which will allow you to ascertain the upgrades that the new player will provide. If the numbers are in green, it means that those attributes will see an upgrade, and your team will be better because of it.
Once you're done checking attributes, simply drop the desired player into the slot, and click on the back arrow in the upper left corner. You will be able to see your new player in the formation, along with any potential upgrades to your OVR that he may have provided.
An Important Tip for Bidding in the Market
As you may know, the only way to find specific players to add to your team is via smart use of the Market. In this section of the game, players from all over the world can buy and sell players, trophies, tokens, and crests using Coins, the game's main currency. Keep in mind that Coins are the only currency accepted in the market, as FIFA Points can only be used in the Store.
In order to buy a player from the Market, you will have to engage in bidding, much like in auctions from real life. As soon as a player is up for grabs, a timer will appear on their portrait. If you're interested in participating in the auction, simply tap on the portrait and begin bidding. If you must absolutely have the card, you can also purchase the card using the Buy It Now (BIN) price, though we usually don't recommend this since you'll be paying much more for the cards, sometimes even more than what the card is worth!
Before even considering participating in an auction, always make sure that the player you're going to bid for actually has better attributes than the one you're looking to replace. It's a common mistake that players often do when they search for their favorite stars and end up with a card that's actually worse than what they have. You can always check the prospect's attributes, and how they measure up with your current player, in the live bidding screen, which you can pull up by tapping on a live auction in the Market.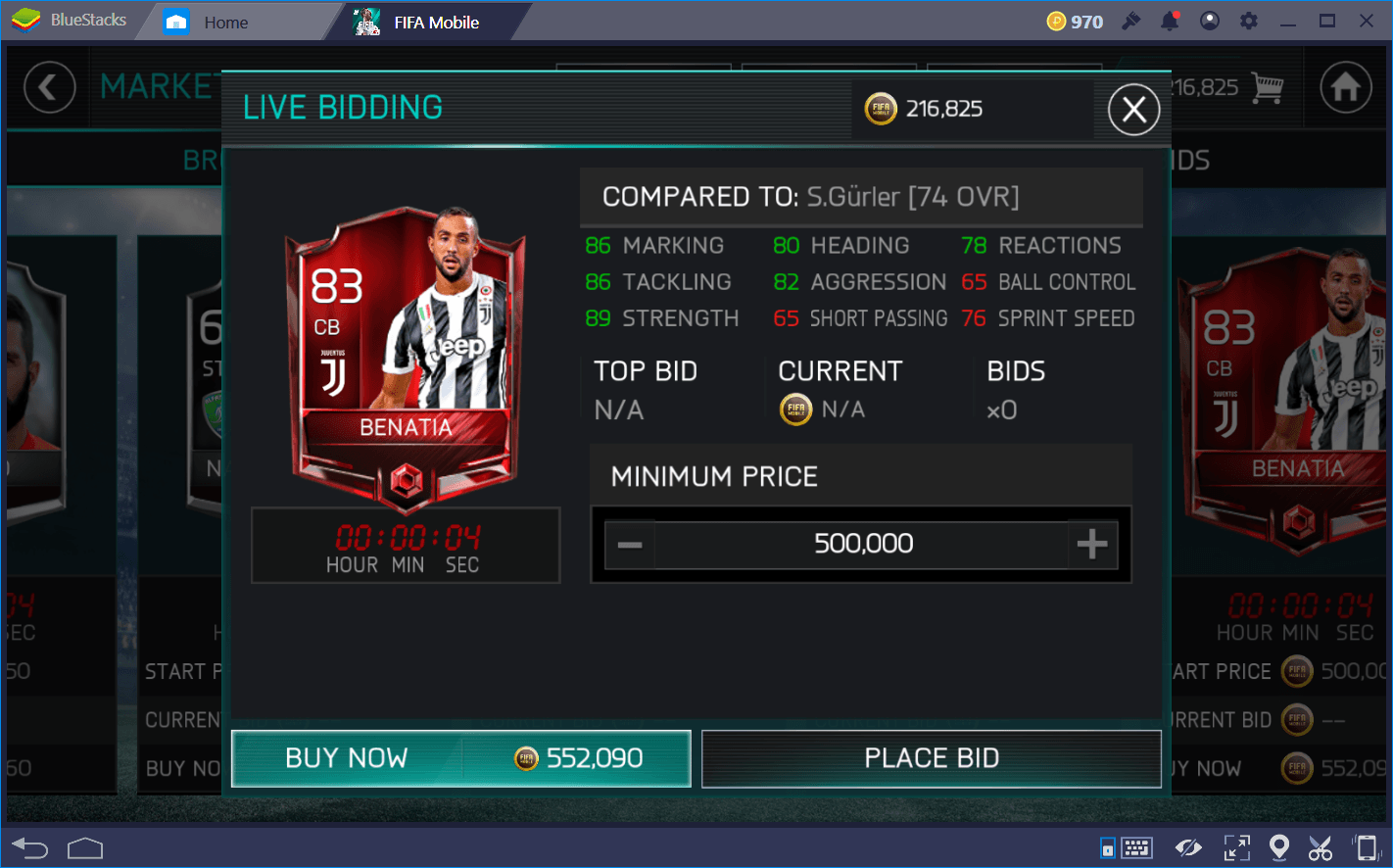 Just like with swapping players in your starting 11, the numbers that are in green signify that they are better than what you currently have. If there are many numbers in green, it means that the prospect could be a great addition to your team, depending on the position you want him to fill. As a general rule of thumb, always look for players that are going to give you the best overall attributes for the role you want him to fill, while also costing the least amount of Coins, so you don't have to break the bank on a single player.
Use BlueStacks and the AI to Your Advantage
We can't stress this enough, so we had to mention it twice. Those who play on mobile devices might have issues with the game's controls at times, considering that swiping and sliding a finger across the screen is never as precise as we want it to be. By playing on BlueStacks, not only can you enjoy FIFA in glorious high definition and on a bigger screen, but with a control scheme specially designed for keyboard and mouse. With these improved controls, you will no longer be fumbling about on your phone, trying desperately to score that goal, or to stop the enemy's counterattack. Furthermore, since you're playing on your computer, you can easily minimize the emulator and pull up your favorite web browser for those times when you need to look up a certain player's information. If you play on your phone, you'd have to close the task, painstakingly open a browser app, and slowly search for the info and sift through it on your small screen.
There are many advantages to using BlueStacks for all your mobile gaming needs. After all, why should you play on your uncomfortable phone if you're relaxing at home? It makes no sense!
Another thing you could use for those times when you have to divert your attention from the game, is rely on the computer to control your game.
I know that we said on our Beginner's Guide that the AI shouldn't be allowed to play all the time since you could probably control your team better than it could ever do. However, with the last few updates, we've noticed that this has changed significantly, and the AI has become a force to be feared on the field, especially if you're playing Attack Mode or Season Mode.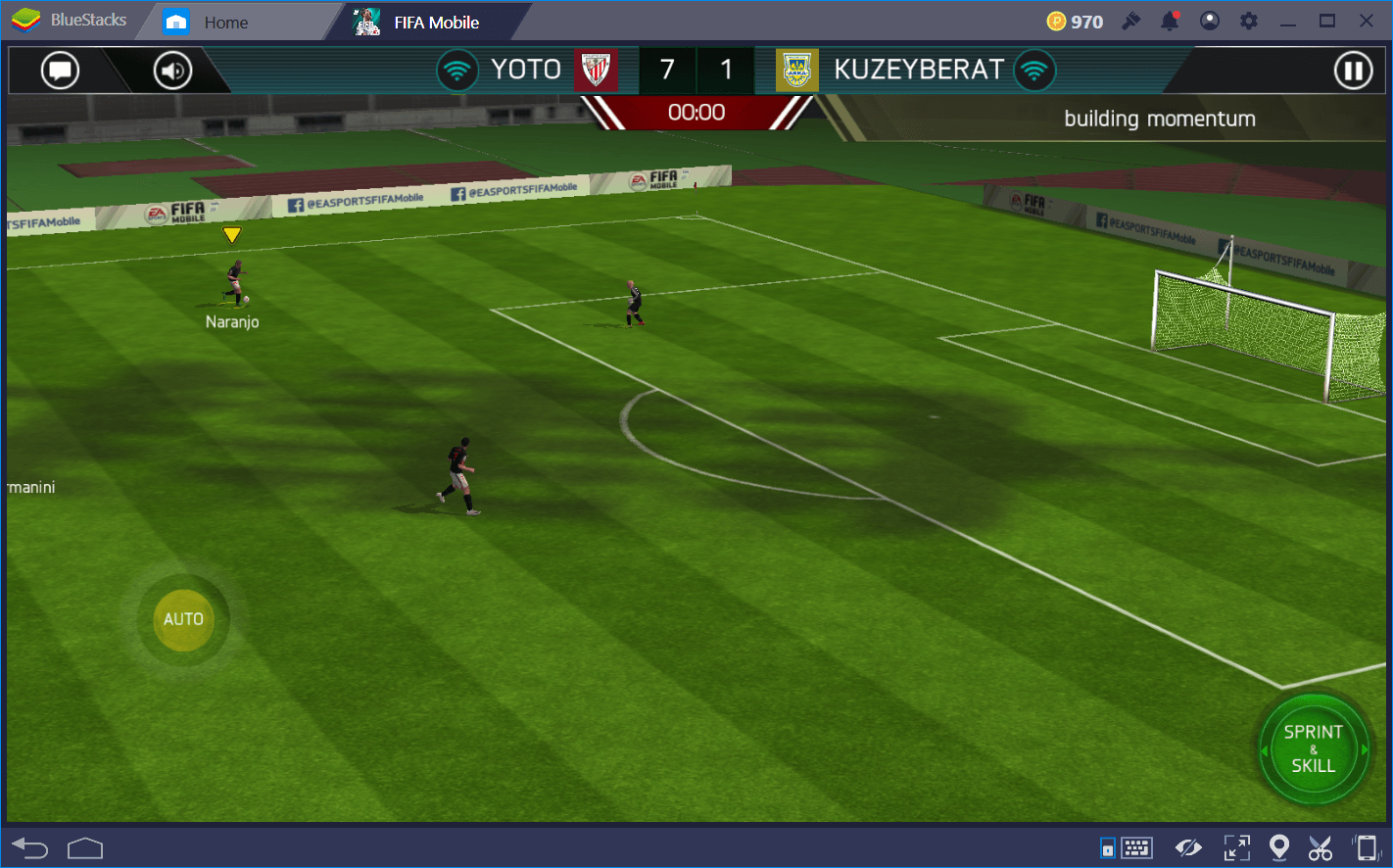 You can activate the AI controls by simply starting a match and leaving the controls untouched. Once the game notices that you're not going to input any commands, it assigns the AI to control your team. The AI can control the ball better than ever, as well as also land some incredible passes and line up awesome shots. After witnessing how the AI can play, we've barely had any incentives to control the game ourselves!
However, you could occasionally intervene by pressing the "sprint and skill" button if the situation demands, but that's basically it.
Make Use of Both Control Schemes
In FIFA Mobile, you can make use of two control schemes. The one activated by default is called "Tap controls," and consists of swiping and tapping in order to pass the ball and shoot. The other control scheme is called "button controls," and consists of virtual buttons rendered onto the touchscreen, which essentially acts as a standard controller on the console version of the game. Through this scheme, you pass the ball by pressing the "pass" button, you can shoot by pressing the "shoot" button, and so on.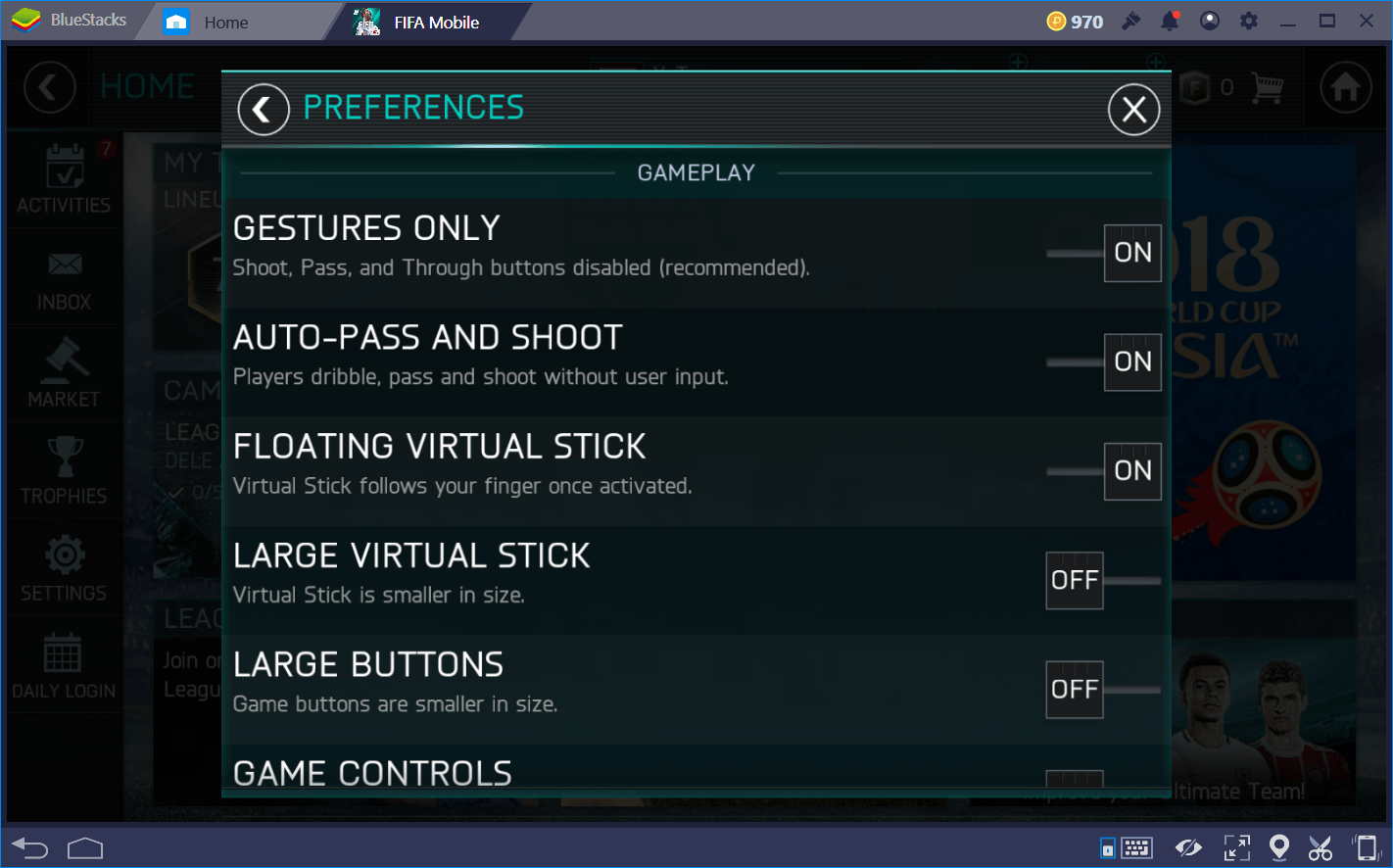 The good thing about these controls is that you can mix and match to your heart's desire. You can activate gestures and buttons so that you can land some precision passes via the pass button, and still shoot the ball through swiping towards the net, or vice versa.
It's up to you to experiment with the controls and find a scheme truly suited to your preferences.
Thoughts On Attack Mode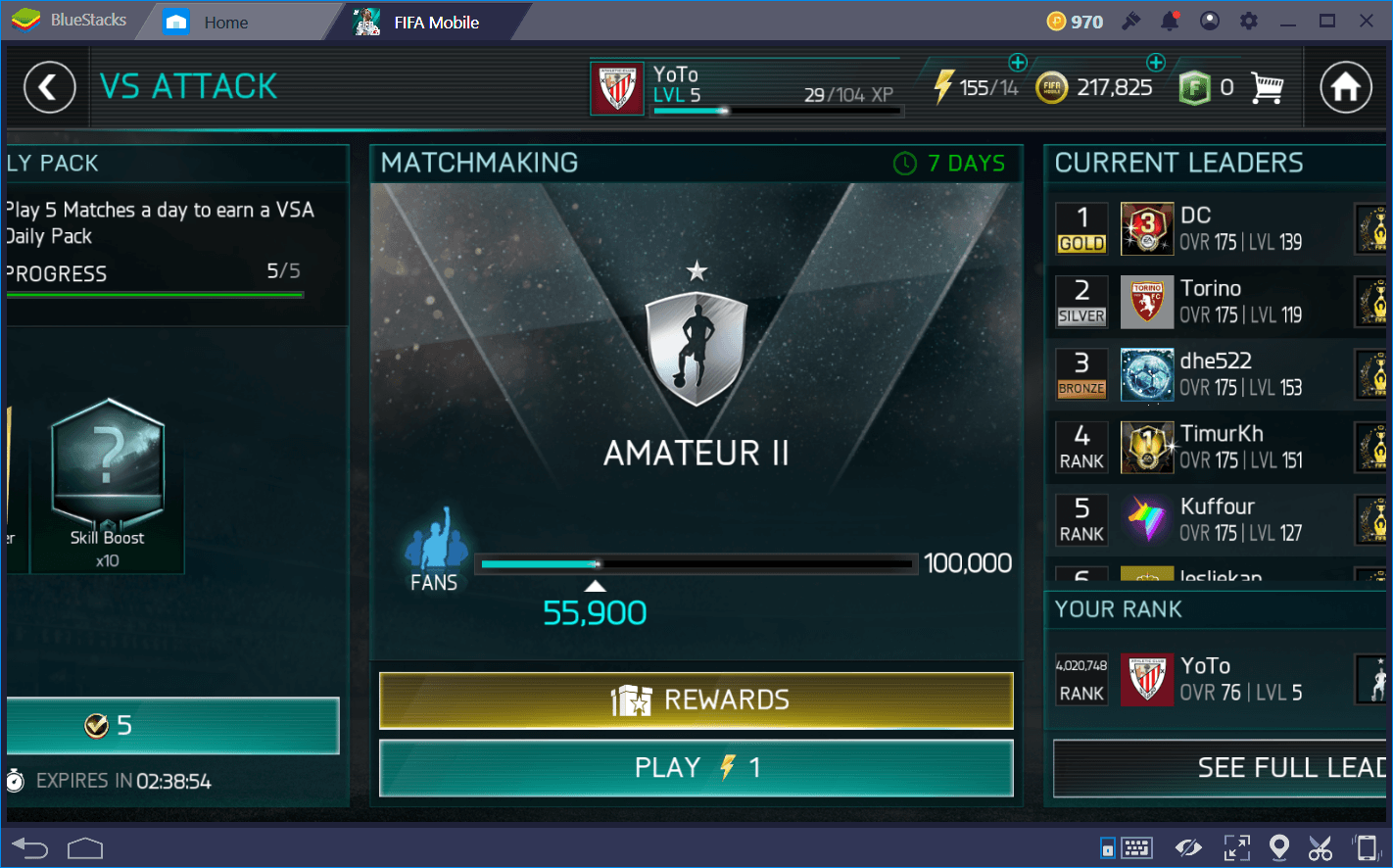 As you may know by now, the Attack Mode is FIFA's iconic game mode where players face off in asynchronous turn-based matches. This mode offers the fastest way to earn XP, coins, and fans, which will allow you to level up and climb the ranks. In this sense, you'll be spending most of your time in Attack Mode, so here are some tips to improve your effectiveness in it:
Be sure to score at least one goal. If you end a match, either with a draw or a loss, without scoring, you won't receive any XP or coins. In this sense, even if you lose, try to score at least once.
Again, use the AI. Despite having the best controls on mobile devices to date, the AI can still control the players better than you. Only intervene in times when you think there's a scoring opportunity that the AI is not capitalizing on.
If you're using "tap controls," remember that your swipes will directly influence the direction and power of your shots. In this sense, always try to swipe hard towards the goal, so that your player can line up a shot in its upper corners, making it difficult for the goalkeeper to block your shot.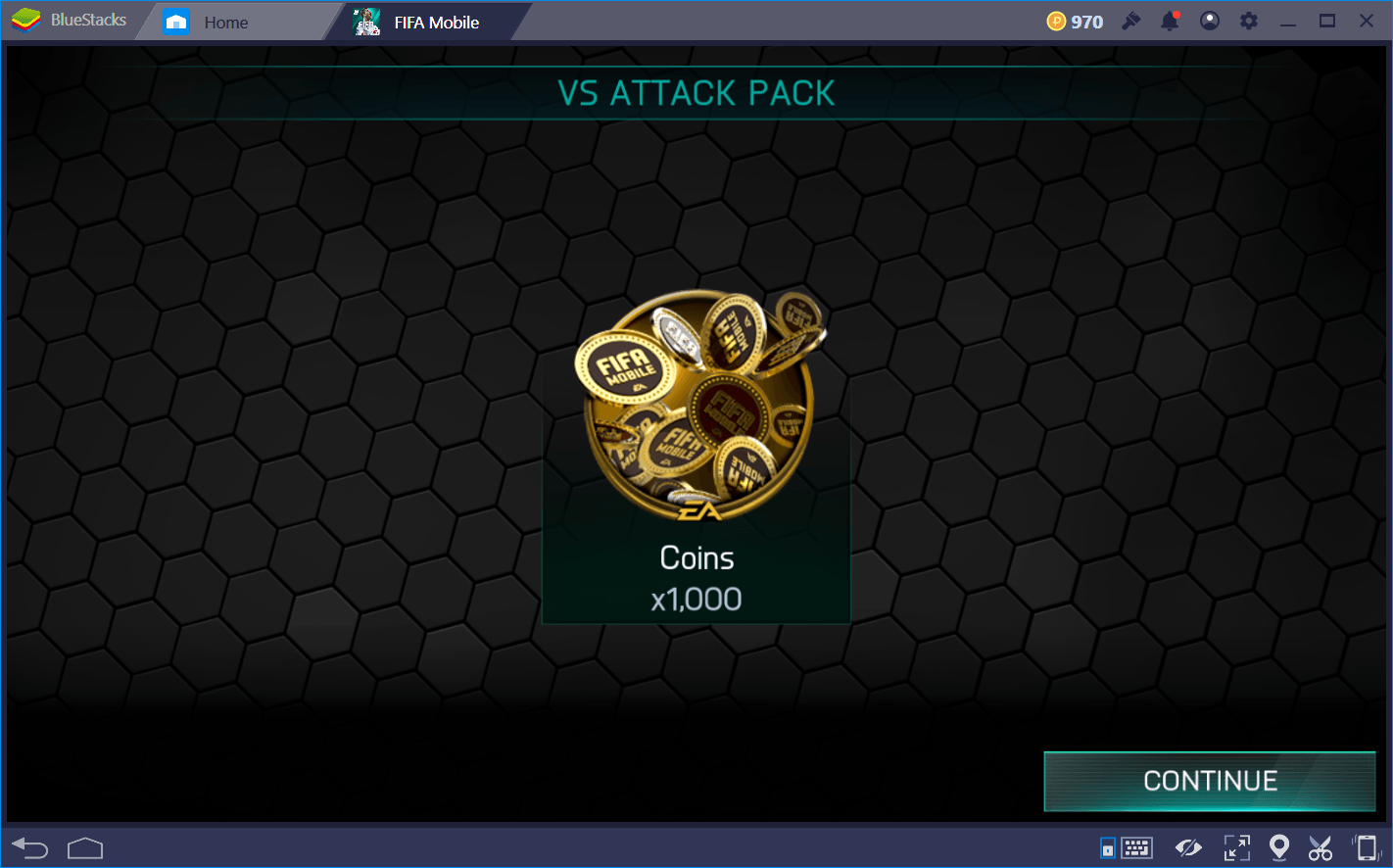 With these tips under your belt, you're basically ready to take on the big leagues in FIFA Mobile. Now that the 2018 Russia World Cup is beginning soon, there are tons of events and unique opportunities to earn cards and other prizes in the game, so be sure to download it on BlueStacks and start playing today!