Game Guides
How to Play Tales of Luminaria – Anime RPG on PC with BlueStacks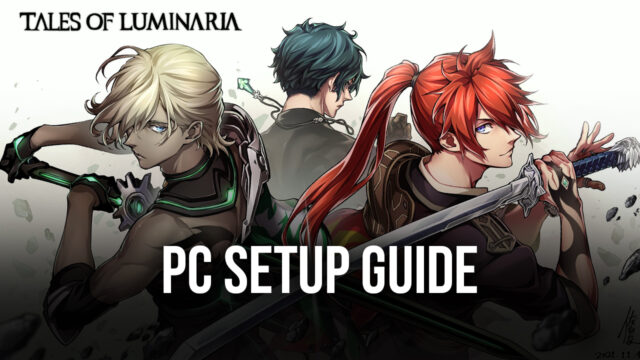 Those who have been following the successful and renowned "Tales" series now have a new reason to celebrate as Tales of Luminaria, the latest entry in the franchise, has launched for mobiles earlier this month, giving everyone the chance to download and start enjoying its story arcs and many fun and thrilling battles and game modes.
Tales of Luminaria, like most of the other titles in the series, is a story-driven RPG that explores the adventures of several main characters, with the main protagonist being Leo Fourcade, whose adventure starts when he plans to enlist in the Aedis Knights Academy, years after the evil Gildllan Empire destroyed his hometown. In this manner, Leo, with the support of his childhood friends, Celia and Hugo, starts his military career, in the hopes of getting back at the ones who took so much from them years ago.
In terms of gameplay, Tales of Luminaria plays in an episodic format, with players accessing the story via menus, which then lead to cutscenes with narrative exposition, and then to playable segments where players often need to engage in combat against a variety of enemies. And when it comes to combat, this game offers real-time action fights where they must move around, dodge, run, attack, and use special skills to defeat their foes. And to aid in their efforts, players can unlock a variety of different gear and equipment, each with their own stats and properties, from the in-game gacha.
However, if one part of all the previous statements we've mentioned so far catches your attention, it'd probably be the fact that Luminaria is exclusive for mobiles, and considering that the franchise has been available on consoles, and more recently on PC, this is quite concerning. However, this is where BlueStacks comes in as our Android app player lets you play Tales of Luminaria on PC, and with the best performance and graphics.
How to Download and Install Tales of Luminaria on PC
With BlueStacks, you can enjoy the best controls and graphics, which is especially important for games with real-time combat like Tales of Luminaria, as having good controls and a stable frame rate will help you to dodge attacks and defeat your enemies. And the best part is that installing and playing this game on PC takes only a few simple steps:
Download and Install BlueStacks

on your PC.

Launch the emulator and, once loaded, open the Instance Manager by pressing Ctrl + Shift + 8.

Click on "New instance" on the bottom right, and select

Fresh Instance > Pie 64-bit

.

Assign enough resources to the new instance for it to run adequately. If your PC fulfills the recommended requirements to run BlueStacks, just assign it 4GB of RAM and 4 CPU cores.

Once done, launch the new 64-bit instance by clicking on the "Start" button beside it in the Instance Manager.

On the new instance complete Google Sign-in to access the Play Store, or do it later.

Look for Tales of Luminaria using the search bar on the top-right corner.

Click to install Tales of Luminaria from the search results.

Complete Google Sign-in (if you skipped step 6) to install Tales of Luminaria.

Click the Tales of Luminaria icon on the home screen to start playing.
If you were looking for the best way to enjoy Tales of Luminaria, you won't regret installing it on PC with BlueStacks.