News
DC Worlds Collide(Early Access) Launched With New Events And Rewards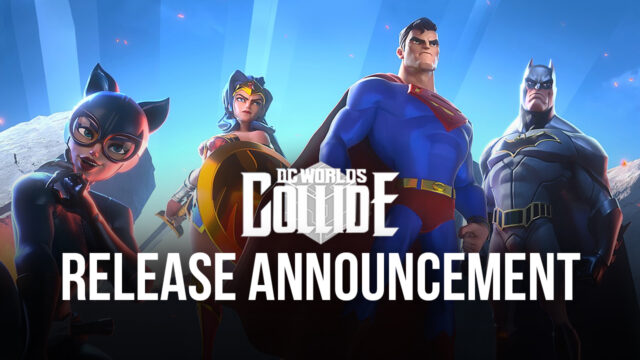 Nuverse recently launched DC Worlds Collide (Early Access) in select regions as part of their open beta test. The beta was released just a few days back, on November 29 at 10:00 am (GMT+7) for Andorid devices only. As this is just beta , DC Worlds Collide(Early Access) is only available in regions of Indonesia, the Philippines, Malaysia, and Thailand. Players can download the game directly from the Google Play Store, TapTap or uptodown.
Nuverse has disabled the data wipe in this version of the game meaning that from now on, the data of S.T.A.R. Labs can be saved permanently, and DC Worlds Collide will not delete any more files! Of course, the game is still being continuously optimized, and the current version does not represent the final quality of the game, but no progress will be lost.
The newly updated DC Worlds Collide beta version also contains new events, rewards and a few updated features to look out for.
Bonuses Events & Rewards
Purchase Rebate
Players who have participated in the previous beta tests and recharged will be able to claim the returned Diamonds in the in-game shop.
Total amount of Diamonds returned = Accumulated recharged amount (in USD)/ 0.99 * 60 * 150%
Keep in mind that players need to use the same account as the previous test to log into the game to claim the rewards, and only a single character on a single account can receive all rebate rewards at once. Players cannot claim rewards more than once through the same account.
Return Gift for Older Players
In order to thank older players for their support of the game, we will give return gifts to players who participated in the Closed Beta Test. If you log into the game before December 31, 2021, you will receive the gift via in-game mail.
The gifts include;
Encrypted Token x10

2-hour Coin Chest x1

2-hour Experience Chest x1

2-hour Titanium Chest x1
The Premise & World Building
As you know, DC Worlds Collide is a turn-based RPG card game featuring great attack animations and cutscenes.
The game's premise is pretty straightforward, the notorious Crime Syndicate members have invaded Earth, causing havoc everywhere. To establish peace, players are tasked to battle the syndicate alongside some of DC's most powerful heroes, including Batman, Superman, Wonder Woman, as well as many other classic characters from the DC universe.
You can collect & upgrade your superheroes & super-villains, using strategy to win in idle battles.
"Punish & defeat the Crime Syndicate with visually stunning hero ultimates and restore peace & order on earth."
Game Features
DC Worlds Collide is an idle RPG with jaw-dropping and accurate visuals, officially licensed by DC. The gameplay includes collecting and training characters from DC Comics, battling your way through the game, and rogue-like RPG-style instance diving.
Players can recruit and train DC superheroes & super-villains. You can add iconic superheroes from the DC universe, like Batman, Superman, Nightwing, Superboy, Flash, and Wonder Woman as well as super-villains like The Joker, Harley Quinn, Lex Luthor, and Cheetah to protect the planet. In total, there are more than 50 characters at your disposal from the DC universe.
The game also features exciting stories, interesting conversations, and action-packed interactions between DC's unforgettable superheroes and super-villains.
That's it for now about DC Worlds Collide; stay tuned for more gaming-related content.