News
Dislyte, the Stylish Turn-Based RPG Opens Pre-Registrations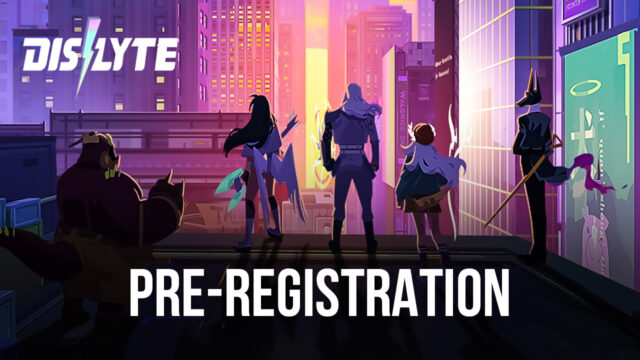 Dislyte is an upcoming turn-based RPG developed and published by the game giant Lilith Games. Players can expect the game to be a portrait stylized turn-based RPG that adopts the free-to-play model like many other similar games with in-game purchasable packages. Players can pre-register for the game on their Android and iOS App stores or through the game's official website. Dislyte is also in an Open Beta/Soft Launch state at the moment in select countries – Australia and New Zealand. Players can further expect the exact release date to be revealed soon as per the community managers on their official social media outlets.
Dislyte is a turn-based RPG that features you as the main character in a dystopian world where the Union fights the Chaos. Espers are the heroes or characters in this game who have the power of gods and have developed their powers and abilities. Players can expect different stylized characters as they boast unique artwork and 3D models for all their characters. Currently, the game has over 50+ unique espers to collect and obtain through summoning. Yes, Dislyte is a gacha game where players have to summon on different hero banners to collect their favorite heroes. Players can power them up, skill them up, empower their abilities and gear them with the strongest equipment. The game follows all the usual RPG mechanics like gear farming, dungeons, different PvE modes, as well as PvP modes in the form of Arena.
Pre-Registration Campaign and Rewards
Currently, players can pre-register for Dislyte on the Official website of the game or through their app stores respective of their OS being Android or iOS. Players can expect multiple rewards for pre-registering as the game has listed the different rewards available to all players upon global launch. The game is running its pre-registration campaign which starts from 400,000 Players who pre-register for the game and ends when the total number of pre-registrations reach 2 million players combined.
All the pre-registrations counted are combined from Android, iOS, and from the official website itself. The rewards and the milestones to achieve these rewards are as follows:
400,000 Total Pre-registrations

– Nexus Crystals x 50

800,000 Total Pre-registrations

– E-cash x 20,000

1.2 million Total Pre-registrations

– 3 Star Divina x 1

1.6 million Total Pre-registrations

– Greater Channelers x 2

2 million Total Pre-registrations

– Gold Records x 10 and Metro chorus Name Card x 1
Apart from the pre-registration rewards, players can also get additional rewards if the game's social media pages reach certain milestones in terms of followers and subscribers. The rewards and the milestones for receiving that are:
50,000 YouTube Subscribers

– Nexus Crystal x 50 + E-Cash x 10,000

50,000 Facebook Page Likes

– Nexus Crystal x 50 + E-Cash x 10,000
Players can also some juicy real life rewards if they invite their friends to pre-register for the game through a specific user generated link which is available on their website. The rewards are like a lucky draw, hence, all players who invite their friends or family stand a chance to win:
1 x iPhone 13 Pro Max

10 x AirPods Pro

20 x Amazon 20$ Gift Card Voucher
Dislyte Features and Story
Dislyte's official description reads – "Mysterious sites, the Miracles blinked into existence across the world. Along with their arrival, destructive monsters appeared, spilling forth to wreak havoc and destruction.
Certain individuals, affected by the sonic waves emitted by the Miracles, found themselves developing divine powers of mythological gods. Called Espers, these new heroes were the only ones capable of effectively battling the monsters.
Now, in humanity's darkest hour, the Espers have risen to shield humanity and restore order. With your help, can humanity survive?"
The game features different content-rich in variety and markets the game as a Stylish RPG. Some of the features listed are as follows:
Embark Your Urban Adventure
Past and the future collide! Witness ancient deities and mythological beasts in ways never seen before do battle. Divine power has been bestowed upon ordinary people turning them into 'Espers'. Build your own squad and take the fight to the enemy.
The divine power to awaken Espers comes from gods of worldwide mythologies, including Chinese, Egyptian, Greek, and Northern European. They take on diverse appearances and personalities, depending on from whom they received the power.
Take yourself down to funky town! Enjoy the smooth city soundscapes on every street corner, discover new sounds and drop the beat with a unique gacha system.
Assemble the ultimate lineup of battle-ready heroes. Feel the thrill of combat pump through you as you protect the city from the next attack. Adapt and perfect your strategy with each turn, using your skills and wisdom to reverse a bad situation to your advantage!
Dislyte looks like a great blend of mixing music with gacha games in a futuristic setting. We have high hopes for Dislyte as one of the premier games in the genre. To get more such updates, stay tuned for further developments on a future release date as we will inform you the earliest. We are committed to provide lag-free and smooth experience playing such games on your PC using BlueStacks.