News
E3 2016: EA unveils Titanfall 2, FIFA 17, Madden NFL 17, MASS EFFECT ANDROMEDA & more games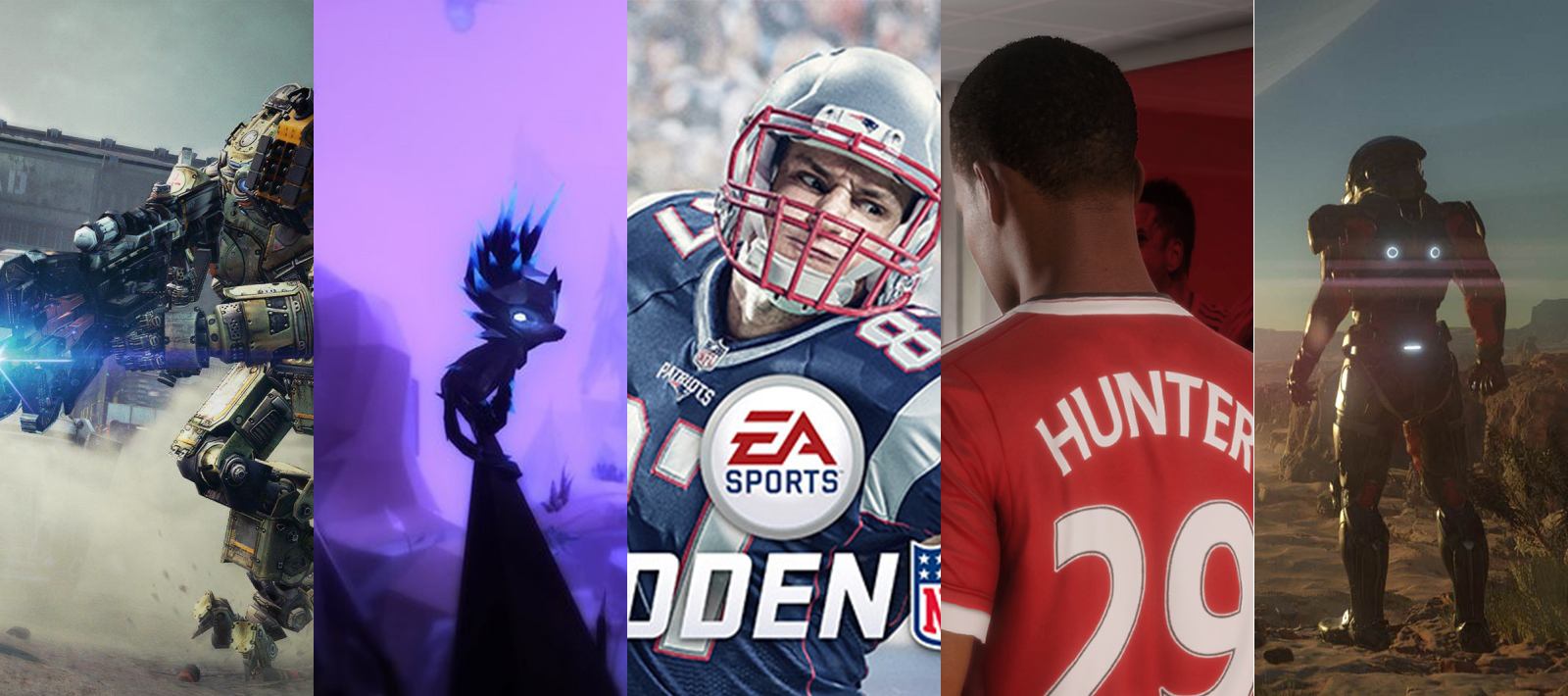 EA at E3 2016 unwrapped plenty of enticing footage from upcoming studio games like Titanfall 2, FIFA 17, Madden NFL 17, MASS EFFECT™: ANDROMEDA, Battlefield 1, Fe, and a look ahead to more additions to the Star Wars universes. We've summarized all of the new games below and will report back with more as we get hands-on at the video gaming conference!
Titanfall 2 from Respawn Entertainment continues the epic saga of the trust forged between warrior machine and solider. The machine will protect it's new pilot at all costs. For the first time PS4 players will be welcomed to the title and there will be a full offline single player campaign. Set to launch October 28th for PS4, XBOX One and PC.
FIFA 17: The Journey from Frostbite follows a young yet talented new futbol player Alex Hunter, in an experiential rise and fall from fame to redemption. There is a brand new experience as you live the premier story through a player and meet characters through their emotions. For the first time it includes Premier league managers in the game. Added are four key new aspects in the new title; more physical players, set piece rewrite, more intelligence to AI, and new attacks. FIFA 17 is set to launch in September.
Madden 17 continues the NFL tradition of action-packed football madness. New England Patriots TE Rob Gronkowski is Madden 17 cover athlete. The game will hit PS4 and XBOX One. Over the next few days at E3 2016 there will be a champion crowned in eSports Madden live tournaments. Will it be poster-child winner "Problem" or "Serious Moe" who is the best contender for championship- $50k prize payout is at stake. Watch the tourney live.
MASS EFFECT™: ANDROMEDA from Bioware is a quest to settle on a new world for humanity's dependence. There are creatures of all kinds in opposition. The game is set to launch this fall.
Battlefield 1 from Dice takes place in unique take on World War 1 adding new destruction, dynamic weather which impacts what you see, hear & experience, as well as a new variety of weapons and vehicles. The game will have an open beta later this summer and is set to launch October 21st.
To better understand Fe, you must understand its inception. EA Originals seeks to help video game developers by; supporting small developers with help from marketing to publishing; funding level of security and most importantly- all profit goes back to developers to help their innovations. Fe is the first game from this initiative from Swedish studio Zoink. The game is a tale of a creature who awakens as a young cub in a strange forest. The goal is to discover… you must discover your own beginnings. Everything is connected through a unique language of music. With each song learned it will venture you farther into the forest to discover your own origins. However, there are the corrupt silent ones to thwart this quest…
EA has several publishers working on various Star Wars universes. The video above is A Look Ahead at what some studios are working on. We have these titles currently; Star Wars: Galaxy of Heroes, Star Wars: Old Republic, and Star Wars: Battlefront- yet there will be a new installment next year to this game from Dice & Motive studios. In 2018, Visceral Games studio will be creating a new game with new characters and Respawn Entertainment will explore a new 3rd person version of their game.
Stay tuned to our blog and YouTube channel as we delve more into E3!