News
Final Fantasy VII The First Soldier : Release Date & Share Campaign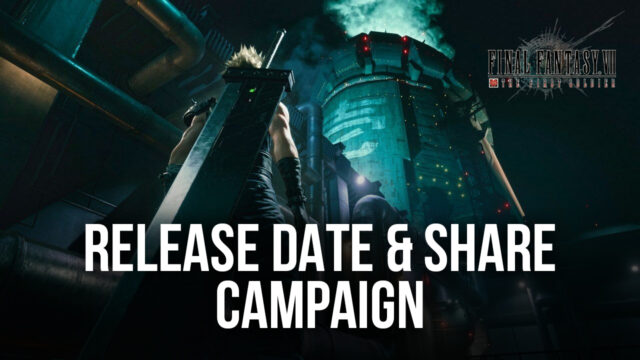 A team of Entertainment and Square Enix recently released a new trailer for their upcoming mobile game Final Fantasy VII: The First Soldier. As per the new trailer, the game is set to launch on November 17, which is the 3rd Wednesday of this month.
Pre-registrations are still open for Final Fantasy VII: The First Soldier, and once released, the game will be available for download on both Android and iOS devices. Special gifts will be available to all players if the game reaches its pre-registration milestones. Here are the rewards at each milestone;
After 300000 pre-registrations, players receive a Chocobo Egg

At 500000- Shinra Mask Skin

At 770000- Shinra Bike Skin

At 1 million- Shinra Utility Vehicle Skin

At 2 million- Shinra Helicopter skin
As of now, Final Fantasy VII: The First Soldier has crossed 770000 pre-registrations nearing the 1 million milestones.
FF7FS: Release Date Share Campaign!
To build up the hype for the launch, Final Fantasy has launched a new share campaign featuring Shinra Pack Tickets rewards. The campaign is currently up on the official Japanese, English, Chinese, and Korean Facebook pages in light of the announcement of the release date.
Players will receive a Shinra Pack Ticket V upon reaching 1000 shares, then 2000 shares, and finally 3000 shares(counting all the official FF7FS Facebook pages), which is a total of 3 Shinra Pack Tickets. And Shinra Pack Tickets can award in-game items, skins, etc, depending on your luck.
All players will receive these rewards once the share target is met, and the results will be announced on November 22, which is the 4th Monday of this month. The event/campaign will last for 12 days, starting from November 5, Friday, and concluding on launch that is November 17, Wednesday.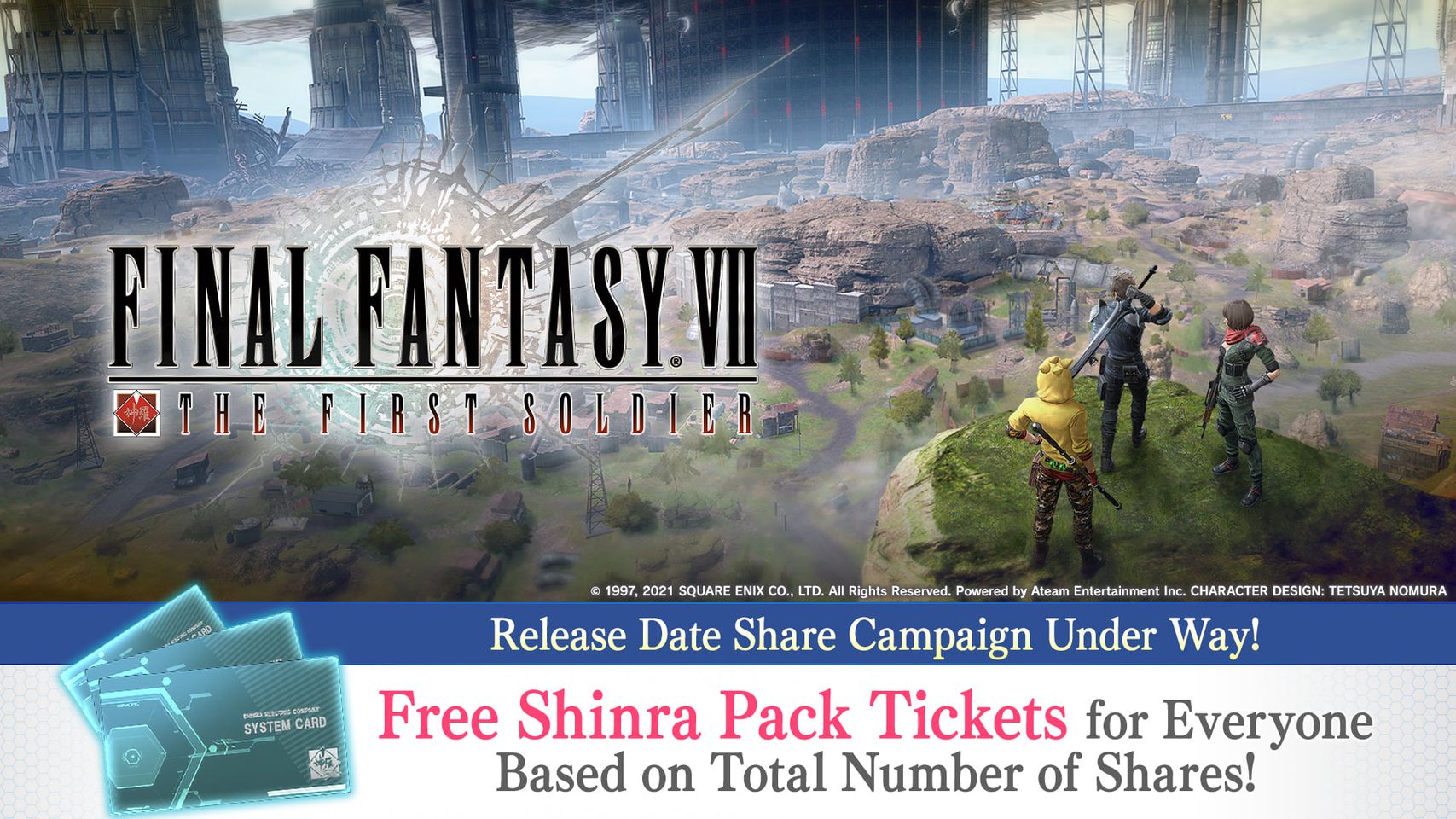 Final Fantasy VII The First Soldier: Minimum Requirements
Any 64-bit devices with Android 7.1 or higher featuring at least 3GB of RAM

iPhone 6s or later with iOS 13.0 or higher with at least 2GB of RAM
In FF7FS, you fight to join the ranks of Shinra's elite SOLDIER unit in this high-octane battle royale shooter, infused with RPG elements from the FINAL FANTASY series. Choose a combat style, such as Warrior or Sorcerer, and eliminate your rivals by any means necessary, be it gun, sword, or magic. If you want, you can even fight using a combination of melee, magic, and firearms.
You will also find a few Iconic Locations from FFVII Seventh Heaven, like Corneo's mansion, the train graveyard, and even a familiar house surrounded by flowers are just some of the iconic locations you can visit in each expansive map.
If you haven't seen the new trailer yet, watch it here on the official Final Fantasy YouTube channel. That's it for now stay tuned for more gaming news.