News
Genshin Impact 3.1 Leaks Disclose Two New 5-Star Characters, New Region and More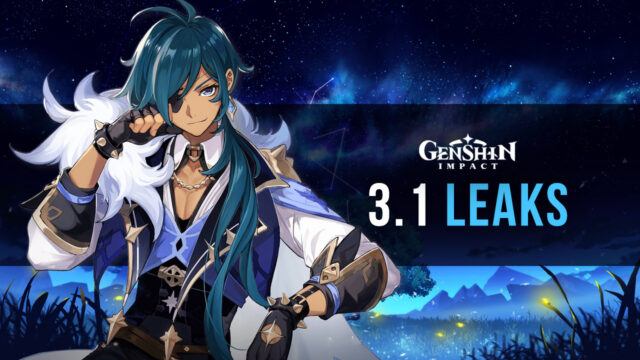 Genshin Impact is an anime RPG game for Android and iOS devices developed by HoYoverse. The developers recently released a Version 3.0 update for Genshin Impact featuring their first Dendro character and some other additions. Players must get excited since we have leaks related to the Version 3.1 update. This update will likely be much more significant due to the inclusion of the 2nd anniversary of the game.
There are various additions, such as a new character and events leaked for the version 3.1 update of Genshin Impact, said to release on 28th September 2022.
Sumeru – Desert Region to be unlocked in Version 3.1
The 3.1 version will feature the second region of Sumeru, also known as the Desert Region. Players must complete the Searing Dreams in the Sea of Sand quest to unlock Sumeru's Desert Region.
Spiral Abyss updates in Version 3.1
Genshin Impact will have updates in the Spiral Abyss on the arrival of the Version 3.1 update. Playing a Dendro character will boost when triggering Dendro-based reactions. Enemies will face debuffs when they are affected by Dendro-related attacks. Players will also get a copy of Collei on the clearance of Spiral Abyss Floor 4 Chamber 3, similar to Xiangling.
[3.1 Beta] Abyss Blessings

This was correct, just some wording differences between then to now (new shown in below SS)

F11 leyline is still:
"All characters in the party gain a 75% Electro DMG Bonus." https://t.co/WhO9tqA28Z pic.twitter.com/21Dingf1qi

— UBatcha (@Ubatcha1) August 24, 2022
Taking all of that into account and then checking actual "(test)" data that was present in the beta (now removed), I believe the SS below (CN original, EN is translated) could be the actual blessings for 3.1 but there's no way to know that until the beta is out [3/3] pic.twitter.com/oCfolR711H

— UBatcha (@Ubatcha1) August 8, 2022
New 5-star and 4-star characters and weapons in Version 3.1
Version 3.1 update of Genshin Impact will feature two 5-star characters and one 4-star character. The 5-star characters are Nilou and Cyno alongside Candace, the 4-star character. The 5-star characters will feature their respective 5-star weapons (sword and polearm), and three more 4-star weapons will be introduced in the 3.1 update. (catalyst, claymore, and sword).
Alongside the various new characters and weapons leaked for the 3.1 update of Genshin Impact, the game will mostly arrive with a sign-in event providing players with a couple of free wishes. What do you think leaks regarding the 3.1 update of Genshin Impact? Let us know in the comments below.