News
Godyssey: Idle Warriors Test Version Out With Welcome Gifts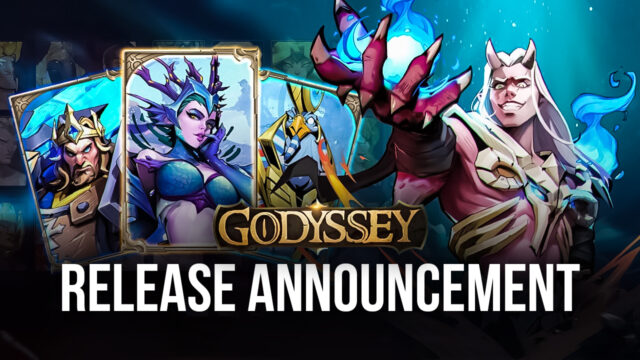 Yoo Games Global recently unveiled their card-based RPG game Godyssey: Idle Warriors test version(beta). As of now, the game is only available on Android devices in a select few regions like the UK, Canada and Australia. You can check if it's supported in your area then download it from the Google Play Store.
The first server of Godyssey: Idle Warriors, known simply as Server 1, launched last month on November 30. The launch came with many events, rewards, and a few welcome gifts for players to enjoy, here take a look.
There is a 7-day carnival event in-game where players can get S-Rarity Zeus for free.

By using the special code "godyssey777", players can get the first 10 summons for free.

By simply liking the Godyssey: Idle Warriors Facebook page and DMing the screenshot, you can get a Newbie Code that offers Gold x 10k, Hero EXP x 10k, Diamonds x 200.

Then there is the exclusive discord code that rewards you with Golden Key x 2, Frenzy Potion x 1, Diamonds x 20. All you have to do is join Godyssey: Idle Warriors discord server (, then DM the staff on Discord for your code.
On December 3, Godyssey: Idle Warriors released a new update, as well as a second server. The new Server 2 offers the exact same rewards (all four mentioned above) as Server 1.
For the players in Server 1 and if you already liked the Facebook page and joined Discord, you can still get both codes if you join Server 2. Just DM the Godyssey: Idle Warriors staff for new codes (only redeemable in Server 2).
Godyssey: Idle Warriors December 3rd Updates
The number of bosses turned into sheep in Merlin Trial changed from 3 to 2

Added Stat Descriptions

Added Hephaestus's Crafting Points UI display

Optimized language display

Optimized discount icons
Feedback Form Redeem Code
To collect feedback data from players, the developers at Godyssey: Idle Warriors released a Google feedback form. The form contains questions related to the game, complete it, and players will get a redeem code in their email within 1 week. And by redeeming the code, you will get Jade Key x 10& Stamina Elixir x 2.
Features of Godyssey: Idle Warrior
If you haven't heard any details about the game, here is a quick overview of what to expect. First, let's look at the premise then the features.
"The world of Godyssey: Idle Warrior has been enshrouded in darkness for ages. Ancient gods and goddesses choose you to be the warrior to fight along with them to bring light back to the world. In the path of seeking light, you will encounter tons of different dungeon bosses to defeat and get to fight alongside the ancient gods and goddesses."
The 3D Dungeon

Fight not only in the dungeon but also in ruins, forests, castles, and more!

Endless unique fight scenes, unlimited strengthen battle power.
Non-stop Battle, Auto battle completely.

Easy to get started, a hand-free game that is f2p friendly!

Auto-battle, auto-collect! Get rewards even offline!
Fight along with ancient gods in the Godyssey Dungeon

Summon your favorite immortals from the Golden Compass. You can even get Gabriel and Zeus to help you fight against powerful dungeon bosses.
Gear system

Upgrade skills and gears to strengthen yourself in this journey. Socket gems to your weapons to power up.

Gear up with the best weapons and trinkets to help you win in battles.
The PvP Arena System

Fight with all players on the server, and be the Champion.
That's it for now; stay tuned for more gaming-related news.