News
How to Participate in the King's Raid World Boss Challenge Event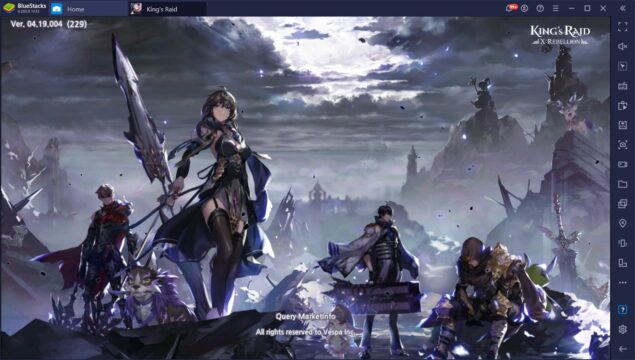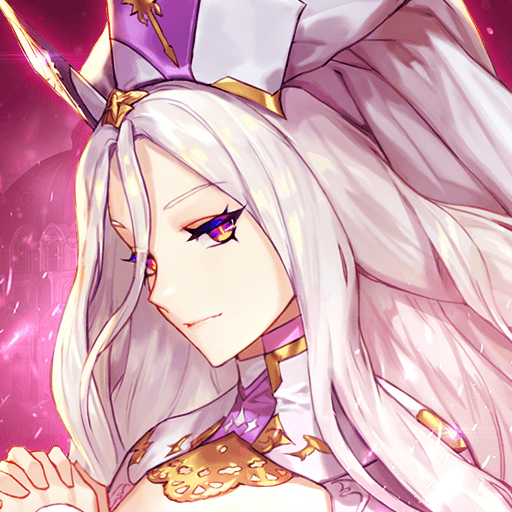 The year is starting off on an exciting note for King's Raid as the first event is currently in full swing. The World Boss Challenge Event gives players the chance to not only fight and defeat powerful enemies and earn exclusive rewards for doing so but also to participate in a community challenge where, if enough people sign up, everyone will get rewarded for their engagement.
Let's take a look at how to sign up and participate in this exclusive event for King's Raid on PC.
The World Boss Challenge Event
The most recent King's Raid patch, which released this past January 19, added a few new things to the popular gacha RPG, most important of which being a new hero character, Lucikiel. This powerful wizard character is a master of destruction, causing great damage to the entire enemy team with a variety of attacks. Suffice to say, Lucikiel is a proficient DPS, specializing in AoE damage.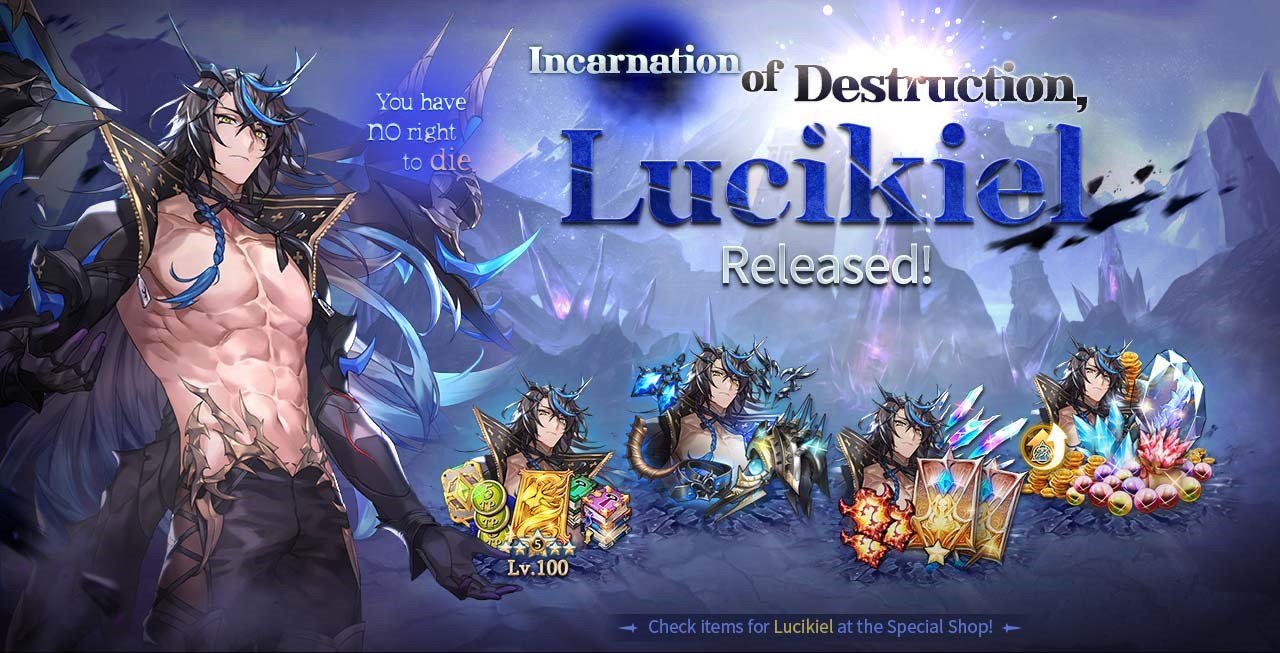 This patch also brought numerous improvements to the World Boss content, including removing entry restrictions and allowing players to repeatedly farm these fights without limitations (kudos to you if you're using the BlueStacks Macro Recorder to farm the heck out of this mode), as well as a few adjustments to the rewards and scoring system. For instance, while the daily participation reward, reward distribution system for server and world rankings are unchanged, only the highest score for the highest damage will be shown in the rankings. Similarly, only the highest scores will be counted when it comes to unlocking daily achievements.
The World Boss Challenge Event revolves around this new and improved World Boss system, and rewards the players who participate during the event period. To join in the event, you must simply follow these steps:
Challenge a World Boss at least once during the event period.

Enter your account information in the

official participation survey

.

Go to King's Raid's

Facebook page

and share the event post on your wall, and this will contribute towards the goal of the event.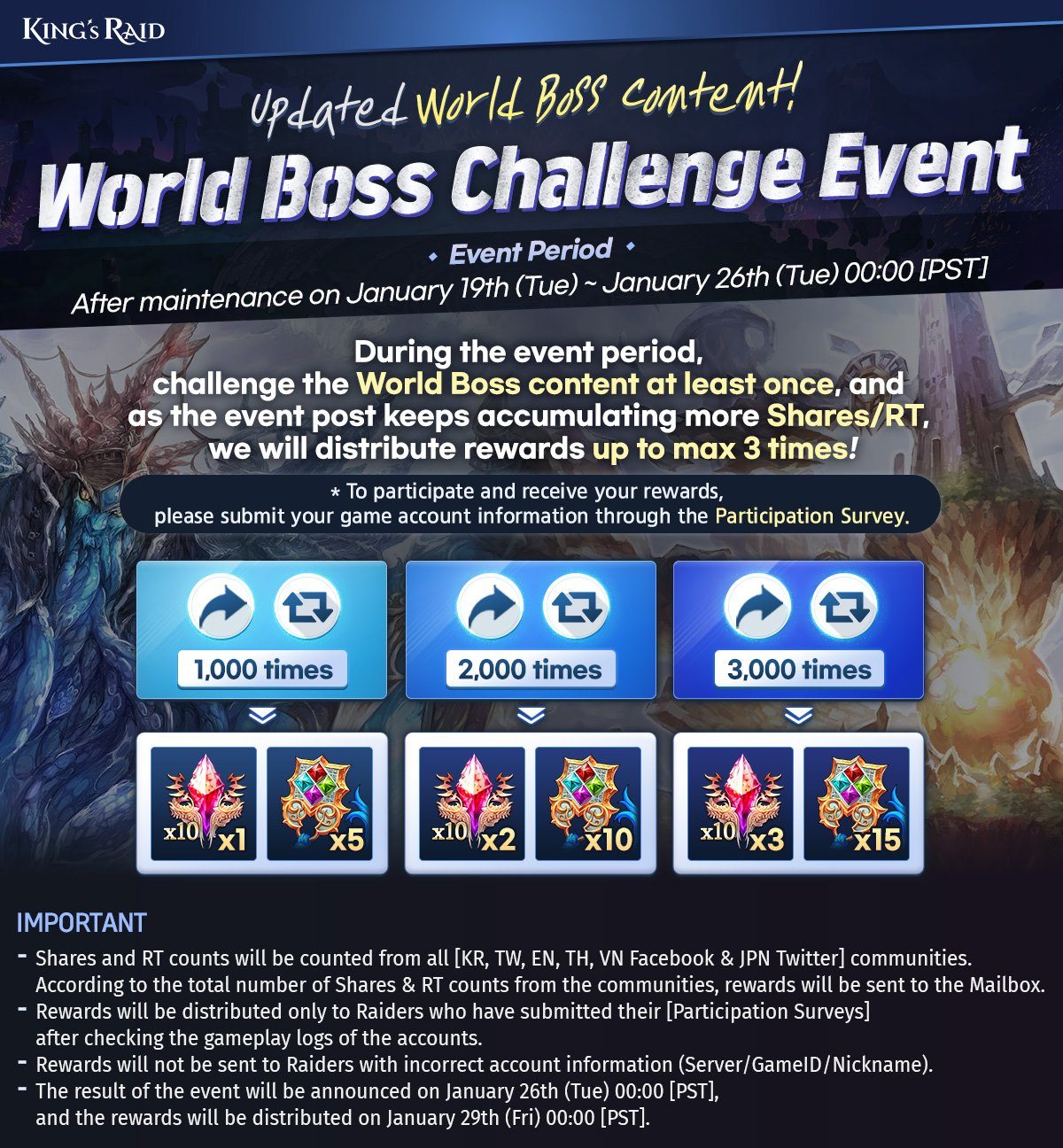 While you can receive regular prizes by fighting and completing the World Boss challenge, you must enter and share the event post on Facebook and Twitter in order to actually receive the bonus rewards from the event. Moreover, in order to actually receive these rewards, it's imperative that you sign up through the participation survey by clicking on the link we shared above.
The rewards from the World Boss Challenge event will be sent out next Friday, January 29. Make sure to fulfill all the requirements by then!